Jun 12, 2018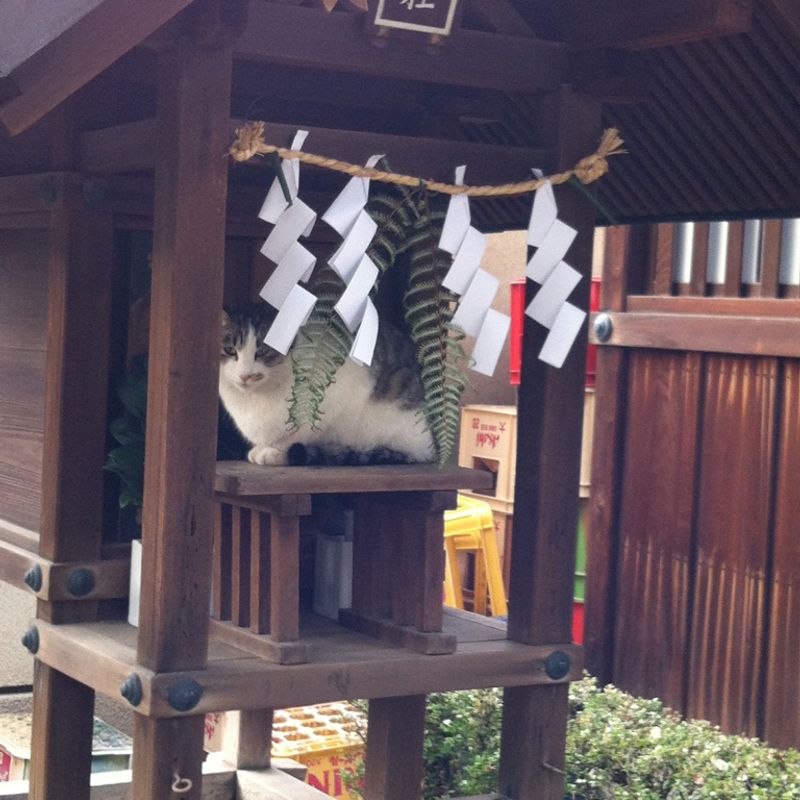 I'm really not sure when it started, but the first town I lived in after moving to Japan wasn't full of cats. I saw some, but usually only briefly before they ran away. Maybe it was during the summer that first year, when the cats became too hot and sleepy to run away, that I started snapping their photos. It was probably first in Beppu during summer vacation that I developed any true collection of cat photos, although I have a few from previous visits to Japan.
There were so many that I started a photo blog of the cat photos, primarily cats here in Kyushu, although I haven't been managing that much these days. Now I sometimes put them on my Instagram account (@hello.alissa) along with the Engrish photos and random seasonal and landscape pictures in Japan.
I studied film photography in school, so even though these are almost all digital snapshots, I wish they were perfectly lit and cropped portraits of the cats in a beautiful Japanese setting. I chose some of my favorites to share in the gallery.
I hope you enjoy these cat-napping, lazy cat days of summer, curious cat photos.
Unless otherwise noted, photos are taken in Kurume, Fukuoka.
Photo pictured above: Staying warm in a tiny shrine, somewhere in Kyoto maybe?
In the gallery: Catnap in the shade at a temple in Osaka, taken with a film Lomo camera; behind a stone fence in Beppu, Oita; enjoying hanami at a park; a cat gang who also like to ride bikes; enjoying the hydrangeas from a tree; gobbling up maguro handouts from the sushi chef preparing to open shop; an unusually warm February day in the garden; cats who live in the cycle park; waiting outside the shop in Ishigaki, Okinawa; hiding from the rain; near fallen camellia petals; and guarding the grave.
Gallery - Cats in Japan
---
---
3 Comments
I love this! I do the exact same thing. I'm hoping to have enough kitties to one day do a photo exhibit :) Do you know about this book? https://loft.omni7.jp/detail/4536232009451 It seems like it would be perfect for you! (It's not on Amazon, sadly...)

@hellonihon I didn't know that book, but maybe the photo is by IWAGO Mitsuaki. (https://www.digitaliwago.com/gallery/) He's done several photo shows around Fukuoka that I've been to and sells products with his awesome animal photography at Loft for sure.

@helloalissa One of my cat-obsessed coworkers actually introduced me to his work, if I'm not mistaken. It's all too adorable!! And actually the Loft book is like a cat-picture scrapbook. The pages are specifically designed to log all the cats you interact with (date you saw them / where you were / their cuteness rating / etc) and there's a little spot for you to print out a photo and paste it, so you can always remember the cats you cross paths with. I guess they were using Iwago's photos as samples? Maybe? :)