Aug 8, 2018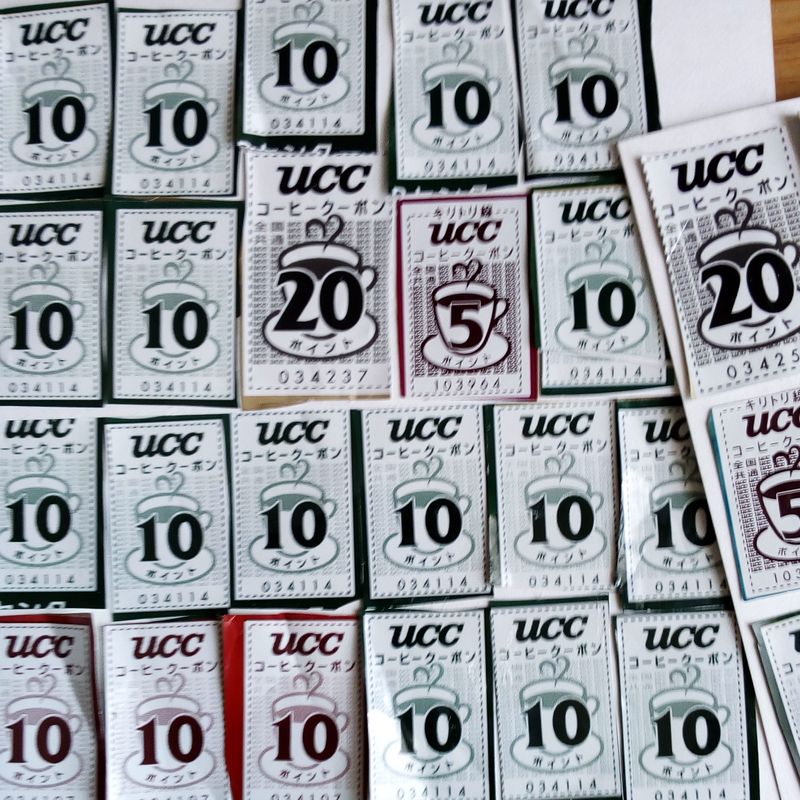 Some major Japanese brands have points on their products that you can collect and send in for prizes – usually that company's products or limited edition collaboration goods. Key Coffee, Kewpie, Bell Mark, etc. have points you can collect.
This is specifically about the only product points I collect, UCC Coffee Coupons. I collected some other points for a while, mostly because a lot of schools collect them from staff and students. I think the PTA organizes this to buy school supplies and gifts for the staff from time to time. I think this is the way to go – unless a group of people is collecting the points, it will take forever to collect enough for anything.
I began wondering if it's even worth it to collect these points. We usually drink coffee at home (2 people, a cup or two each daily) and we buy UCC coffee mostly because it's cheap but the quality is okay for packaged ground coffee. After more than two years, I've collected over 500 points (each 300 gram bag of coffee gets ten points) but it seems like that's not enough to get any great prizes yet. It's only enough to get more coffee or something like a mug. Based on the prices I'm familiar with, one coffee coupon point would be equal to about one yen, maybe more. For the coffee products it's a bit more than that, probably because they're able to 'sell' the coffee to participants for cheaper than retail price.
The prize selection changes every year, but this year there are special Disney prizes – including pair tickets to Tokyo Disneyland if you save up 7,400 points. Considering the price of one ticket is close to 5000 yen the last time I checked, this is better than one yen per point. There are also 4 gift cards for Disney Resort worth 500 yen each for 1,400 points.
If the points were cash value, I'd say it's around 3-5% cash / prize value back, based on the price we pay for coffee. But that's after doing all the work of saving up and redeeming your coffee coupons. And then you have to actually want one of the prizes you have enough points for. It seems too much like collecting tickets at game centers back home.
It's really difficult to get a ton of points unless you use the product all the time and plan to be in Japan for a long time. Another downside is that it's kind of a pain to cut out the coupons and paste them to something, then send them in for your 'point bank.' Plus it could be too much trouble doing all of this in Japanese. I didn't search for it yet, but we might also have to pay a fee for shipping for any prizes we redeem.
Do you collect any product points? What do you think - is it worth the bother?
---
3 Comments
I used to collect stamps from beer. We'd always have to have stock of beer in our house every time my parents would come over (they just love their beer!) and I'd always get the stamps. With that, I was able to get one of those beer dispensers (the ones that can make foam as well) and a stainless mug. It's still in our cabinet, though.

I didn't realise individuals could collect points. I am evidently not as observant as I like to think I am! I am about to write a post about counting the cut outs for kindy.

@Saitama I saw that you did that! I should probably just donate mine to the school where I work because I have not even mailed them in once. It's a pain and I'm not motivated by any of the 'prizes.'