Dec 27, 2017
My reasons for preferring hostels are: cost, kitchen, and built in community.
If you just need a safe place to sleep and don't plan to spend much time there during the day, hostels in Japan usually cost a lot less - about half the price of a hotel. Most have dorm type rooms, but if you can't handle potential snoring room mates (or if you are the snoring room mate), they usually have private rooms.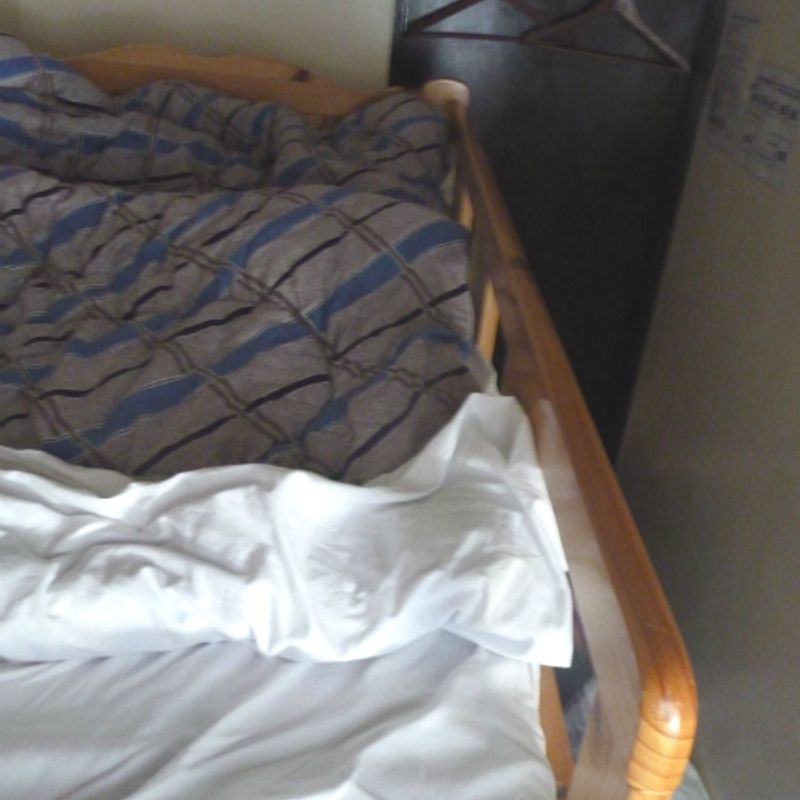 A private room for two in Tokyo is sometimes just big enough for one bunk bed.
Some hostels and business hotels in Japan have women's and men's dorm rooms, mixed dorm rooms, and even women's floors, depending on how big they are. I've seen signs posted that a quiet time is expected after 10pm, but depending on the guests, this isn't always observed (especially on weekends or when guests have been drinking) and it can be annoying.
Hostels usually have a living space with a kitchen, TV room, sometimes a manga library, etc. They all have wi-fi included and most have a couple shared desktop computers guests can use for free. They let you keep your luggage there during the day after checking out if your flight is in the evening, etc.
Some hostels have limited check-in and check-out times. If you arrange in advance, you will be fine, but the check-out time might not start until 8am for example. This could be a problem if you're traveling for business.
Plus, there are a lot of people from other countries - usually young and friendly and able to get by in at least a couple languages. It's a nice place to meet people to go sightseeing with, talk about experiences, share a meal, and practice another language, etc. I feel like there are more older guests at hostels these days – traveling alone or older families. It used to be almost all college-aged backpacker types, but maybe they grew up and continued going to hostels.
Note that if you're traveling as a couple, a hostel isn't always the best option because they might only have private rooms with a bunk bed or two single beds. Alternatively, your travel partner might be just a friend but the only option could be a room with one big bed. I've had both experiences. It's best to check photos and ask / make a note when you book the room when you're not traveling alone. A dorm room is usually bunk beds, but private rooms could have options like futons or king size beds.
Usually hostel staff in Japan are decent to proficient at English and possibly other languages. In hotels, even business hotels with a lot of foreign guests, the staff doesn't volunteer to speak English in my experience. I think most front desk staff are required to have taken English exams to qualify for the job, but they might not be confident in conversational ability.
From my experiences in Japan, hostels are often close to stations and in more convenient locations than hotels a lot of the time. Of course that's not always true, and if the hostel is far from a station, it might be next to a bus stop, cheaper, or less popular. Some hostel's staff will pick you up from a station or airport. In general, hostels have had really good directions on their websites so they are easy to find. Hotels are usually a lot bigger and have a visible sign, so finding them isn't as much work.
You might be able to borrow a bike or a car from your hostel for a reasonable price. Hostels will frequently have either self serve instant coffee and tea, or that plus a basic breakfast (make your own pancakes or toast). This in addition to having a community kitchen is really convenient if you're staying a while and don't want to eat out for every meal.
Hostels don't usually provide bath towels, but most of them in Japan will rent you a towel. Another negative is you will probably be sharing restrooms and showers with the other guests, rather than having a private one attached to your room.
A hostel can make your travels in Japan more affordable. Usually dorm rooms are around 2000 yen per person, but it depends on the area and how new the building is. I think it's affordable to travel in Japan now, especially if you can travel during the off season.
Have you had good experiences staying at hostels in Japan?
---