Aug 4, 2018
A while back I was wondering: What's the percentage off you're actually getting by using a point card? Is it worth it?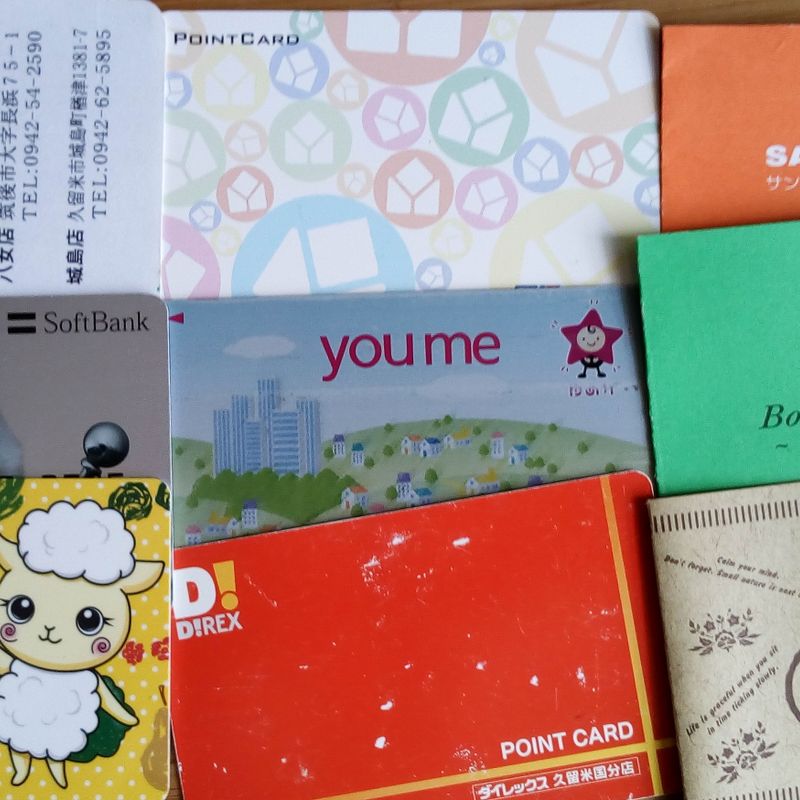 In the case of supermarket point cards, it's fairly straightforward. You usually get one point for each 100-200 yen (plus tax) you spend, more if it's a special point day. Each point is worth one yen in discount once you get 500 points in most cases. Some supermarkets will sell 'sale' items with bonus points on a temporary basis. (For example: buy a pack of fish, get ten points above what you'd normally get based on price.)
For supermarkets you're looking at 1% cash back most of the time. We try to do our shopping only on the "5 bai day" (5 倍デ―) or 5 times day for 5% cash back.
(The nice thing about Youme Mart & Aeon company Waon point cards are they're great for the supermarket, but can also be used at Youme Town & Aeon shopping malls. That means if you need to buy some clothes, etc. and shop at that mall, you can also get points to apply towards grocery discount coupons. The mall also has 5 times points days!)
Note: Some of these cards are prepaid (have to be loaded with cash to get points) and some offer an extra .5% if you load them with cash then make your purchase.
I think supermarket point cards make sense only if it's a supermarket you go to often because it's convenient. Most of us do grocery shopping on a regular basis. One point (ahem) to remember is that it's really not worth it to buy one more thing you don't need just to get another point.
Related: Deciphering Discounts in Japan
Convenience Store Point Cards
Convenience stores usually have point cards as well – Ponta, Nanoca, Tpoint, etc. give one point per 100-200 yen spent. This article explains all of these cards along with their benefits. The points can also be converted to airline miles, although the conversion rate is less than one percent.
(I'm not using any of these or shopping at conbini regularly)
Cafe Point Cards
Cafes and bakeries want you to use their point cards – probably because it encourages spending more when there's a minimum purchase price for each stamp.
It makes sense to collect points at one bread cafe where I teach a lesson weekly, simply because I actually go there on a regular basis. If I spend 300 yen, I'll get one stamp. After 10 stamps I get 60 yen off. I don't always spend 300 yen, but I always get something since I'm using their space. This works out to spending at least 3000 yen for 60 yen off.
Is it worth it? That's 2% cash back, if you spend exactly 300 yen each time, so it's similar to a supermarket point card I guess. This place also has a 5 times point day once a month.
Another cafe point card I have also has a 300 yen spend for each stamp. With 30 stamps, we can get 500 yen off. 9000 yen spent for 500 yen off is 5.55% cash back! I didn't expect that to be so high. If you can wait that long / actually go often, that's awesome, but how long would it take to get 30 stamps if you rarely go?
A local coffee roaster offers a card where the deal is one stamp for each 400 yen spent and 400 yen off when you have 30 stamps. 12000 yen spent for 400 yen off is 3.33% off after buying way too much coffee. I guess if you always buy their coffee it's a good deal.
Other point cards
Another point card we have is for haircuts. It's a cheap salon where you can get a different stylist depending on who's free first. Haircuts were 1000 yen but have gone up to 1300 plus tax. The card has 12 spots for stamps which are for each 1000 yen you spend. When the 12 are full, you can get a 500 yen discount coupon. It's half off a haircut after 12, if we're going with prices they had when I first got the card. So because the price changed, the cost is 12000-15600 yen for the 500 yen off, or 3.2-4.16% off. Again, it's not bad if you're going to use their services already.
The glasses shop I use has a point card with 50 points (1000 yen each) to get 5000 yen off. That's a 10% discount - the best one I've calculated so far. If you wear glasses and like to get new frames sometimes, it's a good deal. The cheapest frames are 5000 yen, so this is essentially buy ten get one free. Plus they give you double points for recommending someone to their shop too.
What do you think? Is it worth it to use point cards (if you consider what kind of discount it is)?
Are there any point cards you use that are an awesome deal? (Please share with us!)
---