Nov 16, 2018
So there I was, at Niigata airport looking for a place to eat with my kid. We weren't looking for anywhere special, just a place with a simple kids set for a quick meal.
We headed for the first cafe we could find: a decent sized place right in the middle of the departure lobby on the main floor (about as heavy a trafficked area as there could be in this airport). As we approached, I caught the biggest whiff of cigarette smoke. Sure enough, there was a table of smokers sitting in the middle of the cafe, literally smoking and joking. There wasn't even a pretense of sectioning off folks.
Keep in mind, this is at 11:30 in the morning (hence the scant clientele), in the middle of an international airport, smack dab in the middle of the departure lobby.
My first thought was, "how rude!" My second thought was, "What year are we in?"
It's absurd to me that there are places in Japan, let alone an international airport, that has so antiquated a smoking policy.
So for that, I say, "C'mon, Japan!"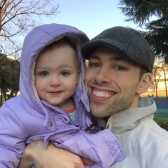 Hitting the books once again as a Ph.D. student in Niigata Prefecture. Although I've lived in Japan many years, life as a student in this country is a first.

Blessed Dad. Lucky Husband. Happy Gaijin (most of the time).
---