Jan 11, 2018
Kanazawa is a jewel of a city on the Sea of Japan coast that recently became far more accessible with the opening of the Hokuriku Shinkansen. This new bullet train connects Kanazawa all the way to Tokyo, making the trip a cinch.
So why Kanazawa? Kanazawa is like a little Kyoto--full of art, culture, and memorable sights--just with far fewer tourists and much more interactive experiences available. This is in part because of its history: after the Tokugawa clan took over the Shogunate in 1603, the Maeda clan that controlled the area that is now modern day Kanazawa had to reconcile the fact that it was once an enemy of the Tokugawas. As such, the Maeda clan had to change in order to avoid appearing a belligerent party. The clan shifted its money and efforts to becoming a hub for culture and art--and thus a place that would be spared any draconian measures from the new Shogunate.
The result is the vibrant and interesting city of Kanazawa which has enjoyed a revival with the opening of the major shinkansen artery. It is a great place to visit, and here are five things you may want to do while you're there.
See the Motenashi Dome and go shopping at Kanazawa Station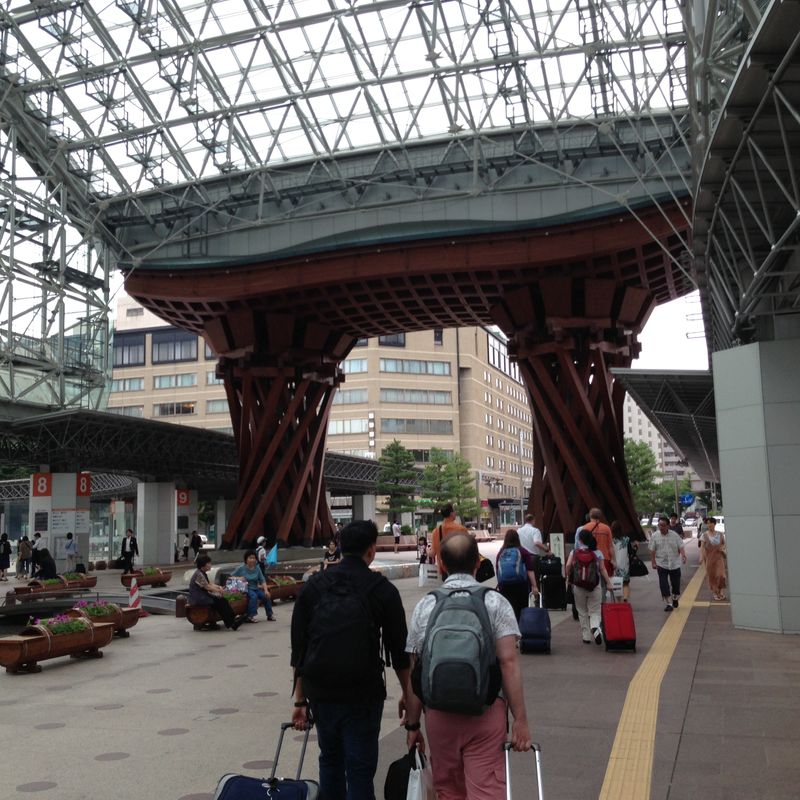 Kanazawa Station is one of the best in all of Japan. At its entrance is the Motenashi (Hospitality) Dome and the "Tsuzumi-mon" (Wooden Drum) gate, which now stands as the iconic gateway to this natural competitor to Kyoto. The Dome is great to view from ground level or from above in a viewing floor in the adjacent department store. Inside the station, there are some incredible shops and restaurants which feature the best of Kanazawa art and cuisine. If you only have time to shop in one place in Kanazawa, do it at the station.
Go Museum Hopping Downtown
Kanazawa has a wide variety of museums, and many of them are situated in the city center. You can while away a day hopping across museums like the 21st Century Museum of Contemporary Art (modern art), the D.T. Suzuki Museum (Zen Buddhism), the Ishikawa Prefectural History Museum, the Modern Literature Museum, and the Kanazawa Noh Museum, among others. Check out the map below to see the rest of the options, too!
Try Some Hands-on Crafts
One of the most charming aspects of Kanazawa is that they city really tries to invite visitors to interact with Kanazawa's culture. One way to do so is through hands-on craft-making experiences. While there are many to choose from, my favorites are Gold Leaf application and Kutani porcelain painting. Each experience allows you to make your own creation which you can keep as mementos from your trip to Kanazawa.
Check out Sakuda Gold Leaf for the Gold Leaf Application...
...and Kutani Kosen Pottery Kiln for the Kutani porcelain painting.
Visit the old Geisha districts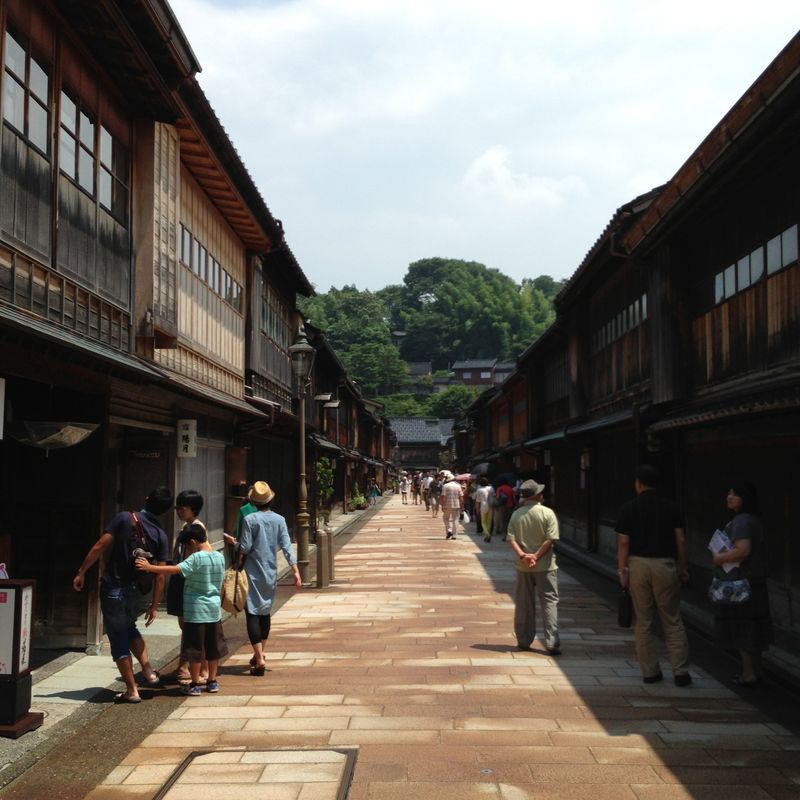 You may be surprised to know that the Chaya (literally, "Tea House") districts of Kanazawa were much more than places to get some green tea. Chaya are actually terms for Geisha houses, which were places for patrons to escape the monotony of life through listening to music, watching Geisha dancers, and drinking tea as well as other, stronger drinks. While popular culture often focuses on some of the more scandalous aspects of geisha history, Geisha and the chaya districts represent havens for Japanese culture that you can still enjoy today. Kanazawa's most famous Chaya district is Higashi Chaya, with Nishi Chaya following close behind. There, you can find tea houses, maybe stumble into living Geisha, and enjoy all manners of traditional crafts (in both shopping and hands-on experiences).
Stroll through the Kenrokuen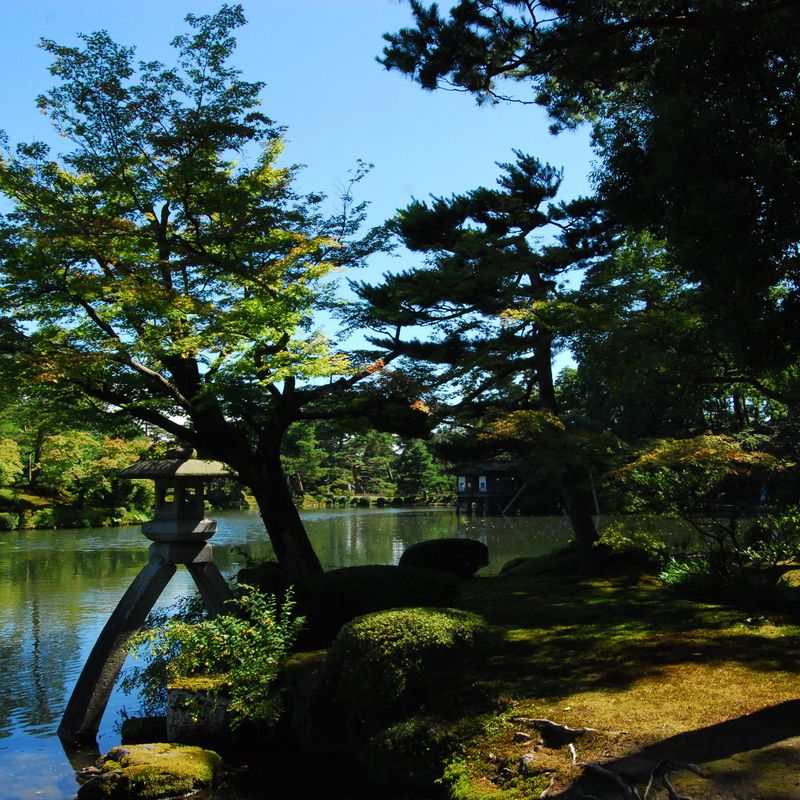 Last but not least is one of the most famous gardens in Japan (designated one of Japan's three most beautifully landscaped gardens, in fact). The Kenrokuen is the most renowned garden in the Hokuriku region, and offers a beautiful spot no matter the season in which you visit Kanazawa. Admission costs 310 yen, and it is open from 7:00 to 18:00 (1 March through 15 October) and 8:00 to 17:00 (16 October through the end of February) .
Do you have other things you love doing in Kanazawa? Feel free to share in the comments section below!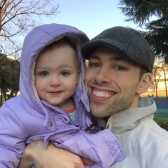 Hitting the books once again as a Ph.D. student in Niigata Prefecture. Although I've lived in Japan many years, life as a student in this country is a first.

Blessed Dad. Lucky Husband. Happy Gaijin (most of the time).
---
2 Comments
I'm always up for singing the praises of Kanazawa - really nice place. A bit off point but I think it's good to extend a stay in Kanazawa and use it as a base to explore the Noto Peninsula where you can get off the beaten track a bit and see a really interesting, beautiful and little bit remote part of Japan.

Not off point at all, @Tomuu--the Noto Peninsula is one of the best parts of Ishikawa Prefecture and the trip from Kanazawa is beautiful whether by car or by train. Good suggestion for the readers out there!