Apr 10, 2018
Looking for a wristwatch in Japan that's both fashionable and functional? Although nowadays people seem to be increasingly interested in smart watches instead of traditional wrist watches, I'm not among them.
If you're like me, a timepiece is a statement—a symbol of your character and lifestyle.
Some people are all about the bling. Others are about classic luxury. Others still are all about maxing out capabilities. Me, I look for something that is a mix of aesthetic quality and modern functionality since life often sees me sitting in a business conference and out in the woods in the same week, and I look for a watch that can do it all and stand up to the beating it gets.
There are a lot of great international options out there that could fit the bill (Suunto comes to mind), but none that have the combination of form and function that come with Japan's Casio ProTrek series.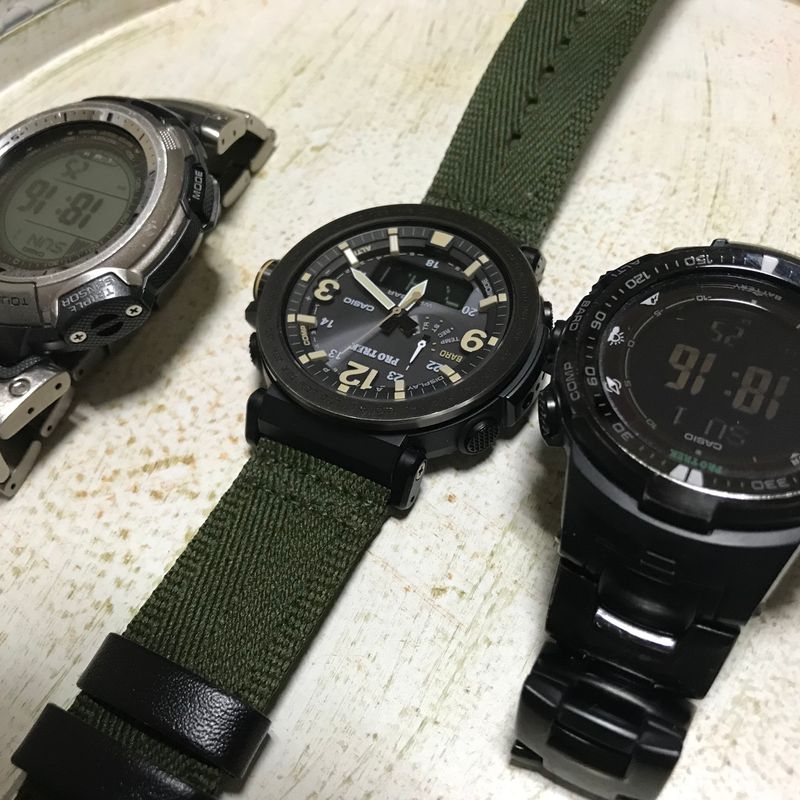 I contend that Japan offers the world's best digital watch technology, even if the analog options can't contend with the powerhouses like Rolex and Omega. Seiko and Citizen both offer some great sport/luxury watches, but I was surprised that Casio of all brands would end up being my favorite and the one I recommend.
The Casio ProTrek series first came out over a decade ago with the concept of combining every tool you would need for outdoor sports and activities with a high quality time piece. The result was a watch that had a built in compass, barometer, and altimeter along with all of the functionality of a high end digital watch. Even better, the pro trek series comes with Casio's "Tough Solar" technology, allowing the watches to run off of solar power without ever having to worry about a battery change. Best of all, the ProTrek series offers all of this in watches that look like they belong in a boardroom instead of on a surfboard .
Take the first-ever ProTrek I acquired, for example: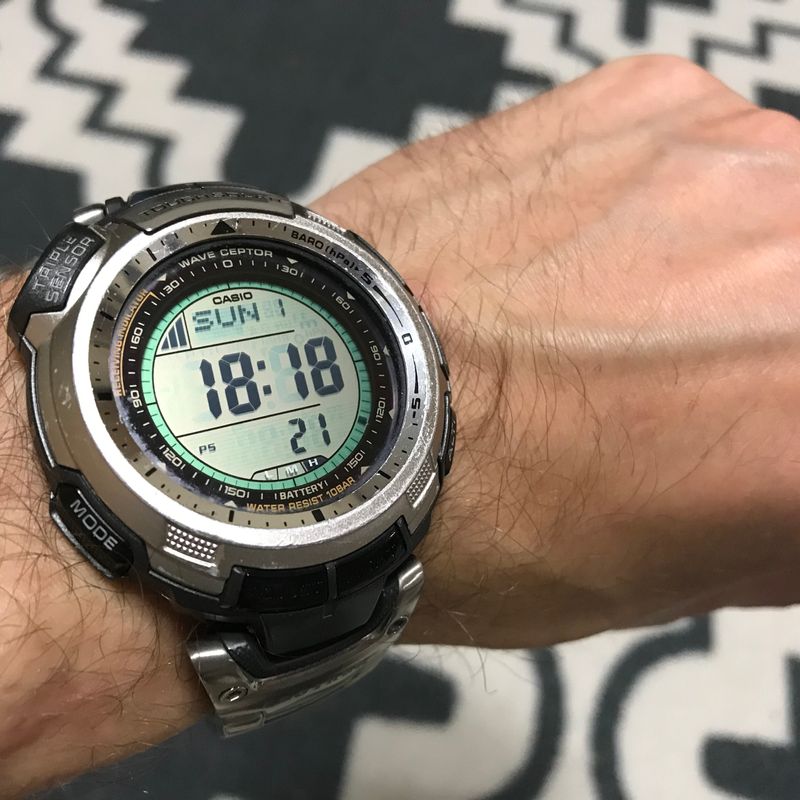 A lot of folks are turned off by the digital face, but I actually think it's got a lot of character for a digital watch. The body and band are titanium, which is durable and looks good. The one downside (that Casio would fix in later designs) is that even though the band is nearly indestructible, the pins are standard aluminum and are not quite as sturdy. Nevertheless, I've had this watch for 10 years now, and it survived two military deployments to Afghanistan, countless hours in the ocean (both surfing and free-diving), and even more hours stuck behind a desk or in work meetings.
My wife kindly upgraded my watch with a Japan-only limited edition "Black Titan" ProTrek: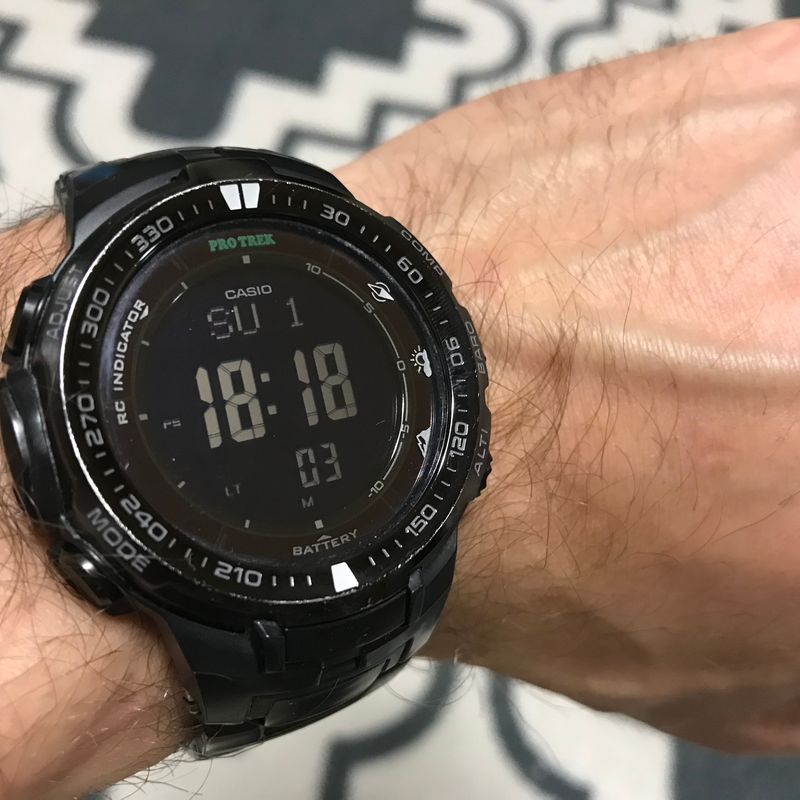 This watch fixes all of the mistakes of the previous model I owned with a sturdier band and overall smoother functionality of all of the major features. Personally, I am a huge fan of the black-on-black, and, like my older ProTrek, is versatile enough to be used in the outdoors or at formal occasions.
Still, ProTrek does not only specialize in digital faces and metal bands. The product line has a variety of options, and my wife once again surprised me most recently with this model: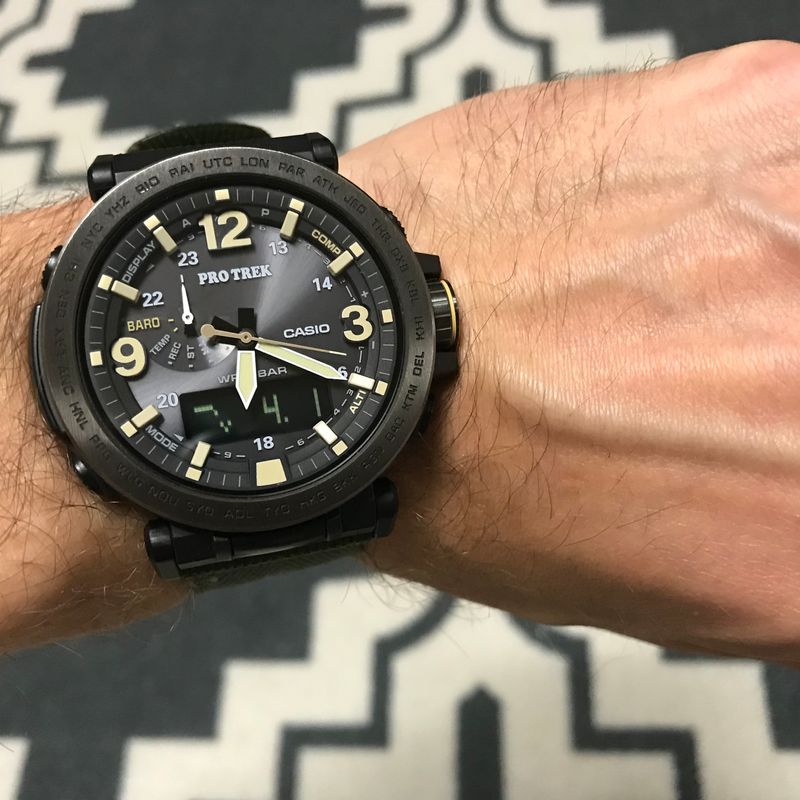 It comes with all of the functions that the other two watches offer, but instead of a metal band comes with a sturdy olive canvas band (which dries quickly--a huge plus for anyone who wants an outdoor-functional watch) and a dual analog/digital face.
The ProTrek Series ranges in price from around $100 (for older, marked-down products) to $750 (for top-of-the line, limited edition). If you are interested in the ProTrek Series, most Japanese watch stores will offer at least a limited selection, while the bigger department stores will feature a broad range of options. Still, I recommend checking out amazon.co.jp and watching for sales that often occur (that's how my enterprising wife was able to snag some good deals on the wonderful gifts she gave me!).
It speaks volumes to the watches when I get complimented on the watch both on the trails in outdoor gear and on the office floor in a suit, but that's what the ProTrek series offers. If you are looking for Japan's best all around timepiece, I strongly recommend checking out an option from this awesome Casio line.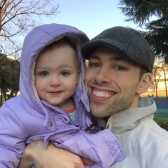 Hitting the books once again as a Ph.D. student in Niigata Prefecture. Although I've lived in Japan many years, life as a student in this country is a first.

Blessed Dad. Lucky Husband. Happy Gaijin (most of the time).
---
1 Comment
YES, I agree!!Casio's ProTerk watches are always a good choice. https://g-shock.jp/special/gpr-b1000/ Recently, I am thinking to buy the GPS watch they just released.