Apr 5, 2018
There are so many things to love about my town (Urasa, Minamiuonuma-shi, Niigata). The people are friendly, the locally grown rice and veggies are delicious, and there is always some sort of festival or special event taking place. The only downside is the voluminous snow that is part of life in yukiguni. Don't get me wrong, snow is great for skiing and snowboarding, but in the middle of winter here, the snow can fall so heavily that you're in downright survival mode just making sure that you can get to and from work, the grocery store, and home.
The meters and meters of snowfall can make for tough winters, but our town even finds wonderful ways to make the most of it. Another city-cost blogger wrote about the Snowball Fight festival that takes place near here, but about a month later in early March, our town threw a Children's Snow Festival (literally the Urasa Kodomo Yuki Matsuri) in its large park, the Yairo no Mori Koen. For a family-focused event, it simply could not be beat in showcasing all of the most fun aspects of living in a snowy place.
Here are a few of the attractions this festival had to offer:
The Food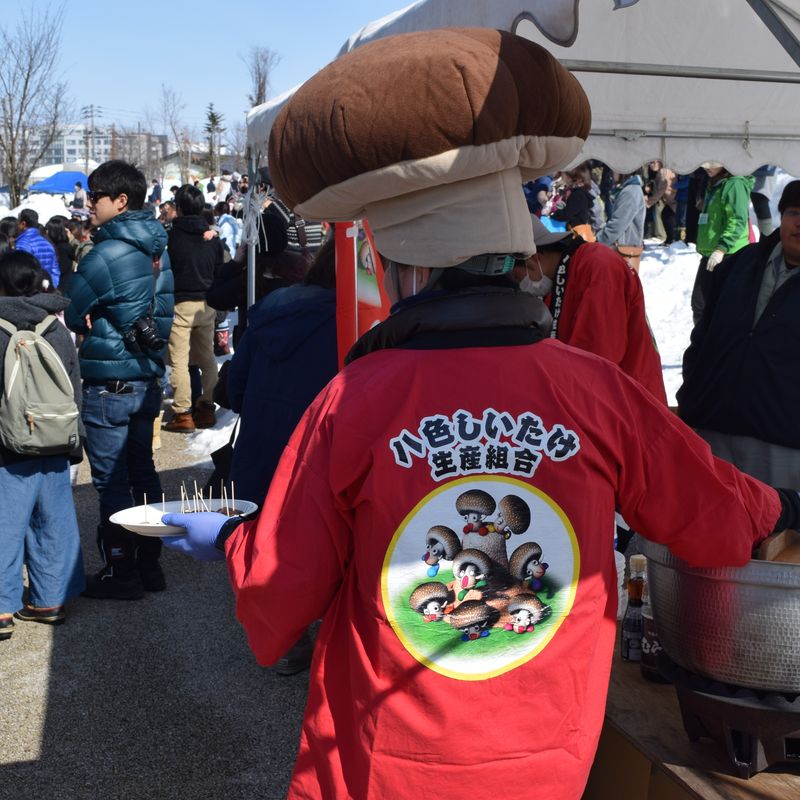 As I mentioned earlier, one of the best things about Minamiuonuma is the locally grown produce, and the festival certainly showcased it. There was freshly cooked koshihikari rice served in a number of different ways, delicious shiitake mushrooms (served by a mascot no less--as pictured above), and myriad other healthy and tasty options. Of course, no festival would be complete without the standard fare like yakitori, yakisoba, and manju, of which this festival had plenty to offer. Like other festivals, cash is king so be sure to have some handy, but you won't need much. The cotton candy we purchased for our daughter was only 30 yen, and none of the food options were priced over 500 yen.

The Fun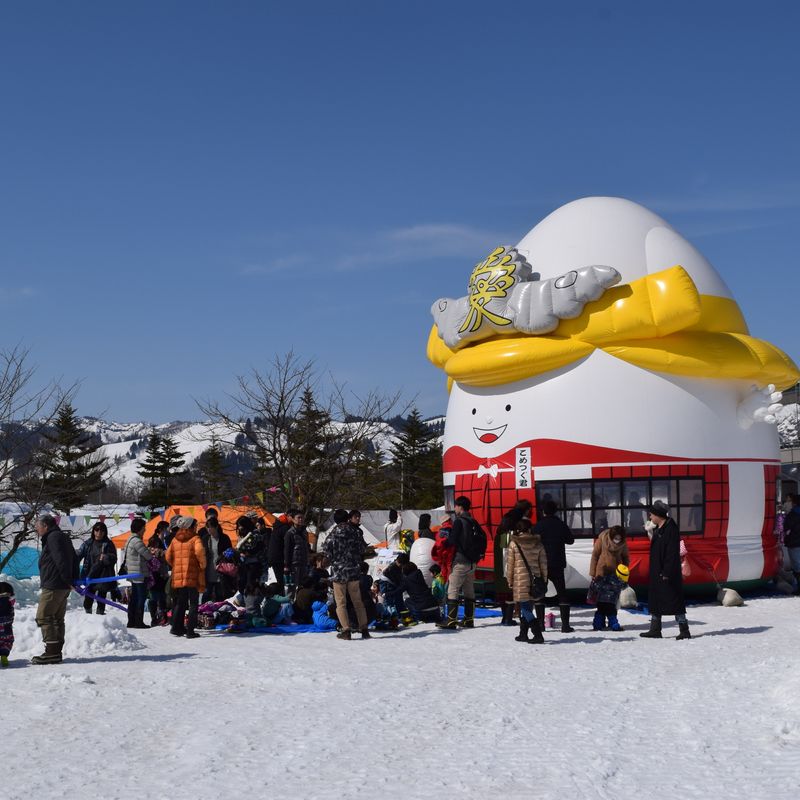 The town certainly showed that the people here are able to make the most of the snow. Pictured above is the Minamiuonuma yuru-kyara (mascot)-shaped bouncy castle for children to enjoy. There were also sled runs of varying sizes to accommodate different age and skill groups (sleds provided), and even a snowmobile-towed raft for up to four people to ride at a time. The best part? All of the attractions were free of charge.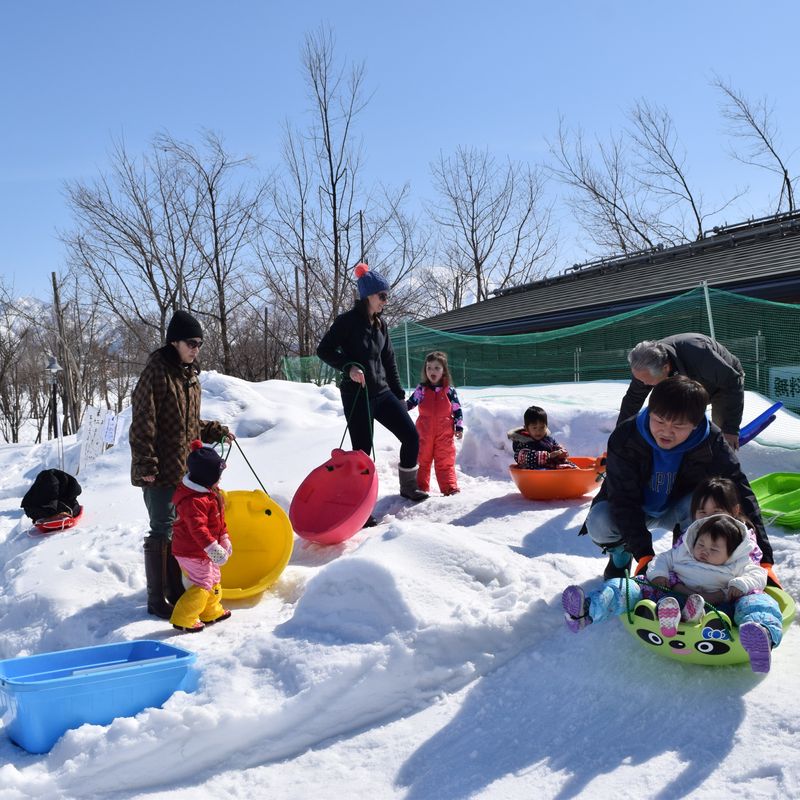 The Festivities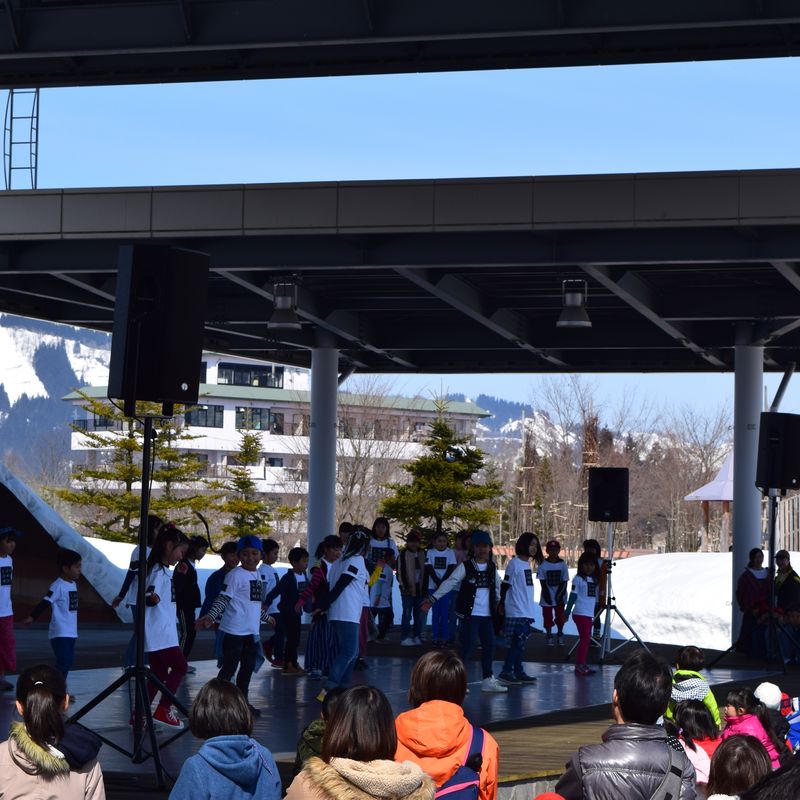 The town made good use of the amphitheater in the park, running a several-hour long program complete with dance troupes, taiko drums, and other musical performances. It was standing room only for the shows, but stopping in to watch some children show off some new dance moves or see a citizens' group taiko performance offered a nice break in between activities.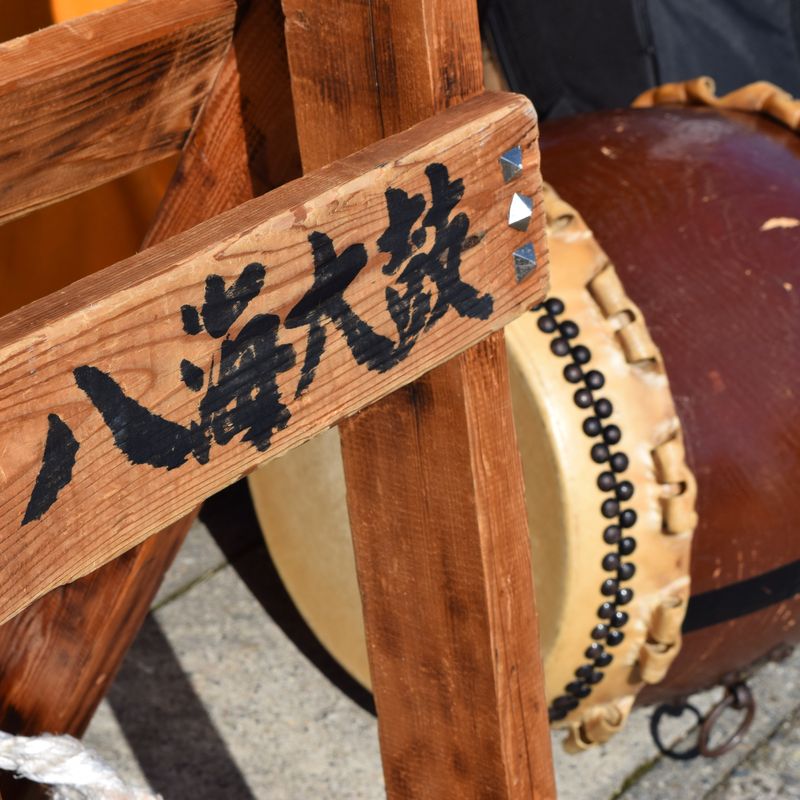 This past year marked the 12th iteration of the Urasa Children's Snow Festival, and next year's event will take place during the first weekend of March. The event runs all day from early morning to early evening, culminating in a large bon-fire.
Yairo no Mori Park is located about a 20 minute walk from Urasa Station, but there are taxis and buses available to ride. By car, it is a less-than-five minute drive from the Yamato Exit on the Joetsu Expressway.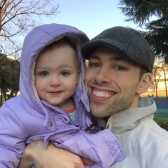 Hitting the books once again as a Ph.D. student in Niigata Prefecture. Although I've lived in Japan many years, life as a student in this country is a first.

Blessed Dad. Lucky Husband. Happy Gaijin (most of the time).
---
1 Comment
Any idea when the 2019 festival will be? It looks like maybe it was already held earlier this month? I was hoping to visit in mid-March but was wondering if the snow will all largely be gone by then.