Mar 3, 2017
It's that time of year again in Japan. There are buds on the trees, students are finishing up testing, and there is a buzz of anticipation for the end of the school year. Graduation for some of the high school has even already passed. But for most schools that is what everyone is waiting for. This year, for me, will be the first time I won't be attending two or more graduations and the first time in 6 years I won't be given that tiny cup of salty flowery tea. The first year I was served it, I thought how gorgeous! It must taste divine. But alas...it's actually kinda gross. Just salty water. And yet I really enjoyed it that first year. I thought it cool how the flowers were pickled and preserved, giving it the salty taste. The other teachers begrudgingly sipped theirs, waiting for the ceremonies to begin. There was a bit of bittersweet in that salty cup. My first group of students were graduating and I probably would never see them again, but I was very proud of them. The following year was also joyful and yet a bit sad, as I said farewell. Then, as teaching started to drag on, and the wear and tear of trying to be cheerful in a toxic environment began to drag me down, that celebratory cup of tea started to turn from bittersweet and salty, to just sour and salty. Another year I would need to adjust to new teachers. Another year I would have to deal with not feeling very fulfilled at my job. My favorite students were leaving and my favorite teachers were switching schools. I didn't want that cup of tea to come. But it came, and for utter lack of irony, my tea somehow represented exactly how I felt that spring, nothing but twigs. I got the dregs of the pot, or at least the last of the bits from the jar. My cup of tea was a disappointment without it's beauty. That was also the year I realized why many of the teachers appreciated that cup of tea. Starting the next year would be blossoms on the trees, new students faces and plenty of opportunities to make a difference. That tea was from the blooms of the past, still giving hope and reminding us that it's not the end, just the end of the year. It's a celebration, but a very salty one.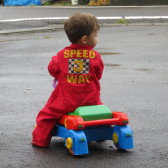 American step mom with beautiful Brazilian babies. Raising them in Japan. I'm a crafter too
---
2 Comments
Very poetical put. It's hard not to get emotionally involved with the teachers and students in your school... I'm somehow still full of hope though :)

@Kasajizo I'm grateful for social media because I still have contact with some of my students and the teachers I worked with. But I'm a bit glad I don't have to politely drink the salty tea anymore.