Jul 31, 2018
Using the print machines at convenience stores across Japan has helped out more times than I can count. It made it possible for my husband to get his visa then his Japanese citizenship because it allowed us easy access to copy all the important papers needed for all the paperwork...all...the...paperwork. It allowed me to print off cheap ID photos instead of having to find the hot photo booths that charge ridiculous prices or the photo companies that charge even more. It also let me make photo albums for my family back in the states without needing to buy a machine that would take up space in my home. But is one printer better than another? Well if I am ever trying to decide between going to 711 or family mart, I can tell you every time I have chosen family mart. Here is why.
Family mart offers more languages than 7 11. 711 only has options in Japanese English and Chinese. But if you look at the options on the family mart machine there are 8 different language options. More access to more people is always a better option even if it doesn't pertain to myself.





When you enter the English menu at both 7 11 and Family mart many of the service options disappear. However more so for 7 11 Why would a foreign English speaker ever need to fax something right? Unless it was late at night and she needed to get her lesson plan to the school she was visiting before she arrived there the next. And yes, Japan still faxes everything, not email.



The folder viewing is easier at family mart than 7 11. This could just be a personal preference



This one is just from personal experience and really depends on who is staffed at the store, but twice I have had trouble with the machines at Family mart, once my card got stuck and another it ran out of photo paper. Both times the staff were polite but made me wait until all the other customers were dealt with before helping me. Refilling the machine took almost 40 minutes because new customers would walk into the store. I haven't yet had a problem in a family mart. When the paper ran out, someone quickly came to my rescue with a fresh stock. Also luckily I have only ever had my card stuck in one machine.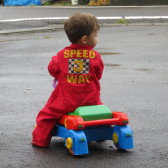 American step mom with beautiful Brazilian babies. Raising them in Japan. I'm a crafter too
---