Jan 4, 2018
Today, I'm going to talk to you about soba noodles. Soba is Japanese for "buckwheat," which I had never heard of before coming here. Not all soba noodles are the same. Some are thicker. Some are chewier. Some seem to just fall apart at the brush of your chopstick. Some soba noodles are also all buckwheat, no wheat mixed in. This means they are gluten-free. However the gluten-free, all-buckwheat variety are much more difficult to find and most restaurants you go to will have some percent of wheat mixed in with their soba. But Japanese love their buckwheat noodles and restaurants serving them can have lines for hours.
In Ashikaga, Tochigi-ken, there is a soba restaurant, Kyouyuan, adjacent to the big, red, beautiful, and recently refurbished Orihime Shrine that, on New Year's Eve, has people lined up all the way down the very long flight of stairs and around the corner down the street. The noodles, which are much softer than most pasta or other noodles, can be cut easily, so essentially you are cutting away the hardships of the year and letting them go.
At this shop, you can see where the soba master has ground the soba down to be made into that day's noodles. The entrance is just an inconspicuous door to the right of the staircase leading to Orihime Shrine, about two-thirds of the way, and any out-of-breath traveler may miss it on their way up. However, don't let its appearance fool you. Inside, it is far more spacious than one would assume, and the view from the window is breath-taking. I can see why it is so famous.
However, I much prefer the soba restaurant behind Orihime Shrine, Soba Itou.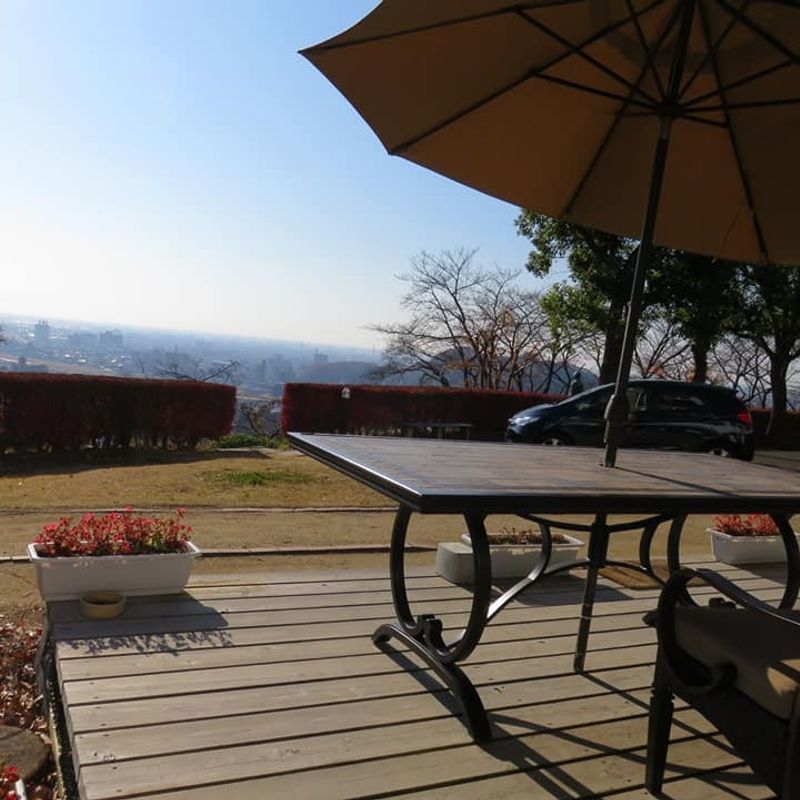 The view from Soba Itou is just as amazing, and it is easier to access. You are only allowed to eat at the tables indoors, but the plus side of this soba restaurant is its coffee. Now don't get me wrong. The soba noodles are also delightful. You don't have the same variety of noodles as the first place on the staircase, but they taste phenomenal.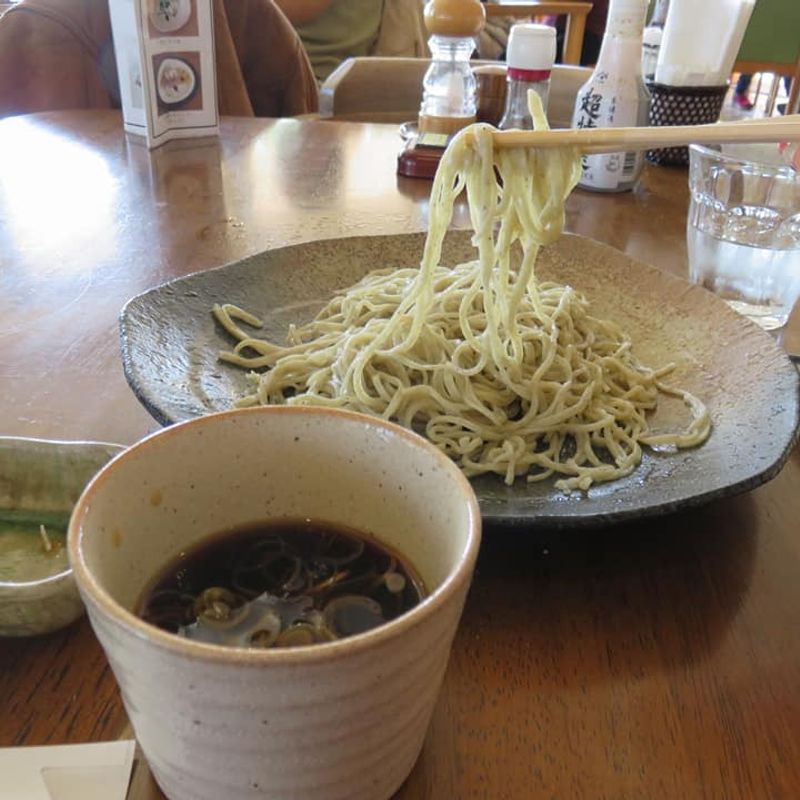 Soba Itou also has more than just soba noodles and broth. Oh, and it is mouthwateringly delicious.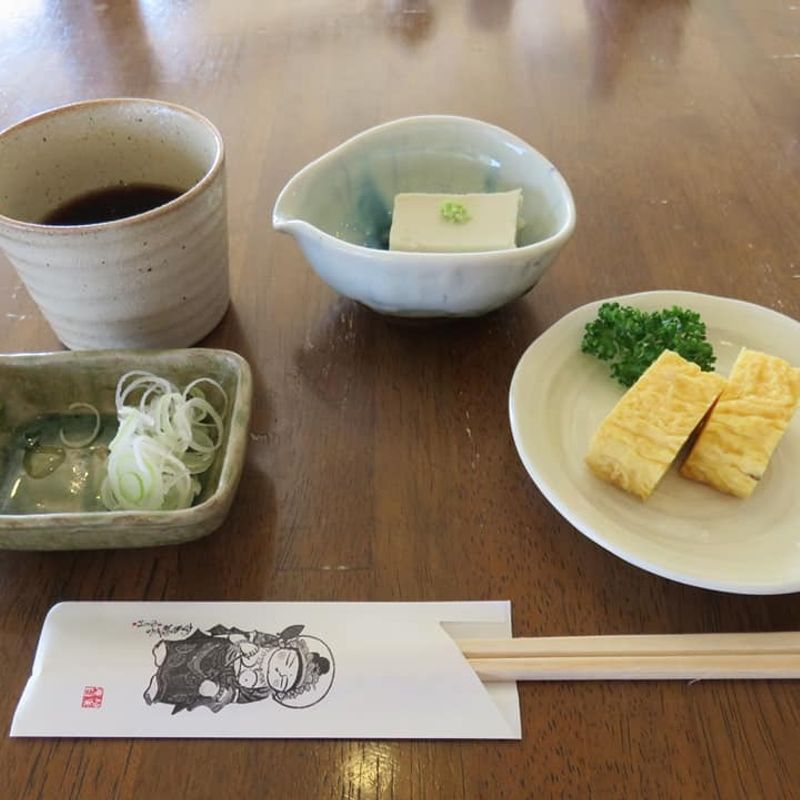 My meal started off with the side dishes; rolled-egg omelet, tofu made with buckwheat, and tempura fried vegetables.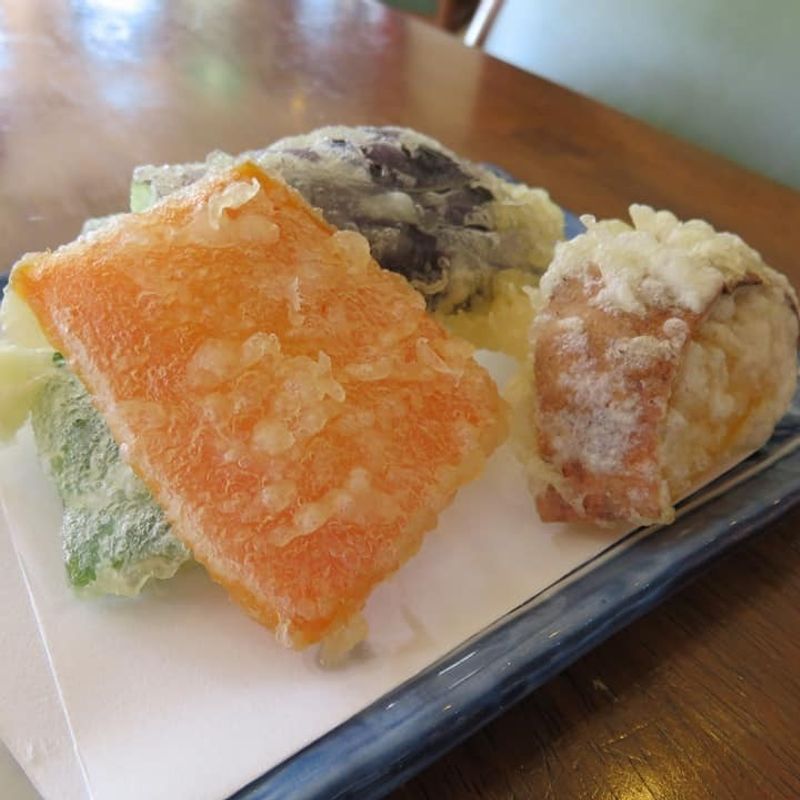 The batter is so delicate and fine that it flakes off in your mouth just before the perfectly softened vegetables melt on your tongue. My favorite piece was the small chunk of sweet potato.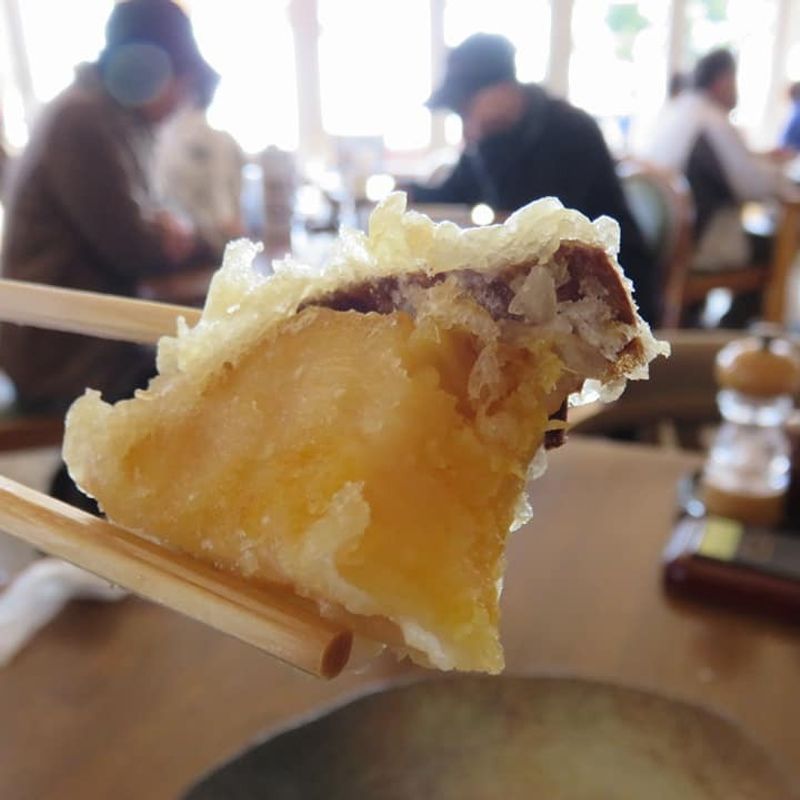 It is a type of sweet potato known for its high sugar content and is extremely creamy. Deep fried, I was basically in heaven. You have the choice of dipping your tempura in the soba broth, or ...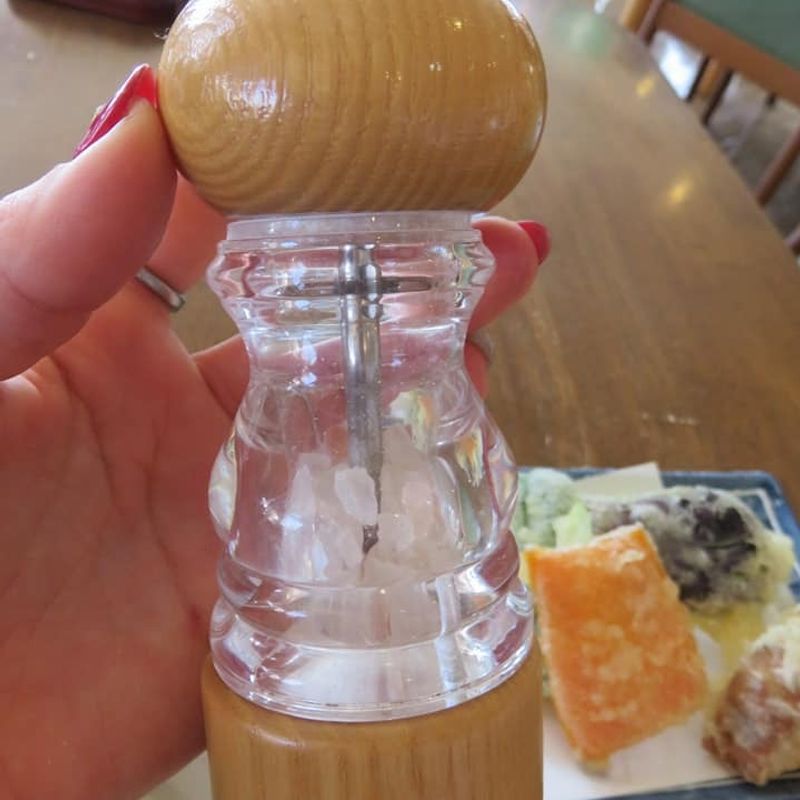 ... sprinkling on some freshly ground sea salt.
The cold soba noodles are meant to be dipped in the broth after adding your liking of sliced spring onions and wasabi.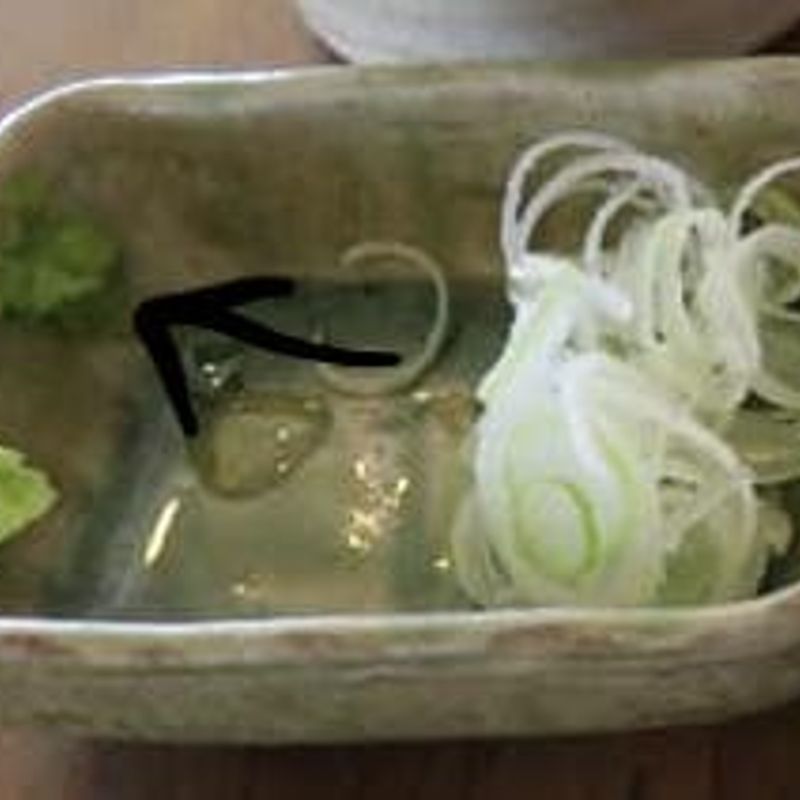 The tiny pile of green can also be used on either your tempura or diluted into your soba broth, but be warned. It. Is. Spicy!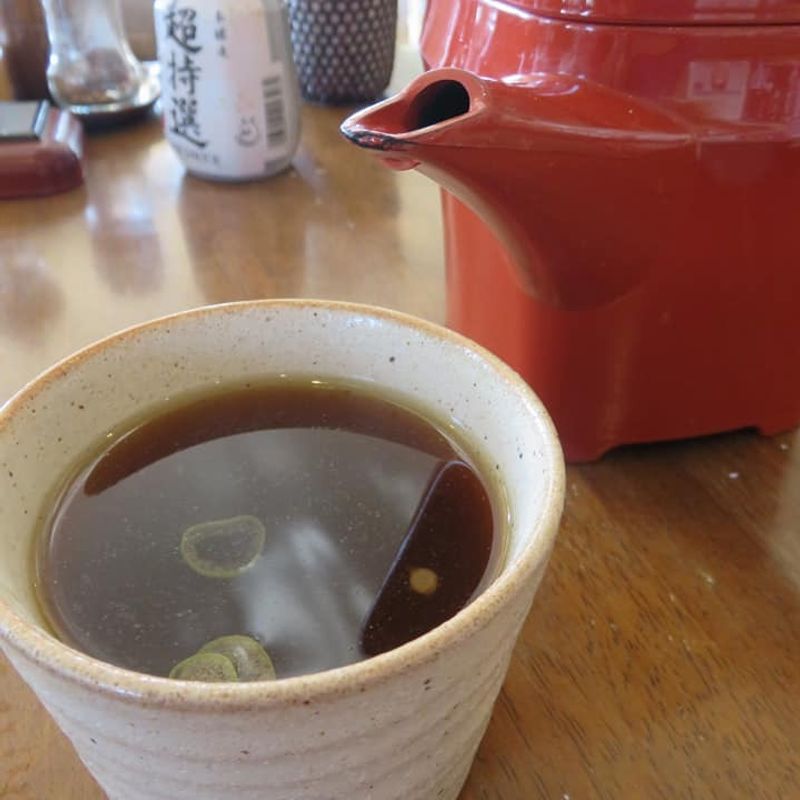 Once you have finished savoring your noodles, the broth is meant to be taken as if it was tea. The red pot has salty warm water that dilutes the broth and you drink this to finish off your meal.
Now, remember, eating outside isn't permitted, however, having your cup of coffee is. I was escorted outside when my coffee was served and could enjoy it under the warm sun looking out across one of my favorite cities.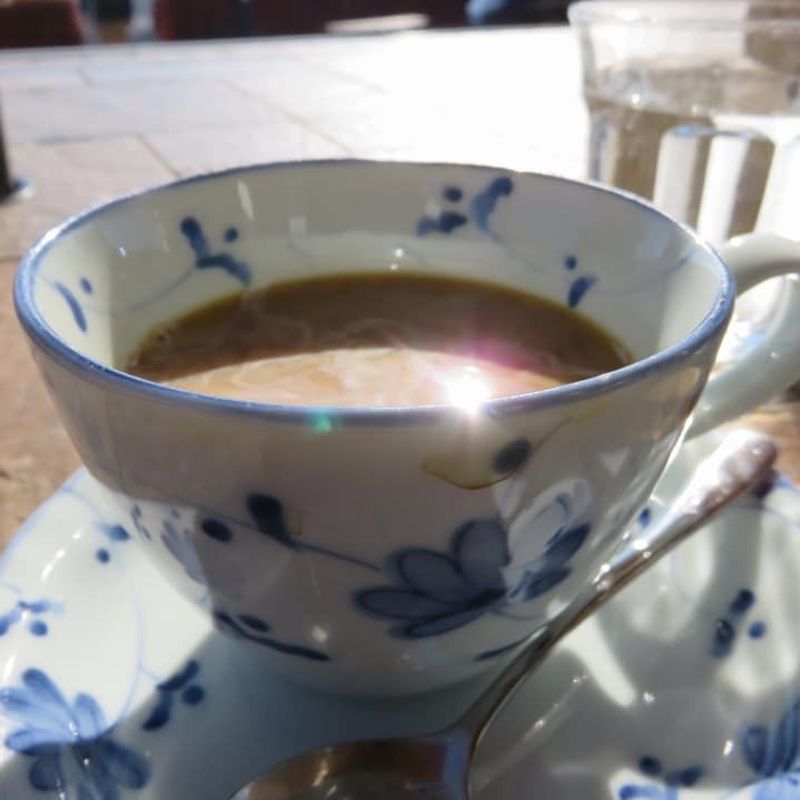 As we enter the new year, perhaps someone would like to cut away this past year's hardships and try one of these two lovely soba restaurants.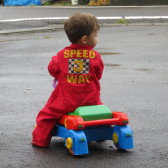 American step mom with beautiful Brazilian babies. Raising them in Japan. I'm a crafter too
---