May 9, 2016
Japan's long holiday in May (Golden Week) is over. Did anyone go anywhere interesting?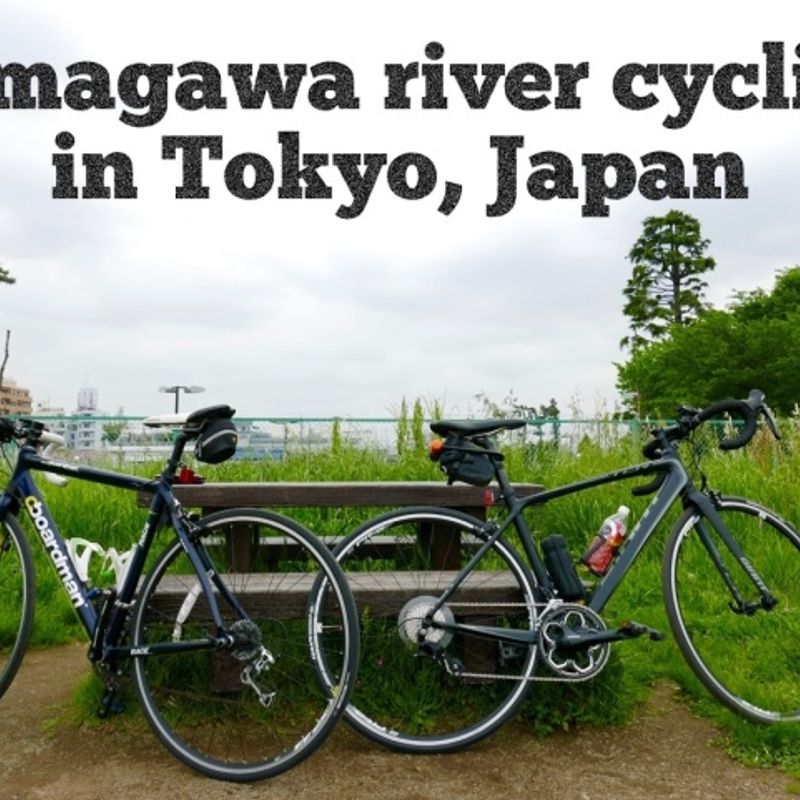 Me, I made use of my recently bought road bike, and went cycling with a friend. It was my first time to take the bike out for a long ride.
I planned to set out from home at 9:30 and head to the place where I was due to meet my friend (at Noborito Station / 登戸駅 in Kawasaki) before cycling to Tama River. Not yet used to the new road bike, I ran into a few difficulties during preparation, particularly getting air into the tires. I think my pump had been left outside for about 5 years and was a little damaged. No matter how many times I pumped it, not much air was going into the tires. In the end, I had to use the 'emergency pump' that I'd prepared as part of my puncture repair kit.
Finally, I headed out with some force; the quadriceps operating at full capacity! Still not used to the bike though, after 15 mins the body was already feeling heavy!
After about 45 mins, I arrived at Noborito Station.
My friend appeared in full cycling gear. I, on the other hand, was just in shorts and t-shirt. The road bike beginner that I am, over the next few hours realised why my friend was turned out in full cycling gear.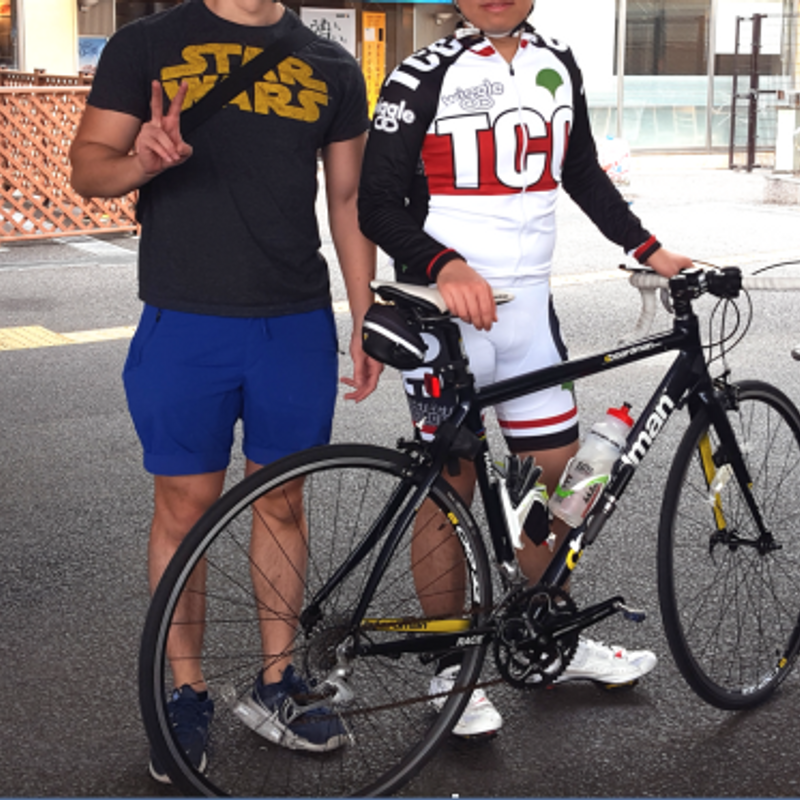 Just after setting out, my friend remarked on his empty stomach and took us to a nearby McDonald's for an energy fix. Actually, in regards to this, I had thought that one hamburger would cover my energy needs for the ride. On the way home, though, I did find myself 'hitting the wall', making for a tough end to the ride.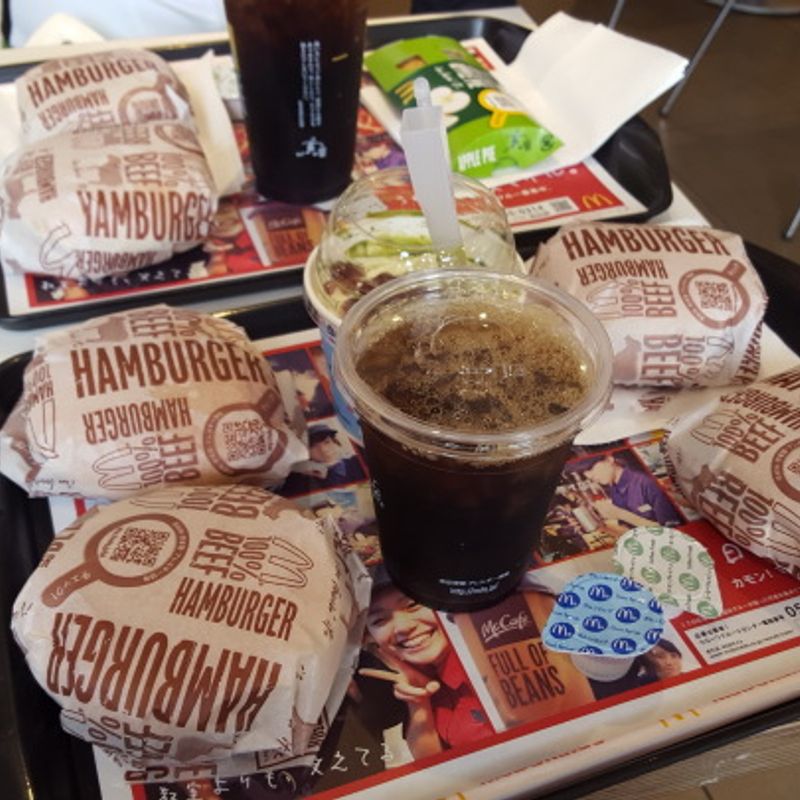 So, we headed out straight after our hamburgers, and cycled up to the road/path that runs alongside the Tama River (多摩川), continuing this route without rest.
After two hours of cycling, at around 1 pm it started to rain. The plan had been to keep pushing on, but I hadn't packed any rain gear, nor had I checked the weather forecast, such was my impatience to set out!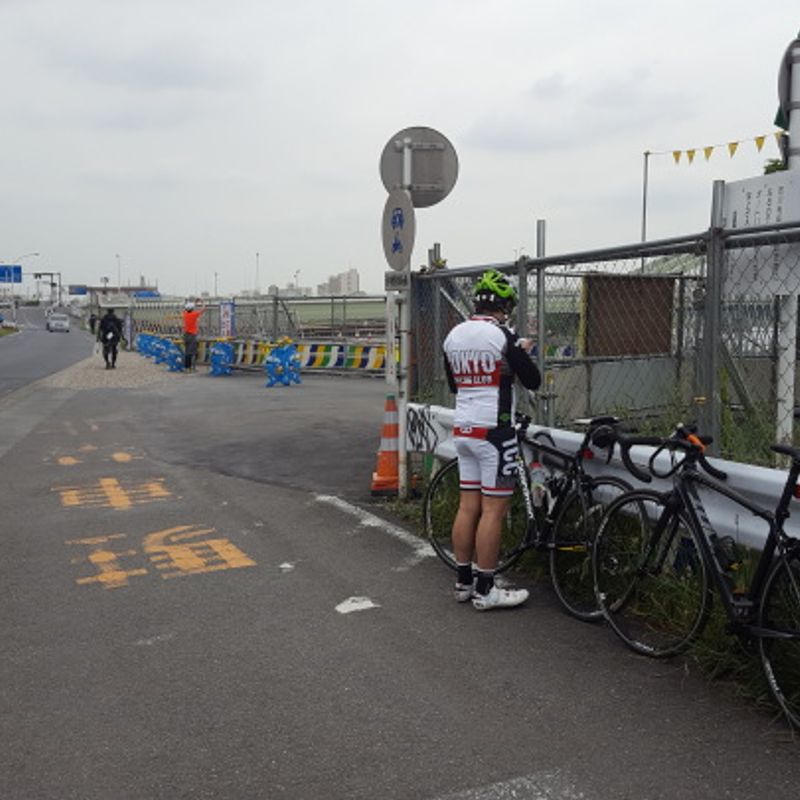 So, part way along the route, we stopped off at a famous cycle shop in Tokyo, Y's Road, and gave our bikes the once over. The first thing I noticed was that there was hardly any air in my tires. Really, tire air pressure should be at around 120. Mine were at about 75. Before setting out, I'd thought that I'd put plenty of air in. Maybe due to the emergency hand pump though, I was way off.
With the rain falling, we stayed at Y's Road for a while and assessed our situation.
Y's Road Fuchuu Tamagawa (ワイズロード府中多摩川)
And … the rain didn't stop.

Still, we couldn't stay there the whole time, so after a quick consultation, we decided to head home. With the air in the tires up to 120, I noticed a big difference in my bike's speed.
We went back using the same route. Turning the pedals steadily, I found that my quadriceps now had more power in them than on the way out, and the muscles banged away without relenting. What was different now? Perhaps the fact that heavy rain clouds were approaching from behind!
In this way, we made it back to Noborito Station, and had a quick coffee break before going our separate ways.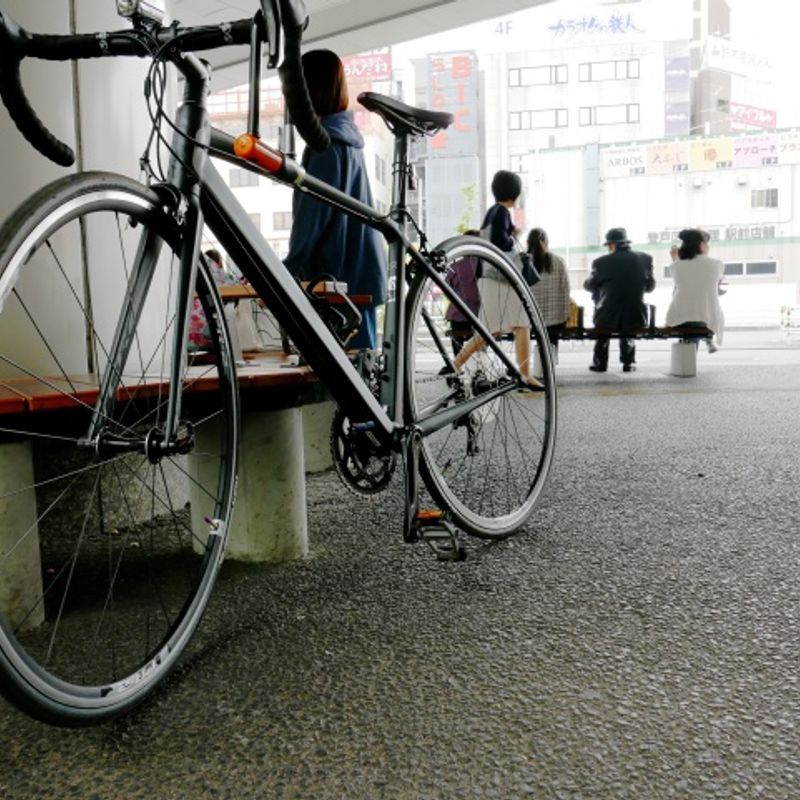 And this is when I 'hit the wall'!
It started as a light headache, before turning into a strange kind of chill. I also became really sleepy. Initially I thought perhaps I'd caught a cold, but this didn't seem right. After an Internet search it seems I'd 'hit the wall' (ハンガーノック / hunger knock - in Japanese) and run out of gas.
Hitting the wall.
In endurance sports such as cycling and running, hitting the wall or the bonk describes a condition caused by the depletion of glycogen stores in the liver and muscles, which manifests itself by sudden fatigue and loss of energy. wikipedia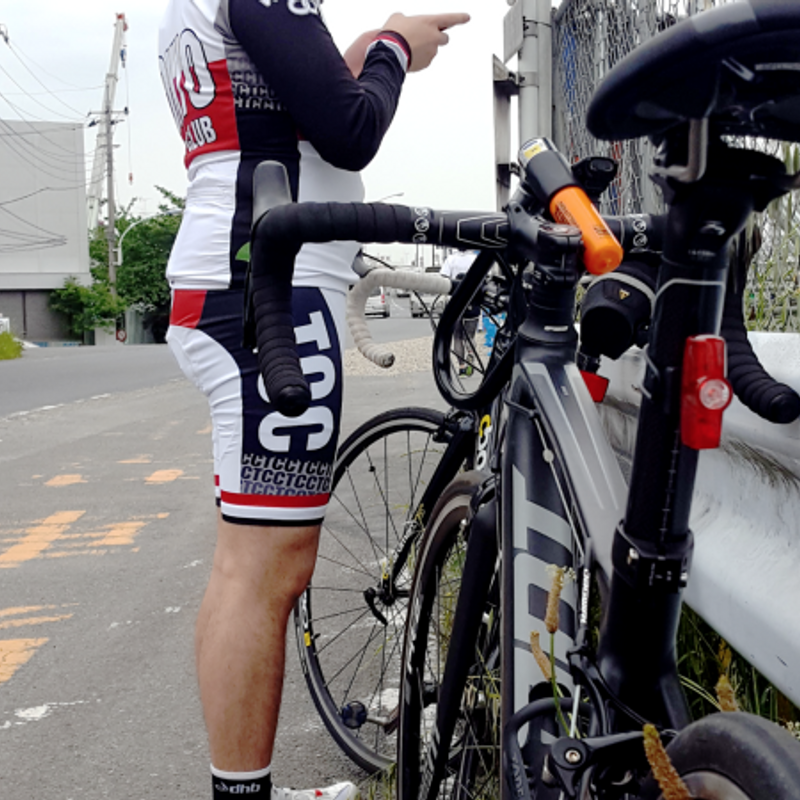 Looking back, I realise now that I didn't have anything to eat after that McDonald's in the morning. That amounts to a calorie intake of 1,300 kcal. 4 hours of pedaling a bike burns off over 1,000 kcal. Add to this the calories that your metabolism burns off anyway, and you're soon down well over 1,300 kcal. So, it's no wonder I was out of gas by the end of our Tama River ride.
It wasn't until 7pm that I finally ate again, so I felt in pretty bad shape. I needed to replenish those calories, so that night I ate hamburg (ハンバーグ).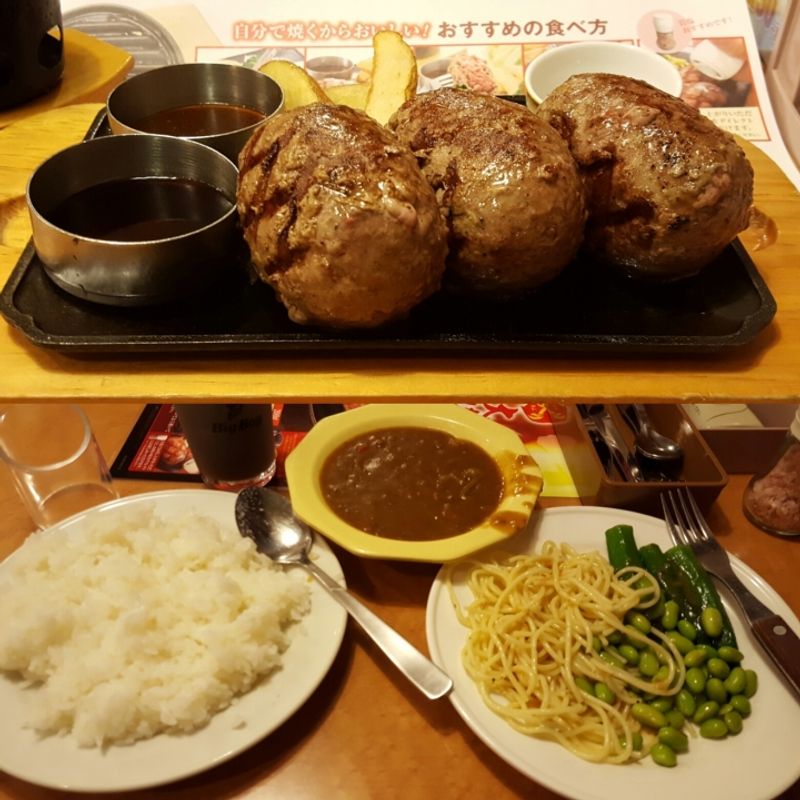 Hamburg (600g), rice, pasta, and curry.
Actually, I'm aware that this is probably too much food!! That said, about 30 mins after eating this my condition improved. The chill went away and my normal body temperature returned. For a moment there, I thought that the human body is a funny thing.
Back to the cycling wear thing. Because I was only in shorts and t-shirt, by the end of the day my backside was sore. It stayed that way throughout the next day.
For the next cycling trip, I want to be sure to eat something part way through. I've also ordered some cycling wear online (Amazon), so I intend to be fully kitted out and in perfect condition to have a go at a 100km ride.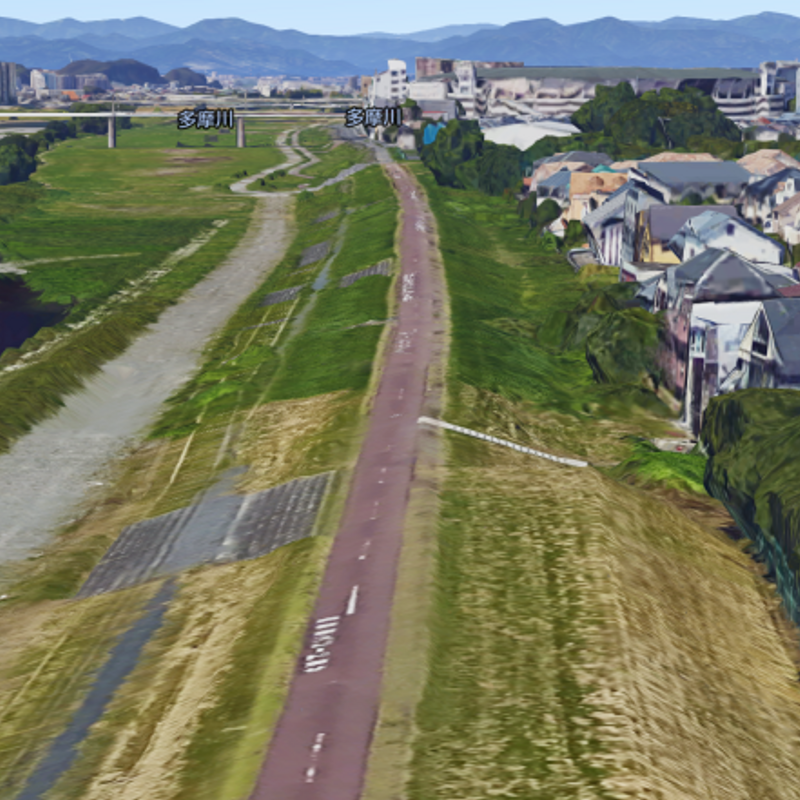 Distance cycled (including to/from home): ~ 50km
Start point: Noborito Station (Nambu Line)
Goal: Yaho Station (Nambu Line)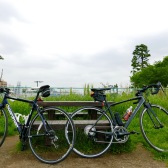 Hi guys ;) I like to do training. wanna share information about training and my daily life in Japan.
---
3 Comments
My 'backside' always hurts a little when I get a new bike, because of getting used to the saddle. I think most road bikes have a different size than mamachari for the 'nipple' to pump air into the tubes. Maybe that's why your bike pump didn't work? Air pressure makes a big difference. Anyway, looks like you had fun. Thanks for sharing!

Excellent. Enjoyed that. I ride that wonderful bike path all the way from Hamura-shi down to Futako-tamagawa couple times a year on my German designed Birdy (bd-1) collapsable bicycle. Fun ride a long the river with a lot of neat places to stop along the way for something to eat or drink.

@TCWest it was also too windy though, but riding bike was fun!