Nov 16, 2018
Two regions in Japan I have visited and enjoyed immensely are the eastern region of Shizuoka Prefecture, and the mountainous area above Nagano City in Nagano Prefecture.
Atami City in Shizuoka Prefecture continues to draw me back. Memories of the spectacular views from the scenic railway, the steep mountains above the beaches, and the onsen hot spring spas which melt all your cares away, all make me eager to return and explore farther across the prefecture. Everything I ate was delicious there, with a wide variety of seafood, fresh fruit, and local specialties like the Shizuoka versions of mochi and oden.
The other region, Nagano City and the mountain villages above, are great getaways to escape summer heat and experience nature. There, I like to make a pilgrimage to the temples in the urban areas and mountainside. After a vigorous walk or climb, I sample all the many varieties of soba and brown rice dishes.
What a treat to find in my local supermarket a tea that combines the iconic products of both prefectures. Shizuoka's signature product, new green tea, is widely available in many shops and supermarkets. Right now, my local supermarket has been promoting Shizuoka tea producer Kanehachi Cha-En with a number of reasonably priced teas in simple packaging. Frequently, green tea sold in Japan's supermarkets and tea specialty shops are blends of different teas from various regions. There is not as much emphasis on regional specialties with teas as there is with Chinese tea.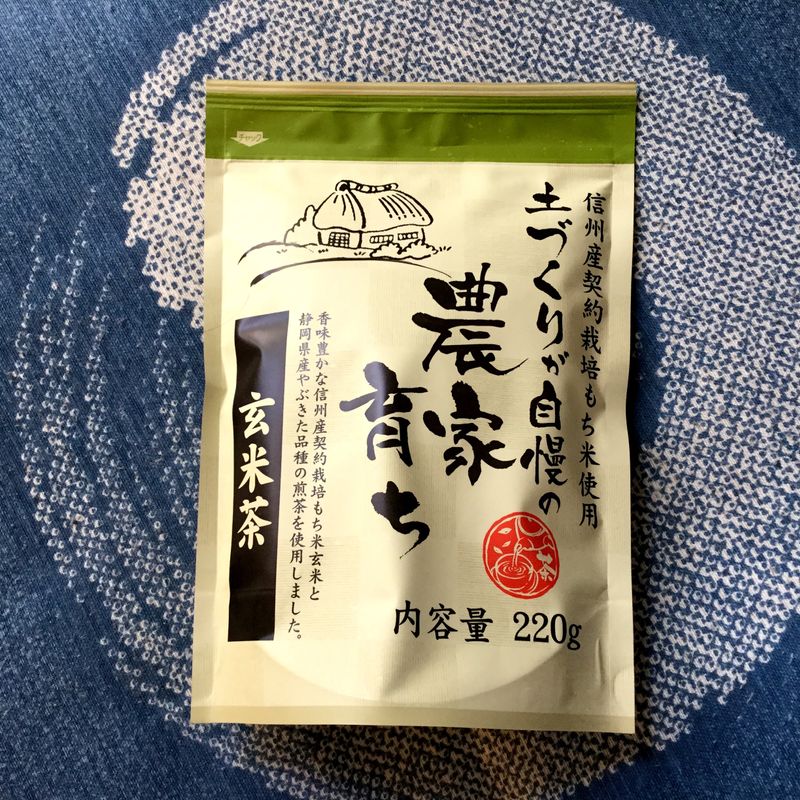 This offering from Kanehachi Cha-En, however, is genmaicha, brown rice tea, made specifically with tea harvested in Shizuoka. Now, genmaicha is commonly drunk by everyone in Japan. In the old days, green tea was a commodity that was rather expensive. Poor people stretched the tea farther by combining it with brown rice, the genmai in genmaicha. But genmaicha is not something to turn your nose up at. It's a delight. The grassy quality of the green tea, and the nutty flavor of the brown rice make for a full-bodied tea.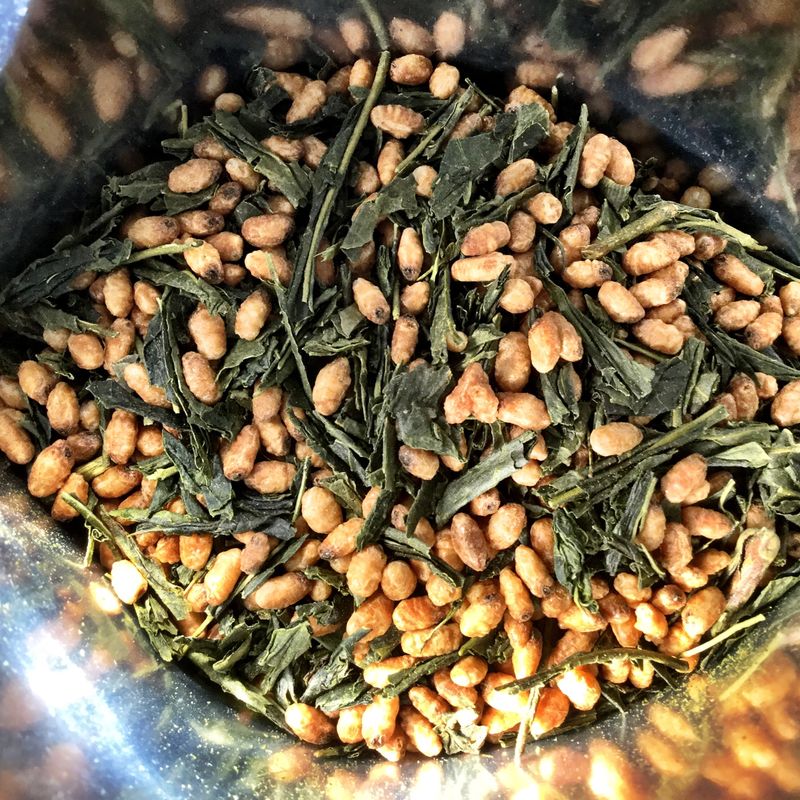 And the genmai is where Nagano Prefecture comes into the picture. This product is cut with organic brown rice grown in the prefecture. Brown rice is the unpolished grain, full of flavor and nutrition. In the roasting process, sometimes the rice kernels burst, so genmaicha is sometimes called "popcorn tea" for its white flecks. They have a curious spongy texture, but a pleasant flavor.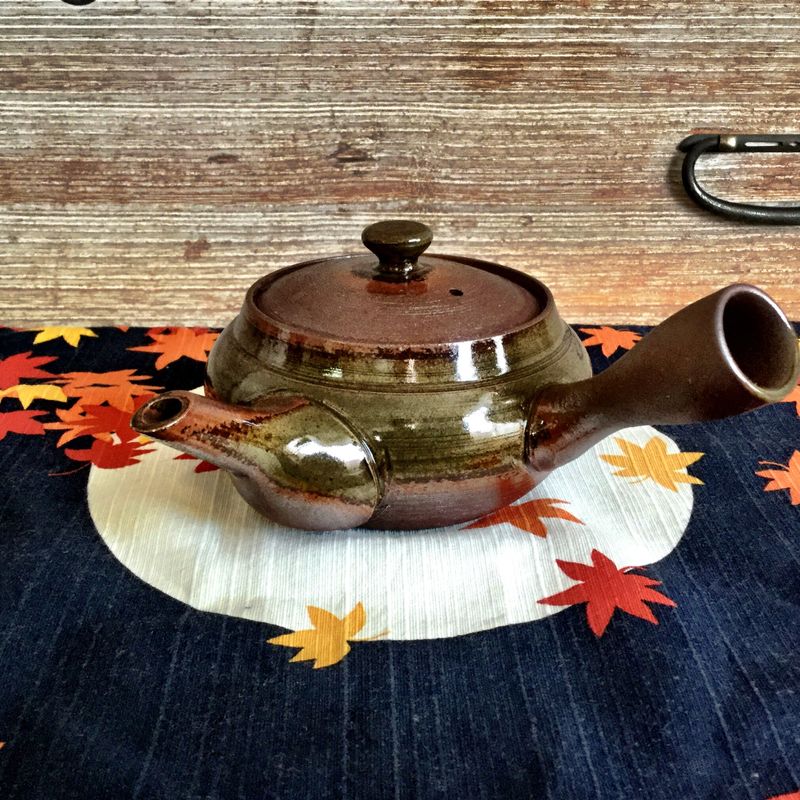 I steeped the tea briefly in a tea pot with a matte glaze on the inside. The tea gradually gets into the glaze. I think I'll dedicate this teapot to genmaicha.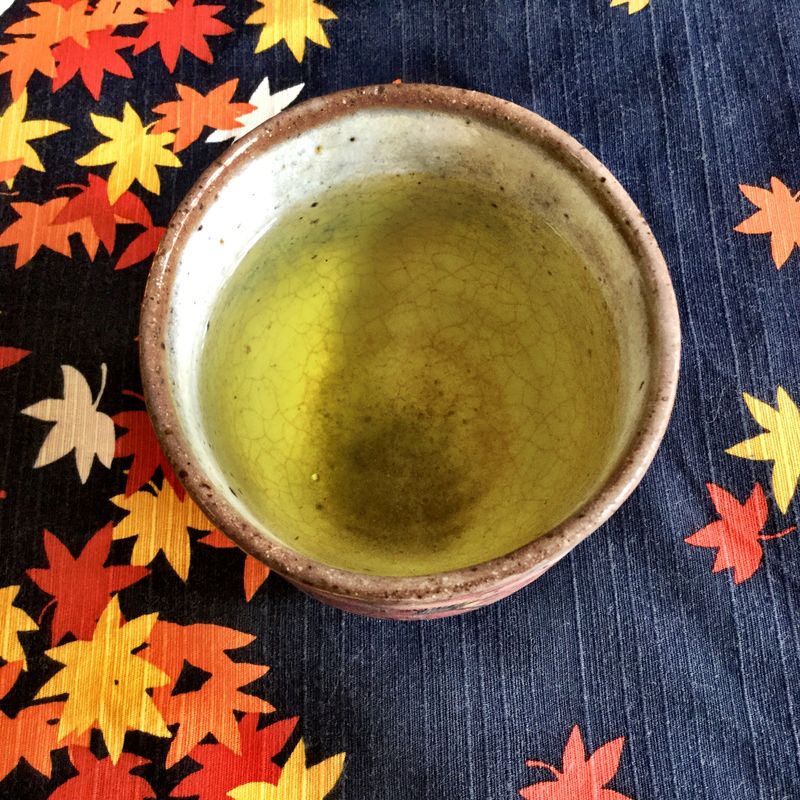 The tea is a lovely color, yellow-green. On an autumn morning, this tea's aroma reminds me of fresh cut grass, walnuts, and even a little of autumn leaves.
The scent freshens up the house, too. I learned from observing the tea shops to heat a little tea to bring out the aroma. I either heat a spoonful or two of tea in a ceramic aromatherapy burner, or on the stove in a saucepan on low heat. The scent can really perk you up and is much nicer than any commercial air freshener.
This post is supported by Shizuoka Green Tea Guide, one of City-Cost's Supporters helping City-Cost bloggers to enjoy life in Japan and engage in new experiences.
---