Oct 18, 2018
Kashiwa City, Chiba Prefecture has an annual food festival that I love to go to.
This year, I have to work on the weekend that the event is held, but I highly recommend it.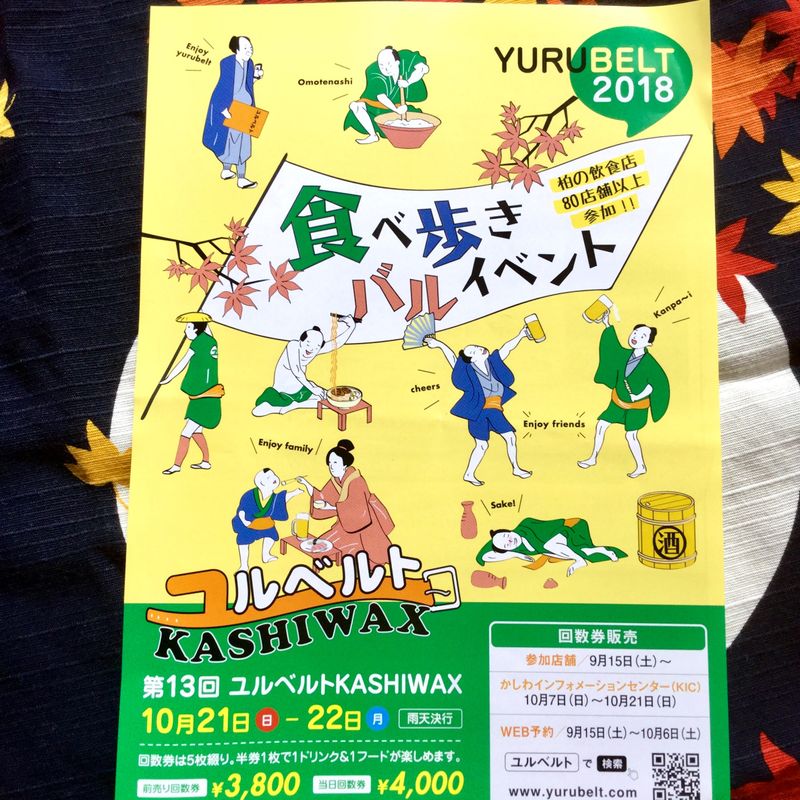 The event is called ユルベル Yuruberuto , or loosen your belt. You might want to wear something with a loose waistband and some good walking shoes because you will be eating and cruising around the city.
This year, 71 different restaurants, cafes and bars participate. At Kashiwa Information Center (right outside the south exit of Kashiwa Station) , you buy a pack of tickets in advance for 3800 yen (or 4000 yen on the days of the event) and a map. For two days, October 21st and 22nd, redeem the tickets at the participating restaurants and receive a representative drink or dish, or more.
The best thing is you can split a book of tickets with your friend. Each ticket is worth about 500 yen, or one dish. And they are valid for two days. If you don't use all the tickets during the event, you can still take them to shops for a while after the event, and some will honor them. You could do lunch and dinner on two days, or just gorge on one day. It's up to you.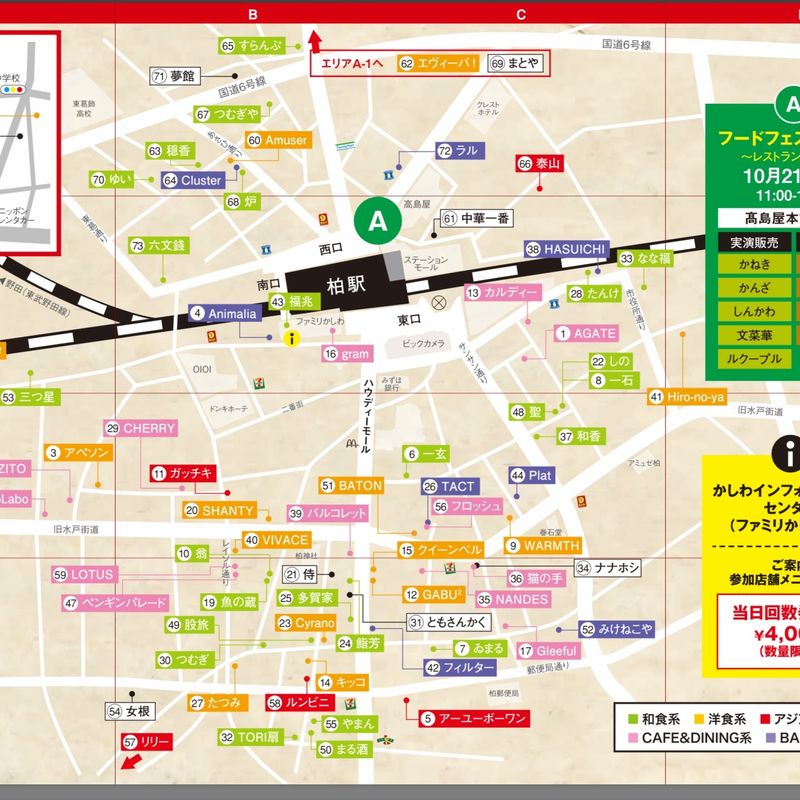 Green indicates washoku, yellow is yoshoku, red is Asian food. There are many other small places, too, that do coffee and snacks. The pamphlet has more information.
I'm a creature of habit. I like my favorites in Kashiwa City, but Yuruberuto means I can not only drop in on my local friendly shops run by friends, but also try some cuisines at restaurants I wouldn't otherwise visit. I must admit, I know very little about French or Korean food. The event means I learn about some foods I wouldn't otherwise eat.
It's such a treat to meet local business owners and neighbors, and lots of visitors to the city. Often, while waiting in line, visitors chat and trade tips.
Does your city have a similar food festival? Is there another town that organizes a food cruise like this?
---