Jan 16, 2019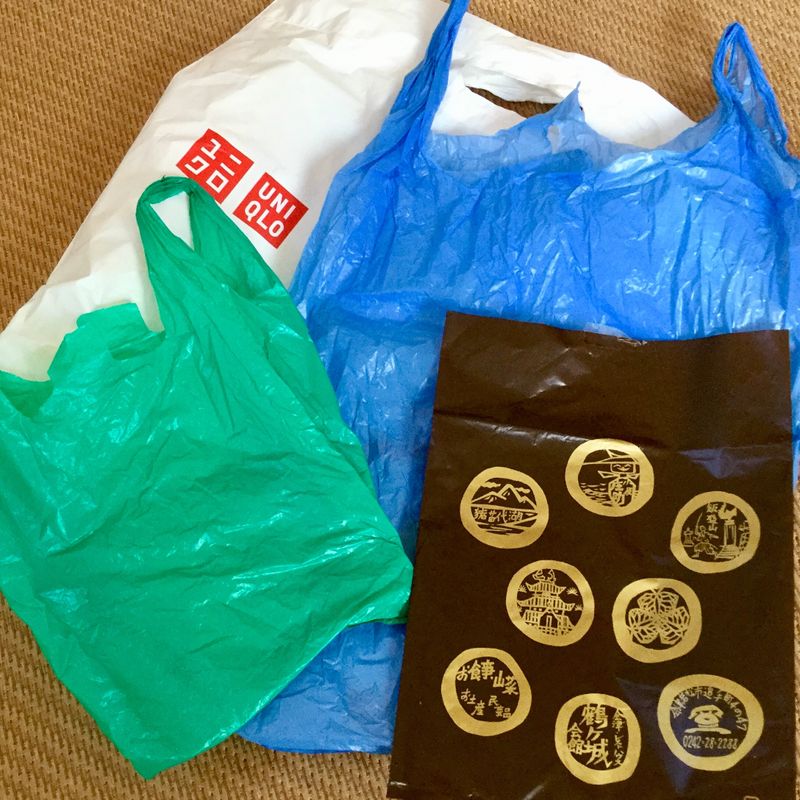 Recently, JTSuzuki wrote about making "plarn", plastic yarn, from plastic bags. She crochets them into useful items. That's cool. But what if you don't knit or crochet? I'm one of those lefties who struggles with knit and crochet.
But if you can wield an iron and scissors, and maybe handle simple sewing, you can make some amazing things from fused plastic fabric made from plastic bags. As plastic bags proliferated in my kitchen some years ago, I started experimenting with fused plastic. It's surprisingly easy, and a wonderful outlet for creativity.
To fuse plastic, all you need is an iron and ironing board, some kitchen paper (the kind that withstands high heat), scissors and some creativity.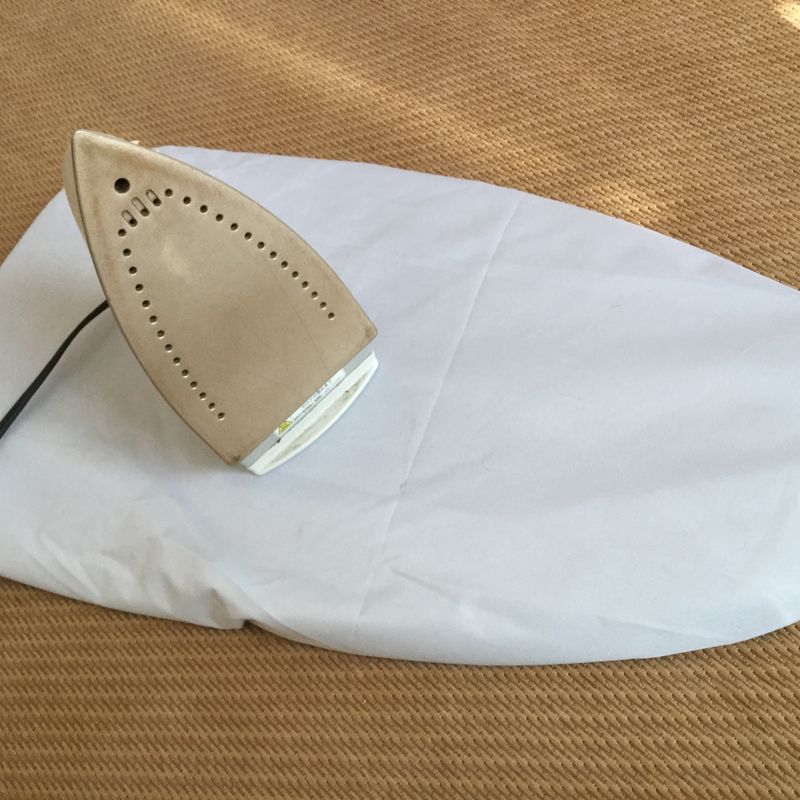 Work outside on the balcony, or inside with all the windows open. Fusing plastic creates some fumes, probably not lethal, but not great for you.
To start, cut all the handles and edges off some plastic bags. The best kinds of bags are the thin "reji bukuro", shopping bags you get at the cash register. They're thin and often have a pattern or message on them, which I think is part of the charm of making fused plastic bags here in Japan. You get amusing patterns and messages on your fused plastic fabric this way. As you get more proficient at the fused plastic technique, you can incorporate other kinds of plastic. The shiny insides of potato chip and snack packages make shiny bits that you can layer in your fused plastic fabric.
Next, place about 5-8 plastic sheets you have cut out between two sheets of paper. You can use cooking paper, which is resistant to heat, or in a pinch, clean copier paper. The size of the paper and the plastic sheets limits the size of your finished plastic fabric, so the bigger the better. Make sure that, if the plastic has a design or message on it, you sandwich it between two sheets of plastic because the ink will melt. You don't want that melted ink on your iron.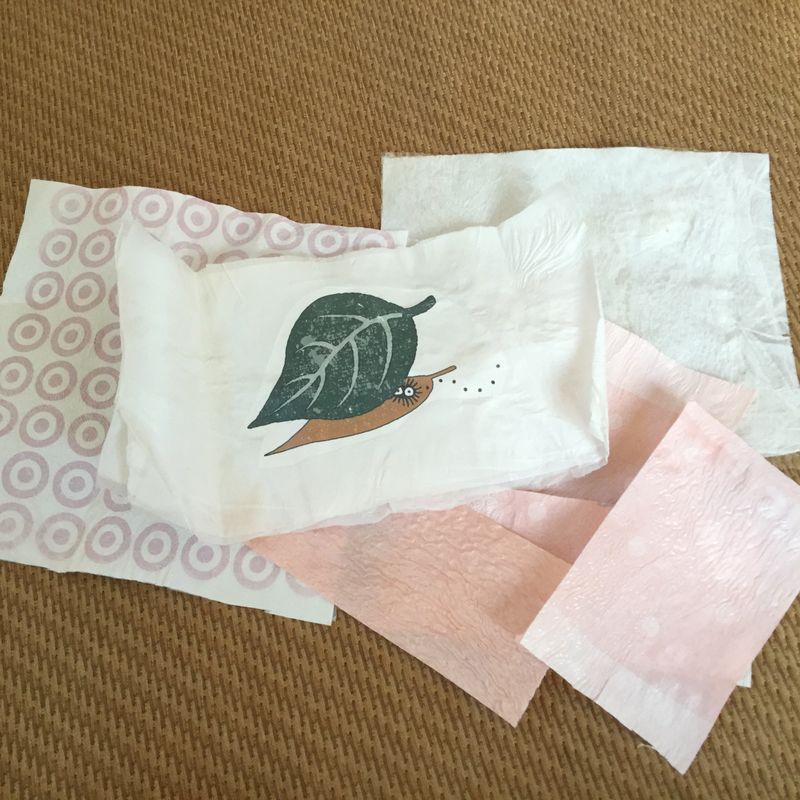 Now, run the iron over the layers of paper and plastic, but don't linger. You'll hear the plastic sheets making a crinkling sound. Peel back the paper and see if the plastic fuses. If it hasn't, give it another pass.
The plastic fabric might have ragged edges, or shrink a bit. You can give it another pass with the iron, and see what happens. Cut the finished fabric the way you want it.
The bits of fused plastic I made have patterns and images on them, but they're fused between either clear or white plastic layers. This is how you can incorporate cute images on them. Sharp eyes might notice that Target logo. A friend brought some gifts in Target bags when they visited. The slug and leaf are from a local shop. The subtle polka dots are from another local shop.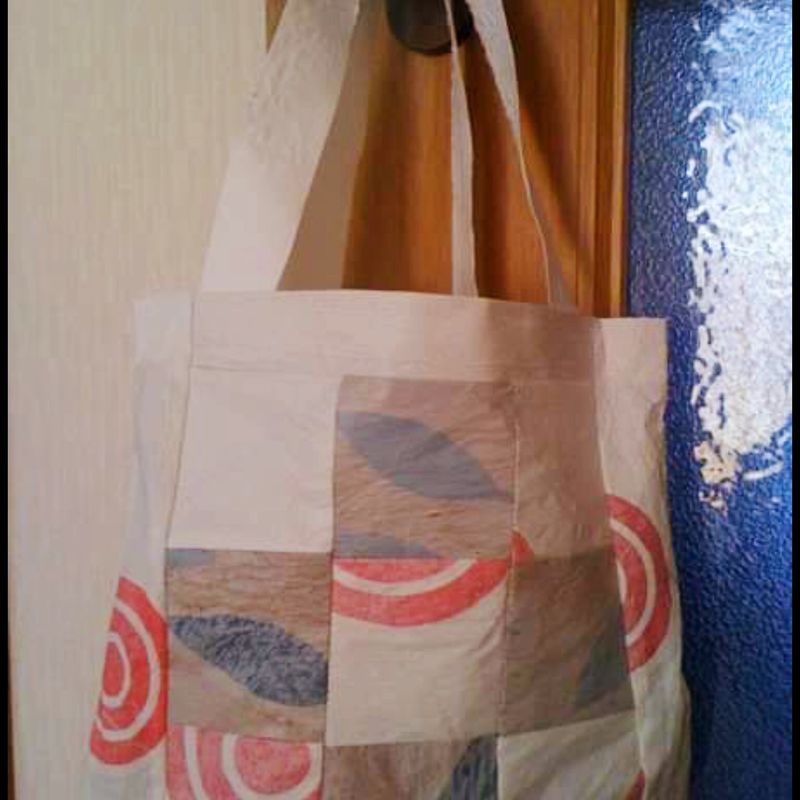 The fabric may not be very large. One of my strategies is to make interesting patterns with simple patchwork. I used white bags from 7-11, both brown for hot takeout and white ones for regular purchases, and patterned bags from various shops. I used a square of cardboard from an origami package as a template to make sure my patchwork was square. Then I used long pieces to make patchwork sashes to create squares. It took no time to sew up a bag. The leaf pattern took some experimenting. I cut out leaves from a green bag and layered them between clear supermarket bags and 7-11 brown bags to make an interesting pattern.
Even if you don't sew, you can make collages of interesting plastic designs. I've used chip bags, bags with the shiny side displayed, or front with interesting kanji messages, and fun patterns to make art. You can frame them in cheap 100 yen store frames. Another idea is to make coasters, covers for books, or even curtains of fused plastic. Fused plastic fabric is versatile, and you can incorporate Japanese design elements.
---
2 Comments
Awesome! Great way to recycle and re-use!

@Candiajia1 I do my best to consider any packaging as either something to recycle or re-purpose. I don't usually accept plastic bags when I shop, but my partner and house guests bring them in. It's also really easy to make the plastic fabric to create much more durable and attractive shopping bags. Try it?