Jun 26, 2015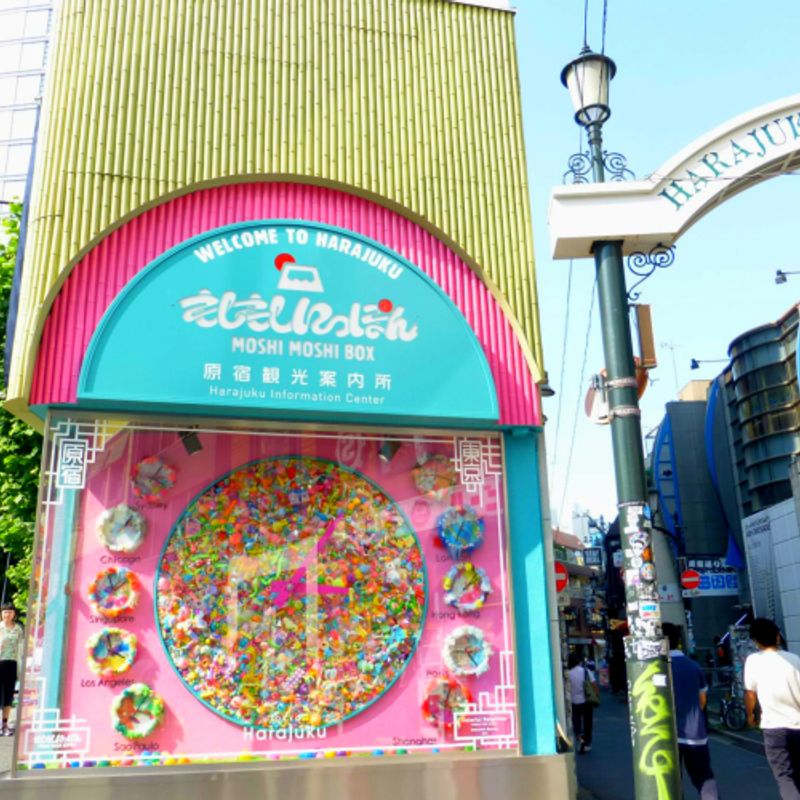 If you've tired of tourist information centers that have the vibe of place where you'd file a tax return, Moshi Moshi Box in Tokyo's Harajuku district will be a welcome change.
This pint-sized operation on Meiji Dori (just on your left as you force your way out of Takeshita Dori), certainly packs a punch, visually at least. The building's main facade looks like kawaii had too much to drink. A massive, mad clock adorns the wall, surrounded by smaller (but no less mad) timepieces, indicating the hour from around the world. It was designed by 'kawaii culture' promoter and pioneer, Sebastian Masuda, who has also served as an art director for psychedelic J-pop squealer Kyary Pamyu Pamyu.
Eye catching visuals aside, the team at Moshi Moshi Box are doing some noble work; promoting a culture that has clearly captured their hearts, at the same time as spreading good vibes through English language (and Japanese) tourist services.
As well as the usual maps/leaflets, free WIFI and PC terminals (free but keep it to 30 mins), Moshi Moshi Box also has a currency exchange machine. English speaking staff can give travel advice, arrange accommodations and, presumably, espouse the virtues of all things kawaii. On the wall hangs a map of shops/restaurants that come recommended by a hit list of Harajuku 'kawaii' icons. There's bit of a gift shop and an overseas shipping service is being planned. Next door (still part of the Moshi Moshi complex) a crepe stall dishes out a wide range of fillings from around 400 yen.
One of Moshi Moshi Box's more startling features is its free to use karaoke box. Sounds good? Well, it does have multilingual song lists, and it is free. However, the street side location and floor to ceiling windows will ensure passing traffic can have a good ogle at you! Still, at least it's soundproof (or so I was told)!
Open: Mon to Sun, 10:00 - 18:00
Moshi Moshi Box is run by Moshi Moshi Japan, whose project is to promote J-pop culture around the world.
We initially visited Harajuku to check up on Moshi Moshi Box's progress but there are other additions and attention seekers in the area that, love em or loath em, are screaming pretty loud.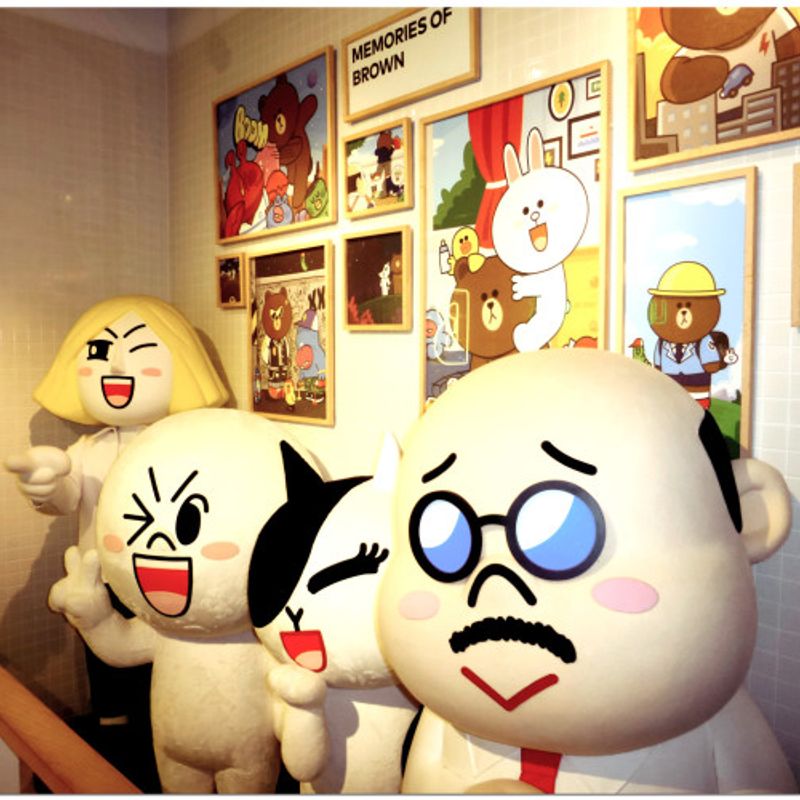 Japan's first official Line store is just down the road from Moshi Moshi Box. You can't miss it, it'll be the place where local/Asian tourists are taking photos. The two-story store is fairly spacious and easy to navigate. The first floor sells the usual array of souvenirs and trinkets all sporting some kind of Line theme. In the basement you'll find a bit of a gallery, some fancy stationery and crockery (again, all Line-based) and, rather bizarrely, a collection of Swarovski-crystal-coated Line character figurines. A thoroughly blinged-up Brown (the bear) goes for 390,000 yen!
The whole place smacks of marketing cynicism but despite my best efforts not to get won over, it has to be said there are some cool products in here. The sheets of 'real' stickers (500 yen), greeting cards (108 yen), and boxes of souvenir cookies (from around 650 yen) all stand out.
Refreshingly, Line Friends Harajuku isn't at all tetchy about visitors taking pictures in the store. They positively encourage it.
Open: Weekdays 11:00 - 21:00, Weekends & Holidays 10:00 - 21:00
Further along, Meiji Dori meets Omotesando Dori, brand shopping nexus and hangout haunt for some of the world's most beautiful (and pretentious) people. Omotesando Dori is less famous for its queues, but there's usually at least one Biblical line of consumers being chaperoned into one of the area's stores or restaurants.
At the time of writing, three attention seekers were drawing sizeable lines.
Opened June 20, 2015, new-kid-on-the-block Dominique Ansel has brought his bakery and 'French techniques, New York attitude' to the streets of Omotesando. The much anticipated star of the show is his Cronut (yes, with an upper-case 'C', it's been trademarked). This croissant/doughnut hybrid will only be served in one flavor which will be changed each month (the previous flavours never being available again). The opening month's offering is Hokkaido Milk Honey Ganache with Yuzu Lemon Curd (550 yen). Rumour has it, salivating fans started queueing the night before opening.
Whilst the store itself is located in the quiet back streets of Omotesando Dori, the queueing takes place on the main street. Employees kitted out in Team DKA t-shirts take turns to frog march drooling punters, one group at a time, around the corner and into the store.
Garish orange umbrellas are provided for those that have to queue in Japan's oppressive summer sun. If you're averse to waiting for your food, better give this one a wide berth for the time being.
Dominique Ansel is off Omotesando Dori, about half way between Omotesando and Meijijingumae Metro stations. Just look out for the queue! The store itself is on the back streets behind the Louis Vuitton store.
Open: Mon to Sun, 8:00 - 19:00
Now, what ever happened to those Wonuts (waffle/doughnut hybrids) you could buy in convenience stores for about 100 yen?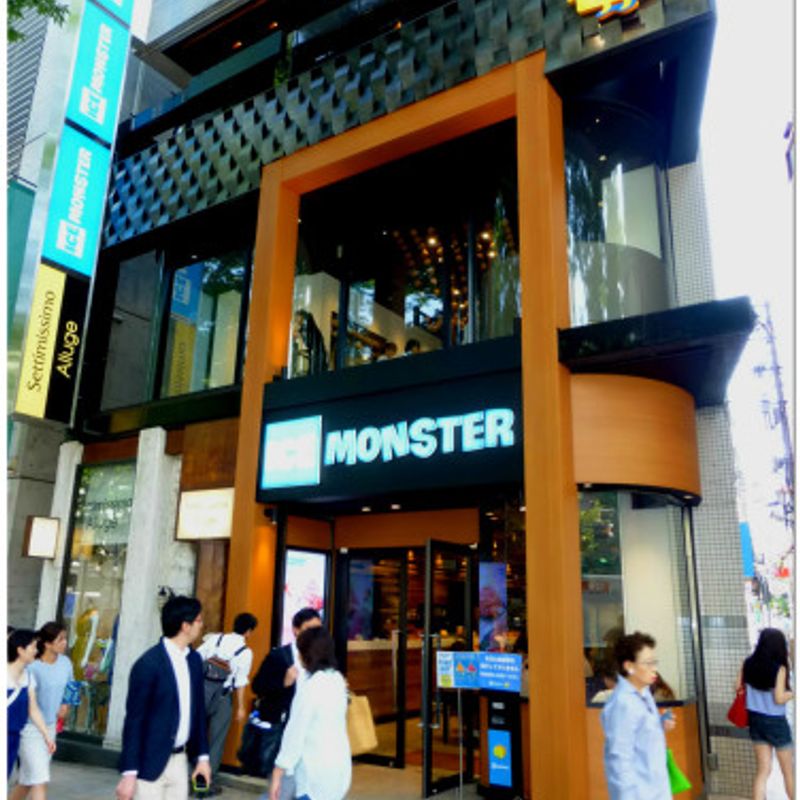 Less recent but still drawing impressive queues are Ice Monster and Garrett Popcorn Shops.
Kakigori - shaved/crushed ice topped with tangy (usually fruit flavoured) sauce. Kakigori is a staple of Japan's summers and an ever-present at festivals and events. Ice Monster comes from Taiwan and began serving up their equivalent of the ice-based refresher in Japan in April 2015. I'll just say this, if you thought you knew your kakigori, you don't! Until you've tried the Taiwanese version! The Japanese stuff is positively insipid by comparison. This is like the David and Goliath of shaved-ice face-offs. This time Goliath wins, hands down.
Try a Mango Sensation for 1,500 yen and see for yourselves.
Ice Monster is on the corner of the junction between Meiji Dori and Omotesando Dori.
Open: Mon to Sun, 11:00 - 21:00
In an area vulnerable to fads and all things new, Garrett Popcorn Shops is proving to be as tough as old boots. The Chicago based popcorn purveyor is still attracting one of the longest lines in the hood despite opening in 2013!
'Garrett' is at the Harajuku end of Omotesando Dori, near Harajuku Bridge and the Nike store.
Open: Mon to Sun, 10:00 - 21:00
---