Apr 3, 2015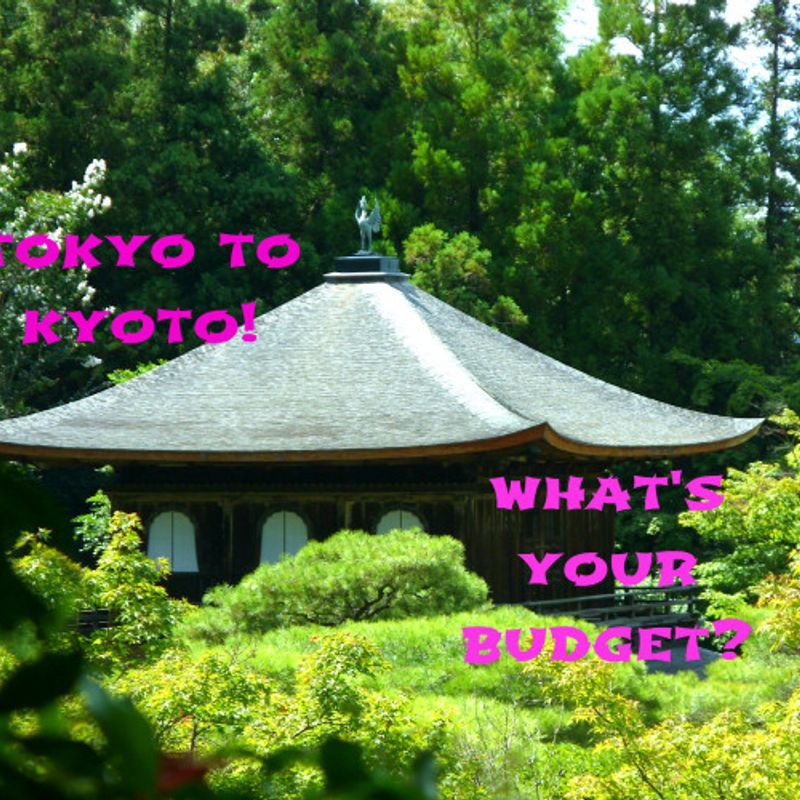 Guidebooks to Kyoto are often at pains to tell readers that spending anything less than five days in the former capital is almost derisory, but hey, for many of us from Tokyo, we don't have that kind of time. It's a weekend or nothing.
Are they right, though? Is a weekend worth it? This writer speculates that most people would answer with a resounding, "Yes!", although it may depend on budget and how long we're willing to spend (in terms of time) getting there.
So let's break it down then. Just how much money does one need for a weekend in Kyoto? We look at four types of visitor who might leave Tokyo on the Saturday morning and aim to be back home by the Sunday night.
The High Roller
This visitor has enough wealth to reduce the most blinged-up, obnoxious hip-hop superstar, to an insecure wreck. To put it simply, money is no object.
Transport
Private Jet? Why not?! Private Fly can charter a small jet from Narita (Tokyo) to Itami (Osaka) from a cool 1,818,462 yen (return)
What about a helicopter? Excel Air Service Inc. rents out AS355s (whatever they are) for a mere 480,000 yen per hour!
Stay
It used to be that the rich folks would stay in luxury hotels. Apparently though, they aren't good enough. Welcome then to the super-luxury hotel, of which Kyoto got its first last year (2014), courtesy of Ritz-Carlton. Suites at the Ritz-Carlton Kyoto start from 150,000 yen per night. The Presidential Suite is a heart-stopping 1,000,000 yen per night.
Eat
Search for 'world's most expensive restaurant' and you'll find Kyoto is host to a frequent entry on many of the lists. Kitcho (Arashiyama), the world's most expensive Michelin-starred restaurant will get you fed (with a drink) for around 70,000 yen (per person).
Get Around
Hire a limousine and driver with Yasaka Taxi for a half-day of sightseeing for 46,820 yen.
Total: 2,100,000 - 3,000,000 yen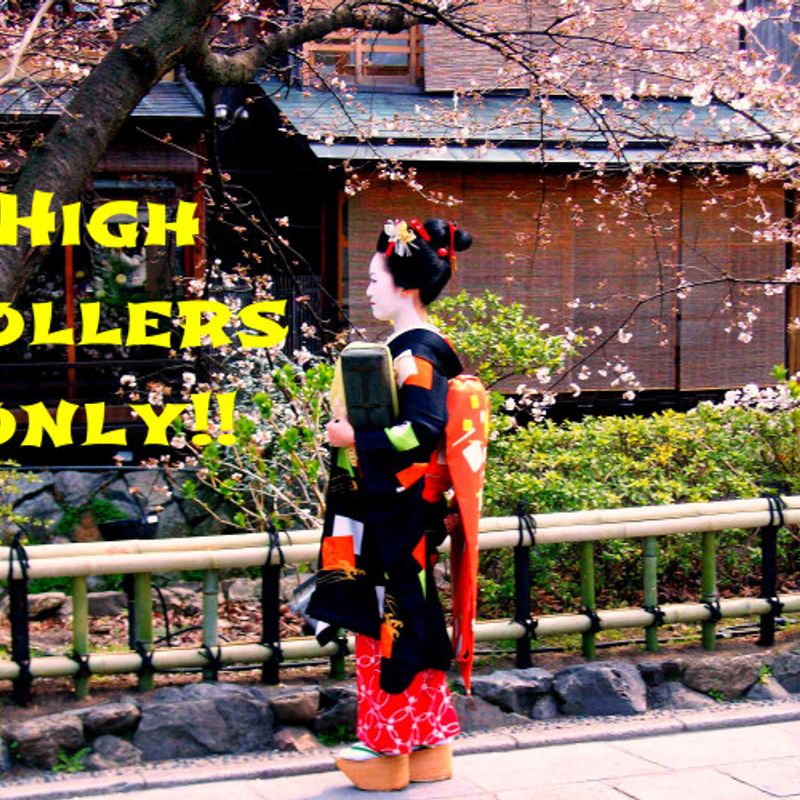 The Business Exec.
Unlike the High Flyer, money is an object but it's probably someone else's problem. This visitor is on a very generous expense account with a shiny credit card that is not their own.
Transport
Business class, please! ANNA's Premium Class airline fares between Haneda (Tokyo) and Itami cost 34,490 yen (one way). Over at struggling JAL, things are significantly cheaper, with their First Class return fares (same airports) starting as low as 28,180 yen.
Stay
Whilst the exec. may not be granted permission to stay in a suite at the Ritz-Carlton, perhaps some of the other rooms might be more within budget. River view, luxury guest rooms are available at 70,000 yen per night. For something more traditional, how about the ryokan, Gion Hatanaka? Rooms (inc. dinner/breakfast) from 56,364 yen.
Eat
Business execs. can enjoy a dinner buffet with a view (~5,000 yen) at Lounge Orizzonte on the 17th floor of the Kyoto Hotel Okura.
Get Around
Taxi. As an example, a fare from Kyoto Station to Kinkaku-ji will be around 2,500 yen. Perhaps 10,000 yen will be enough to cover a busy day of sightseeing. To figure out potential fares anywhere in Japan, have a look at the Taxi Fare Finder website.
Total: 99,544 - 153,980 yen
The Salary Person
Oft referred to as the salaryman (we're just more PC here), this visitor's budget is wide in scope.
Transport
By far the most convenient option in this budget range is the Shinkansen. Every day, an army of corporate Chandlers (the funny one from Friends) zip down to Kyoto on a 14,000 yen reserved seat, one-way ticket (reserved seat prices vary very slightly depending on season).
The growth of budget airlines in recent years has created more options for travel to Kyoto. Booking in advance with an LCC (Low Cost Carrier) like Jetstar could secure your return passage for around 12,000 yen. From Osaka's Itami Airport, cheap trains to Kyoto require about 1,000 yen.
Stay
Where to start? 5,000 yen might fetch a plain room that smells of smoke, in a business hotel. 20,000 yen will cover something rather snazzy in the 4 star hotel range.
Eat
Again, a broad spectrum of choice here. 2,000 yen will be enough for a full meal (and a drink) at a standard department store eatery.
As a bit of treat, 4,000 - 6,000 yen should cover a set dinner at a restaurant with delicious views of the River Kamo.
Getting Around
A Kyoto Sightseeing Pass Card should do it. This covers city buses and subway lines. 2 Day Pass - 2,000 yen.
Total: 25,000 - 56,000 yen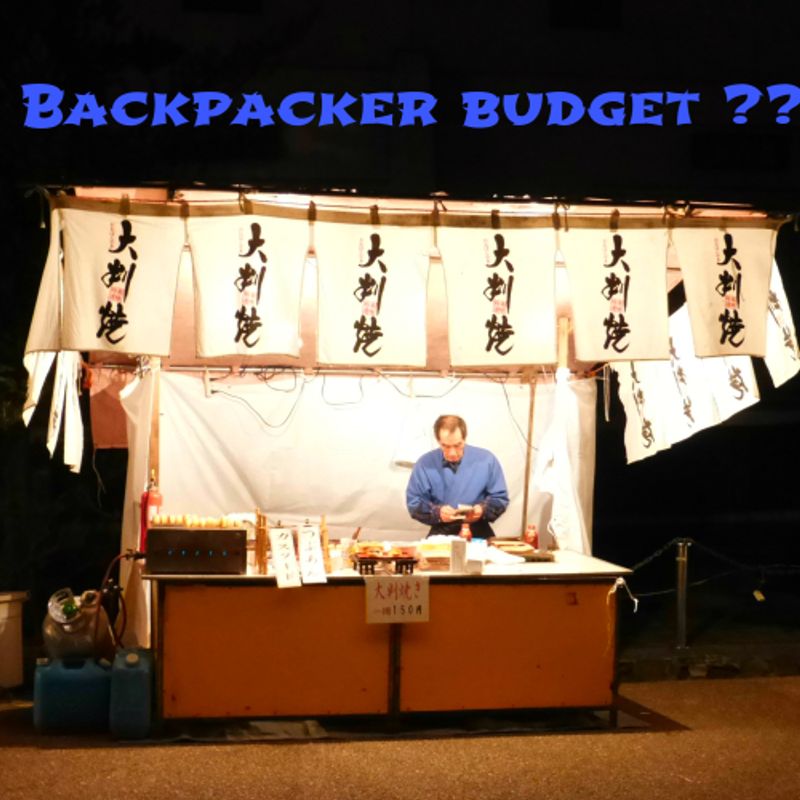 The Backpacker
OK, perhaps bit of a misnomer as most backpackers have more time to spare than a weekend between work. For those that want to keep costs to a minimum though, this is the way to go.
Transport
Undoubtedly the cheapest way to get to Kyoto is by bus. Willer Express runs a service between Shinjuku and Kyoto Station. Weekend tickets go for around 5,000 yen. However, with journey times of nearly 9 hours, it would be better to leave on Friday night on an overnight service (about 8,000 yen). You could then have a full day in Kyoto and take a day bus back to Tokyo on the Sunday.
Discounts (however slight) are available for the Shinkansen. Buying tickets from a kinken shop (金券ショップ) might shave off a few hundred yen. JR Tokai Tours (JR東海ツアーズ) run the Platt Kodama (ぷらっとこだま) which will get you on a Shinkansen to Kyoto for 10,100 yen (low season) or 11,400 yen (high season).
A non-reserved seat on the Shinkansen costs 13,080 yen.
Whilst budget airlines might have cheaper tickets, be sure to factor in getting to/from airports and the time need to check in etc.
Stay
There a plenty of hostels to choose from in Kyoto. This writer has had good experiences with K's House Kyoto where beds in a dorm start at 2,400 yen a night.
Eat
There are usually outdoor food stalls somewhere in the city (check out Yasaka Shrine) where one can (just about) fill up for dinner for less than 500 yen.
Getting Around
The aforementioned Kyoto Sightseeing Pass Card (1 day - 1,200 yen) is worth considering. Real spend thrifts with a good set of legs can walk between plenty of free sights and attractions in Kyoto's more central areas.
Total: 15,900 - 30,260 yen
One glaring miss in these calculations is entrance fees to temples, shrines and other attractions. That said, the for the High Roller and the Business Exec. such fees are probably negligible. Those on lower budgets might want to be selective here (time constraints will also be a significant factor). Again, for the Backpacker, there is plenty to see and do in Kyoto for free.
Also, be aware that with some services (particularly hotels), it pays to shop around as different outlets may offer different prices.
We invite you to share your tips for a weekend away in Kyoto. Log in and comment below.
---