Aug 16, 2018
Gallery
---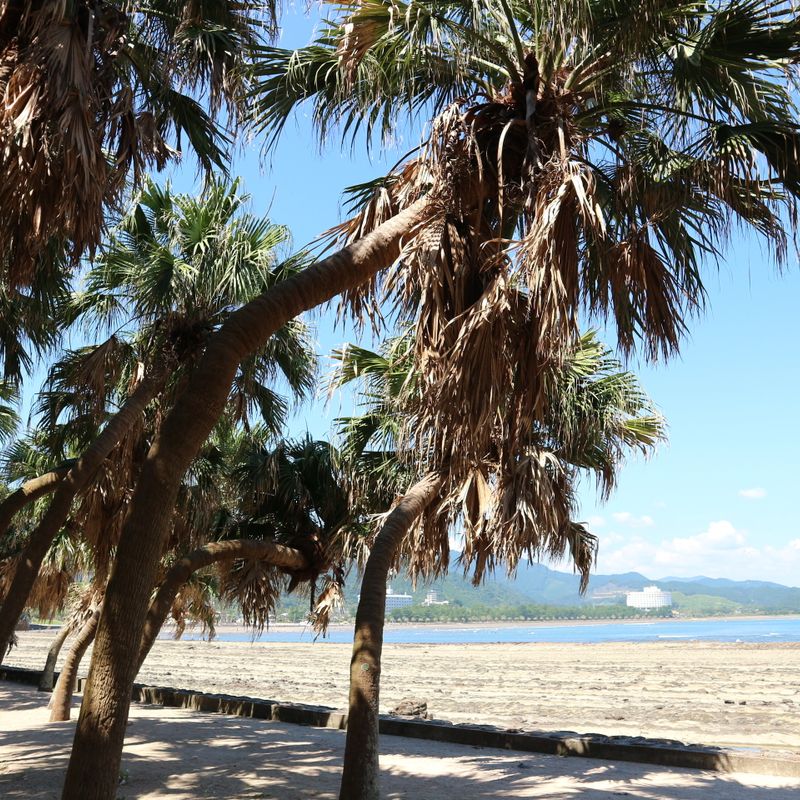 Even Miyazaki's searing summer heat can't prevent a 5:30 am paddle out into the Aoshima surf from forcing me into a sharp intake of breath. It feels good though, a proper wake up call when just 20 minutes ago I was still in my hotel bed.

With the sun taking its own time to rise, the gloomy light makes it hard to distinguish between ocean and sky. Over on land though, Aoshima's beachwalk lamps highlight the palms trees, and the green of the mountains beyond town is already coming through.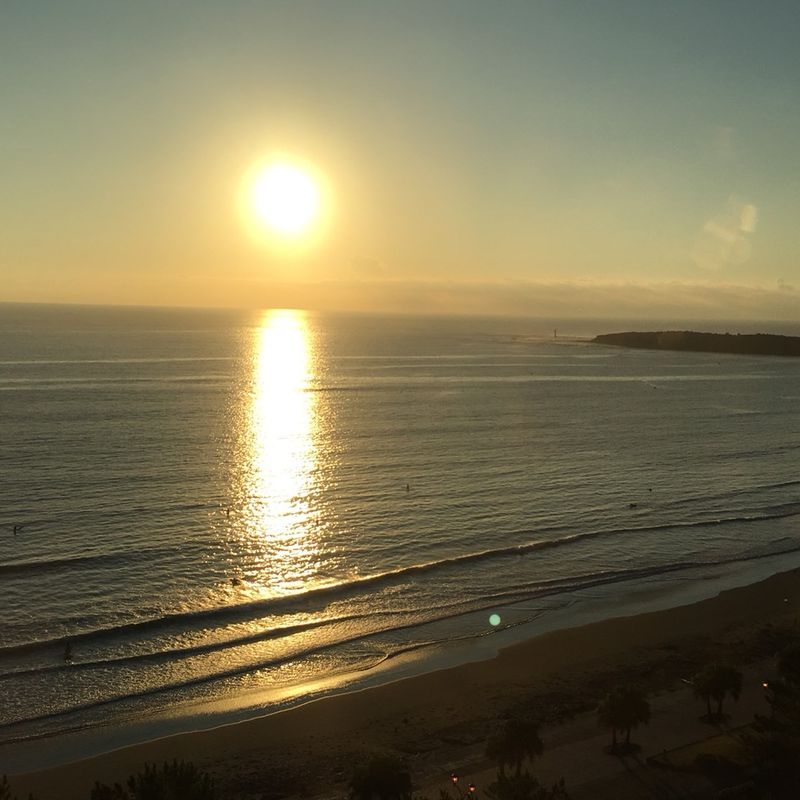 (The partner snapped this while I was out surfing. Sunrise over Aoshima)
It's out here in the surf line up, 50m out to sea, that this town's charms are really revealed to me -- Aoshima embraces beach and ocean.
Where I surf back at my "local" breaks in the Chiba region, all too often the coastline is shunned, left to groan under concrete straight jackets of sea walls and tetrapods. Buildings turn their back on it and most people stay away outside of summer, such that it only has surfers and fishermen for company. There's not even so much as a few benches for people to sit on and stare out.
Aoshima is quite the opposite. Here the beach is lined by carefully placed palms and manicured grass beside which a pleasant walkway transports strollers, joggers and cyclists up and down the 1km stretch between the Holiday Inn Resort and Aoshima the island. At 5:30 am there a few people about. After breakfast though, the swimmers, sunbathers, and families will set up shop at the island end of the beach, a stretch of sand ranked as one of finest ocean bathing areas in Japan.
At this end of the beach the waves are reduced to ripples under the shelter of the island and its washboard rock formations. Instead the action switches on to the land where tanned and topless men feel the burn of sun and barbells at Aoshima's "Muscle Beach." Next door, on a gentle grassy bluff, the whitewash collection of stalls that is Aoshima Beach Park keeps the Coronas cool as ocean gazers seek shelter on benches under the palms.
A bar of sand prevents Aoshima Island from actually living up to its name (at least as far as I could see). And if that doesn't do it, the paved walkway does as it leads the way to this island 1.5 km in circumference.
It might be small but Aoshima Island packs in the plants, some 5,000 varieties of them (according some literature, around 200 according to others), guarded by sensible administrative protections, "Devil's Washboard" rock formations too old to contemplate, and a racket of screaming insects -- cicadas, I think. It's not completely free of commercial enterprise though, as we make our approach to the island the local tuk-tuk driver is scraping Disney into the sands and whisking giddy passengers on the back of his ride along a track under the palms on the island's north.
The walk around the island would be pleasant were Aoshima not as hot as hell at this time of year. There's a chance to cool off though, in the grounds of Aoshima Shrine, the brilliant vermillions of which are enhanced by a combination of blazing sun, white underfoot, and the rich green of the island's foliage. A track from the shrine extends into the center of the island taking visitors into the cool and to a small outer shrine. The usual myths and legends are here (something about matchmaking) but I've never had time for them. Nor felt the need, especially when nature is putting up such splendid distraction.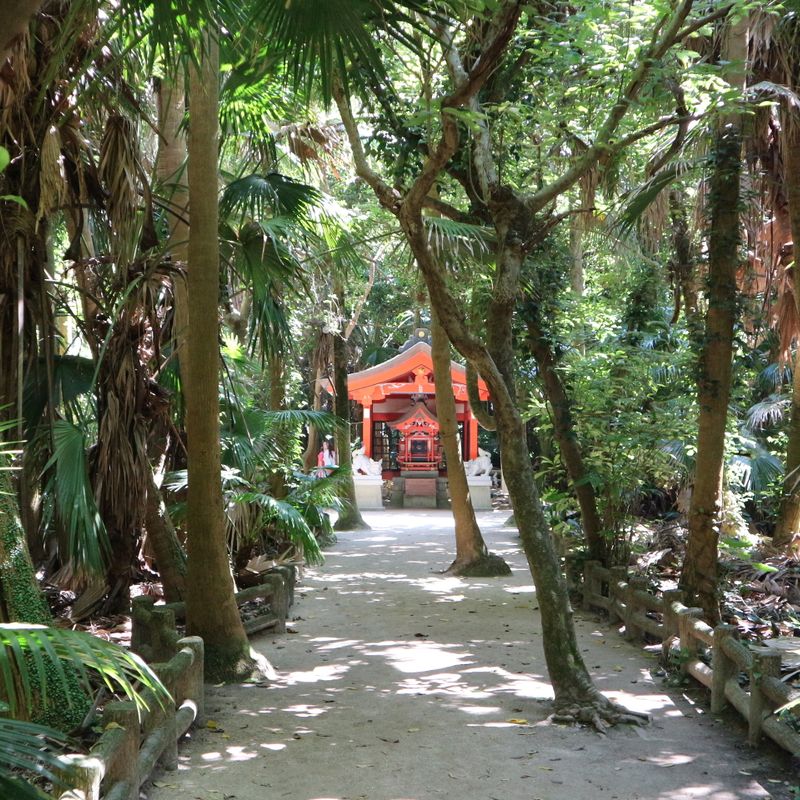 The northern edge of the island makes for the best strolling, where areas of sheltering palms reach out over walling that looks like its been make of spare island rocks and coral. Here you can take pause and watch the crabs beaver to and fro between cracks in the Devil's Washboard. You could stay for a while but for buzzy tuk tuk man intermittently tearing up the island vibes.
Aoshima, beach and town, though, really is a place I could stay for a while. A long while. A lifetime maybe. And I'm not the only one. Where others in other parts of Japan are turning their backs to the coast, this is a town full of people running away to look the other way, to the beach and a slower life. Often one based around surf.
At dinner that evening, I eavesdropped on a conversation at the restaurant between staff and customer -- the former a girl from Canada, the latter a guy from Europe travelling around Japan after modelling work in Tokyo. His travels had stalled in Aoshima. She's found work here. They both surfed and they'd both found a place that they'd like live that kind of life for while. Maybe longer.
---
2 Comments
Hey Tomuu, Your blog posts are great! I was just wondering what the biggest surf brands are in Japan. Are Quiksilver and Billabong most popular like most places, or are there any big Japanese brands? Do you have a favorite Japanese surf brand? Thanks!

@Trevor Hi. Thanks for the kind words. Yea, Quiksilver (Roxy), Billabong, Rip Curl, Volcom et al, all have a pretty big presence in Japan, although usually through department stores and other retailers rather than having their own stores. Of the overseas surf brands I would say that Hurley is the most popular, particularly among people who don't surf and just want these things for summer fashion. (Hurley board shorts are very popular.) Nixon watches and bags are also quite easy to spot in Japan. Gosh, Japanese surf brands. Couldn't even tell ya. Of course, there are those that are coming out of the independent surf shops but their reach will never extend very far given the strength of the heavy-hitting overseas brands. On the gear / equipment side of things Murasaki Sports is probably the most well-known Japanese maker (although it's a retailer more than anything). My favorite? Volcom for the fashion, and the best that I can afford for the equipment (which is very expensive in Japan).