Mar 20, 2015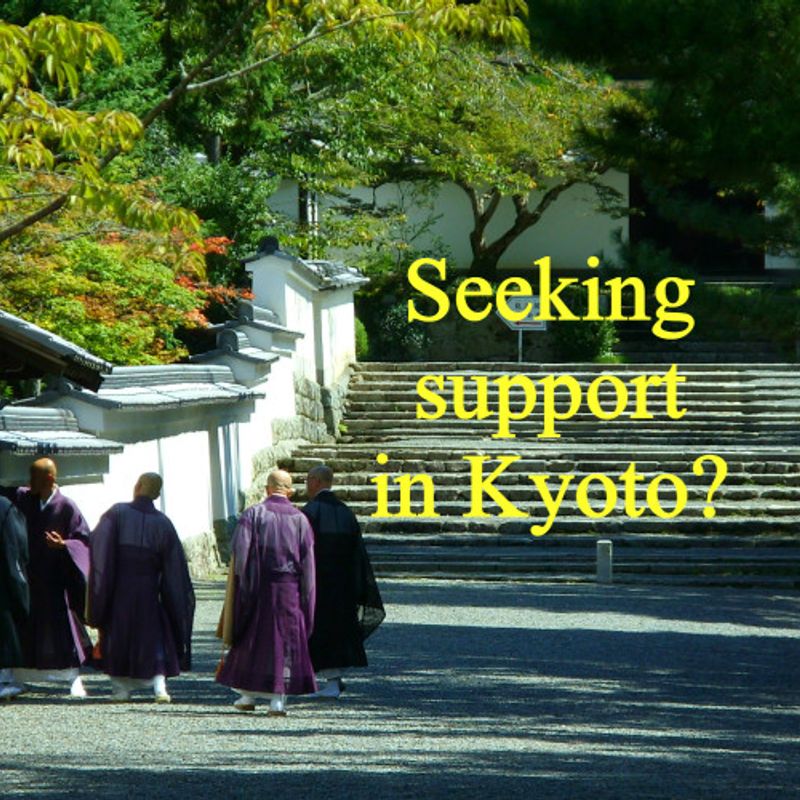 Kyoto is the best city in the world! Fact! OK, so there are plenty of people who would argue otherwise, but according to travel mag Travel and Leisure, Japan's temple laden gem currently occupies the top spot. The America-based publishing behemoth last year polled its readers for their choice of the world's best urban areas, and the people spoke; they really like Kyoto. Said 'people', were, however, tourists.
But what about actually living in Kyoto? Beyond the temples and tourist tat, the maiko dances, and romantic nights on Ponto-chō, how does one go about setting up a life in 'the world's best city', and what kind of support/services can be called upon when we're no longer in need of a two-day temple itinerary.
Two essential resources stand out.
Kyoto Prefectural International Center
Anyone new to Kyoto would do well to drop in here (not least because it's located in the Kyoto Station complex).
KPIC occupies a quiet, open space on the 9th floor of the Kyoto Station Building (access via the elevators in Isetan department store). Don't be put off by the drab interior (it has the look of a place where you might have to file a tax return), KPIC offers a wealth of information, backed up by friendly, multilingual staff.
This writer was the only visitor at the time of research, and was free to enjoy the center at will. The open plan setup has two areas of communal tables which can be reserved for classes and groups. There is also a row of 'counter' seating for those wanting more privacy, and lockers to store your gear. Two computer terminals offer Internet access at 100 yen/15 minutes.
KPIC has a number of shelves from which you can take pamphlets regarding health issues, earthquake procedures, volunteer opportunities, community schemes, and support for international students. There are also copies of English language mags, such as Kansai Scene and Kansai Flea Market. We also noticed copies of Philippine Digest, as well as Spanish language publications. Look out for pocket-sized Earthquake/Emergency Action Manuals which come in a variety of languages.

You'll find notice boards here advertising cultural classes, language classes, and counselling services. There is also space to put out word of your own private language classes, and/or your desire to find friends/language exchange partners (although quite how much traffic passes by is uncertain).
KPIC has a library of sorts, although most of the books (of a social conscience) are in Japanese. You will, however, find texts for studying Japanese, foreign language dictionaries, and a number of Lonely Planet guides. The books are only for use within the center.
Before you leave, be sure to pick up a copy of the in-house leaflet Living Information which covers essentials in education, healthcare, and interpretation/translation services.
The center can also give you a list of housing resources which includes that golden chalice; agencies that deal with foreigners!
Address: 9th floor, Kyoto Station Building, Shiokoji Karasuma, Shimogyo-ku, Kyoto 600-8216
Tel: 075-342-5000
Fax: 075-342-5050
Hours: 10:00-18:00
Closed: 2nd and 4th Tuesday of every month, national holidays, Dec 20-Jan 3.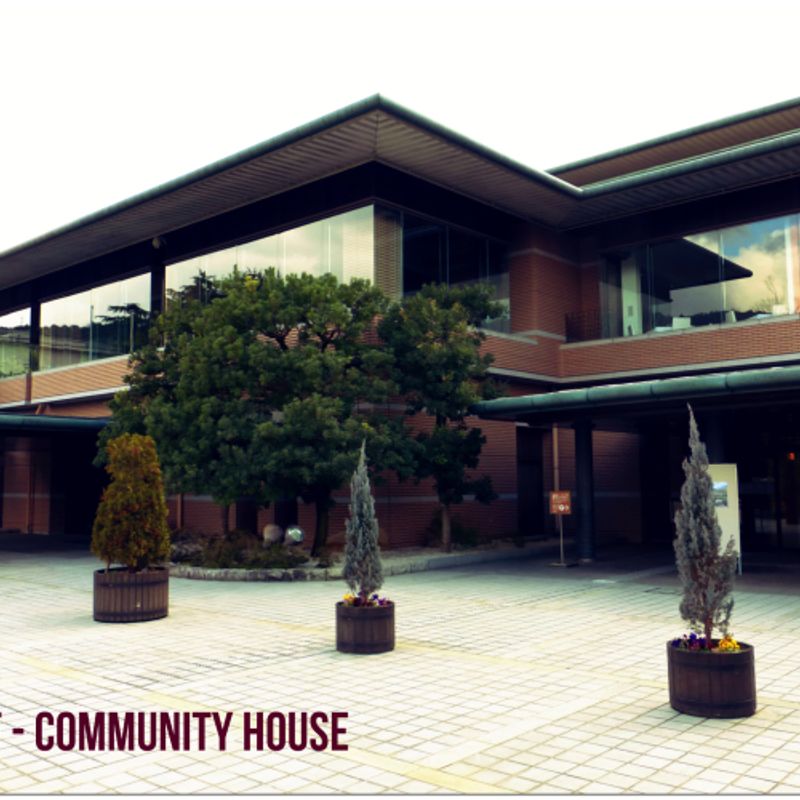 Kyoto City International Foundation - Community House
A grand name for grand facility in an even grander location. KCIF's Community House occupies a great spot near Nanzenji Temple, a little way up and out of town in the Keage Station area. The large, modern center has an expansive area out front with plenty of greenery, sculptures, and tables and chairs to enjoy an al fresco coffee. There is also a smoking area to the right of the entrance. Out back, you'll find Japanese and Western style gardens.
Inside, Community House has a lot of space. Too much space, even for spiral staircases, marble pillars, and vast sofas to fill. Of the building's three floors, the first floor is of most interest. To the left of the lobby you'll find the Message Corner; a great resource of wall to ceiling messages that cover: goods for sale, accommodation, friends, lessons, events, support, volunteer opportunities, career fairs and more. There are also plenty of leaflets and multilingual publications for you to take. The Message Corner seems to have more traffic than at KPIC. If you can't find what you're looking for here, staff behind the Information Service Counter will do their best to help. Community House also has a selection of overseas magazines and newspapers to read, including; The Guardian (UK), New York Times, Sun Herald (Australia), The Hindu (India), as well as news rags from China, Vietnam, Russia, Korea, Thailand, and Taiwan, whose names this writer cannot read!
Once you've grabbed all your info, take a break in front of the large TV in the lobby, or better still, grab a coffee in the first floor cafe, where seating is spacious, comfortable, and has pleasant gardens views. At the time of visiting, other visitors were of all shapes, sizes, ages and nationalities. This writer spied two tables being used to conduct private language classes. The cafe area merges into a cluster of private booths where one can watch DVDs.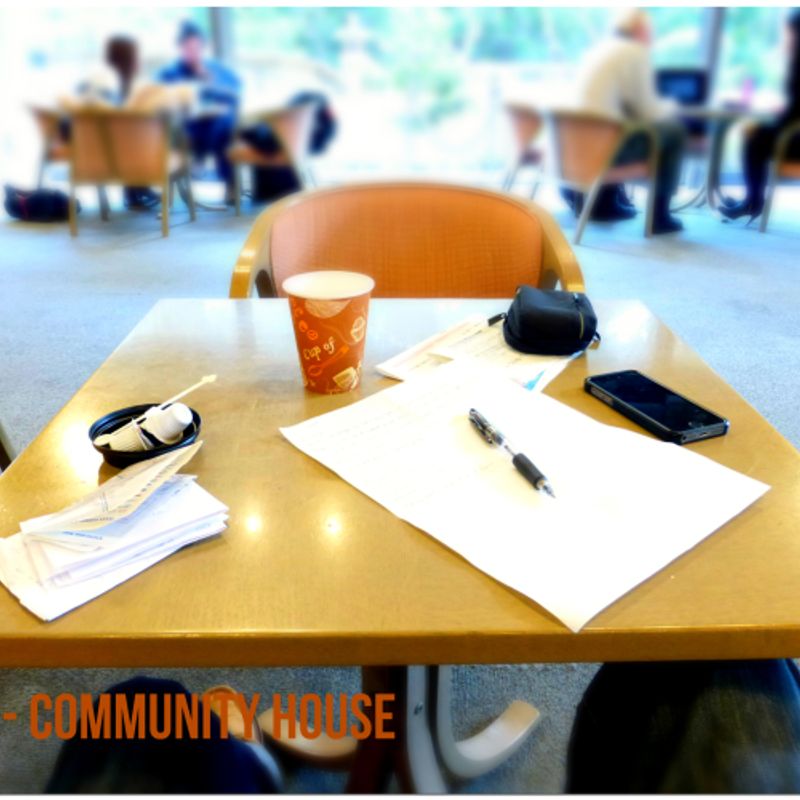 Community House has a small, second floor library, which at the time was mostly occupied by studious looking locals. Here you'll find your newspapers and magazines.
Among the facility's exhibition rooms, volunteer and meeting spaces, there is, rather bizarrely, a fairly pricey French restaurant (2nd floor)!
Be warned, the cafe and restaurant at Community House will be closing at the end of March 2015 to undergo renovations.
Kyoto City International Foundation offers a free, telephone interpretation service. Click here for more details.
Address: 2-1 Torii-cho Awataguchi, Sakyo-ku, Kyoto 606-8536 (nearest train station - Keage (Subway Tozai Line))
Tel: 075-752-3511
Fax: 075-752-3510
Hours: 9:00 - 21:00 (cafe 10:00-18:00)
Closed: Mondays (closed on Tuesday, open on Monday if Monday is a national holiday)
Web: http://www.kcif.or.jp/HP/kaikan/top/en/index.html
Other Resources
The Center For Multicultural Society Kyoto looks like a great resource for medical and translation services. Of particular interest could be the Medical Interpreter Dispatch service, which sends interpreters to local medical facilities to aid non-Japanese speaking residents. The Translation Service covers help with documents which you'll be sure come across in Japan's system of vast bureaucracy, although at 4,000 yen a sheet … ?!
The Young Women's Christian Association of Kyoto could be a source of support for foreign residents of Kyoto, particularly women, children, and mothers. At the time of research, the English link on their website wasn't working. From what we can gather though, they offer language classes, multilingual counselling, and language support. They also have an on-site cafe. Their facility is located in a very quiet residential area west of the Kyoto Imperial Palace grounds. Have a map ready, as it's tricky to find. Nearest train station - Marutamachi (Subway Karasuma Line).
If you live in Kyoto and know of any resources that could help new/potential foreign residents settle into 'the best city in the world', we'd be really grateful for your comments below!
---