Aug 21, 2014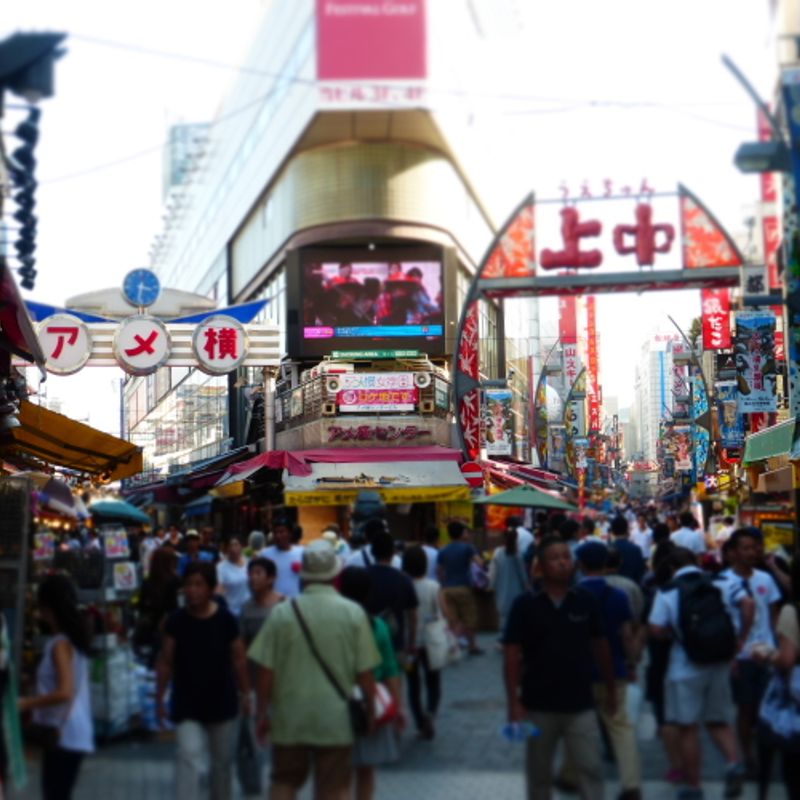 Ameya Yokocho アメ横 (short; Ameyoko) may well be the perfect antidote to a Tokyo shopping scene that is dominated by behemoth department stores, gratuitous big name combos, and a feverish demand for European luxury brands.
Located immediately south of Tokyo's Ueno Station, Ameyoko's narrow, beat streets proudly stay in touch with their roots as a post WW II black market (although it's all 'legit' now). In the early 1950's, during the Korean War, the shops and stalls here were flooded with American imports. These days, faux U.S. military fatigues and hip-hop bling are mixed in with a mad collection of Asia, sleaze, agriculture, sports, and jewellery.
If it sounds a bit odd, that's because it is. There's an incredible collection of goods on offer here, squashed (tightly) into two main 'streets' that run parallel to, and under, elevated train lines for about ½ km until Okachimachi Station. After dark, the scene is part Blade Runner, part 'good time city' Bangkok. In stark contrast to the beautified, impeccably drilled flight attendants that staff many a Tokyo department store, Ameyoko's goods are served up by grizzled, chain smoking, salt-of-the-earth marketeers. Expect service to be equally robust!
As well as being an essential tourist stop and people watching paradise, Ameyoko is also a legitimate shopping resource for Tokyo residents, particularly those from overseas. Here are some of its staple offerings ...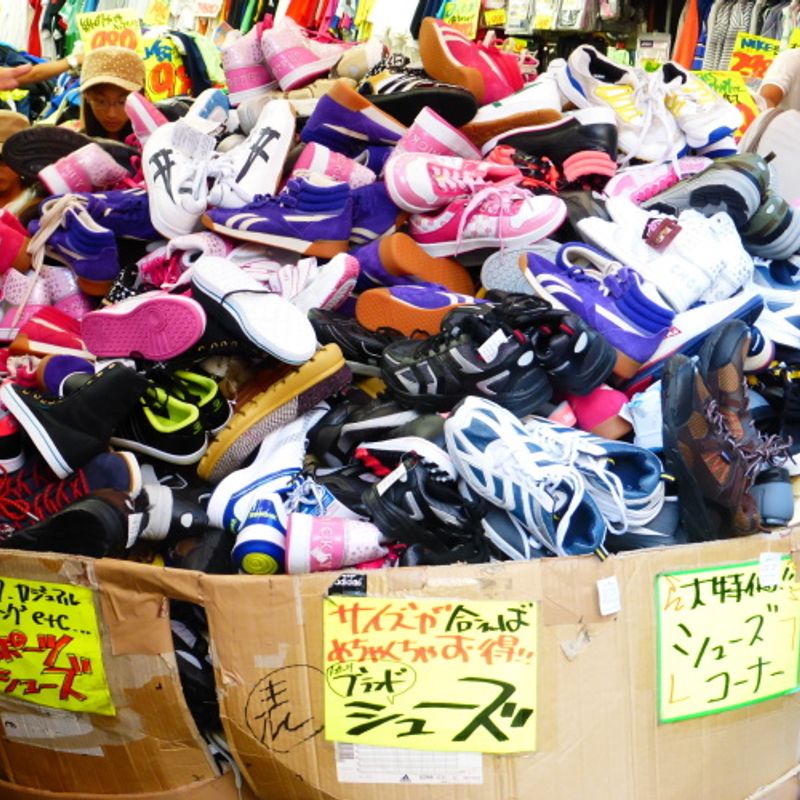 Sportswear and Shoes
The first things one notices about Ameyoko is the shoes! There's an extraordinary number of places selling footwear. If you're after a cheap pair of shoes that are doing their best to look expensive, then this is the place to come. You'll also see industrial size barrels/boxes of sports wear that look to be headed for the garbage box, unless you come in and get them at accordingly low prices.
Fresh Produce
It's a common lament of expats in Japan, that fruit and veg is expensive. The wide variety of produce on offer in the area's market stalls are a little cheaper but, let's be honest, still not cheap enough. That said, keep your eyes peeled. There are some great bargains to be had, that you're unlikely to find in any supermarket.
Ameyoko also sells a weird and wonderful variety of seafood. For buying in bulk, it's much cheaper than anything in your local supermarket. Although quite how to prepare it, is another matter entirely.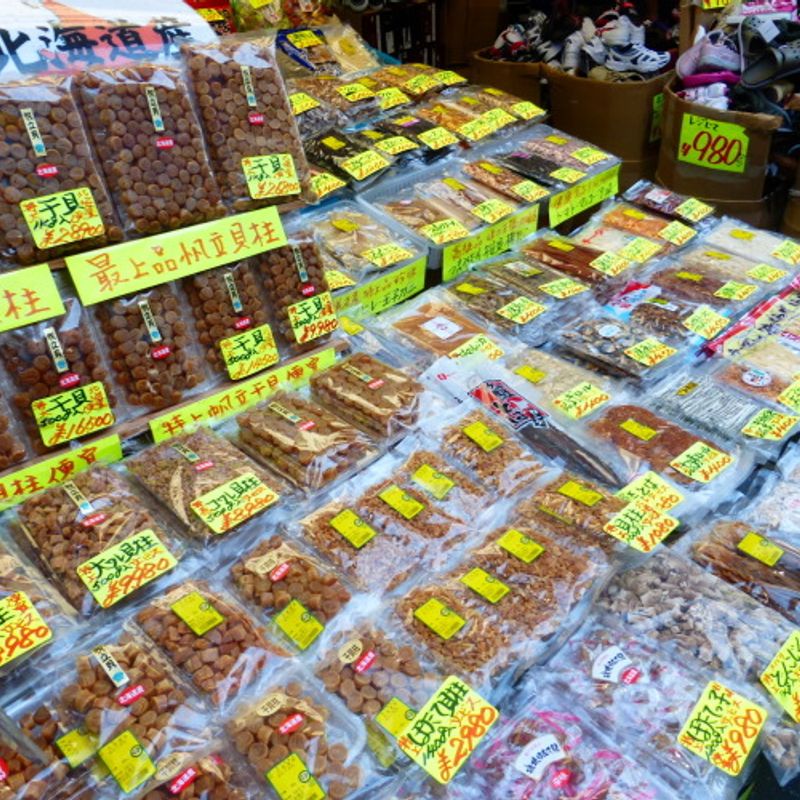 Dried Goods, Tea, Candy
The ameya in Ameya Yokocho means candy, (the yokocho bit means alley). In post-war austerity sweets were something of a luxury in Tokyo and black marketeers came here to flog whatever treats they could get their hands on. The candy has largely taken a back seat to myriad of other products but there remain outlets where you can stock up for some 'sweet' prices.
Healthy eaters will delight in an abundance of dried fruits and nuts on sale in Ameyoko, and tea specialists will find plenty of the green stuff to satiate their needs. It also makes for a great Japanese souvenir.
The basement of the Ameyoko Center Building packs in an abundance of staples from across Asia.
Details
Access: Ameya Yokocho, 4 Ueno, Taito-ku, Tokyo (Shinobazu Exit, JR Ueno Station, Exit 5 from the metro)
Website (Japanese): http://www.ameyoko.net/
Open: Most stores between 10:00 - 19:00 (Some closures on Wednesdays)
Listing all that the area has to offer would be a sisyphean task, but if Ameyoko doesn't have what you're looking for, it probably doesn't exist!
Be warned! The streets are packed on weekends.
---