Jun 9, 2015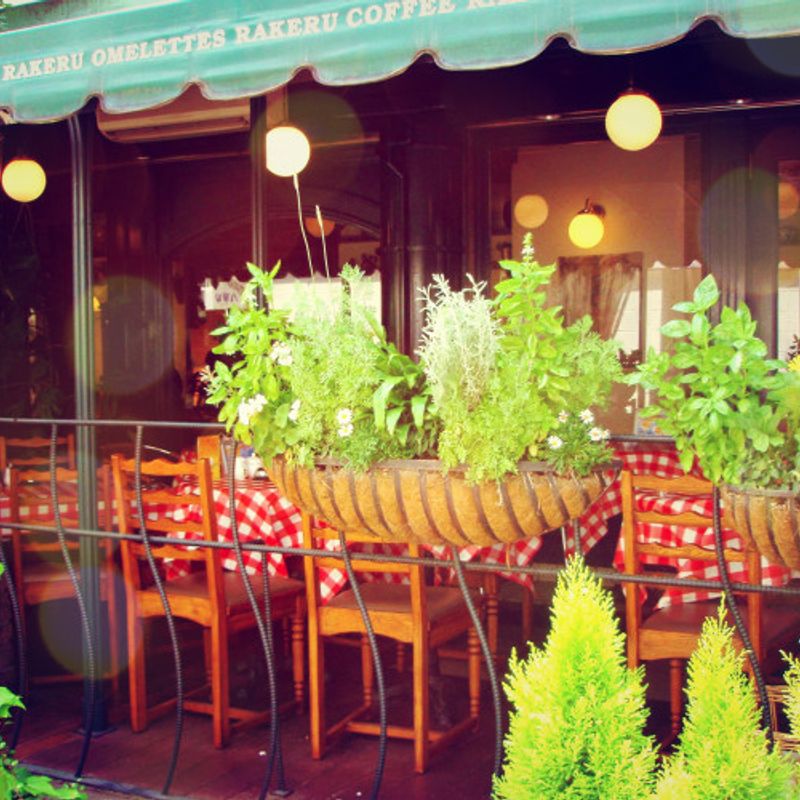 For all that's great about the Japanese dining and drinking scene, at first glance at least, there doesn't seem to be much of it going on outside. In particular, urban Japan might be seen to lack the al fresco ambience that can be found throughout Europe, as well as the open-fronted, warts and all chaos, that lends charm to some of its Asian counterparts.
There are options though, half the fun of which lies in their discovery.
So, with the thermostats rising and the evenings getting balmy, let's take a look at your primary resources for eating and drinking outdoors in Japan.
Beer Gardens
Ahh, who doesn't love a beer garden? Fine countryside air, birdsong, and green underfoot. Perhaps a game of cricket in the distance. Point me to the nearest one, kind sir!. Err, on the rooftop of that building over there?.
Yes, most of Japan's beer gardens (ビアガーデン) can be found furnishing the rooftops of department stores, making them a little tricky to spot. Also, don't expect much in the way of a garden (save for a few token plants here and there). There is plenty of beer, though. And food. Most operations are run on an all-you-can-eat/drink basis. Expect to pay 3,000 - 5,000 yen for up to two hours of binging. If you think use of the word 'binging' hints at a lack of class in the Japanese beer garden, you'd be right. They are usually fairly boisterous affairs, although no one should feel intimidated.
For word on what the locals are into when it comes to beer gardens ...
Let's Enjoy Tokyo have compiled their list of the Top 10 Beer Gardens in Tokyo for 2015.
調整さん (Chousei San), have published lists of their favourites for the Kanto (関東) and Kansai (関西) regions.
If you like the idea of a beer garden but want an upgrade on the cheap, plastic chairs and a little less of the binging, Ranking Share have come up with a list of operations popular among locals for a girls night out or a date.
The beer garden scene runs from around June to September.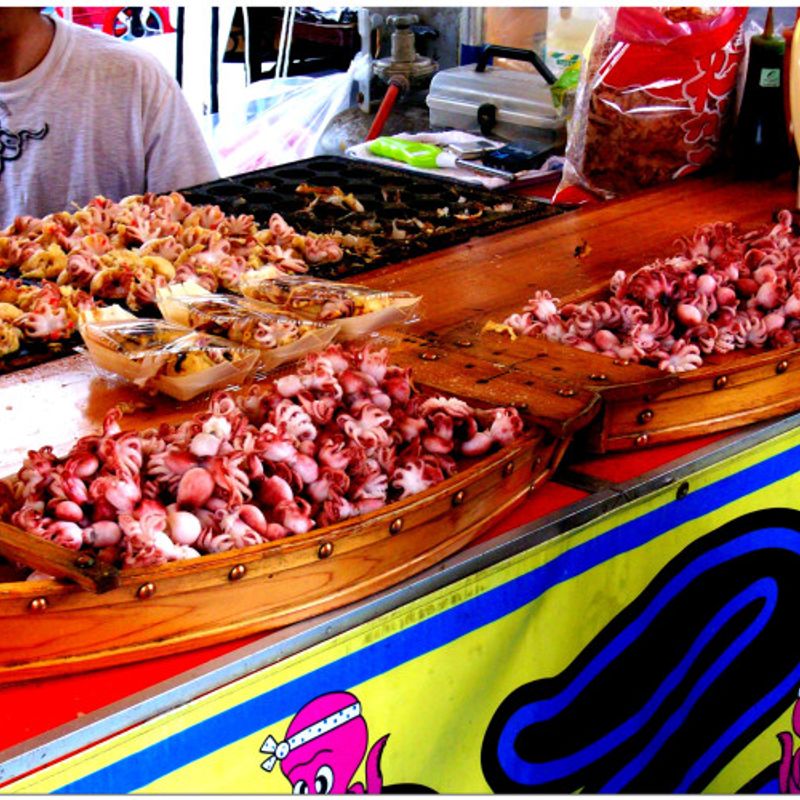 Festivals
It seems to be well known that eating on the move is bad form in Japan (although this writer has never witnessed any eating/moving based confrontation). This unwritten politeness might explain the paucity of food stalls in Japan. Except when a festival rolls into town.
There's the possibility of a festival at any time of year but your chances of catching one will be highest between May and September.
Festival food stalls are great for the nervy foreign-food eater as you can see what's on offer, how it's being cooked, and make orders by pointing. Staples include, yakisoba ,okonomiyaki, and yakitori. Some people might get a kick out of the phallic looking bananas that have been dipped in sweet sauces/chocolate.
Some of the bigger and more bohemian parks seem to be in a constant state of festivity and consequently have a skeletal crew of stalls throughout the year.
Drinking In The Street
I remember one of my friends telling me, Hey man! Tonight I'm gonna get gutter drunk. Or something like that. Well, Japan would be as good a place as any to do that, given that it is legal to drink in public over here. Apart from the odd local by-law, there are no 'open container laws' or 'Designated Public Places Orders' that are sometimes an obstacle for the would-be street drinker in other lands. Not that it's cool to just walk the streets while you're boozing.
Aside from the obvious spots (parks, beaches etc.) keep an eye out for vending machines that dispense alcohol. They're a dying breed these days but they are around. Across the street from a giant office building in Tokyo's, Yurakucho district, a short row of boozy vending machines is one of the most popular nightspots in the area. Cheap, easy and blissfully unpretentious, the machines are visited by everyone from salarymen to stray tourists. In the warmer months, people hang out for hours enjoying the unlikely communal ambience.
In the same area (heading towards Shimbashi) is a strip of dining/drinking options known as ガード下 (gardo shita/under the train tracks). Some are nice restaurants, others, shoe-box sized izakaya, yakitori joints, and boozers, many of which have tiny tables and chairs that spill out onto relatively traffic-free streets. Similar vibes can be found in parts of Asakusa and Ueno. We're a big fan of such areas and would love to hear of any more throughout Japan.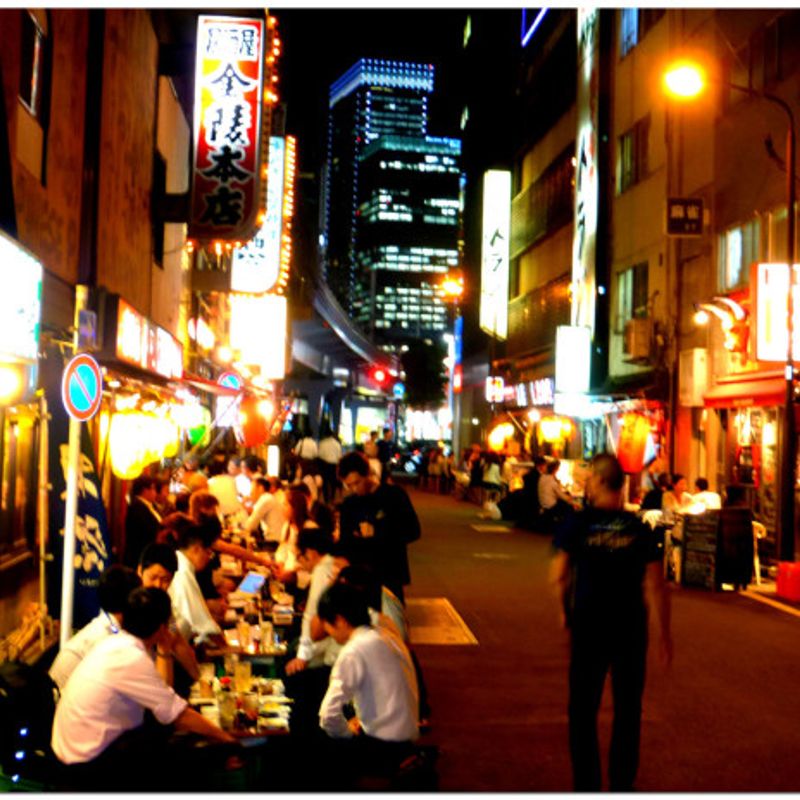 BBQs
Japan may be at the head of the queue when the Michelin Stars are dished out but that doesn't mean people here are above throwing some meat and veg on a barbie.
There's often not much in the way of 'yard' space for many residents to get things set up, so most BBQing action goes down in parks, camp grounds, river banks and beaches.
In the case of parks and camp grounds, there may be designated BBQ areas with regulations in place, equipment to rent and sometimes food to buy. These areas can be in high demand on weekends in peak season, requiring a reservation in advance (you may be able to do this online). If no such area exists, it may be that BBQs are prohibited. Play it cool and keep an eye on what the locals are doing to get a better idea.
Some river banks and beach areas (particularly those under bridges/flyovers) are the realm of university students who like nothing more than a post-BBQ rave.
It is possible to rent one's own BBQ tools or, indeed, a complete set. Hammer in BBQ セットレンタル (BBQ set rental) to your search engine and you'll be overwhelmed by the number of firms willing to furnish you with all you could possible need. This will require a pretty good grasp of Japanese, though.
Easier still, is to buy a disposable grill (コンロ/conro) like this one, for 320 yen!
Don't make the mistake of ditching the BBQ altogether and going to an open fire, instead. It's illegal!
For information on camping in Japan, check out our article Let's Go Camping.
On The Terrace
Although Japan lacks much of a boulevard or beach front al fresco scene, terraces can still be found. Some of the most delightful are in and around posh shopping/entertainment centers. This writer was recently lucky enough to lunch at one of the restaurants in the Grand Hyatt Roppongi, Tokyo. It's one of many buildings in the area housing the kind of gorgeous terraces that very quickly serve ideas above one's station, i.e. a glimpse of a world that most of us can't afford (on regular basis, a least). That said, despite cities like Tokyo, Osaka and Kyoto regularly present towards the top of many a World's Fine Dining list, Japan's luxury restaurants are admirably devoid of the latent snobbery that can often plague an expensive eating experience.
Try an Internet search of テラスダイニング/terrace dining for more options.
If you've got any great ideas for eating and drinking outdoors, be sure to let us know. Head over to our Posts section and drop us a line (and some pics) to brag about your experiences! You're all welcome.
---