Dec 15, 2014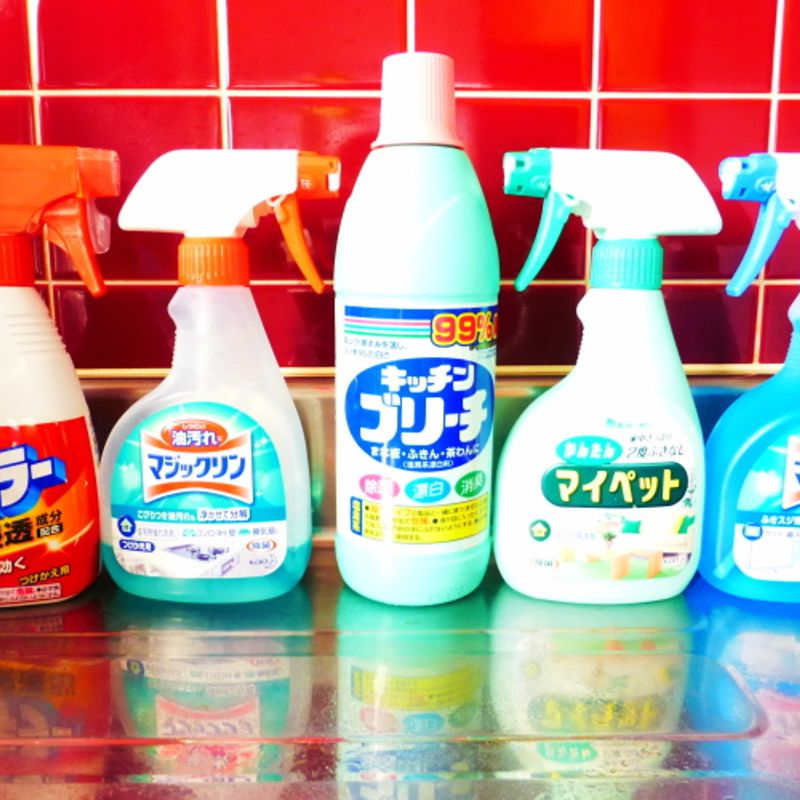 For many of us, the festive period at the end of the year is a time to bask in the guilty pleasures of gluttony, sloth, unchecked indulgence and perhaps even a little debauchery. Whilst the same might be said of life in Japan during this time, the whole party gets a sobering slap in the face with a day of oo souji, where families give their homes a thoroughly good clean, including all the bits that haven't seen the light of day for a whole year, since the last oo souji.
Oo souji (大掃除); big clean, perhaps best known in the West as spring clean. Except it's not spring. It's winter. It's really cold. And scrubbing floors and wiping windows are probably towards the bottom of our 'things to do list' before the year ends.
However, oo souji is rooted in something more spiritual. It's a chance to cleanse the house (and the spirit) before welcoming in the new year. A fresh start, if you will. It also gets the house in a fit state to welcome Toshigami (年神), a Shinto god that visits during the New Year season.
So in the spirit of cleanliness being closer to godliness, here at City Cost we've put together a list of cleaning essentials that you'll need to get your place fit for, well, a god.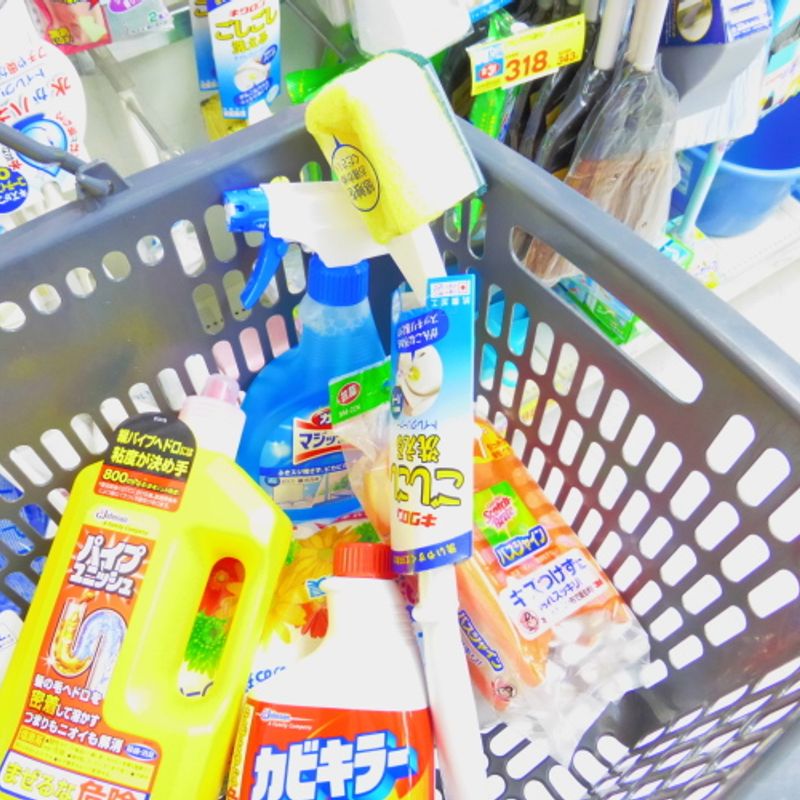 The Bathroom
カビキラー (kabi killer - far left in the main picture)
This is some tough stuff, used to get rid of deep rooted fungus and mold, often in hard to reach places. The instructions advise you to use gloves and goggles when handling it (although in truth, this writer never does). That said, you'll want to switch on the fan! Spray onto the mold (from 15 cm), wait five minutes (no need for scrubbing), and rinse. Really tough areas require a 20-30 minute wait.
Do not use on: soft walls, wood, cloths. Basically, this is for your bathroom tiles, shower curtains, rubber seals etc.
For general bathroom cleaning, look for おふるの洗剤/ofuro no senzai. Spray/squirt, and get scrubbing!
The Kitchen
マジックリン (maji clean - 2nd from the left)
For the tough grease in your kitchen look for a product labelled 油汚れ/abura yogore.
You're advised to use rubber gloves with this stuff, and have a fan going. Spray onto affected areas and wipe with a dry cloth. If it's really well dug in, leave for five minutes before wiping.
Do not use on: woods, furniture, tatami, wooden flooring, draws, shelves. This is really just for your kitchen
キッチン ブリーチ (kitchen bleach - center)
Use this to clean individual kitchen items such as cutlery, crockery, dish clothes etc. Gloves and a working fan are recommended.
For cloths and sponges use 6 ml (⅓ cap) in every liter of cold water. Soak for 30 minutes then rinse thoroughly with water. For cups and cutlery, 10 ml (½ cap) is recommended. For sponges, you need to be more gentle, 2 ml (1/10 cap) and soak for two minutes. Your newly bleached sponge is then perfect for cleaning out the inside of your fridge.
For both the bathroom and the kitchen, a quick mention should go out to パイプ ユニッシュ (pipe yunish), a thick goop you can pour down sink holes to clean out the pipes.
The Living Room
マイペット リビング用洗剤 (my pet, living yo senzai - 2nd from the right)
This is for glass (mirrors), fridges (the outside), lights, flooring, tatami, carpets, furniture, phones, soft walling.
Don't spray directly onto surfaces, rather, spray onto a cloth then wipe.
The Windows
マジックリン ガラス (maji clean glass - far right)
Mainly used on glass, this can also help with steels, plastics and enamel. Spray onto surfaces and wipe immediately with a dry cloth. If you're dealing with some stubborn dirt, you are advised to wipe with a wet cloth first and then apply spray.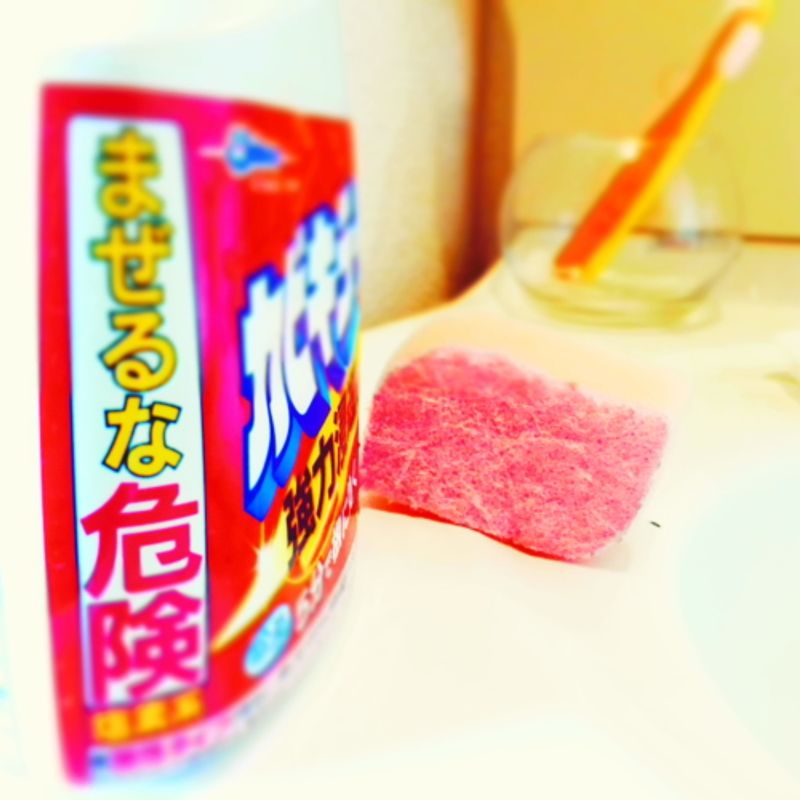 Warning
When you're buying/using products like those listed here, look out for the labeling, まぜるな危険/mazeruna, kiken. This means to not mix with other liquids, lest you start some unwanted chemical reaction! Keep an eye out, too for 塩素/enso, which means chlorine.
Should you get any of these products in your eyes, instructions advise to rinse for over 15 minutes before getting yourself to hospital. If you drink them, do not try to make yourself sick. Drink 1-2 cups of water (or milk) before going to the hospital. If you get any on your skin, wash with water.
Oo souji is not limited to the home, so don't be surprised if you're called to roll up your sleeves and get scrubbing in the workplace!
---