Nov 19, 2017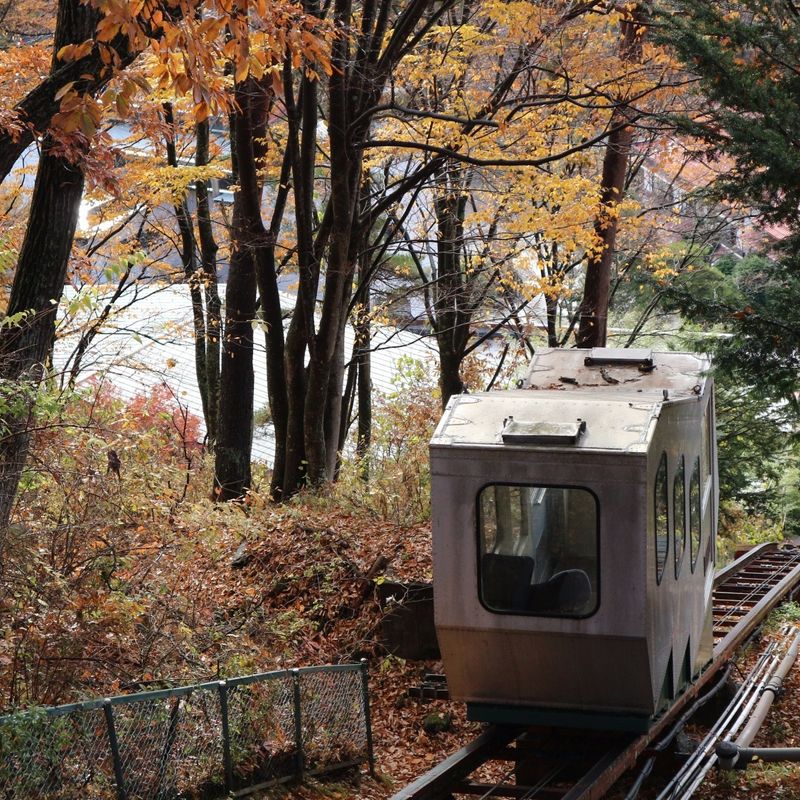 Sitting at an elevation of 1000m hot-spring ryokan Tokiwa-kan, Nagano boasts what must be one of Japan's most unique onsen experiences - a mountain-top, open-air bath which guests access using a private, guest-operated cable car.
Leisure time spent in eastern Nagano tends to be focused on Karuizawa - stately but bohemian, fully kitted out with dining and shopping, and just a single Shinkansen from the booming chaos of Tokyo, but a world away. In short, it's nature but of the easy and comfortable kind.
Just 10km to the east is Komoro-machi, the kind of small-town, mountain suburbia that most foreigners in Japan, like this one, will never get to because they would never think to look, or even if they did, wouldn't have a clue how to get to. Komoro is the kind of place that demands Japanese friends, or co-workers, or an unlucky draw from the JET lottery.
This is fine though as it leaves just me and the Japanese crew to stare out at the twinkling night lights of Komoro from our lofty soak in Tokiwa-kan's outdoor hot-spring bath, Kumonosuke. Being the only foreigner here also means that I don't have negotiate the already awkward "gaijin nod" without wearing any clothes. And despite onsen maps labelling Kumonosuke as an "open-air observation bath" the Japanese are so non-plussed about getting their kit off in front of others that it would never occur to them to observe anything other than, in this case, the night sky or the steamed lenses of their spectacles.
It's taken me a long time to get on board with Japan's onsen culture. Furnished with nothing but my own thoughts, I can barely handle sitting still for more than a minute or two, even in therapeutic waters. But when your bath is bathed under a clear mountain sky and accessed by a private cable car than parks up right outside the ryokan lobby, even this fidgety type had to give it a go.
Japan is obsessed with convenience, and so it is that guest at Tokiwa-kan don't even have to go outside to catch the private cable car to the mountain-top bath, it departs right from the ryokan lobby. Neither does one fall in line with a timetable of departures - you open a door, step in, press a button and off you trundle.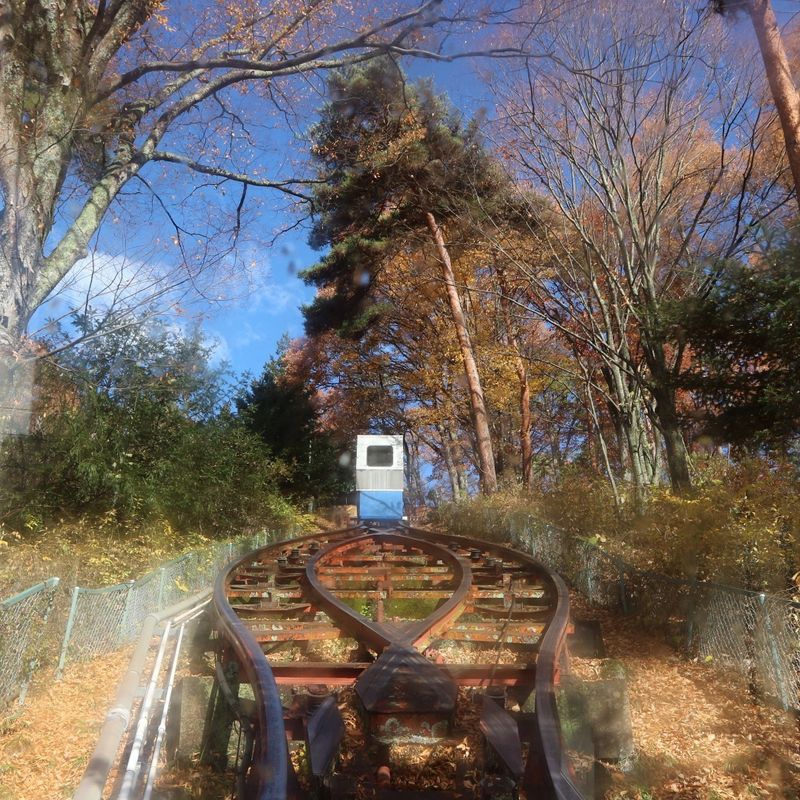 The cable cars (one either way) at Tokiwa-kan takes about one minute to journey up the mountain, covering a length of 130m and a rise in elevation of 50m. The slightly dated bit of kit seats six, on swivel chairs that look like they've served time in an office. At the top, Komonosuke's "cabin in the woods" (but in a nice way) vibe awaits. Baths are separate sex. On the male side of things, there are four tubs - three outside and one inside. The baths outside furnish a charming bit of decking. During the day, bathers are afforded views to Yatsugatake and Mt. Tateshina. On a particularly fine day you can even see the tip of Mt. Fuji. At night, the absence of city lights and smog makes for some fine night sky viewing. It would be the most romantic of settings were it not for the presence of all the other blokes.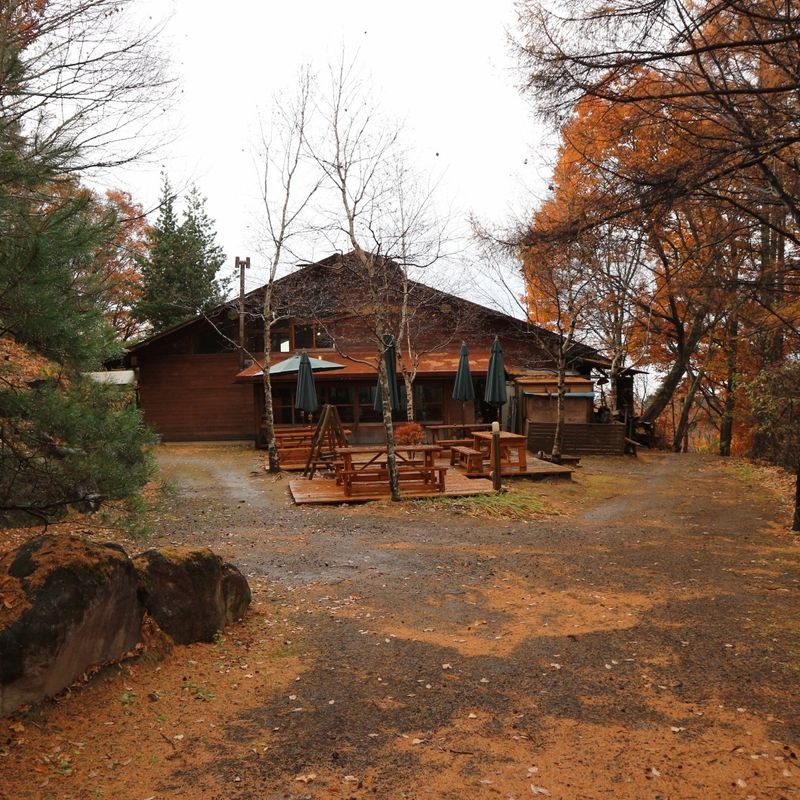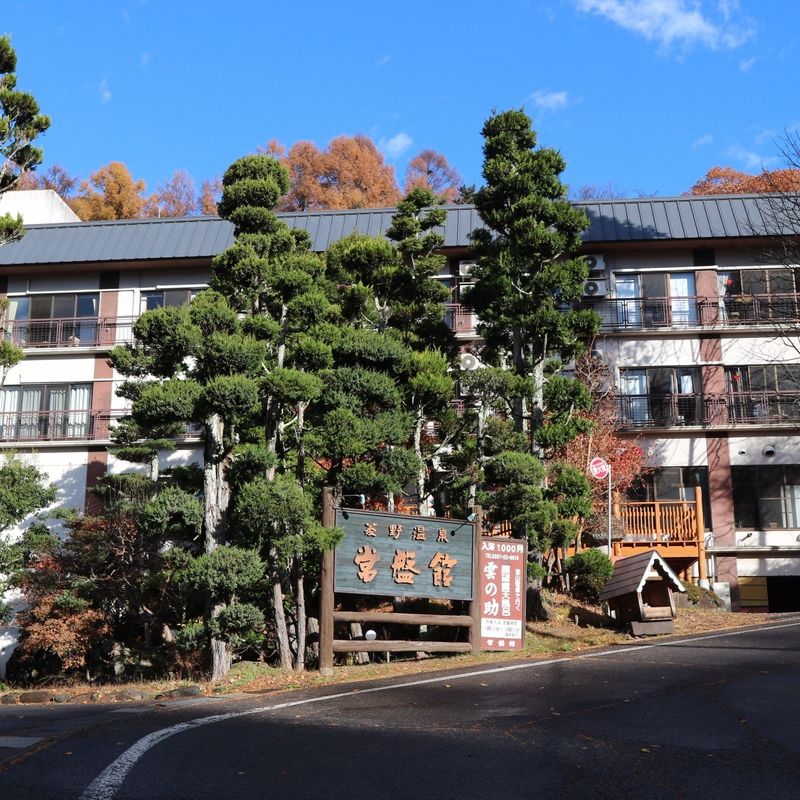 Tokiwa-kan sits in the heart of Hishino Onsen Spa, around 4km north of Komoro station, under the impressive bulk of Mt. Asama. There are only two onsen ryokan here (the other being Yakushi-kan a little further up the mountain road). It's a quiet area then, and is all the more charming for it, especially in autumn with the mountain forest ablaze (on a fine day) in fall colors.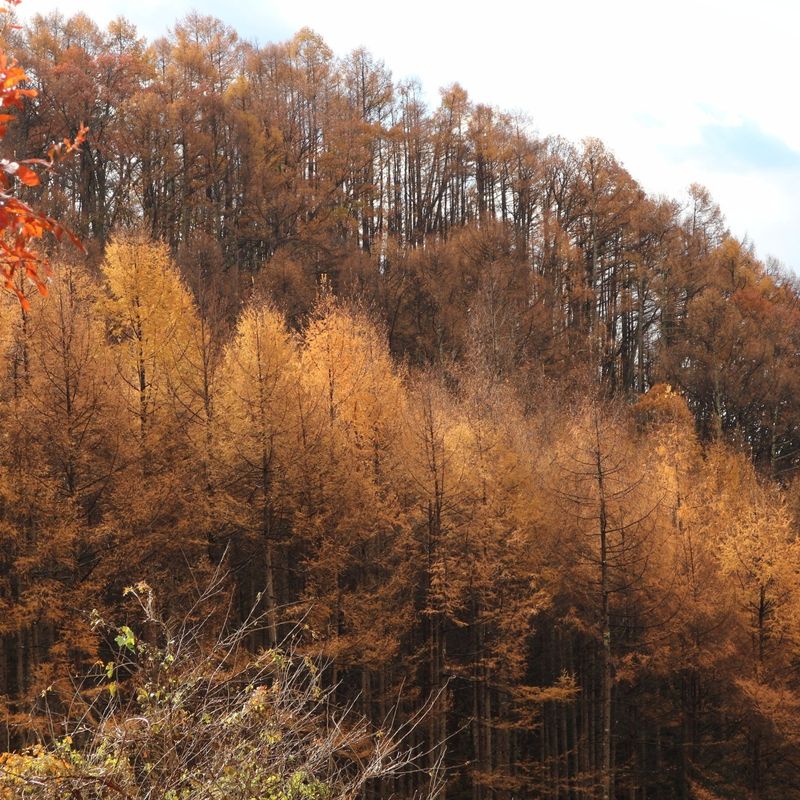 In the morning, it was back on the cable car but this time to take up the start of a trail that leads to the Acala Waterfalls about a 20 min walk from Tokiwa-kan. The trail starts from the back of the Kumonosuke cabin, ambling its easy way through the woods and a small woodstock yard to the Monument of Ujyo Noguchi, a Japanese poet / songwriter credited with developing nursery rhymes in Japan. Noguchi's monument is a fitting one, with the kind of views to Mt. Asama that might inspire verse.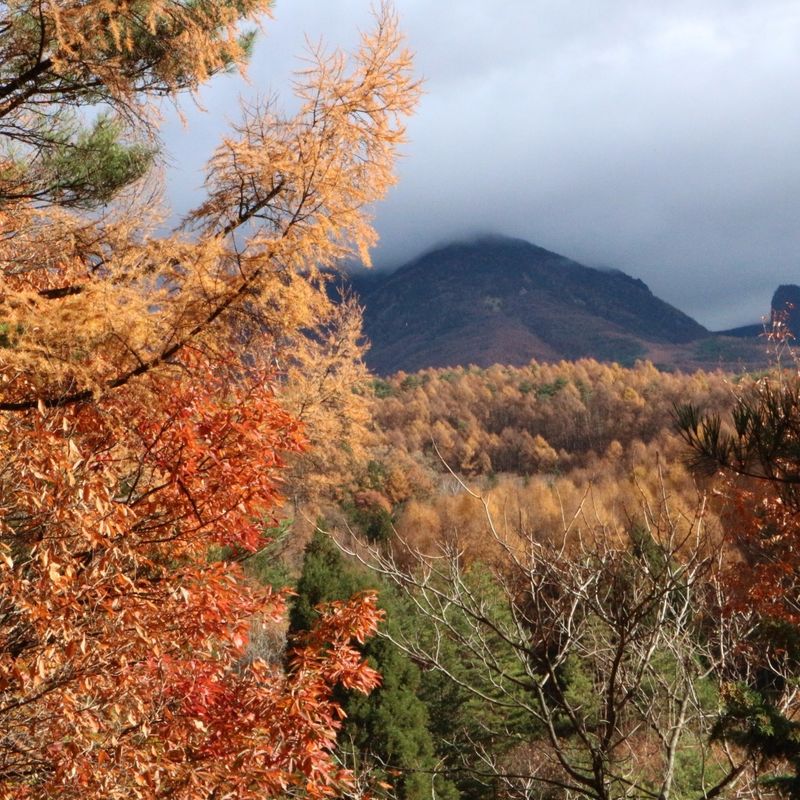 From here, under the watchful gaze of Asama, the Kumonosuke Mountain Path slopes downhill to join with the quiet road that leads back uphill to the falls. There's little in the way of traffic in these parts, leaving the walker alone and free to gawp at the blur of autumn leaves the coat the mountainside. A small but signposted trail leads off from the road through a lightly forested glade heading up the stream that drains out of Acala Falls. At this point you could be on a refreshing walk in the green and pleasant land of the English countryside, until pass through a glowing red tori that marks the approach to the falls.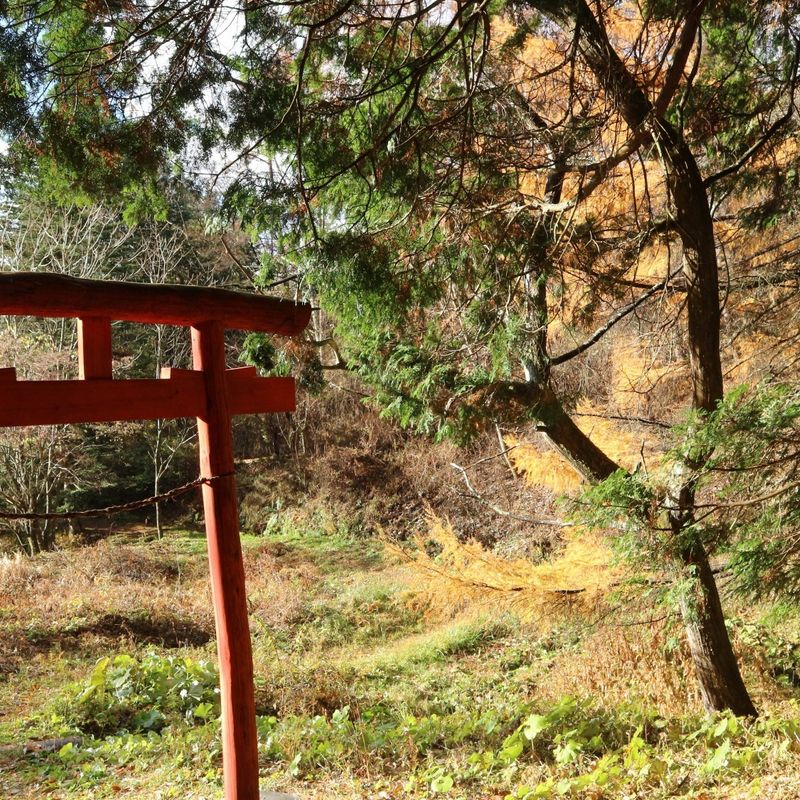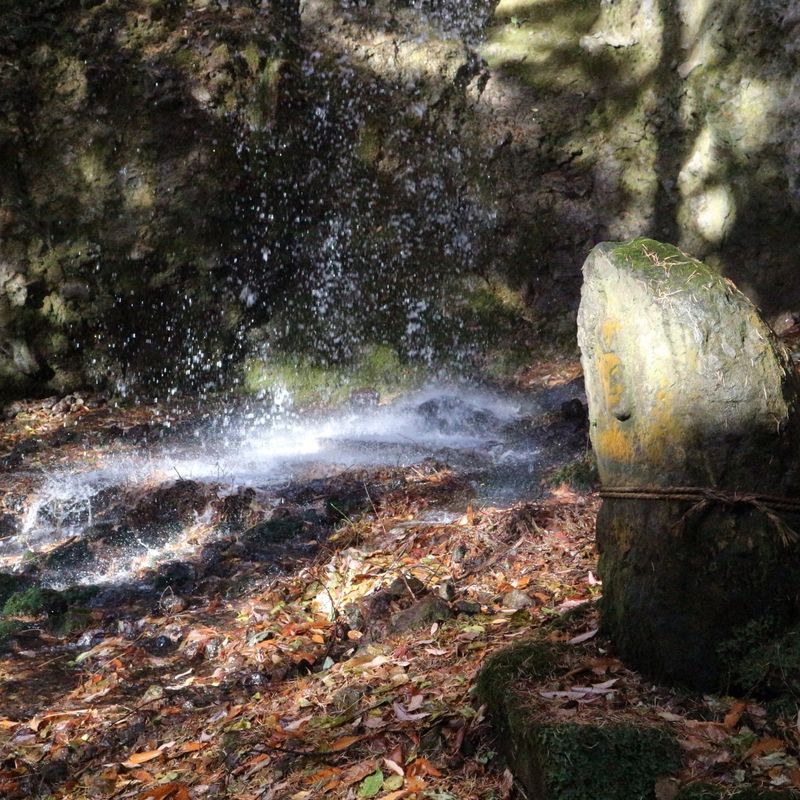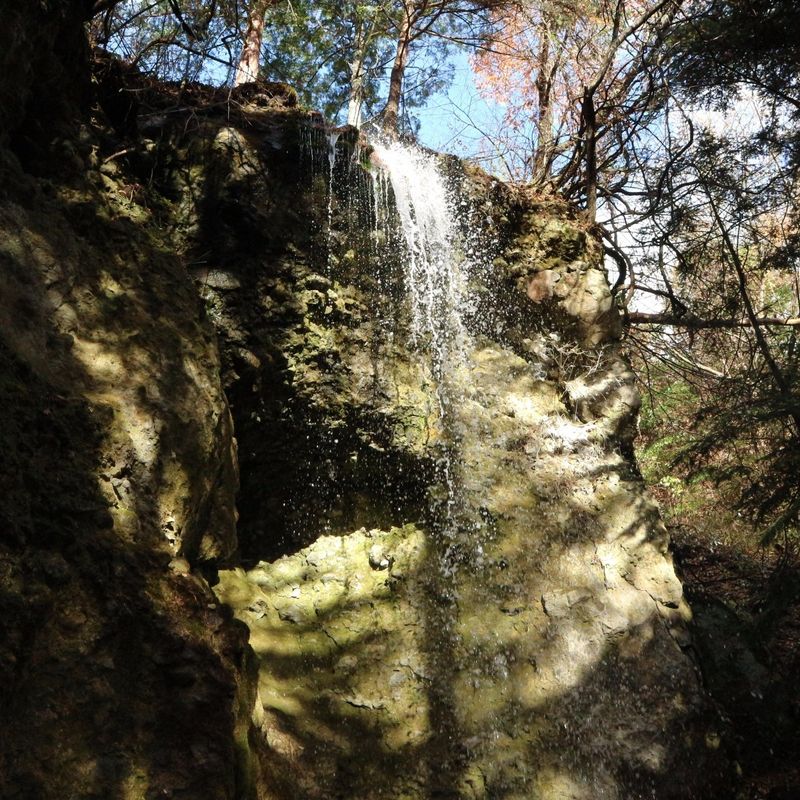 Acala Falls seemed to be in full flow, with the waters pouring down from what looks a height of around 20 m. There's just enough space to walk behind the curtain of water, looping from left to right to meet up with the small stone monuments that keep a watch over the falls.
The walk, the brisk mountain air, and all that cold water are enough to leave even this most hardened of onsen sceptics looking forward to a morning soak back at Kumonosuke. Especially when it means another go in the cable car.
Access Tokiwa-kan (常磐館)
The ryokan operates a free shuttle bus to / from Komoro Station.
Komoro Station is about 30 mins on the Shinano Line from Karuizawa.
Address: 762-2 Hishidaira, Komoro-shi, Nagano 384-0041
Map:
---
1 Comment
That private cable car sounds like a lot of fun and your pictures of the countryside are amazing! Thanks for sharing!