Jan 10, 2016
Above
- Pre-dipped, coated and fried
kushikatsu
/串カツ.
Left to right
lotus root, shitake mushroom, enokitake mushroom, beef, bacon, chicken, shishito pepper, shrimp, takoyaki, squid, crab, sasami (chicken), sausage, taiyaki (yes, taiyaki kushikatsu)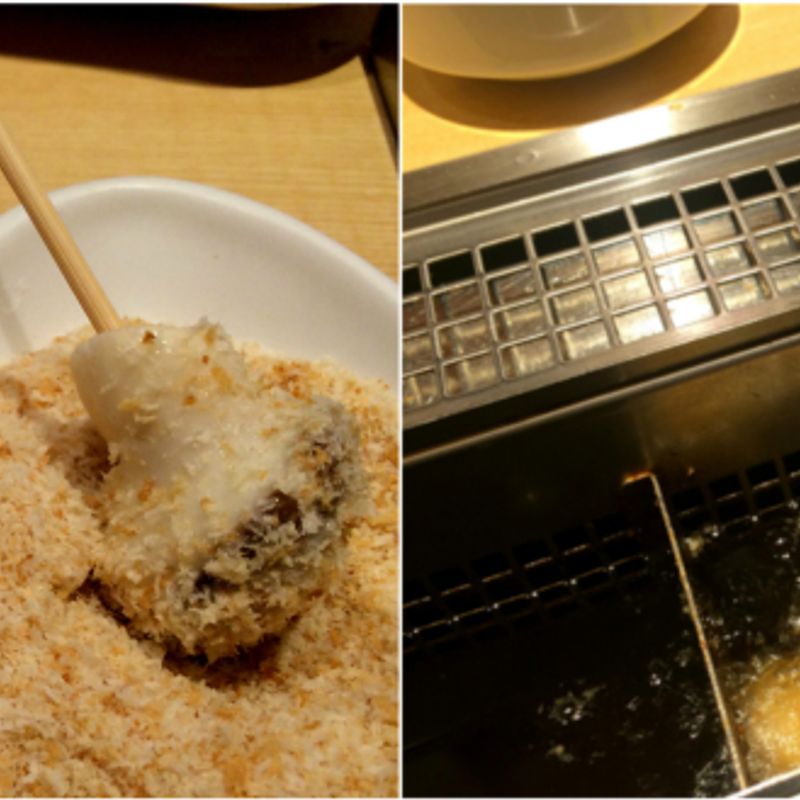 Above
- The dippin' , coatin' and fryin'.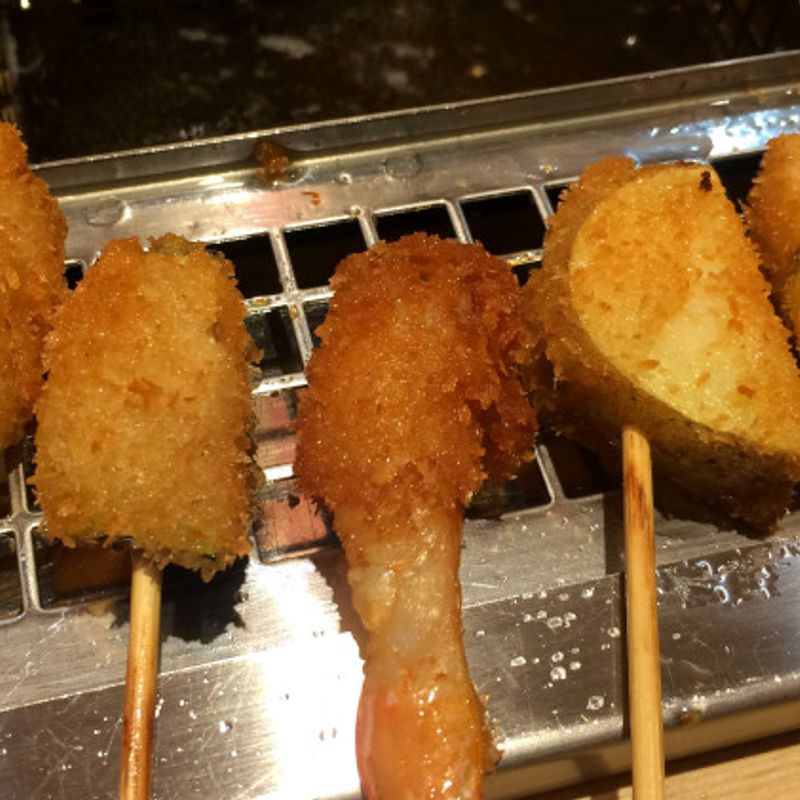 Above
- Leave to sit and let the grease drip.
Restaurant: Kushiya Monogatari, Nishiarai, Ario shopping mall
Food: Kushikatsu / 串カツ
Price: 2,500 yen 90 mins (machine coffee inc.)
About Kushikatsu: Article on Gurunavi
Verdict: Maybe there are two kinds of people in this world; those suited to buffets, and those who are not. For a long time now, I've known myself to be one of the latter. Just like Big Mac meals, a couple more beers, getting fit .. when the urge takes, buffets sound like a good idea but quickly turn into a thing of regret. I'm not the best person then to get the most out of an all-you-can-eat situation, the star of which is essentially bits of meat/fish/veg dipped in boiling hot grease. Still, it was fun to get hands on and do the dipping, coating, and deep fryin' at the table. I think I got through about 6-8 kushikatsu before I reached saturation point. It was around the 10 mark that I started to feel a bit nauseous!
I think, compared with the real thing you might get down in Osaka, the pieces of meat/fish/veg here are so small that the percentage of grease consumed ends up being much larger. Also, it doesn't help to get carried away with salad bars, and pasta/noodle side dishes. Something, I fear, I will never learn.
As I said, the hands-on aspect is fun, but the end result is a table situation that looks like wild bears have raided a picnic (after the humans have left), covered in grease. Definitely not the scene for a romantic occasion.
Fun experience overall, and one that I would recommend to have a go at once. Long term though, this buffet is a heart attack waiting to happen!
---
4 Comments
Nothing better than deep fried bacon. I love kushiage! Especially if its all you can drink as well ;D

@JanglishJerry I think all-you-can-drink would have helped. Deep frying a taiyaki reminded me of the deep fried Mars Bars and Snickers we can get back home. Got me feeling all nostalgic! I've heard they can 'kushiage' strawberries in Osaka.

Looks fun! Another thing to add to the list when I visit Tokyo next time. I wonder if the quality of the oil is the reason you hit saturation so early on. Ten kushikatsu is a fair amount I think, along with salads and drinks. The buffet extremist over here claims he could eat 15 plus sides and 30 without.

@helloalissa Well, I'll be honest, I've never been good with buffets. I'm more of a 'grazer' throughout the day ... little bits at a time. 15 + sides?!! I'd advise having a medical team on stand by!! Definitely check it out though. It's a fun experience, although the table does look pretty horrific by the end!