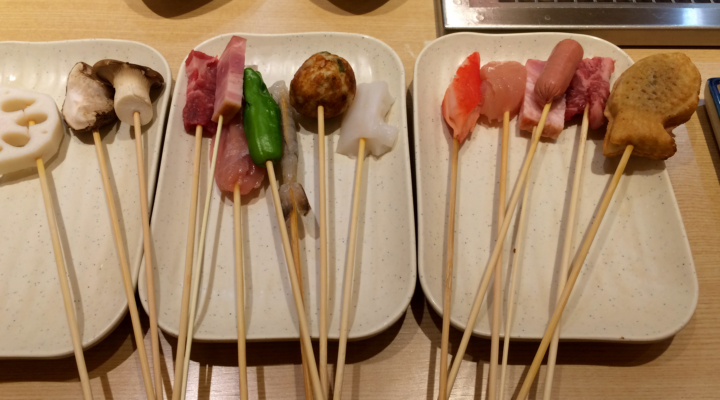 Above
- Pre-dipped, coated and fried
kushikatsu
/串カツ.
Left to right
lotus root, shitake mushroom, enokitake mushroom, beef, bacon, chicken, shishito pepper, shrimp, takoyaki, squid, crab, sasami (chicken), sausage, taiyaki (yes, taiyaki kushikatsu)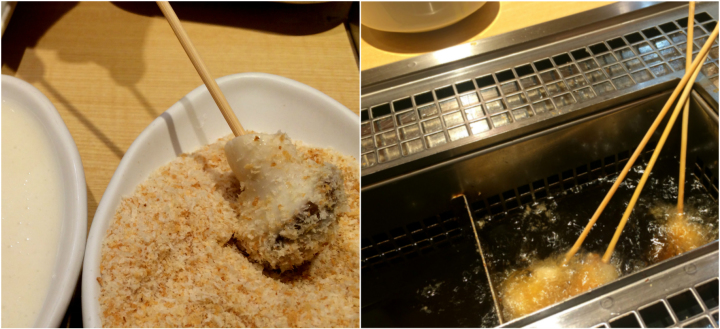 Above
- The dippin' , coatin' and fryin'.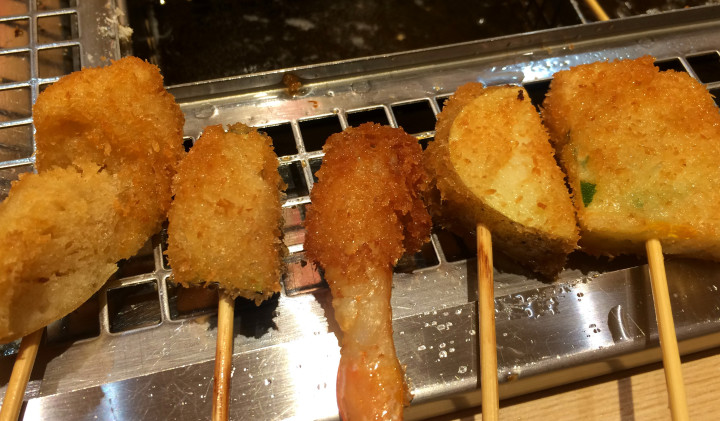 Above
- Leave to sit and let the grease drip.
Restaurant: Kushiya Monogatari, Nishiarai, Ario shopping mall
Food: Kushikatsu / 串カツ
Price: 2,500 yen 90 mins (machine coffee inc.)
About Kushikatsu: Article on Gurunavi
Verdict: Maybe there are two kinds of people in this world; those suited to buffets, and those who are not. For a long time now, I've known myself to be one of the latter. Just like Big Mac meals, a couple more beers, getting fit .. when the urge takes, buffets sound like a good idea but quickly turn into a thing of regret. I'm not the best person then to get the most out of an all-you-can-eat situation, the star of which is essentially bits of meat/fish/veg dipped in boiling hot grease. Still, it was fun to get hands on and do the dipping, coating, and deep fryin' at the table. I think I got through about 6-8 kushikatsu before I reached saturation point. It was around the 10 mark that I started to feel a bit nauseous!
I think, compared with the real thing you might get down in Osaka, the pieces of meat/fish/veg here are so small that the percentage of grease consumed ends up being much larger. Also, it doesn't help to get carried away with salad bars, and pasta/noodle side dishes. Something, I fear, I will never learn.
As I said, the hands-on aspect is fun, but the end result is a table situation that looks like wild bears have raided a picnic (after the humans have left), covered in grease. Definitely not the scene for a romantic occasion.
Fun experience overall, and one that I would recommend to have a go at once. Long term though, this buffet is a heart attack waiting to happen!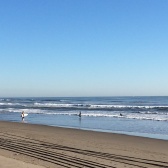 Traveler, surfer, and scribe. Based in Tokyo for six years.