Apr 30, 2018
Anyone with even a tentative grasp of surf culture will know that surfers don't take too well to having their surfing spots definitively listed in guides detailing the 'where' and the 'when.' So, there must be a whole bunch of surfers across Japan who have mixed feelings about free, annual publication and app "Beach Combing Magazine" (published by Rise System Inc. here in Japan).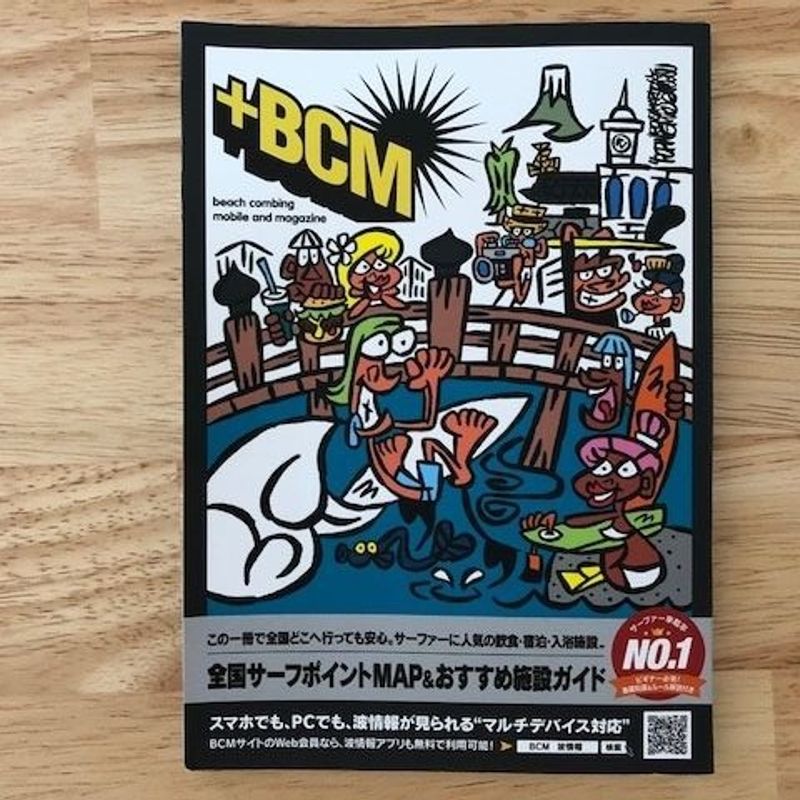 "Mixed" because while surfers tend not to like 'outsiders' rocking up to their regular breaks, they, in turn, are generally quite happy to do likewise at other breaks, particularly during the holidays. Beach Combing Magazine (BCM) then, facilitates both situations.
BCM covers spot details for surf breaks the length and breadth of Japan, all the way from the frigid waters around Hokkaido to the sub-tropical reef breaks of the Okinawa islands.
Presented in a hand-bag handy, non-glossy magazine form, the publication is littered with ads as one might expect due to it being free. It also, almost exclusively uses Japanese. While this will prevent those without an advanced grasp of the language from getting much out of the magazine's area intros and passages of advice provided by the National Surfing Association of Japan (NSA), it shouldn't stop well-read, well-versed surfers from getting the information they need out of the charts and iconography, although it will render spot names illegible for many.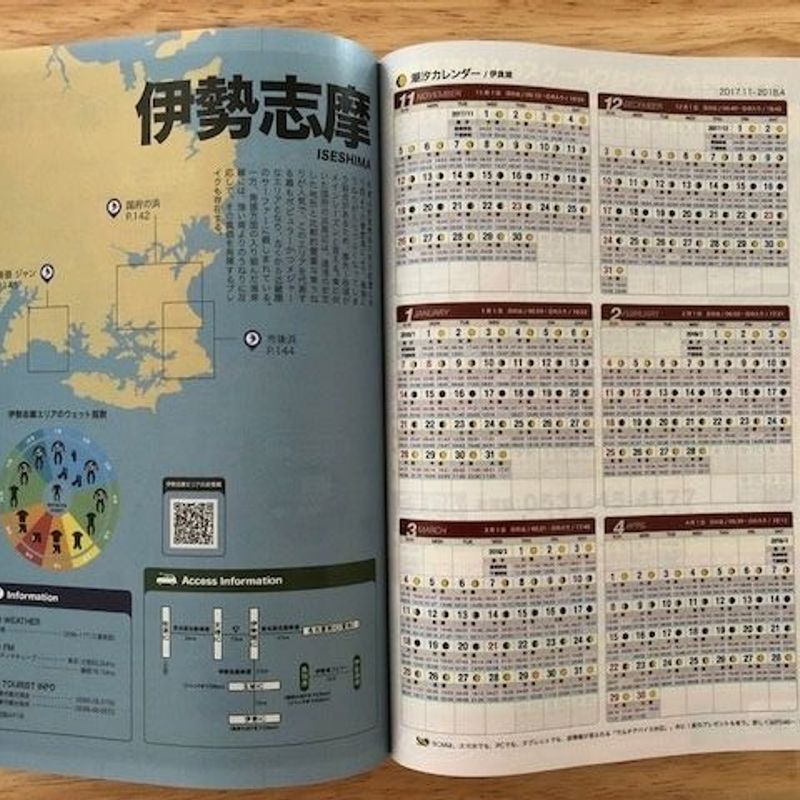 BCM though, is really about the maps which are clear, easy to understand, and essentially point the surfer to where the action is, all across Japan. For a free publication the people behind this resource do a pretty sterling job (although it can be difficult to locate the regions you're after as there is no index and such things don't immediately stand out to the non-native handler of the language).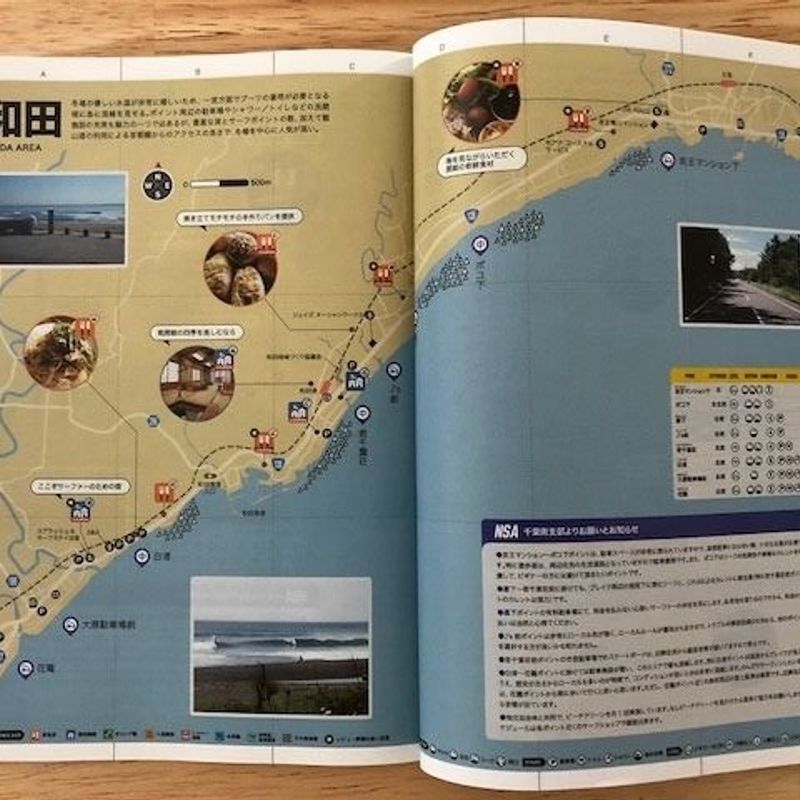 For each surf break listed, readers are told about what kind of bottom it is (sand, reef etc), suitable for what level of surfer, consistency, and what kinf of facilities are available in the immediate vicinity (parking, showers, etc), all of which should be easy to understand through the icons used.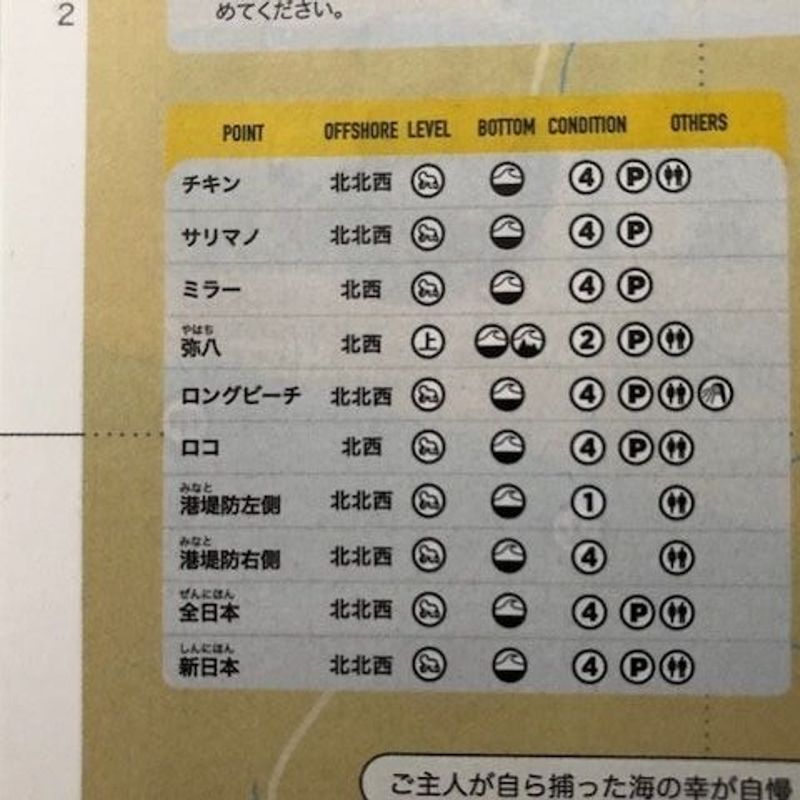 Information about locals rules, manners, and the vibe of the local surfers is also detailed but will be impossible to pick up on without an advanced understanding of the lingo (Japanese and surf jargon).
Shops, restaurants, and accommodation options are listed (advertised) for each region.
Of course, pretty much all of the surfing info detailed in BCM is probably available across plenty of surfing resources available online, but these lack the satisfaction of the tangible, which BCM provides, for free.
If you're into surfing, you want to know about the surf scene in Japan, and / or you like leafing through maps and images of this rock that we live on, you'll get something out of Beach Combing Magazine.
Available at any surf shop in Japan worth its salt, and if my Japanese is up to task, BCM is published annually in mid-April.
---