Jul 25, 2016
First up, yesterday's surf at Kujukuri was fun. Bit of a north-south sweep which was hard work on the arms, but there were some fun sets coming through that were really easy to get to work on, although there wasn't a great deal of power in them.
I should also say 'Thanks' to the two gents parked next to me, who helped me back my car out when it came time to leave (although there really was any need for them to do so). Anyway, it made me feel all warm and fuzzy. Cheers!
Right, to the point of business; I'm taking a short surf trip to Bali soon, and am in need of a new board bag so as I can get my sticks on the plane. I'll have a 6,4 with me, so I need a board bag that can accommodate that. I'm going for as close a fitting bag as possible (more on the reason why in another post).
The partner did a bit of a search for surf shops specializing in secondhand clobber somewhere around Urayasu, and came up with this place; Stockroom-tokyo SCHOOL & SURF SHOP in Ishikawa, Chiba, about 1 km from Nishi-Funabashi Station. I don't know how easy it is to find from the station. We drove.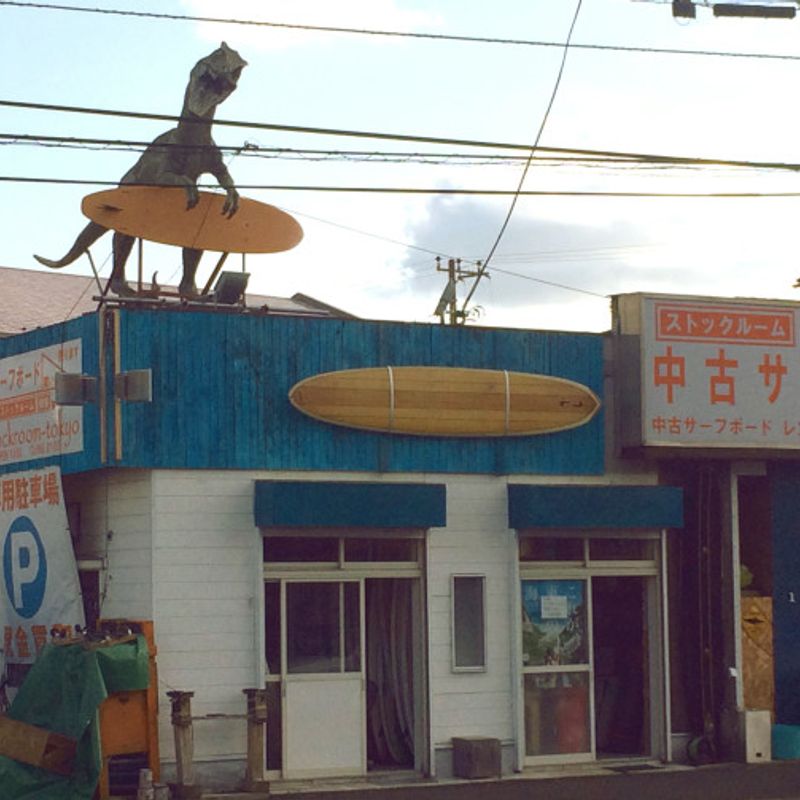 Stockroom-tokyo SCHOOL & SURF SHOP is madness, and an absolute gem! First of all, it isn't in Tokyo (or should that be 'tokyo'). Second of all, the shop has a massive dinosaur holding a surfboard on the roof, and other odds, sods, and paraphernalia adorning the outside. Inside, Stockroom-tokyo is a treasure trove of all things surf. This place is great for a poke and a prod around, to see what gems you can unearth.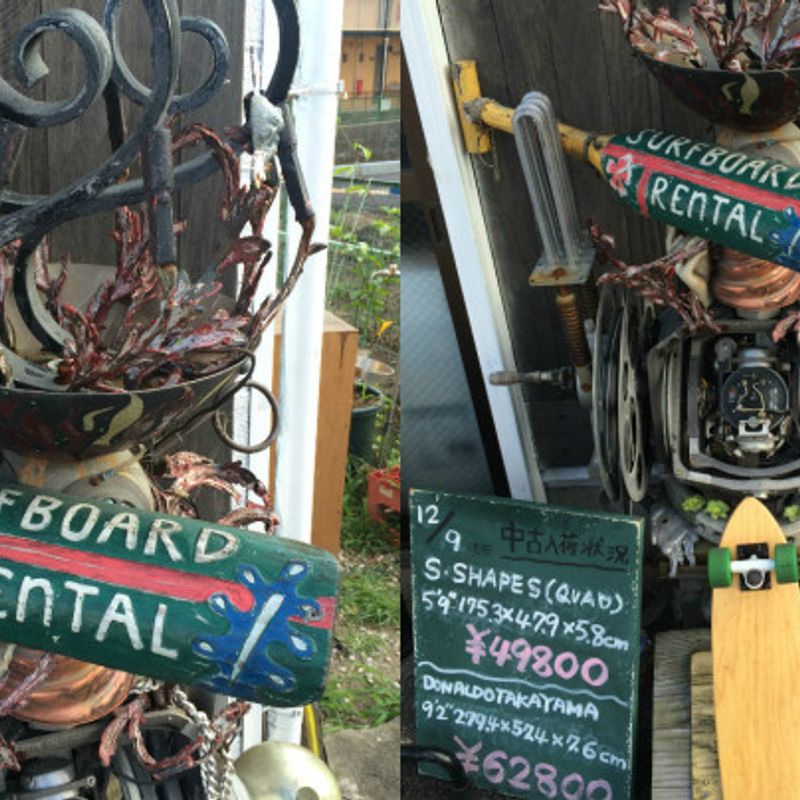 There are a lot of used boards here, too (ranging from 10,000 - 70,000 + yen). Many of them look to be in good shape. Oh, and there are plenty of board bags hanging from the ceiling of a back room that you can file through for something that fits.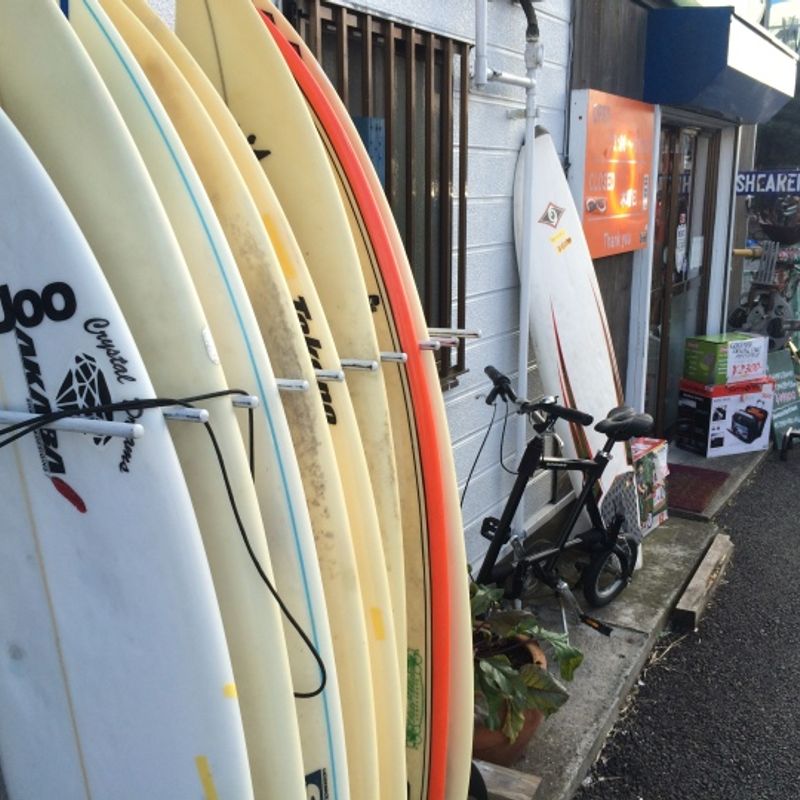 Amidst all the madness, and seemly haphazard organization of the goods, Stockroom-tokyo has something really sensible going on; board rental, and storage.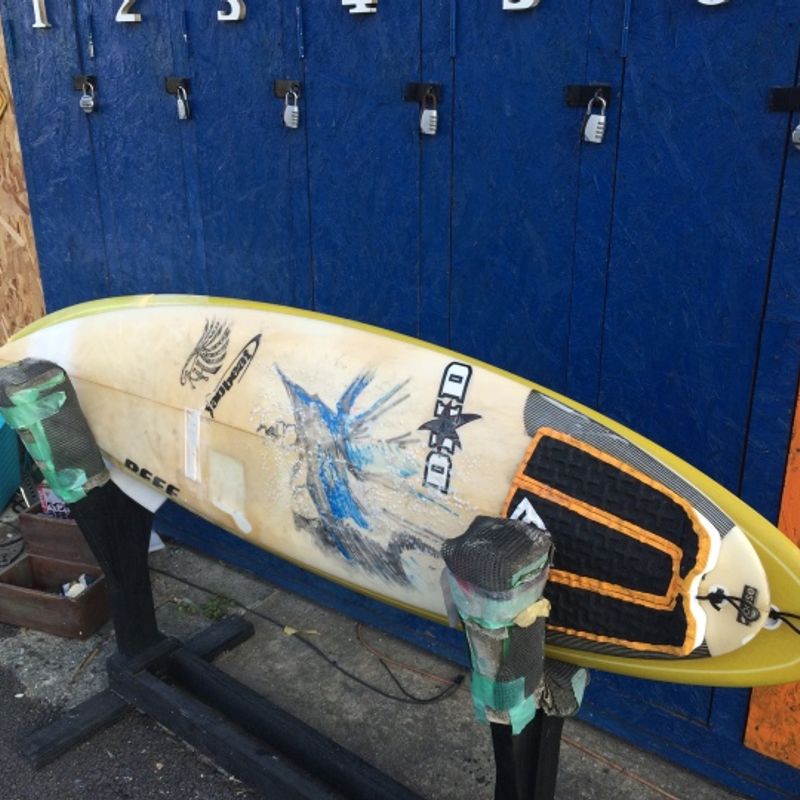 According to the shop's homepage, all of the boards you see in the store are available to rent, from one day, through to a week (with free carry bag). If, after trying a board out, you want to buy it, you can go ahead and do that. You can also rent a locker here, too (board-sized), so perhaps this could be a good starting point for those without a car, who rely on trains to get to the beach.
Stockroom-tokyo SCHOOL & SURF SHOP does board repair, but also stocks all the kit you could need to perform repairs yourself, if you know how.
Despite having the term 'school' on the sign board, I can find any information about this on the shop's homepage, although I'm sure staff would be able to point you in the right direction.
Overall, I loved it here, and will definitely be back again. It's an unlikely place to have such a cool surfing resource (and it certainly sticks out), which, in a way, makes it all the more endearing. If you're interested in surfing in Japan, and are heading to the beaches in Japan, give this place a look.
Web: http://www.rocker.co.jp/index.html
Map:
---
2 Comments
That dinosaur is so cool. Renting out storage spaces for surfers without cars is a really smart idea as well.

@helloalissa It is. It really is. I could have done with knowing about this place before I had a car.