Jan 30, 2015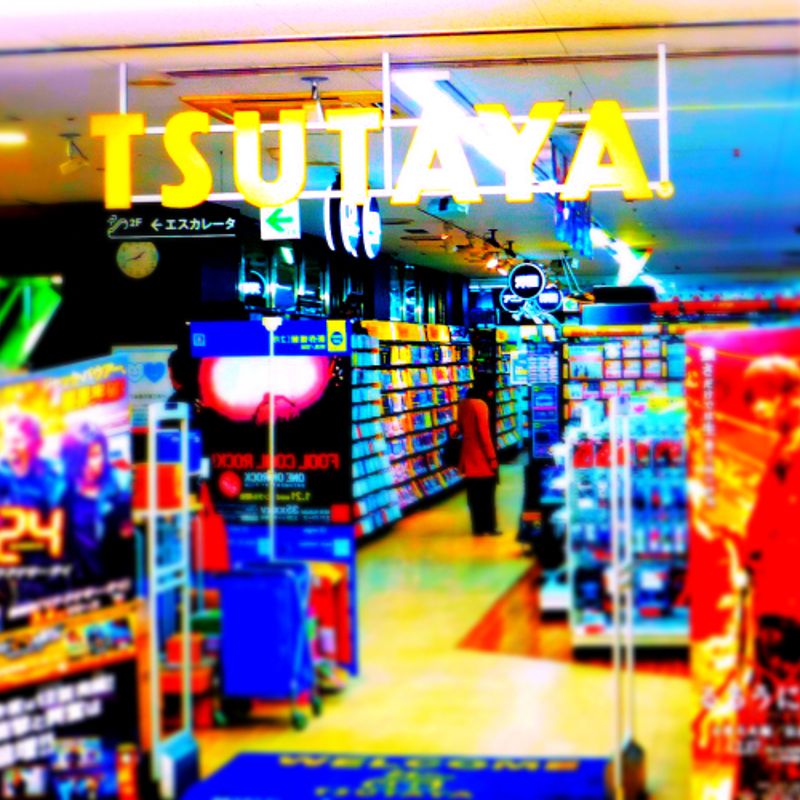 There are a number of things one can do to settle into a life in Japan and one of them must surely be having access to Tsutaya's library of rental DVDs, CDs and manga.
Only newcomers and people who've been living under a rock are likely to be unaware of what Tsutaya is so let's keep our introduction brief.
Tsutaya rents and sells DVDs, CDs, manga, books, and video games (although the rental part is mostly limited to the first three items). The store's sign of yellow writing on a blue background may well exert the same familiarity on these shores as the McDonald's 'golden arches' do in other parts of the world. What started out as a solitary bookstore in 1983, Osaka, has now blossomed into the nation's default home entertainment source with over 1,400 stores nationwide.
Whilst the chain continues to tinker and diversify (the branch in Tokyo's Daikanyama has a library, lounge, and travel desk), Tsutaya is, for many, about books and movies, and given that there are better sources for foreign language books out there, it's with the latter that we concern ourselves here.
What's Available?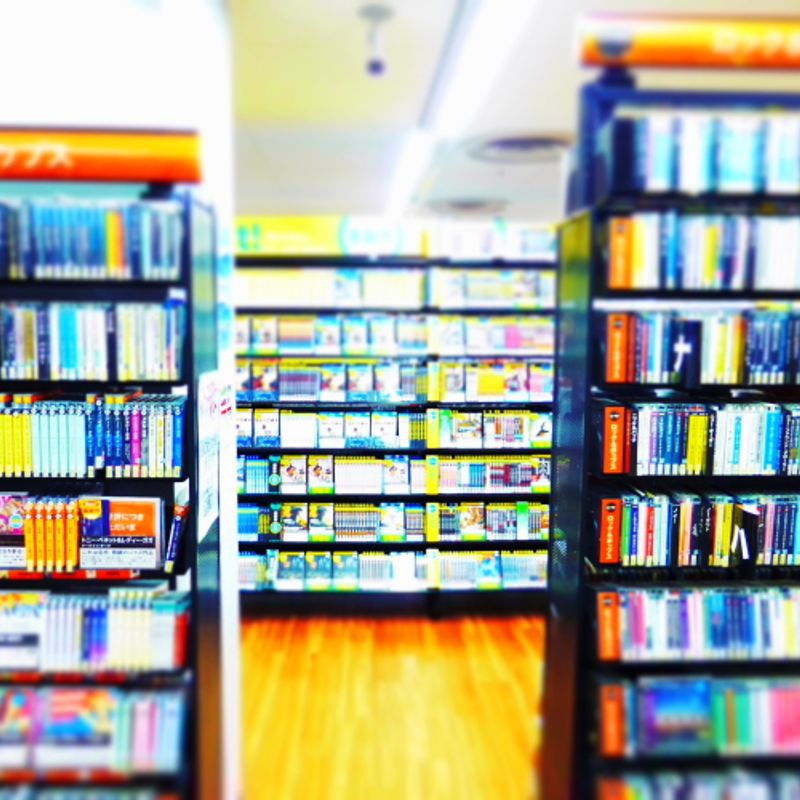 Tsutaya stocks an impressive collection of DVDs/Blu-rays to rent, covering all the classic genres, listed here in Japanese and English:
アクション / action
ドラマ / drama
サスペンス / suspense
SF / Science Fiction
ホラー / horror
コメディ / comedy
アニメ / animation
TVドラマ / television drama
アダルト / adult
Latest releases will be written as 最新作/saishinsaku. Those that fall between latest release and 'too fresh to be considered old' are referred to as 準新作/jyunshinsaku. It's usually pretty clear, but watch out for the signs, 販売/hanbai/for sale, and レンタル/rentaru/for rent.
Timescale and Price
DVDs can be rented for one day (当日/toujitsu), one night/two days (一泊/i paku), two nights/three days (にっ泊/ni haku), and 7 nights/eight days (七泊/nana haku). Be clear what this means though. In the case of one night/two days, it means for return before 10:00 am (store opening) on the third day. So if you rent a DVD on, say, January 1st for one night/two days, then it should be returned on January 3rd before 10:00 am. So, in practice, you get it for two nights!
New releases usually start out as only available for one or two nights. If available for seven nights, a sticker on the case will say so (7泊8日OK). Old movies tend to be charged at a flat rate for seven nights.
Return DVDs by putting them in the collection boxes by the store entrance. There's no need to go to the counter unless you're late returning your rental.
It's hard to state prices definitively as each branch of Tsutaya has a certain amount of autonomy so prices vary. The flat rate for older movies is usually 100 yen. A new release rents at around 400 yen for one night/two days. Someone at the other end of this link has gone to the painstaking task of putting together the price list for stores nationwide.
How To Rent?
You need to register for membership and a Tカード (card). There are a number of options here, including an online service, and a Tカード that doubles as a credit card. What we will focus on here though, is the basic Tsutaya membership/card, the easiest and most accessible way to get your DVDs.
Step one is the easiest; find a Tsutaya (they're everywhere in urban Japan). Bring along a picture I.D (which lists your address). Your registration card or driver's license will suffice. You'll also need about 300 yen to join (may change according to location), this is your 入会金/nyukaikin.
Go to the counter and tell the staff you wish to make a Tカード; Tカードを作りたいです. / T-card wo sukuritai desu.). You'll be asked to fill out the following form: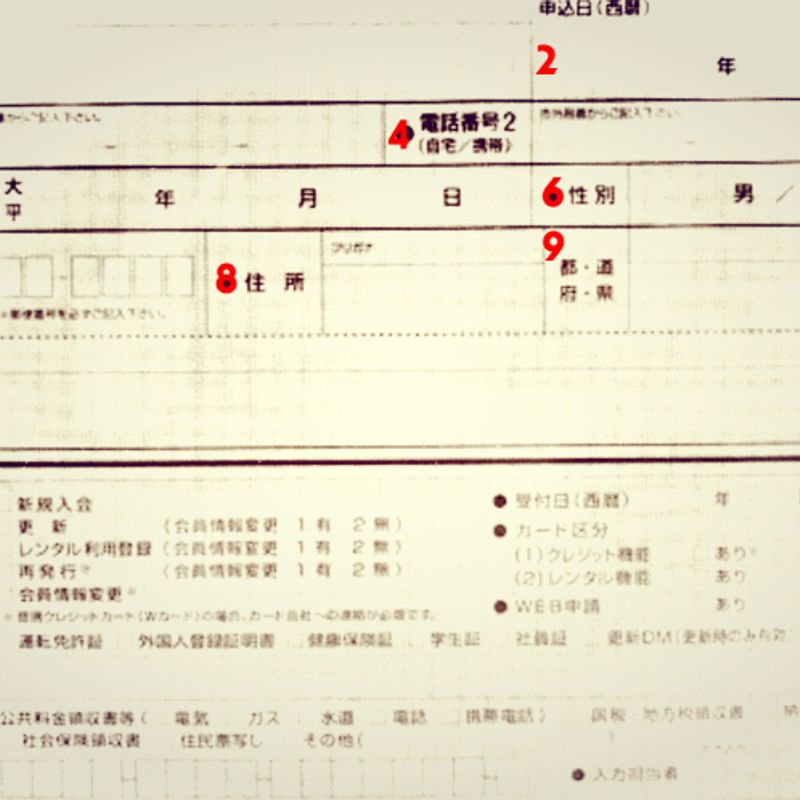 1. Name
2. Date (of application) - year, month, day
3 and 4. Phone number (if you only have one this will suffice)
5. Date of birth - year, month, day
6. Gender (男/male) (女/female)
7. Post/Zip code
8. Address (9. Prefecture/State 10. City)
11. The first line of your address - building name, house/apartment number etc.
The bottom half of this form will be filled in by a member of staff. Writing in English should be fine.
Hand this over with your I.D., and a card will be made for you promptly. Membership is valid for one year and you can use your card to rent at any Tsutaya nationwide. Renewing membership will require the same form and your picture I.D.更新したいんです/ koushin shitaindesu.
The T カード
As you go about your daily life in Japan you may often be asked at shops and convenience stores if you have a Tカード or Tポイントカード (T point card). Hand it over to collect points which you can put towards, among other things, future Tsutaya rentals and purchases.
200 yen
spent = 1 point!
---