Jan 27, 2017
Ground raw beef on rice - Tokachi gyu-toro flake don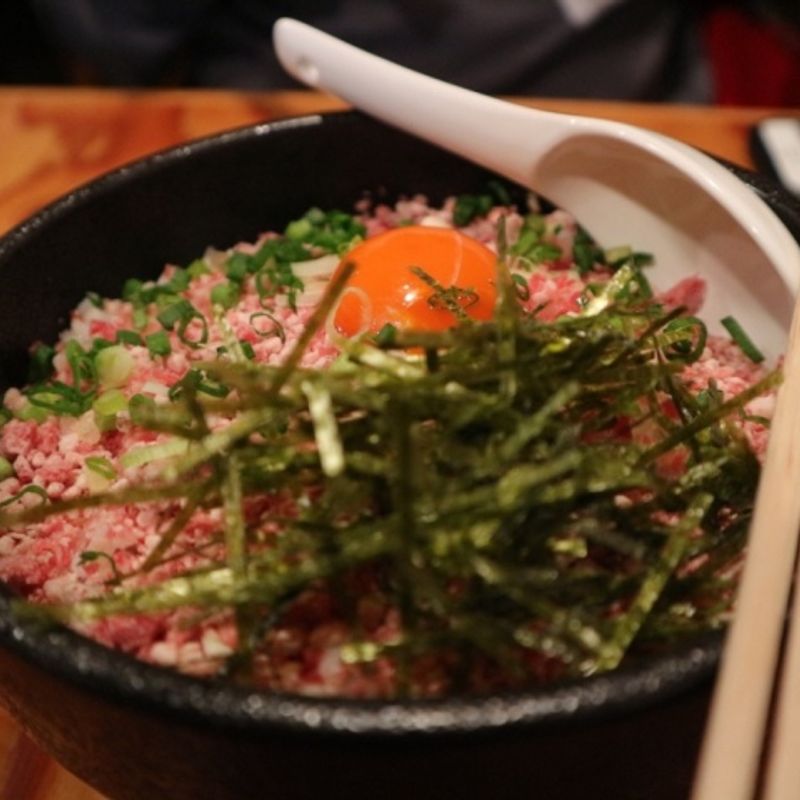 We ate this dish in a tiny place somewhere on the backstreets of Tokyo. It was one of two items on the lunch menu. The item we had intended to eat, a kind of lamb-don dish (grilled lamb on rice) had sold out. The menu was written in Japanese only and it was one of those situations you often have over here where you feel the pressure to order and do so without knowing what it is you're ordering. In this case, it turned out to be the dish in the images; 十勝牛トロフレーク丼 / Tokachi gyu-toro flake don. Essentially ground raw beef on rice.
The Japanese have a taste for all things raw, but beef hit the headlines a few years ago over here after diners had died from eating raw beef dishes in cheap yaki niku joints in other parts of Japan. Is 1,300 yen cheap? Because that's what we paid for this.
I had thought that the above incidents had lead to bans on serving raw beef in restaurants in Japan, but given that our Tokachi gyu-toro flake don was being served without a seeming second thought, maybe the bans are restricted to certain dishes (or maybe the proximity to warm qualifies it as cooked of a kind). Anyway, my friend and I were the only diners left in the restaurant so it would have been awkward to leave full dishes behind.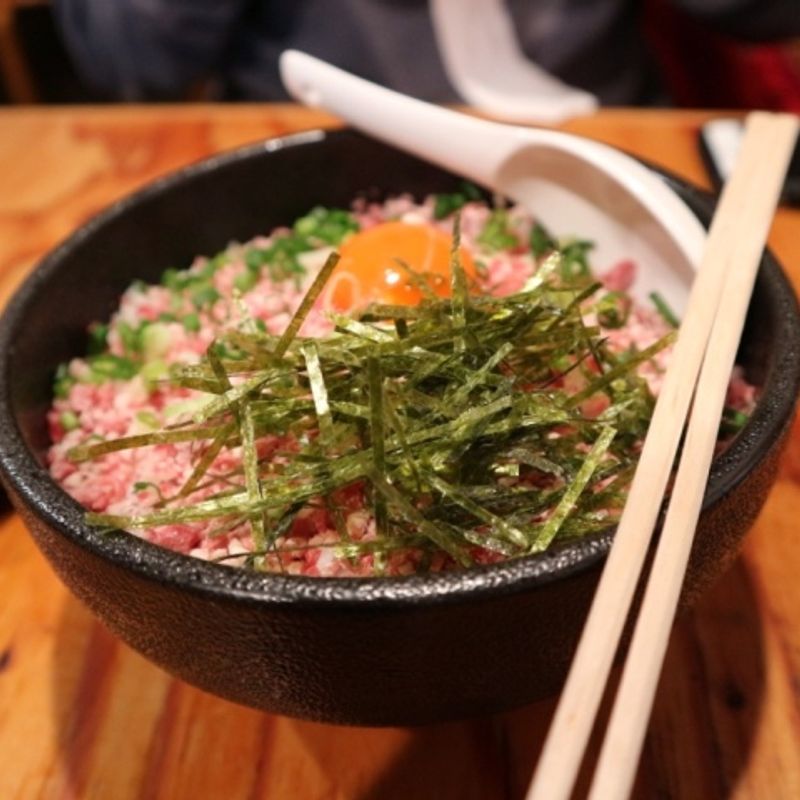 Taste wise, these things are rarely as bad as one fears. With warm rice and oily meat 'flakes' the overall effect of this dish was buttery smooth, warm, and with that dull tang of raw meet (the 'tang' part might just be a mental thing of eating something that for year's you'd been told would kill you). Anyway, it was fine in the taste regard. And you get a raw egg, incase things aren't raw enough for you.
I had to look up the Tokachi part; apparently Tokachi is a 'sub-prefecture' of Hokkaido Prefecture in the North of Japan. I also learned that the dish 'Tokachi Gyu-toro Don' (the 'flake' part is absent) was entered into the 4th Japan Local Bowl Dish Competition held in Tokyo in 2012. I don't know how it ranked, or even if it was that kind of competition.
I won't be eating it again unless circumstances dictate otherwise. Not out of a great fear or because it tasted particularly bad. I just wasn't taken by it that much.
---
4 Comments
I think I ate something similar around Nakano once ans it looks and sound similar to what you had. There was so little beef that I could hardly taste it lol

@Jackson Ha! Maybe that's a good thing!

I won't even try raw beef. I feel uncomfortable eating raw fish.

@Ooray2775 I understand that. The idea of it doesn't sit very well with me either. Raw fish is fine (for some reason) but the beef and other meats I'd never order willingly.