Apr 17, 2015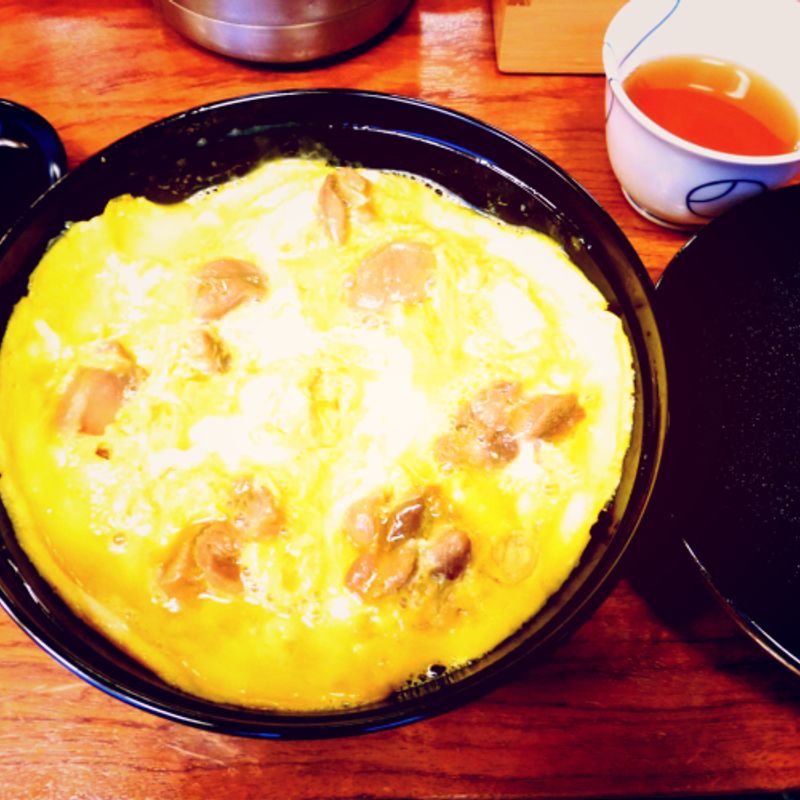 Who doesn't like oyakodon (親子丼)? It's surely one of life's great comfort foods; goopy eggs drooling over a bowl of juicy chicken atop a bowl of steaming rice.
So let's not muck about here, if you're a fan, you should go to Tamahide (玉ひで) in Ningyocho; Tokyo's (neigh, Japan's) best oyakodon restaurant, apparently. Quite who decided upon this bold superlative is unknown but Tamahide's reputation lingers (like a good smell) somewhere in the ether, such that mere mention of the name draws knowing nods from reverent locals. Longevity might have something to do with it. In a city besotted with all things new, Tamahide has managed to stay in business since 1760, so they must be doing something right.
The Japanese are perfectly nonplussed about having to queue for food, so you can bet your bottom dollar any establishment that can get itself called the best (insert genre) restaurant in town is going to have a line of giddy gastronomes waiting for it to open. And so it is with Tamahide, every day of the week.
We arrived at 11:20 on a Sunday morning for the 11:30 opening time and went straight … to the back of a thirty-minute queue. Once inside, we were greeted in the small hallway by an middle-aged lady in kimono who took our shoes and put them in a locker (keep hold of the key). We then queued a further ten minutes in what looks like the hallway of someone's house, as more middle-aged ladies in kimono busied themselves with orders. There's a small counter in the hallway where you place food orders. You'll be given a ticket to present to the wait staff before being seated.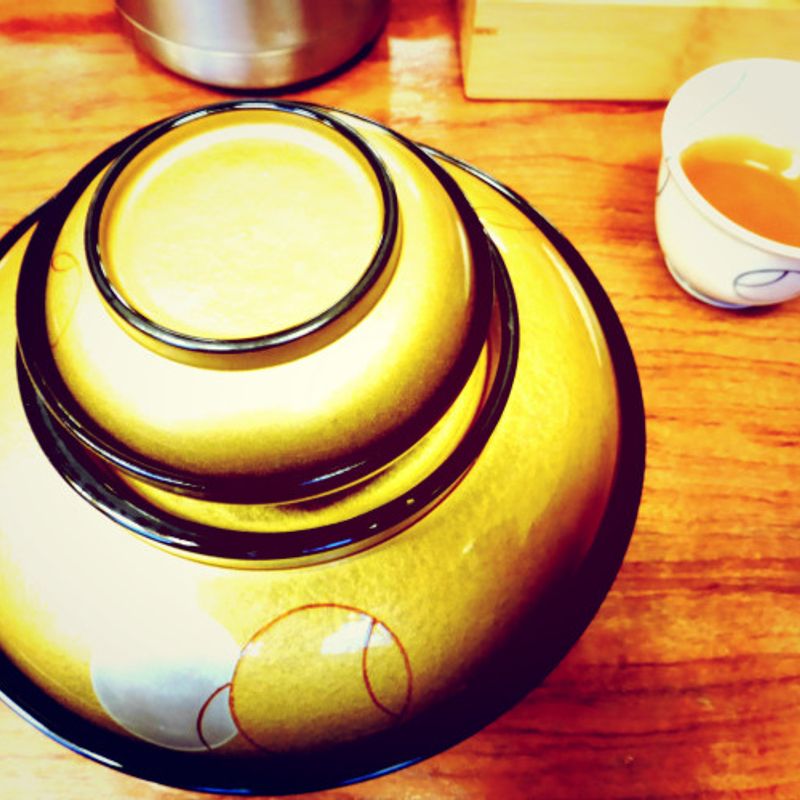 The Menu
Tamahide started out as an eatery specializing in 軍鶏/shamo/gamefowl (a kind of chicken). During the Edo Period the restaurant started serving sukiyaki. It wasn't until the Meiji Period that oyakodon appeared on the menu, the idea born from a customer who mixed their sukiyaki soup with egg and rice.
There are other items on Tamahide's menu, mostly in the form of set dinner courses all of which include shamo in some form or other. Prices range from 7,000 - 15,000 yen.
Every one you see in the queue, however, has come for the 軍鶏親子丼/shamon oyakodon (part of the lunch menu), of which there are three choices;
元祖親子丼/ganso oyakodon - The Original Oyakodon - 1,500 yen
白いレバ親子丼/shiroi reba oyakodon - White Liver Oyakodon - 2,000 yen
極み親子丼/kiwami oyakodon - Sublime Oyakodon - 2,200 yen
Each dish is served with a cup of shamo soup and 漬け物/tsukemono/pickles. The higher the price, the better the cuts of meat.
The Dining Room
Tamahide has three floors. Oyakodon eaters are seated on the first floor, a space of light woods, traditional screens and the occasional print hanging on the walls. Tables sunk into the floor can accommodate five diners (you'll have to share), with seating in the form of hard, woven mats. Whatever atmosphere there could be here is overwhelmed by the feverish anticipation to eat. This is not a social situation. Once the dish arrives, it's wolfed down within ten minutes before diners move on to make way for others.
The Dish
We ordered the 元祖親子丼/ganso oyakodon.
Depending on who you ask, Tamahide's secret lies within its knowledge shamo, or the mysterious sukiyaki sauce.
This dish itself is sizable and is served in gorgeous lacquerware with a golden sheen that does a fair job of matching the food within. Temperature wise, the oyakodon is good to go as soon as you lift the lid, so don't wait around. The eggs are cooked to perfection, soft without being disconcertingly under cooked (as is often the case with this dish in Japan). Meat wise, our ganso oyakodon contained small cuts of regular chicken mixed with the famed shamo. I'll probably be chastised for this (in fact I already have), but I have to say that the regular chicken came out on top, by some way. The Japanese have a thing for gristle and toughness in their poultry and in that regard, the shamo won't disappoint. For Western palates though, it's like clamping down on a tired, tough old buzzard! Either way, it doesn't distract from the dish's overall satisfaction and underlying sweetness. Everyone looked thoroughly pleased!
Tamahide is a stone's throw from exit A2 of Ningyocho Metro Station (Hibiya Line). The oyakodon lunches are served from 11:30 -13:00. Get here before 11:00 to stand a chance of being at the front of the queue.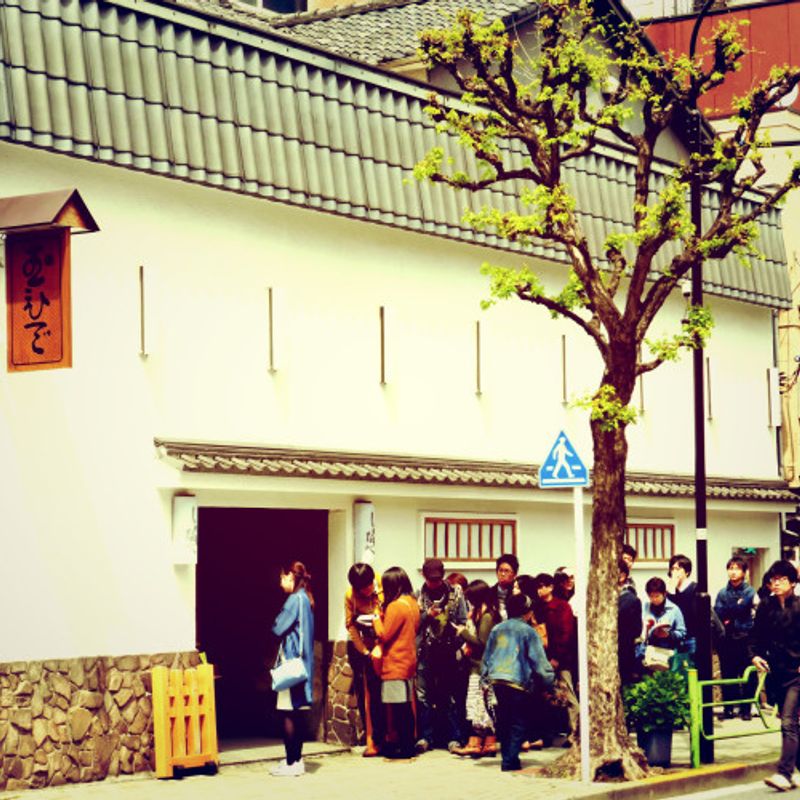 Hours
Set course lunches (3,300 - 5,500 yen): 11:45 - 14:00 (last order 12:45)
Dinner: Weekdays, 17:00 - 22:00 (last order 21:00) / Weekends&Holidays, 16:00 - 21:00 (last order 20:00)
Phone: 03 3668 7651
Web: www.tamahide.co.jp (Japanese)
Address: 1-17-10, Nihonbashi Ningyocho, Chuo-ku, Tokyo,103-0013
---