Mar 10, 2015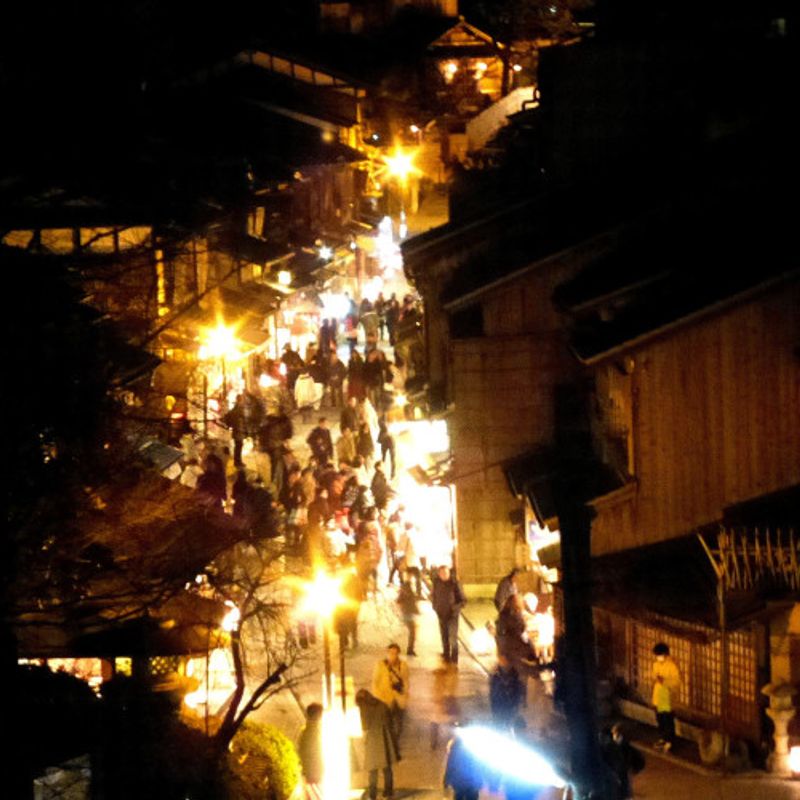 Although the nation is letting a out a collective sigh of relief at the early signs of spring, there is something sad about the passing of winter, and that is the impending switch-off of Japan's illuminations (not that Japan is ever short of luminous lights, even on a bland day). However, in the tradition of saving the best for last, there's a grand finale to fit in before the plug is pulled; Kyoto's Higashiyama Hanatouro illumination event.
Hanatouro is the perfect antidote to those illumination events that subscribe to a philosophy of mad, hallucinogenic color and succumb to a rabid desire to wrap as many LEDs around a tree as possible.
Located in the Higashiyama district, east of downtown Kyoto, Hanatouro's warm lamps light the way around an area of ancient stone streets, delicate ryokan and tea houses, and of course, world class temples/shrines. If you'd begun to think Japan's illuminations incapable of subtlety and taste, Hanatouro will reduce you to tears. It is in equal parts heartbreaking and haunting.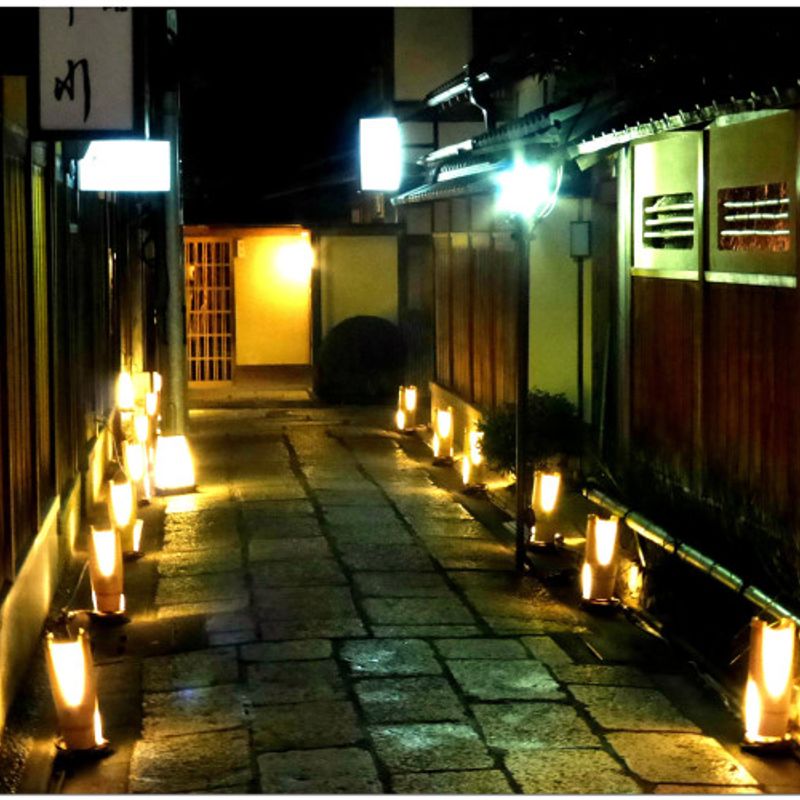 Maruyama Park forms the center of events. Accessed through the imposing gate of Yasaka Shrine, on the light, uphill walk to the park you'll find most of Hanatouro's multicolored displays; the Awata Great Lanterns, and the Traditional Lights Exhibition as presented by students from some of Kyoto's arts universities. Although the latter uses the word 'traditional', the pieces appear modern in style. Beyond these displays, in the heart of the park, are the Bamboo Lanterns (A River of Quiet Beauty), where said lanterns are planted as if in a stream between some of the park's ponds. It's an ethereal scene which is indeed beautiful (although the quiet is somewhat disrupted by the number of people trying to get the perfect photo). A highlight of the area for us, were the displays of contemporary Ikebana donated by the Kyoto Ikebana Association. Each piece, illuminated by plain back lights, cast shadows and shapes that were almost eerie in their appeal. For something a little more cute, the Sakuhana Lanterns provide illuminated 'message boards' on which one can stick kawaii messages and memos. Expect lots of contributions from 'loved-up' couples!
Around this area you'll find free maps, free Wi-Fi, information about the Hantouro event in general, and food stalls.
From here, the Hantouro course spreads out up to 5 km north and south. The vast majority of illuminated walkways lead south, to Kiyomizu Temple. Be sure to make time though, for the single path north that goes past the massive bulk of Chion-in Temple, and further to Shoren-in Temple.
The walkways south are something not of this world. Lit up as they are by Hanatouro's monotone, subdued lamps, and surrounded by looming pagodas and exotic temple roofs, this is a scene an straight out of a Miyazaki fantasy. Whilst the main street of Neneno-michi Avenue is well patrolled by bedazzled tourists, a quick turn down one of the narrow alleys, and you could have a moment to yourself to tiptoe past secretive doorways and quiet garden entrances.
Climb the steps up to Kodaiji Temple Park and maybe grab a hot coffee as you take in a Kyoto City view. Taking the steps down from the south side of the car park will present you with impressive views of the zakka streets that climb up to Kiyomizu Temple, and the domineering pagoda of Hokanji Temple. If you're here late, these zakka streets could well be a last chance to pick up souvenirs before heading back to the hotel (the shops in Gion will be closed by the time the event finishes for the day). Be selective though, the streets are narrow, busy, and packed with so many impossibly inviting Japanese goodies that there's a danger of lingering for a long time. Keep looking behind you on the steep(ish) climb to Kiyomizu Temple, as plenty of stellar views await.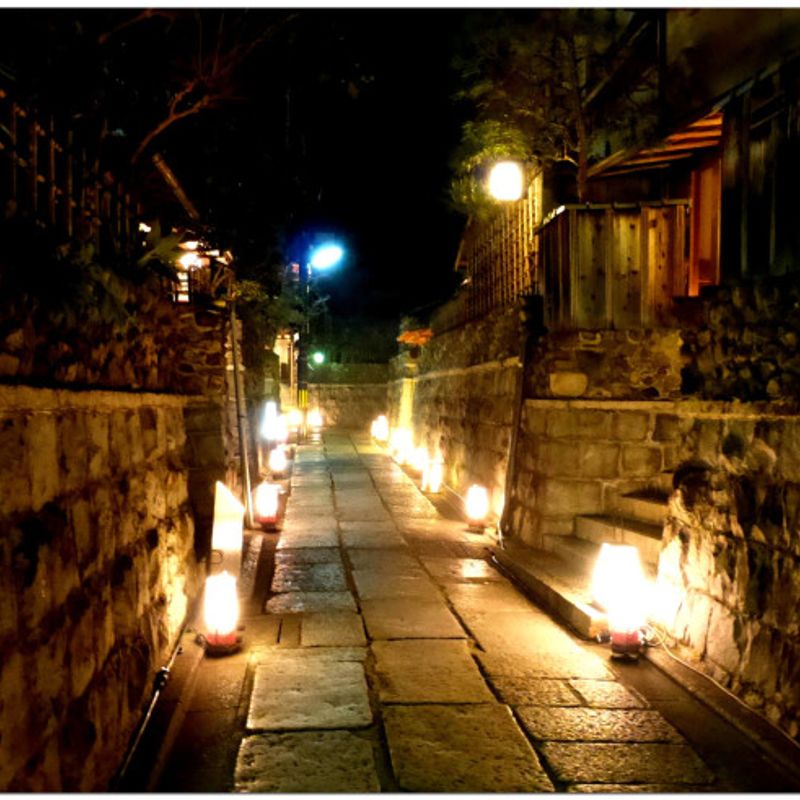 If you can peel your eyes from the beauty of it all, you may see a passing Fox Wedding Procession. The fox is something of a mainstay in Japanese folklore, and the sight of the female bride in resplendent white kimono wearing a pagan looking fox mask is haunting.
For a something little more flashy, Kodaiji Temple provides a canvas for that latest of illumination showpieces, projection mapping. On selected days, visitors can see dances performed by Maiko at Yasaka Shrine.
So, to anyone out there who fancies themselves as a purveyor of good taste, culture, history, and dreamy romance, Higashiyama Hanatouro has surely got to be one of the highlights of Japan's illumination extravaganza's. It's so staggeringly beautiful the mere thought of it is making this writer's eyes moist. I never thought I'd say this, but I can't wait for next winter!
Costs
The Higashihama Hanatouro event is free, however, selected temples require an entrance fee:
Shoren-in Temple (800 yen)
Yasaka-jinja Shrine (500 yen)
Entoku-in Temple (500 yen)
Kodaiji Temple (600 yen)
Kiyomizudera Temple (400 yen)
Access
From Kyoto Station (train):
JR Nara Line to Tofukuji station. Change to the Keihan Main Line to Gion-Shijo station (nearest station to the main entrance of Yasaka Shrine). (270 yen/18 mins)
Karasuma Line (subway) to Karasuma Oike station. Change to Tozai Line (subway) to Higashiyama station (for north entrance to Maruyama Park). (260 yen/12 mins).
From Kyoto Station (bus):
Buses 100 and 206 stop at Gion (for Yasaka Shrine/~20 mins).
When?
Friday March 6 - Sunday March 15 (6:00 pm - 9:30 pm)
The Hanatouro website has information in English, Chinese, and Korean.
Be sure to wrap-up. Even the warm lanterns can't take away the chill at this time of year.
---