Jan 13, 2015
Japan! We're Preparing For Re-Entry. With A Special Permit!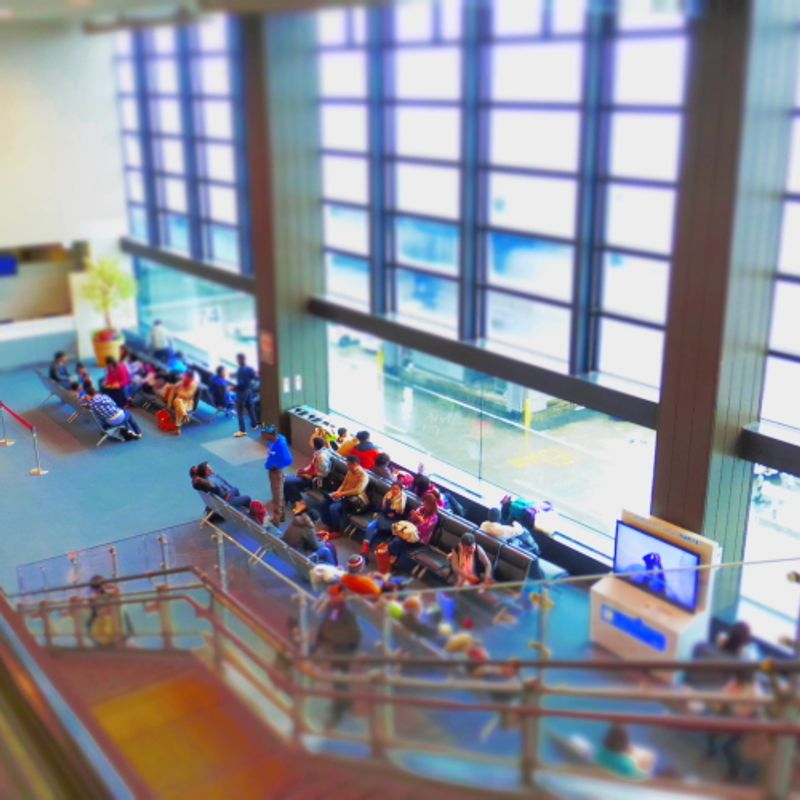 Let's get two things out of the way first. Yes, some of us at City Cost were able to spend our winter vacation on sunny, tropical beaches. And, yes, the term 're-entry' is riddled with innuendo, so take pause, if needed, to get all your giggling done … now.
On to the issue at hand. One of the things that must give employers of foreign nationals sleepless nights is when said foreign staff leave these shores to go on vacation, leaving harassed HR types wondering, Are they coming back?, and more pertinently, Have they got all their documents in order such that they'll be let back in?!
OK, we should all know by now that the absurd need to apply for permission in advance every time we want to leave Japan has, for the most part, been done away with. A common misconception though, is that we no longer need to worry about re-entry permits (permission from the state to leave and return to Japan with our status of residence still intact). However, we do, it's just that most of us will probably not need to apply for them in advance.
The Special Re-Entry Permit
What? - Permission to leave and re-enter Japan within one year from departure, or until the expiration of your status of residence (whichever comes first).
Who? - Anyone granted a status of residence for more than three months, i.e. not a visitor! There are exceptions, usually pertaining to people who have done something naughty and are in the process of having their status reviewed!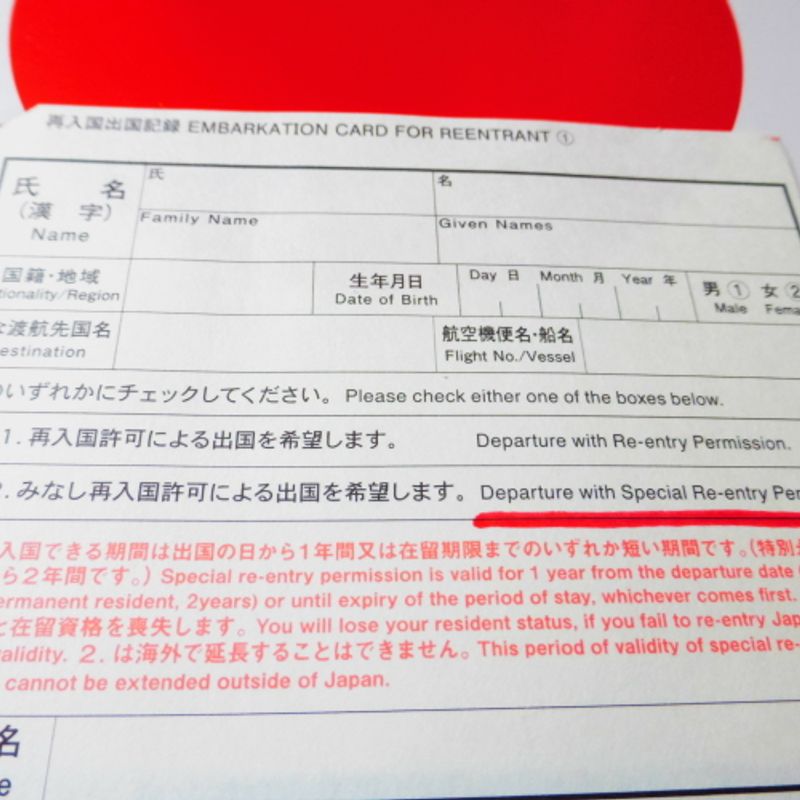 The Practicalities - Before you go through immigration on your way out of the country, be sure to have your passport and residence card ready. You will also need to fill out the two-part Embarkation/Disembarkation Card For Reentrant (see image above). On your way out, you need only worry about the Embarkation bit. If you intend to return to Japan within one year, tick the box Departure with Special Re-entry Permission (as highlighted in the image). Hand all this over to the immigration officer. They should ask you when you intend to return to Japan. If not, make it clear to them that you will be returning. They'll also scan your passport and residence card. Be sure that they hand the card back to you, in one piece! The Disembarkation part will be stapled into your passport and stamped with your re-entry permission.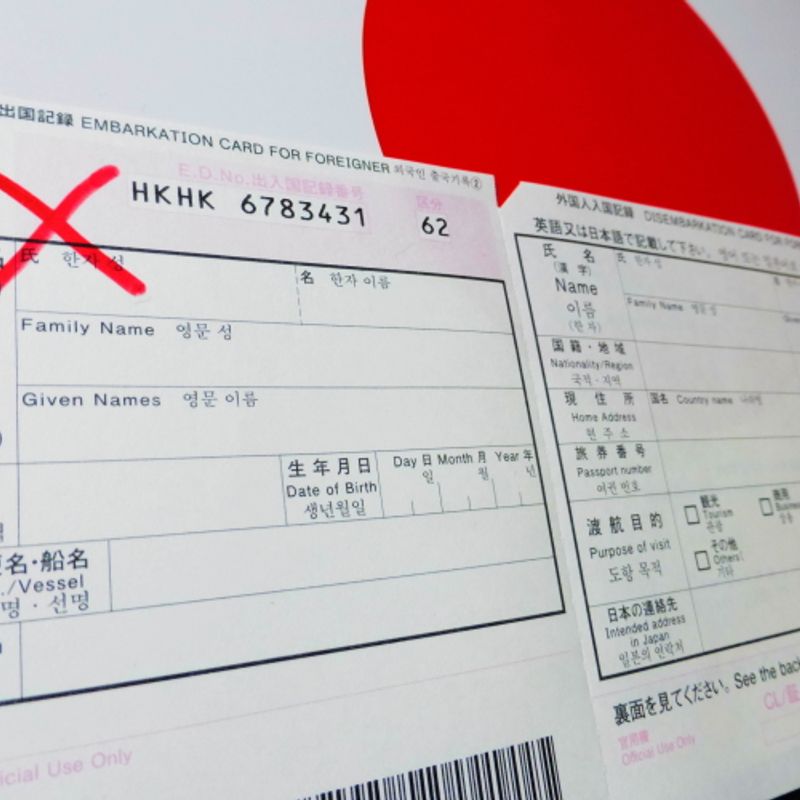 On your return to Japan, the airline will probably give you an Embarkation/Disembarkation Card For Foreigners (above). This is where, in a state of sleep deprivation, things can get confusing. You don't need to fill this in. It's for tourists, basically. Instead, fill in the Disembarkation Card that was stapled in your passport. In this writer's experience, fraught immigration officials seemed almost reduced to tears by the number of (special) re-entrants who had filled in the wrong form. When you get to immigration, queue up at the signs for Re-entry Permit Holders.
Exceptions
The two most likely exceptions to Special Re-entry Permission are when you want to stay away for longer than one year, or you hold the mysterious status of Special Permanent Resident. Getting into what the latter is requires a look back at history which we don't have time for here. In any case, it just means that permission to remain outside the country extends to two years, not one. For the rest of us, if we want to stay away for more than a year, we need to go down to immigration centers in advance and apply for re-entry permits as we used to and then tick the box Departure with Re-entry Permission.
It's worth noting that extensions to the validity of a re-entry permit can NOT be made outside of Japan.
Airport Automated Immigration Gates
Narita, Haneda, Chubu, and Kansai airports all have automated immigration gates, available for re-entry permit holders, with the idea of making immigration a smoother experience. The things is, first time users need to fill out some forms in advance, at the airport on the day of departure, which goes some way to making the 'automated' part a little redundant. If you go through with it, you'll get a stamp in your passport indicating authorization to use the gates for a period of one year. All but the most experienced of users though, seem to require assistance from an official when they can't figure out how to get through them! Using the gates will also mean not getting a stamp in your passport (unless you ask for it, in which case you'd be better off avoiding them).
A Frequently Asked Question
Can I leave the country if my visa is in the process of being renewed or the status of residence being changed?
This writer wanted to sneak away to Bali between jobs. The problem was I'd submitted an application for a change to my visa status. Could I leave the country while it was in process? The short answer is/was, Yes! The long answer is that it took numerous phone calls and a pre-trip visit to immigration in order to establish that this was the case. In the process, an important lesson was learned. In regards to visas/immigration, there's a distinct possibility that you'll get different answers to the same question depending on who you ask. There is a foreign language help line for your immigration queries, however, it's not staffed by immigration officials, just people working on their behalf. If you want definitive answers, visit your nearest immigration center in person and speak to an official.
All further inquires should begin at the Immigration Bureau of Japan.
Click to skip straight to the bit about Special Re-entry Permits.
We'd urge you to share any of your immigration experiences here at City Cost. Forewarned is forearmed!
---
10 Comments
First of all, we live in Japan on a mid to long-term visa and in a few days we'll be out of Japan for 2 weeks. Am I ever thankful for your post. I was getting confused with the new ED card. And nobody (even the immigration site) explained it better than you. So, basically, we obtain this new ED card at the airport, tick "Departure with Special Re-entry permission" (we live in Japan), and hand it with the passport and zairyu card to the officer before departure. And coming back, we can just ignore the ED card for foreigners. Is this correct? I still have the old Embarkation card from 2011 (last time I entered Japan) attached to my passport. I wonder if this has any meaning now...? Anyway thank you!

Hi there! Glad you found this article helpful. It was based on a trip I took in January this year, so it's pretty recent. Sounds like you've got it right. When you come back into the country you need to fill in the 'disembarkation' bit of the form that was stamped into your passport when you left, not the form they give you on the plane (although you still need fill in the yellow (I think) customs form). As for the bit that was stapled into your passport in 2011, I guess you could fill that in and then the immigration official will give you the 'disembarkation' bit. I'm a bit of a worrier when it comes to this sort of thing though, so I'd probably start from scratch and pick up a new form before the immigration gates. Anyway, hope you have a safe trip and don't worry too much. There's loads of people around the immigration gates who can help. Let us know how you get on. Enjoy!

Thankyou so much for your detailed explanation.You have the most useful post as compared to others.Here is my problem, I filled up the Embarkation card for re entrant and submitted to the immigration officer while leaving Japan for India but i didn't get the other half stapled in my passport. It only came to my mind when i reached the transit at Guagzhou. So will there be any problem while re entering japan?(my visit to india is just for 2 weeks and right now i am in india. I have a return ticket on the 5th of january)

@SamanthaTmrkr Well, I'm not an immigration official but I don't see any problem for you here. When you arrive back at the airport in Japan, you can pick up another form before the immigration counters and just fill in the disembarkation bit. Did they stamp your passport when you left Japan? I guess if they scanned your passport, all this info is on their system anyway. I don't know why we need to be filling out forms and getting stamps all the time. Japanese culture, I guess. Anyway, hope it all goes well. Sure you'll be fine.

Good day to you my friend. I am really glad I finally found a site where entry permissions to and fro Japan are discussed. I hope you still are available because I need your help. Actually I have a student permit for 1 year and 3 months (April 2015 - Jul 2016). Apparently I had to drop my studies because of unfortunate circumstances back here in my country around October 2015, so here is my concern. Before I left the school just to make sure if whether I had the capability to go back or not, I filled out my school's vacation form if I came back and drop-out form if I am unable to go back. So when I left Japan apparently the immigration officer at the airport just as you said had a disembarkation card stapled to my passport along with a special re-entry permission stamped on the back of the card. After a few weeks of discussion, it was decided that I won't be going back to Japan so I informed my school and they filed my drop-out form and informed the immigration office of Japan that I am no longer affiliated in the school in anyway but the immigration office told the school that, I didn't go to the immigration office to have a re-entry permission anyway which I believe was a tradition long time ago 'to go a immigration office to apply for a re-entry permit if the person has the plans to go back before leaving Japan' but I didn't know that not until last month then again the rule was changed to I believe you can just exit and enter Japan as long as you have an approval of the immigration officer in the airport. So the school e-mailed me that I cannot any longer go back to Japan unless I applied for a new visa of any kind. Right now the debate is whether I can still go back in Japan using my disembarkation card with a special re-entry permit because it expires on July 2016 because I want to apply for a new schooling for July 2016 but with a different school and I believe it will be easier if I come in direct contact with the institution to process my papers where they could just renew again my student visa after July 2016. In other words, if the issued visa by a former school or company is still in effect but no longer affiliated to the original visa issuer can I still go back to Japan because there's a stamp of special re-entry permit on my disembarkation card? Because I believe when visa is issued whether your are still part of the school, company, etc or not, as long as it is not yet expired, it still is okay?

@Cesar Hello there. As I understand things, the visa is the property of Japanese immigration, not any school or company. Only immigration can decide if your visa is still valid or not. Now, I believe it's written somewhere that if you are found to NOT be doing the activities as stipulated by the terms of your visa for over 3 months, then immigration may go about the process of revoking the visa. With you being overseas I have no idea if they would do this or not. I'm not an immigration official so I'm afraid I can't give you a definite answer. My advice would be to call immigration in Japan and ask them, or maybe contact the Japanese embassy in your country. Best of luck.

Hello! Thank you so much for this article. I have a question : how come the Immigration Bureau of Japan tells we should fill in a form and pay 3,000¥ to submit an application to re-entry permit? (http://www.immi-moj.go.jp/english/tetuduki/kanri/shyorui/06.html) I am so afraid of being stuck in the airport... Best, Fiona

@Fiona6688 Honestly, I don't know. As I understand it, those who are 'resident' in Japan and have a Residence Card (the gaijin card) don't need to apply in advance for a re-entry permit. With the Residence Card, you are able to make use of a 'Special Re-entry Permit', which is something that is just stamped in your passport on the day of travel (no advance application needed just tick the correct box in the forms above). The link you are referring to might just be for those people who have permission to stay in Japan for less than three months or have some other 'visa status' that doesn't make them eligible for the special re-entry permit. They talk about that briefly here: http://www.immi-moj.go.jp/english/tetuduki/zairyuu/specialre-entrypermit.html

Thank you for replying so fast! I feel reassured. Best, Fiona

Tommu Well written, I have been through these things which you have written above, specially leave Japan during my application process (http://wp.me/s1fpOx-visa) which was perfectly fine. I am just curious about what are the rules if you have long term visa and you are out of Japan up-to 5 years(Is there some limitation how many years you can leave Japan on longterm visa?)..Just finger cross is it worth to take long term residence status or just ...