Nov 20, 2017
What better place to eat soba noodles than in Nagano, the region of Japan which, by most accounts, introduced soba kiri, i.e. soba noodles, to the nation, possibly during the Edo Era.
Most visitors to Nagano gravitate to some of the prefecture's more marquee names - Karuizawa, Zenkō-ji, Matsumoto Castle and the myriad of hiking trails and ski slopes found throughout the prefecture. That's OK though, as it gives this soba eater a better chance of getting a seat at Komoro Town soba mainstay Choujiya (full name - 老舗丁子庵 - Shinise Chōjiya)
The people behind Choujiya have been making Shinshu soba since 1808 (Shinshu being the old name for "Nagano"). Their current restaurant is housed in a building which dates back to 1885 (the 18th year of the Meiji Era) - a beautiful structure finished in black stucco made from the zelkova tree (keiyaki), which looks suitably ancient, although well spruced up. Inside, it's all rich woods and minimal lighting which would make for an old-time vibe but for the many modern-day tourists who come here for the noodles. At around 2pm on a Saturday, Choujiya is packed, despite the lack of people on Komoro's streets.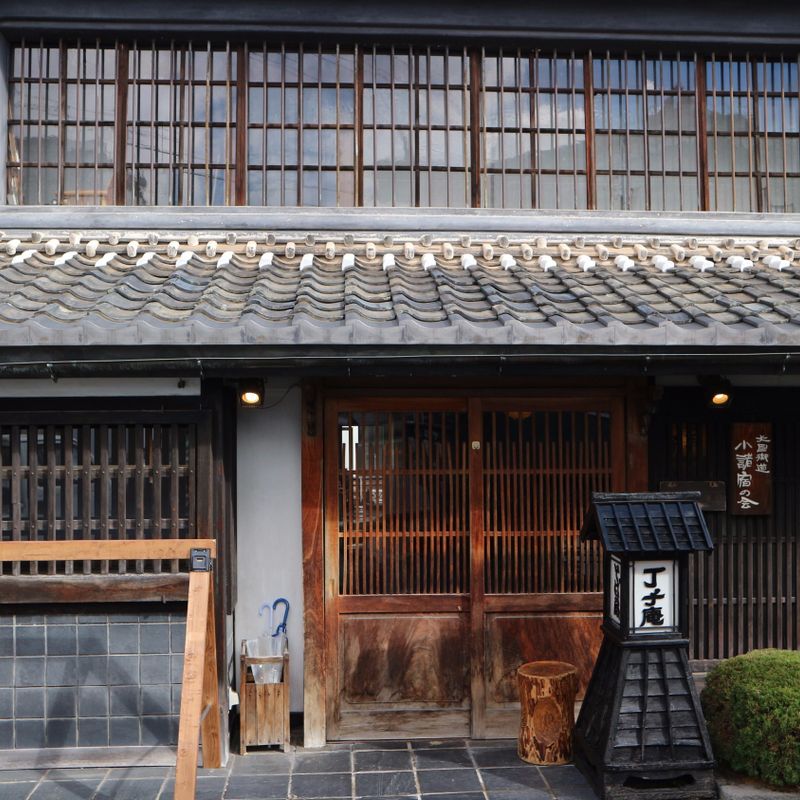 If the sun isn't out, it's cold in this part of Japan in early November, so this diner wanted to order from the "warm" list of soba noodles, but was recommended to go "cold" instead - more of a Choujiya speciality, apparently.
With the rest of the party going with the 紫大根おろしそば (murasaki daikon oroshi soba), the daikon being purple rather than the typical off-white, this diner opted for the くるみそば (kurumi soba - walnut).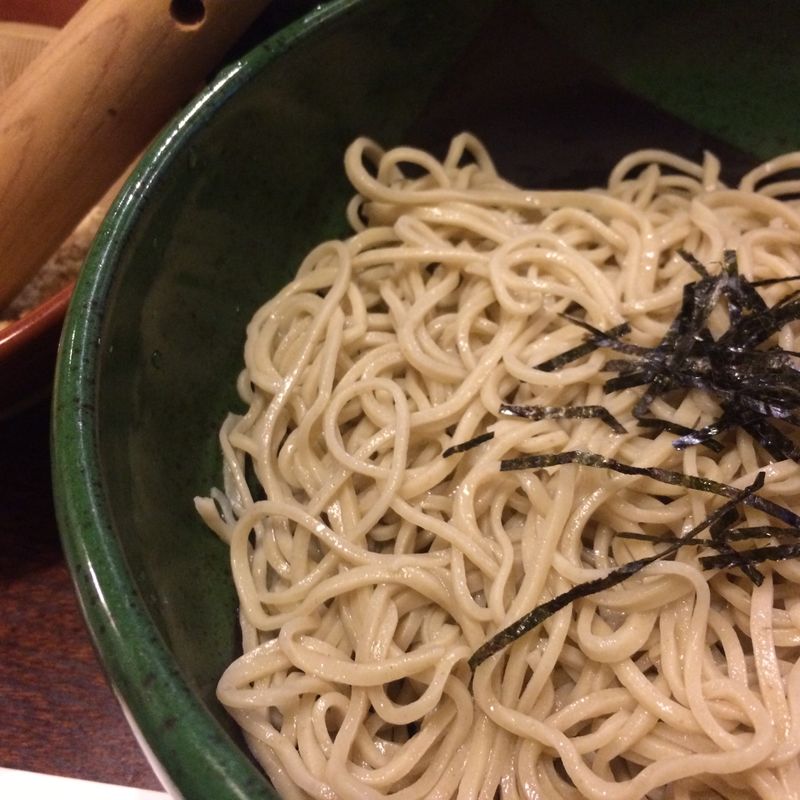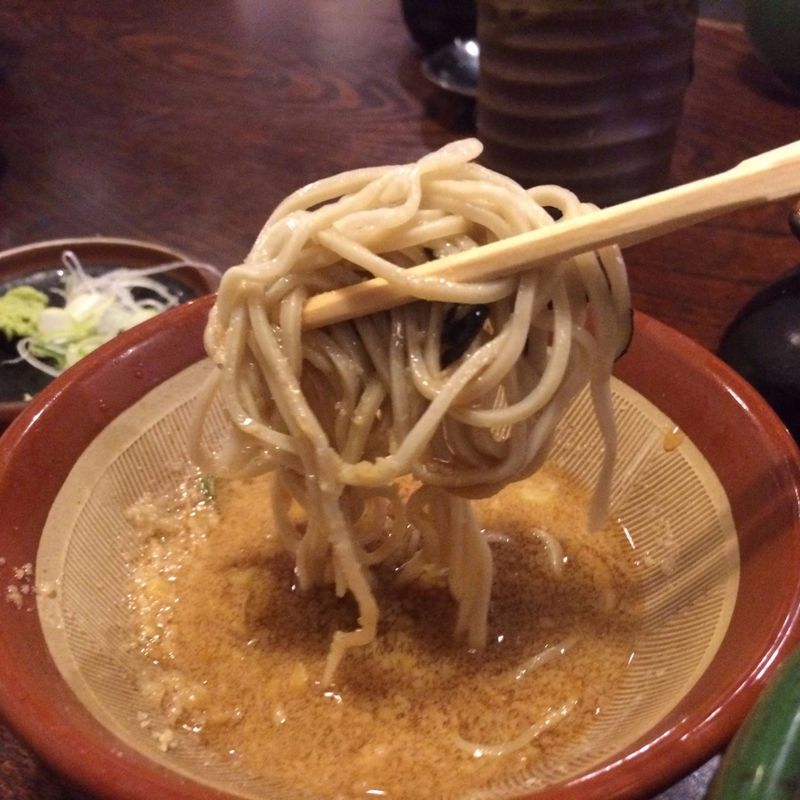 The walnut comes, for the most part, ready-crushed, but staff at Choujiya do leave one or two chunks for diner's to grind themselves with the pestle and mortar. Once this is done, all that is left is to add the soy sauce to the ground walnut and sprinkle in some of the chopped green onion before you start dipping your noodles.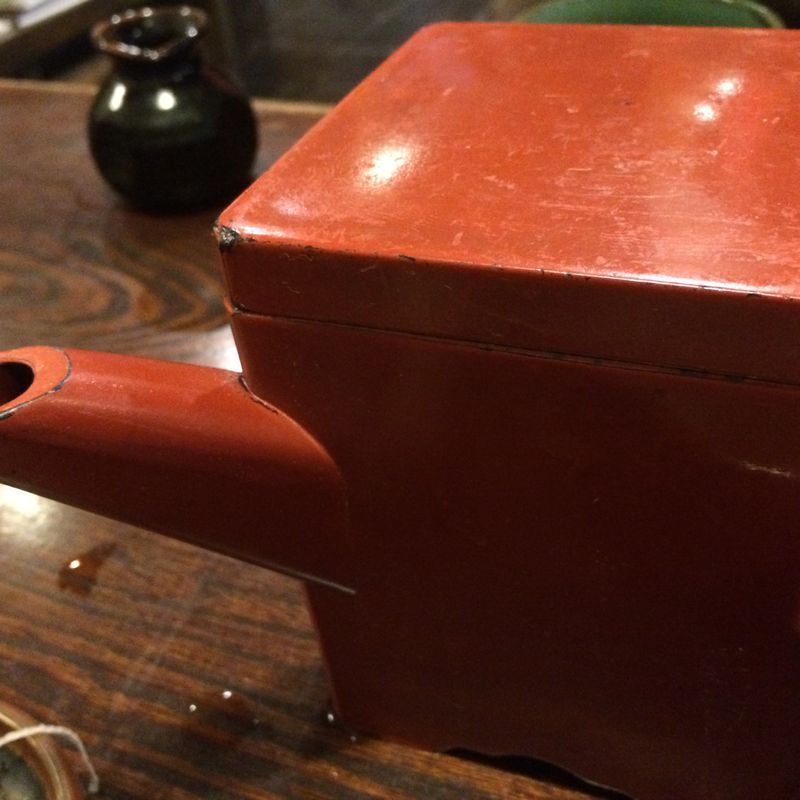 In an interesting touch that was a first for this soba eater to experience, pots of the remaining hot water from which our soba noodles were drained were brought to the table. Diners add this to any remaining "dipping sauce" to make for a bit of a post-noodle hot drink.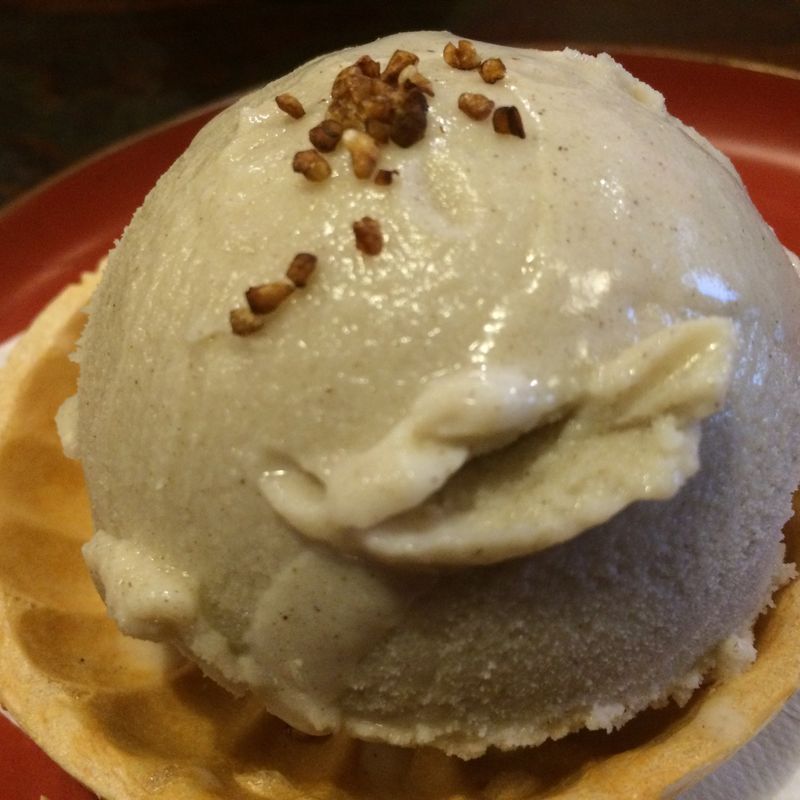 I'm not sure how long the concept of "soba ice cream" dates back. Probably only as far as whenever businesses in Japan realized there was a market for bonkers flavoring of the stuff. Leaving my cynicism to one side though, I opted to round off my old-time Shinshu soba experience in a more zeitgeist mood with serving of soba ice cream - the scoop stuff. I shared it around to confirm if there was much in the way of "soba" going on in the taste. I was given some unconvincing reassurance that, "Yes, there is a little bit of soba in the aftertaste." Personally though, it was getting more of a slightly unusual vanilla vibe. Still, it tasted nice enough.
Choujiya sits in the heart of a Komoro Town which has a proud history of being a stop on the old Hokkoku Kaidō (北国街道), a highway that was in use during Japan's Edo period. Hokkoku Kaidō, while not one of Japan's five Edo routes, has a storied history connecting with the Nakasendō to bring travellers from Karuizawa to the Zenkō-ji in Nagano City. Today the old highway is roughly traced by Route 18 going as far as Jōetsu in southern Niigata Prefecture.
老舗丁子庵 - Shinise Chōjiya on the web
Map:
---
2 Comments
this post made me want soba!

@edthethe Ha! Thanks. I recommend the "kurumi" if you have chance.