Aug 22, 2016
Despite yesterday in Chiba being so hot and humid that I had sweat seeping from places I didn't think sweat would seep from, the partner and I decided to head out for a ride on the mamacharis.
Last time, we hit up Kasai Rinkai Koen, taking a route along the banks of the Kyu-Edo River. You can read that post here.
On this fine / oppressively hot day we followed natural survival instinct and headed for water - Tokyo Bay. I'd seen a few pictures of a park down by the bay that looked like a nice place to put the world to rights, the name of which I couldn't read. Nor, as it turns out, could the Japanese partner. After doing that thing of being baffled that the locals can't even read their own language, we managed to find it on an Internet search; Takasu Seaside Park (the troublesome kanji - 高洲海浜公園 / takasu kaihin koen).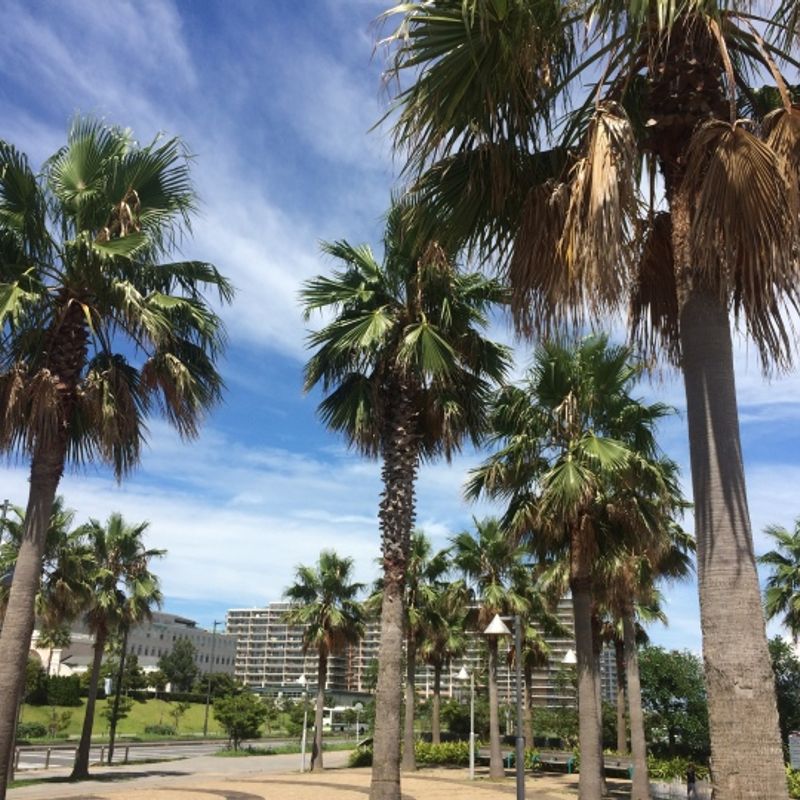 From the crib near Urayasu Station (Tozai Line) we headed roughly south on searingly hot seats, over the Bayshore Expressway, and in amongst the massive apartment complexes that you can find around Minami Urayasu Station. I like it around here. The buildings have the look of vacation rentals, the avenues are broad (with nice bicycle lanes), and there are palm trees everywhere. The urban madness of regular 'urban' Japan is gone, and I feel like I'm cycling through California (it should be noted that I'm not from California, and nor have I ever been, but, you know, movies and that).
That being said, Japan doesn't yet seem to know what to do with all this urban space. You could open up some really nice cafes around here with tables and chairs under the palms. Instead what you get is home centers and posh dental clinics which give off about as much atmosphere as the color beige.
The bicycle lane is forced to take a sharp right as we near the edge of Chiba. Here you can find a couple of hotels targeting the Disney crew who have tighter wallets (must be cheaper to stay here a little further away from the Disney Resort itself). I hope the hotels have some good restaurants on site, as there's nothing around here other than the bay waters and yet more, massive apartment buildings.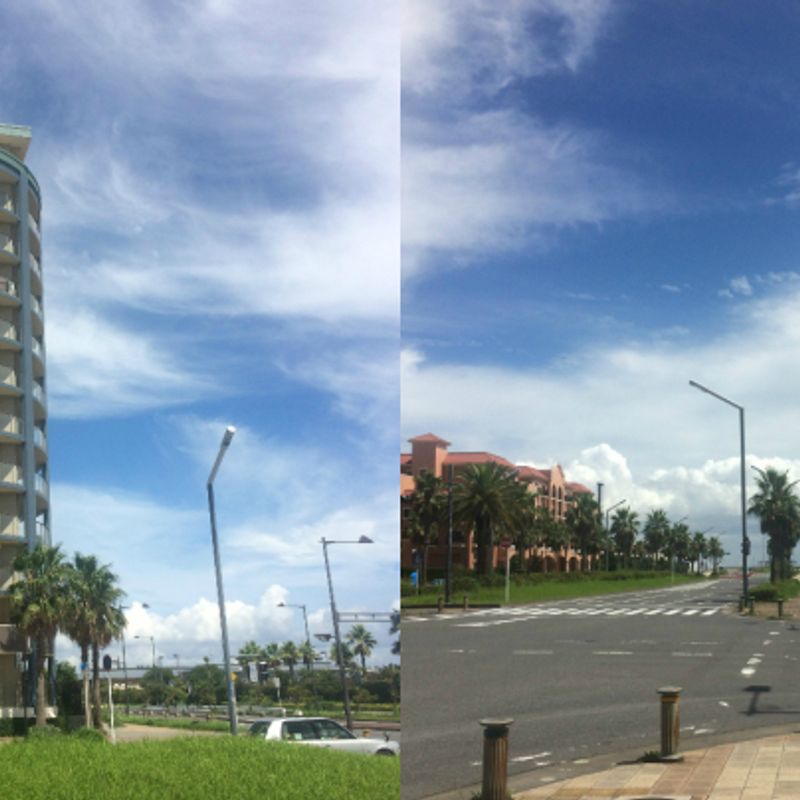 The road here is wide, and quiet, and there's little respite from the sun. The partner calls for a fluid break so we pop into the visitors center at 浦安市総合公園 (Urayasu-shi Park), and neck a bottle of Ramune (ラムネ), my first time to try it.
Back on the road, and after lugging the mamacharis up to the center of a bridge that crosses a placid river (maybe a tributary of the Kyu-Edo River) we pause to snap a pic of Tokyo Skytree and ponder some older gents, waist deep in the water who seem to be fishing/scraping for shellfish.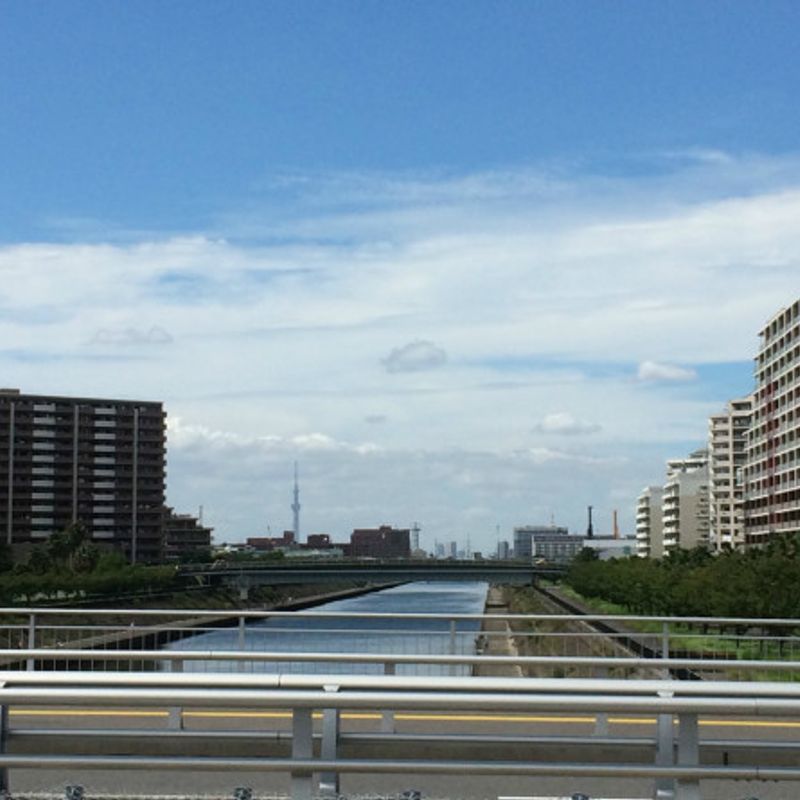 We zip down from the bridge, enjoying the breeze that comes with a bit of extra speed. On our right, the blinding whites, and garish faux Mediterranean facades of what appears to be one of those 'have your Western style wedding party here' type of buildings. It sounds like a party is in full swing as we pass (it is a Sunday in summer, after all).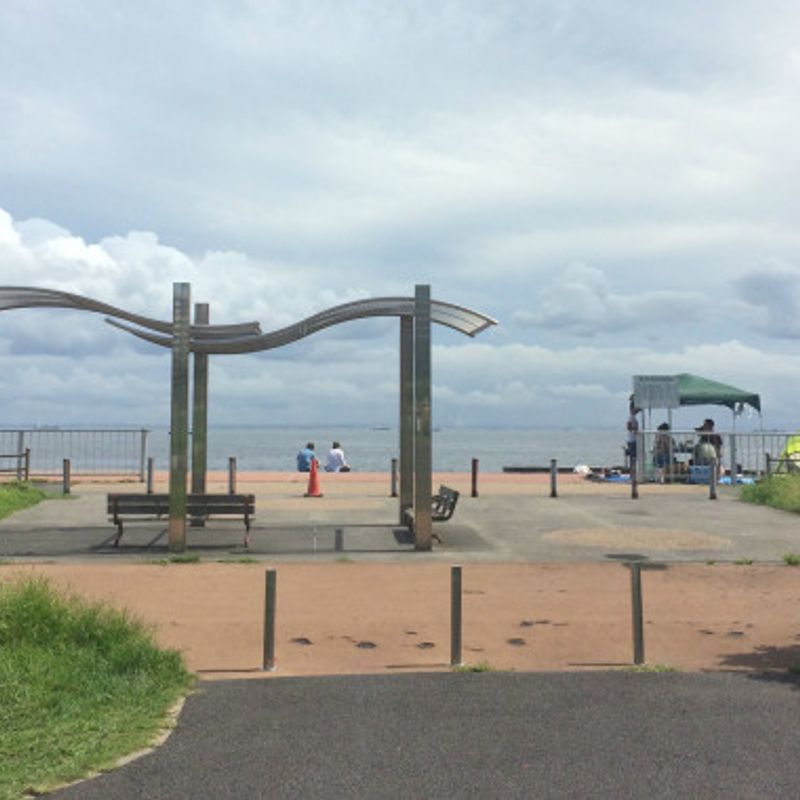 Takasu Seaside Park appears on our left, fronting the bay waters. There's not much to it. Apart from a scooter that looks like it's seen better days, ours are the only two-wheelers in the small parking area. A swathe of grass bakes in the sun, and a man-made mound looks a bit pointless when it's the only thing in the vicinity to obstruct views over the bay.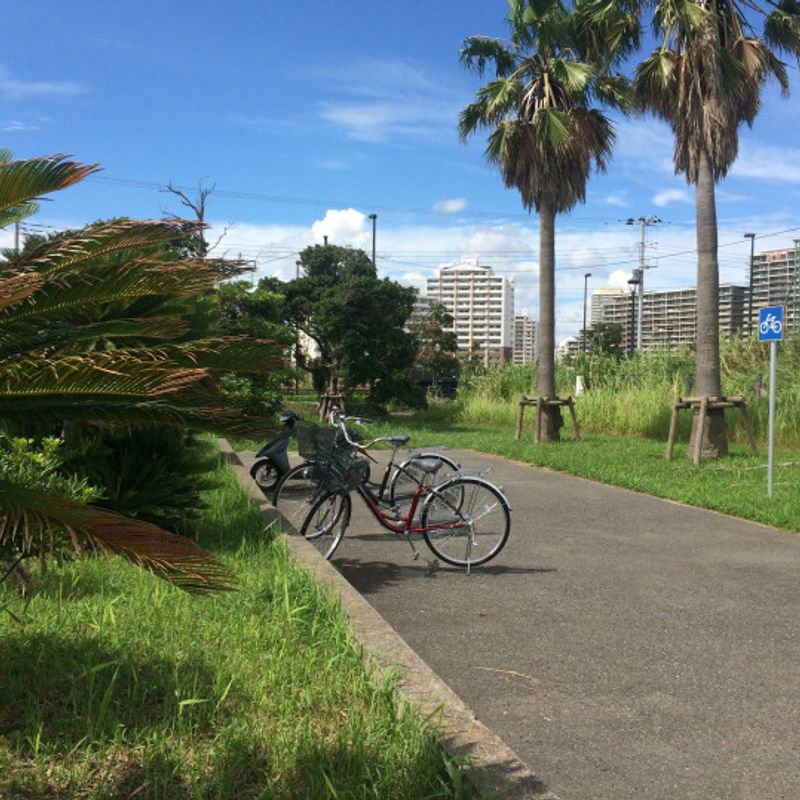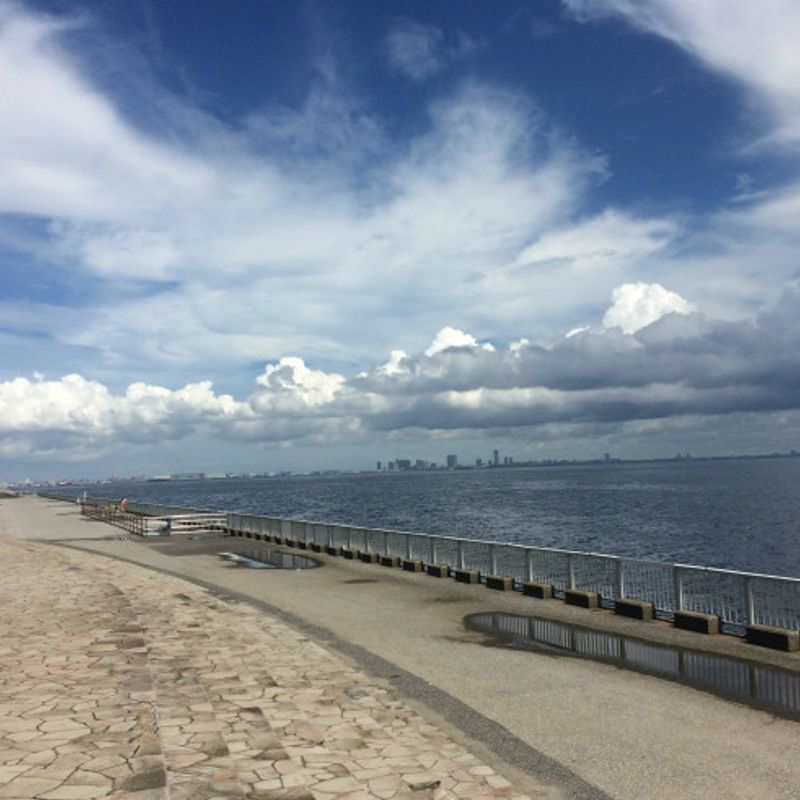 Some wavy concrete walkways and terracing immediately front the water, and there are a few groups here who've pitched up shelters as their base for a BBQ.
From here, you can watch the merchant ships loitering in the bay as they wait for their turn to offload cargo. There's also a sweeping view of the Boso Peninsula, pot marked by the towers of Makuhari, and chimneys of industry.
Despite the drunken, sun soaked merriment of young BBQers, there's something a little melancholic about the place. It feels neglected by all but a few. Perhaps the park is testament to the way most Japanese seem to turn their back on the ocean (save for a period of mayhem on the beaches in August). Or perhaps everyone is at Disneyland. Either way, this place is crying out for a Starbucks to bring in a bit of life.
Takasu Seaside Park
---
3 Comments
Love my Mamachari! I can honestly say it would be in my top 5 of things I would miss most if I ever left Japan!! Nice views, great shots.

@Saitama I love my mamachari, too. It weighs a tonne, and the saddle gets super hot in summer, but I wouldn't want to be without it!

@Tomuu Yes they're heavy buggers, but typhoons knock it down every time! We put a plastic bag on the saddle, doesn't absorb the heat as much and we can whip it off after a rain shower.