Mar 13, 2015
In the interests of serving new/potential expat implants into the Kyoto drinking scene, we went out in search of a friendly face, familiar language, and post work beers on and around the city's nightlife nexus, Kiyamachi Street.
Kiyamachi-dori/木屋町通 has a massive identity crisis. The quite beautiful street in Kyoto's downtown district runs parallel to the picturesque Takasegawa Canal, whose tricking waters and poetic little bridges look like they belong in a Cotswold village. Even more so during cherry blossom season, when trees lining the waters spring to life, painting the area in pink. You half expect a hobbling retiree to unfold a portable chair and crack open the water colors. Except they'd be sitting among a scene of cigarette butts, listening to the sounds of rolling empty beer barrels; signs of a hangover from the previous night's debauchery. Despite the daytime tranquility, Kiyamachi is a nightlife hot spot, and one which serves distinctly different tastes. On the west side of the canal, cute little restaurants fronting the water look like the perfect date spot. Look east though, to find that nearly every other building is some kind of hostess club or massage parlor replete with sharp suited touts and bored female hosts who look like they should be doing homework. An astonishing number of bars fill in the spaces above, behind and between. It's a confused scene to say the least, but one which draws a mad mix of students, tourists, expats, and office workers.
The night kicked-off just in time for Happy Hour at the Pig & Whistle, a 2nd floor British pub five minutes walk east of Kiyamachi across the River Kamo, near Sanjo Keihan Station. The Pig n Whistle was serving a quiet mix of expats and locals in arguably one of the most authentic British pub atmospheres one could find outside of a tiny English village. Suitably warm and musky carpeted floors are adorned with heavy wooden tables, and chairs with fading upholstery. A fairly long bar has two counters for seating. There is a small area for tables and stools at one end and a much larger seating area at the other. Plenty of big (and little) screen TVs were showing English Premier League football. My 550 yen, ¾ pint Happy Hour Heineken was served by a young, friendly, English-speaking local. The Pig & Whistle has 3 electronic dart boards, 1 table football, and 1 pool table. There is also a small selection of second hand English novels for sale, each for 200 yen (put your money in the jar), and a notice board aimed at expats. Oh, and fish n chips on the menu. It is British, after all!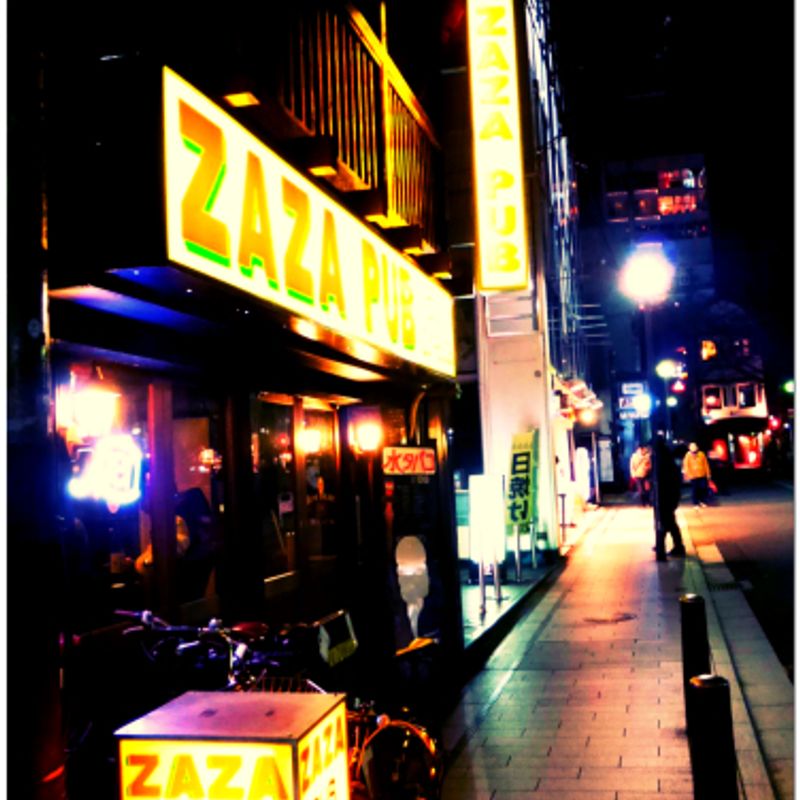 I'd read plenty of favorable reviews about a place called Tadg's. Most of them must be out of date though, as Tadg's is no longer where half of the Internet's reviews say it is. In fact it has, as their homepage will testify, moved, and is now a very smart-looking street side gastro pub, just north of Kiyamachi's main drag (across Oike-dori, on the east side of the street). There was no one there when this writer arrived.
We'll have to reserve full judgment of Tadg's for now, except to say that they offer a wholesome, handmade menu, and a selection of Japanese craft beers on tap (starting from 700 yen), and the look of a place that knows it's ales. Large street side windows afford ample opportunity to look in and assess the situation, without having to commit! Definitely worth a second visit.
Onto Kiyamachi's main drag, heading south. I wasn't looking for it, but ZAZA PUB's booming yellow and red sign certainly grabs the attention, and through the street side windows one can have a good ogle indoors.
ZAZA was pretty busy with a young crowd of locals (Students?) and expat English teachers. House music was playing on the sound system and more Premier League football was showing on the flat screen. Tables and stools set in car tires fill up a mid-sized space with exposed brick walls. The bar counter is small, and not suitable for pulling up a stool. Upstairs, tables and chairs can be pushed to the sides, creating a small dance floor when the occasion requires.
The pub serves the usual kind of fare you'd expect to wash down with beer; pizzas, kebabs, chicken and chips ... . An unremarkable drink menu covers the essentials. This writer had a nama beer/生ビール (Kirin Ichiban 600 yen/380 ml). ZAZA also has mizu tabacco/水タバコ aka shisha, in a whole bunch of fruity flavors (1,000 yen).
ZAZA is about halfway down Kiyamachi, and is very hard to miss. It seems a solid bet for, at least, a bit of buzz on any night.

There seems to be a lot of online chatter about ING/イング, a self-proclaimed 'rock izakaya' or 'rocking bar' on Kiyamachi. The website cheekily boasts of being up there with Kiyomizu and Kinkakuji Temples, as a place to visit in Kyoto. Being a few drinks in, it took a while to find the small, second floor space at the southern end of Kiyamachi. It's in the Kyoto Royal Building on the west side of the canal (if you've reached the police box, you've gone a little too far).
There are no windows at ING, so you just have to take the plunge and open the door to see what's going on inside. What you'll find, is a cozy bar with seating for 3-4 people at the counter and a small area with enough tables and chairs to seat … 20?
The uber friendly (English-speaking) Japanese owner, looks like a forgotten member of Guns n Roses, and his love of rock music, particularly The Rolling Stones, is made abundantly clear with guitars hanging from the walls, 'Stones' memorabilia everywhere, and a, quite frankly, brilliant set of rock classics (from across the ages) playing through the speakers.
The Stones adorned menu includes food; mains (delightfully labelled as 'for hungry persons') from 600-700 yen. Among the light dishes is the ominous sounding World Famous Garlic Festival - 450 yen. For drinks, there are plenty of cocktails, gins/vodkas, as well as the usual sorts of beer. This writer had an Ebisu (nama/生) for 600 yen.
At the time of visiting, the other drinkers were all Westerners.
Even if you're not into rock music, if you're after a friendly face in town, it seems you'll always be able to find it at ING.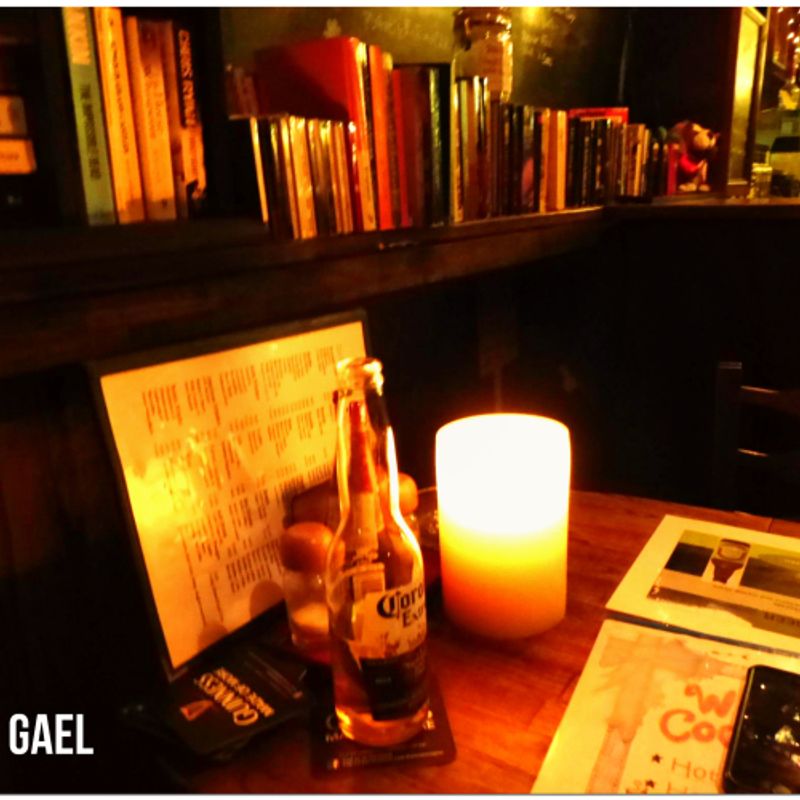 So, out of Kiyamachi onto Shijo for what would be the final stop. A flyer I picked up somewhere boasted that The Gael was the best Irish pub in town. Turn left onto Shijo, cross the bridge and take the first left after Gion Shijo subway. You'll soon see The Gael on your right (2nd floor).
The first thing to notice about The Gael is just how cozy and warm it is. Heavy candles flicker on sturdy wooden tables, those bookish reading lamps you'd expect to find in libraries line the bar counter. The center of the smallish space is dominated by a large shared table. Snug looking booths line the walls, looked over by black and white pictures of performing musicians. It didn't seem the sort of place frequented by a giddy crew of young expats and locals (as pictures on the website/flyers suggest), and, at the time of visiting, it wasn't. The friendly young bartender assured me that things usually kick-off on Friday night. Still, with such a warm and inviting atmosphere, it was impossible not to stay and have a drink.
In suitably Irish style, The Gael serves draught Guinness and Kilkenny (930 yen), six types of whiskey, and bottles of lager (-700 yen). Hearty fare in the menu includes fish n chips (1,400 yen), shepherds pie (750 yen), and Irish stew (950 yen).
This spot hosts live music, open mic nights, sports screenings, and themed events.
Author's Note. There used to be a Hub just off Kiyamachi (northern end just before Sanjo Dori). Some long term expats turn their noses up at this nationwide chain of 'British' pubs, but they're usually a solid bet if you want mix with fellow expats/tourists/English speaking locals. Although maps/websites report said Hub to still be in the area, it isn't. Or least, this writer couldn't find it! There is, however, a branch near Kyoto Station, behind Yodobashi Camera, which takes it some way from the action on Kiyamachi.
What we've gone for on this list, is ease of access, and familiarity. The kind of places to get a newbie started. If you have any suggestions of your own, we'd love to hear them. Please comment below!
---