Jan 6, 2015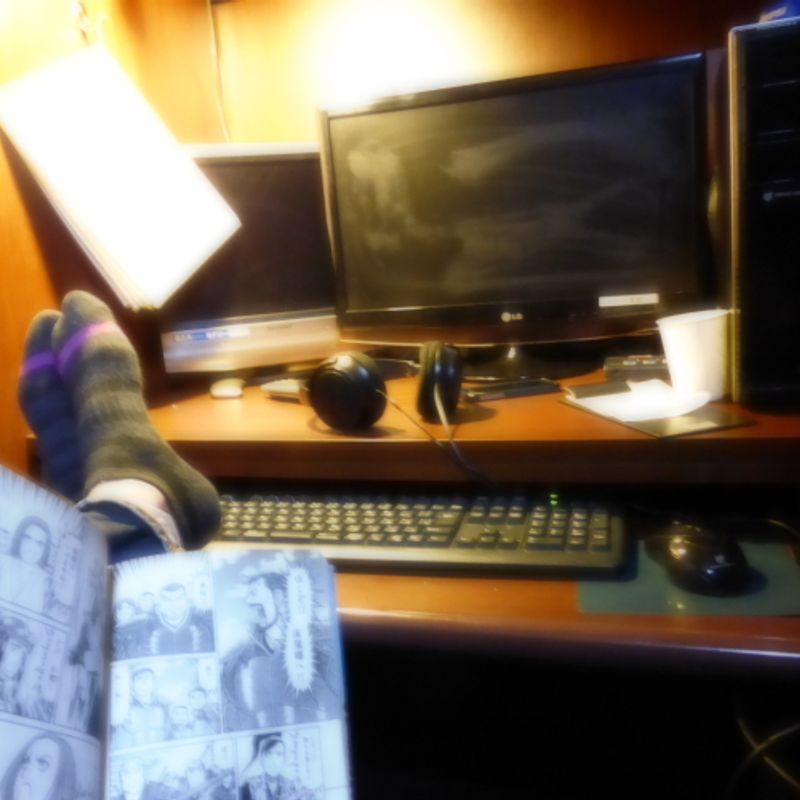 These days a lot of us don't even have to get out of bed to access the web but in an Internet cafe in Japan it's not so much about getting online, it's more about under what circumstances.
Japanese Internet cafes offer peace, quiet, and privacy. Computer terminals come will their own private booths, chairs that are normally reserved for high-flying CEOs, and optional extras that you might only find with a business class air ticket. In urban Japan, where space is at a premium, people live in shoes boxes with paper-thin walls, generations of family squeeze in under one roof, and you can never get a seat at Starbucks, the Internet cafe is an valuable resource for work, rest, and play.
More Details, Please
Typically, these places are quieter than a library! Terminals usually have a choice of seating; a regular office-style swivel chair, a mattress seat, or a pair seat (a small sofa). You'll need to remove your shoes with this one. Once you're in and you've shut the door, check out your surroundings. Here's what you can usually find for your private use …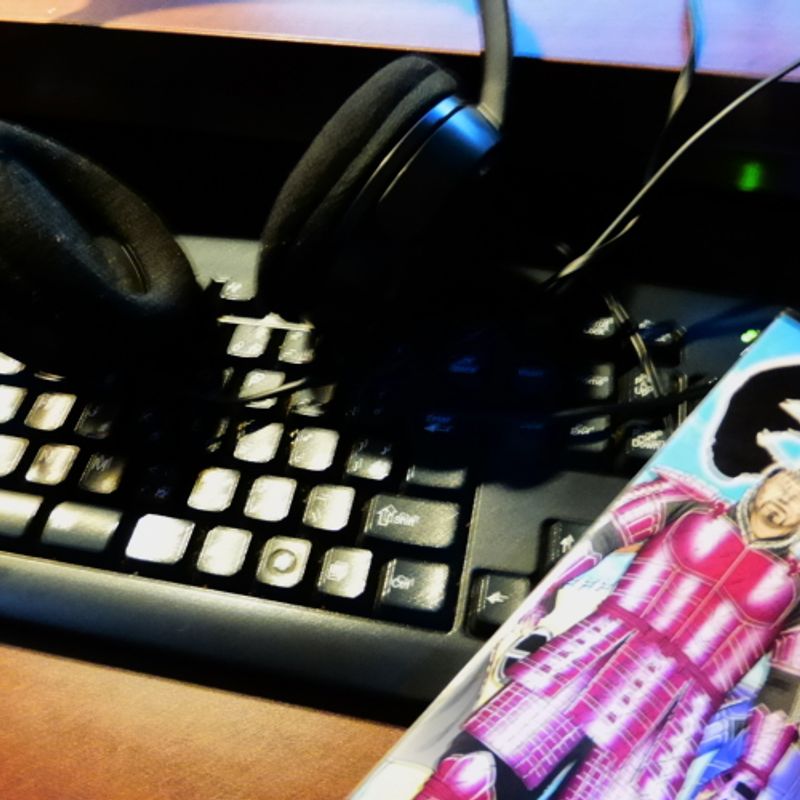 Desktop PC
TV
Headphones
Reading Lamp (Internet cafes are usually pretty dark)
Coat Hanger
Garbage Box
Ashtray
Notepad and Pen
Safety Box
The service doesn't end here though. Outside the confines of your private booth, look out for the following (all prices listed are for this writer's local joint) …
Toilet/Shower
Drinks vending machine (usually free)
Toothbrushes (Why? More on that later. 30 yen)
Food (Usually ordered at the front desk, common offerings; cup ramen/udon/soba, potato chips, chocolate snacks – all 150 yen. Fried chicken, takoyaki, yakisoba, onigiri, potato fries – all 350 yen).
Blankets (available from the front desk)
Printing services (usually from the front desk. A4 black and white – 10 yen, color – 50 yen)
The Desktop
Here's what you'll likely find pre-installed onto the computer …
iTunes
Anime Channel
Online Games
Movie Channel (Usually including something for, shall we say, adults!)
Microsoft Office (Not always, though. If you really need it, ask before hand).
Manga Kissaten/まんが喫茶店
Internet cafes in Japan usually come under the guise of a manga kissaten. Manga means comic, kissa is made up from the kanji characters of smoke and tea, and ten means shop/store . Put it all together and you have, literally, a place where one can read comics whilst drinking tea, and having a smoke. So it is you'll find the walls of a 'manga kissa' lined with comics. This isn't a library, you can't take them home with you, what you can do is take them back to your private booth for a read. There's usually a limit on how many you can take at one time. Nobody is supervising but don't spoil it for the rest of the users. One or two is enough.
As a word of warning, some 'manga kissa', no, most 'manga kissa', are pretty smokey places. Even though staff do their best to keep things clean, you'll likely come away needing a fresh change of clothes! If it bothers you.
Getting In
Japanese Internet cafes invariably require membership. Some places are free to join, others a few hundred yen. As with most things in Japan, to become a member you'll need a Residence Card or a passport, a phone number, and an address. After registering you'll be given a card which you can just show to the front desk thereafter.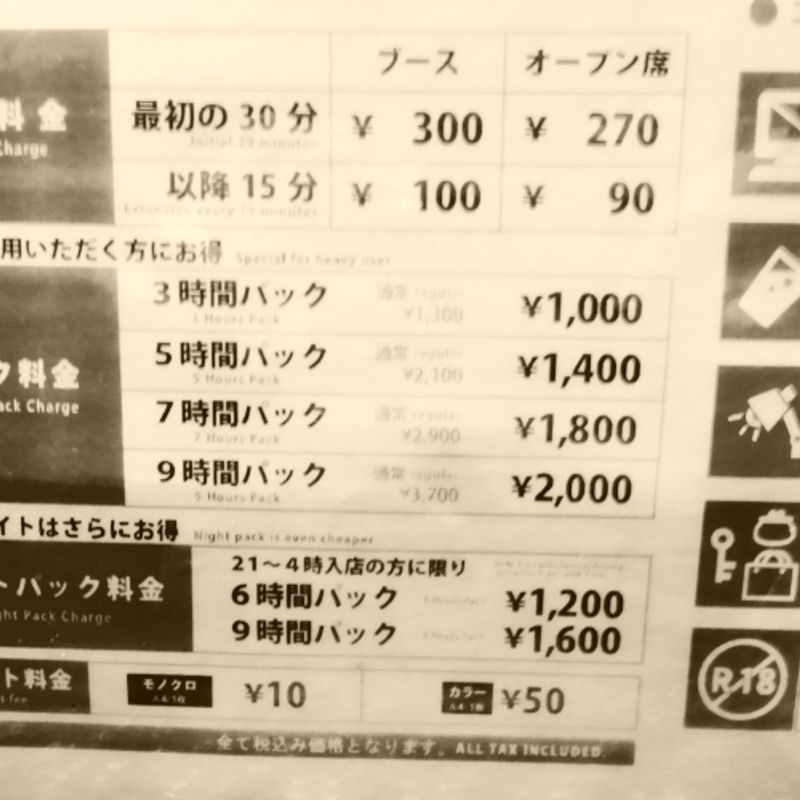 The image above shows the prices and packages for a typical Internet cafe.
The first row: 基本料金/kihon ryoukin/regular charge – ブース/booth, オープン席/open seat (no privacy).
The second row: パック料金/pack ryoukin/service pack charge – e.g. 3時間パック/ san jikan pack.
The third row: ナイトパック料金/night pack ryoukin/night pack charge – available between 21:00 and 4:00.
Yes, you read the third row correctly. Internet cafes can essentially put you up for the night (hence they sell toothbrushes and some of them have showers). It's not unusual for people to take refuge in these places if they've missed the last train home and need a place to sleep. In extreme cases, people have been know to take up temporary residence whilst they seek more permanent lodgings.
Although you'd have to be pretty desperate to be the latter, there's no doubt that these Internet cafes are a place to be cherished; a private office space, an escape from sweltering summers and frigid winters on someone else's air-con, somewhere to indulge your otaku, or a place to shelter when you're tired of the nightclub and can't get home.
---