Mar 31, 2015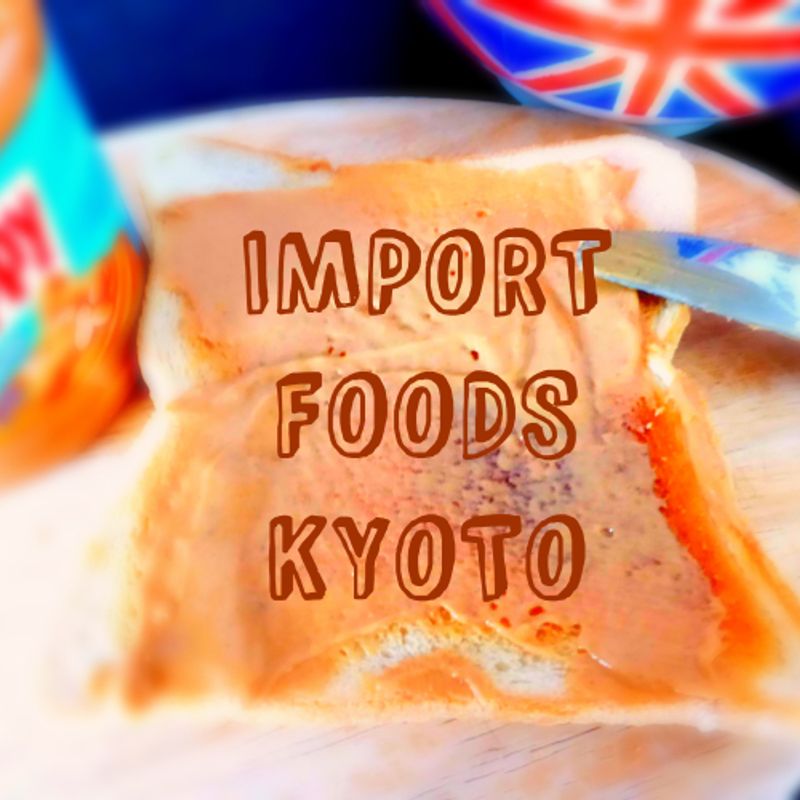 Yes, yes, we all know that Japanese food is great, but sometimes we just want to get our chops around a taste of home. Even when we're in Kyoto, that most Japanese of cities.
So it is, that here at City-Cost, we've put together a list of import food stores which may well stock some of your favorites from the motherland.
Yamaya
First stop is foreign booze stalwart Yamaya (World Liquor System). There's one on the first floor of Kyoto Avanti, south of Kyoto station (just across the road).
This Yamaya covers some of your snack and accoutrement essentials, as well as having the usual pasta ingredients from Italy and the curry equivalent from India. We spotted a fine selection of Austrian jams (~325 yen), some big boxes of Cornflakes (a very reasonable ~284 yen), and indulgent bottles of Hershey's Syrup (~475 yen).
Where Yamaya really comes into its stride is when you need alcohol. This store has wines from Germany, Spain, France and Italy (among others). There's a decent selection of bottled beers covering classics like Heineken, Corona, and Budweiser, as well as Eastern European brews whose names can't be pronounced, and faux, ye olde ales from the British Isles. Most 330 ml bottles start at around 350 yen. Look out for the novelty, over-sized 1000 ml beer cans (~700 yen).
Those who know a thing or two about the harder stuff, may find something to please among Yamaya's whiskeys and spirits. Dig deep though, some bottles here sell for up to 7,000 yen.
Hours: 10:00 - 21:00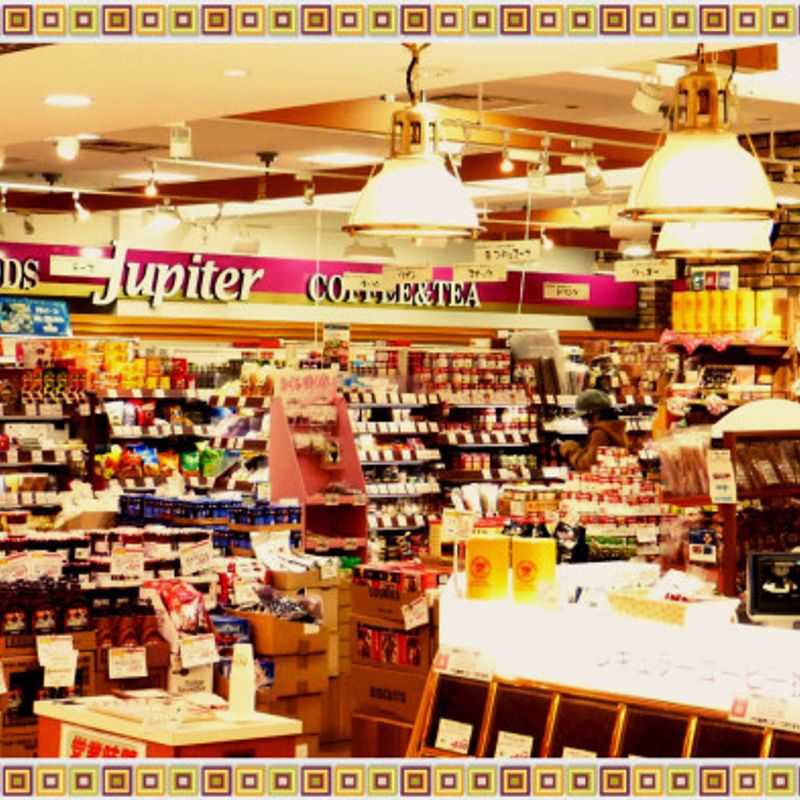 Jupiter
Underground shopping complex Porta, houses a couple of import food retailers, on the north side of Kyoto Station.
First up, Jupiter; all in all a sound option for a variety of snacks, nibbles, sides, and small indulgences. Starting with chocolate. We spotted post-Christmas dinner staple (back home, at least), After Eights, kids' favorite, Milky Way, and multiple winner of world's cheesiest advertising (but very effective nonetheless), Ferrero Rocher!
Jupiter stocks a good selection of cheeses, although at 500 yen/80 g the prices are as pungent as the odors . Satisfy yourself instead with the jars of pickles, tubes of Pringles, loads of jams, and boxes of Kellogg's Rice Krispies (600 yen/300 g).
The store has a counter selling fresh coffees.
Seijo Ishii
Within the Jupiter vicinity (and part of the Porta experience) is import/posh food regular Seijo Ishii. It's only a small branch but it remains a good place to go for bagels (and bentos).
Jupiter Hours: 9:00 - 21:00
Global Kitchen
Staying in the Kyoto Station area, on the second basement floor below Yodobashi Camera, you'll find Global Kitchen. This is really more of a posh supermarket than a valuable resource for import foods. Still, it might turn up something to take your fancy, whether it be bottles of Marie Sharp's super hot sauces, taco building kits, or some pate (496 yen/80 g).
Hours: 9:30 - 22:00
Of the station area's options, Yamaya (for your drinks) and Jupiter (for food) offer the best choice. Check them out first, and if you can't find what you're after, then try your luck at the others.
We found a handful of import options in Kyoto's central shopping area, around Kawaramachi.
Food Market Tavelt
Heading north after the Kyoto Station area, the first place to check is Food Market Tavelt, on Shijo (basement floor of the Daimaru Bldg. between Gion Shijo and Karasuma Stations).
Tavelt is really just a fancy supermarket. Still, it does sell Heinz Ketchup (300 yen/570 g), so perhaps not so fancy after all. If you've got the money, Travelt has a fine selection of cheeses. Granola, jams, and pricey teas from London and Paris, are also available. There's a Plaza store across the way.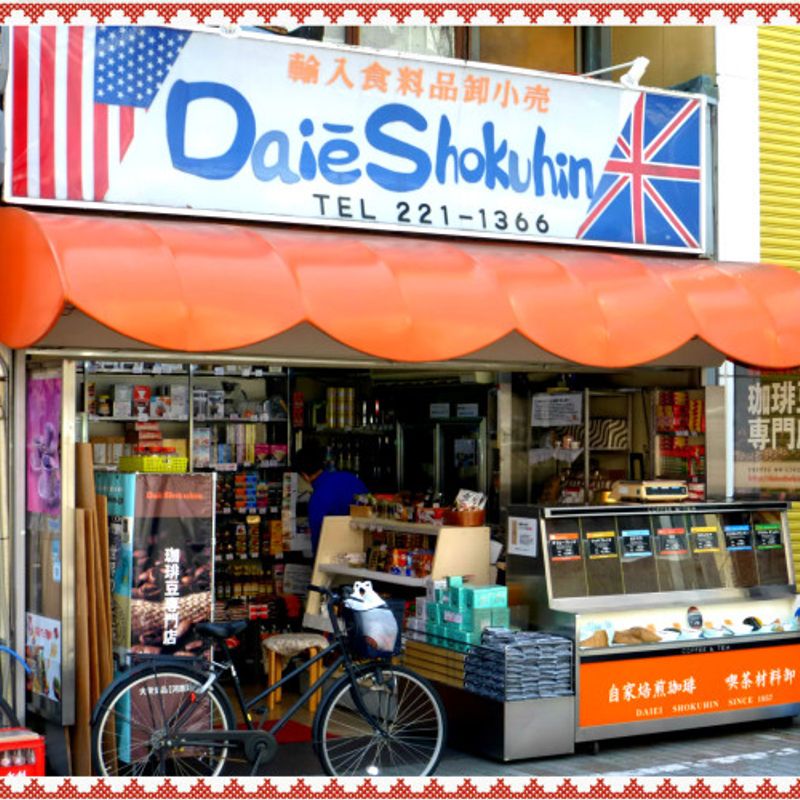 Daie Shokuhin
Walk north up Kawaramachi and look to your left for the Uraderacho area/裏寺町(nearly half way between Shijo and Sanjo, look for ABC MART ). As you turn left, on the corner is Daie Shokuhin, a pint-sized store that looks like it's been around since the days of post-war austerity. In a space that resembles a grandma's pantry, we spotted jars of Skippy (peanut butter), pickles, cans of massive dried corn, cookies, and chewy teeth rotters from Haribo. If you like Hershey's, there's plenty of choice here. Daie also sells fresh coffee. The open-front store is marked by faded UK and US flags.
Hours: 10:00 - 19:00
Meidi-Ya
Further north, on Sanjo (next to the Royal Park Hotel) is a two-story Meidi-Ya. As with all Meidi-Ya, this is a place to come for those who enjoy the finer things in life, including those with a taste for Guylian Belgian Chocolates! Among the savory items we spotted jars of Vegemite (400 yen/220 g), bottles of Lea & Perrins Worcester Sauce (670 yen/290 ml), and some packets of Carr's Water Crackers. Bottles of Hoegaarden (389 yen/330 ml) sit among a limited selection of world beers on the second floor. Meidi-Ya stocks servings of Ragu pasta sauce, and a fine choice of chocolate bars. We particularly enjoyed the massive cans of tinned fruit (orange, grapefruit, mango 500-600 yen).
Hours: 10:00 – 21:00
Wines and Provisions Maki
Further afield, we'd heard about a small business called Wines and Provisions Maki. Maki is about a five minute walk from Mototanaka Station on the Eizan Line.
Although small and quiet, Maki stocks a noisy collection of overseas treats. There are big jars of Skippy Peanut Butter (1,500 yen) and we also saw some Lyle's Golden Syrup! A selection of breakfast cereals includes Weetabix and porridges from Scotland. Among the savory items we noted jars of Vegemite, cans of Spam, couscous, and some huge, 5 kg bags of pasta. Maki has a few cheeses in its refrigerator. There didn't seem to be a great deal in terms of alcohol.
Access: If arriving from central Kyoto, turn right onto the main road (Higashi Oji Dori/東大路通り) from Mototanaka Station. Maki is on the left after a few meters.
Hours: 10:00 – 22:00 (closed Wednesday)
As always, we encourage you to share the wealth. If you know of any import treats available in the Kyoto area, be sure to let us know. Cheers!
For more on getting a taste of home throughout Japan, check out our earlier article: A Taste Of Home: Import Food Shops in Japan.
---