Apr 30, 2015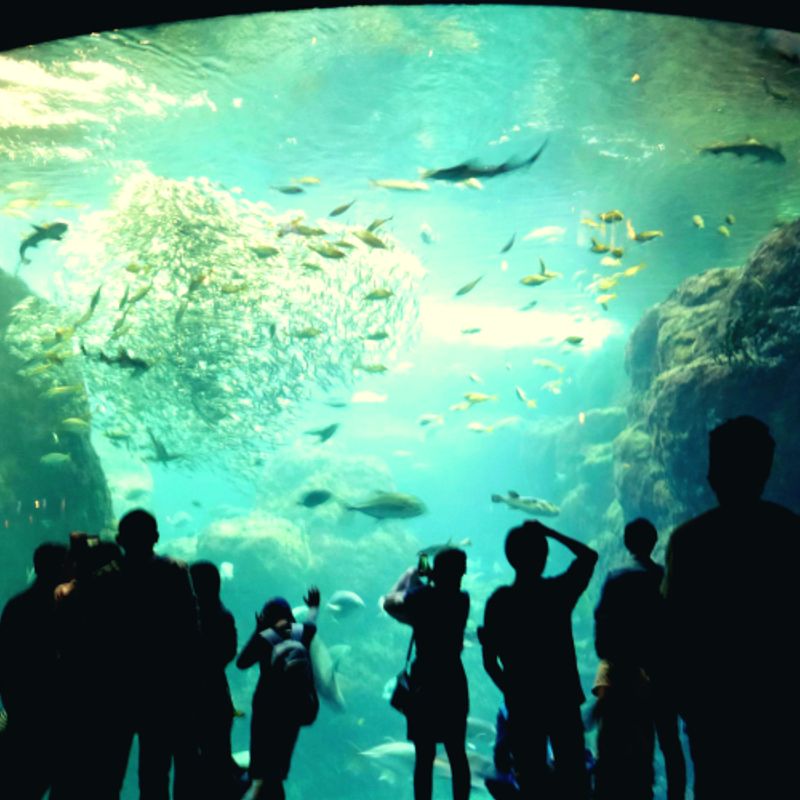 The New Enoshima Aquarium (新江ノ島水族館 / shin enoshima suizokukan) can be securely tagged 'family fun'. Its collection of denizens from the deep cover the requisite categories of cute, weird, and fearsome so as to enthrall the little ones, at the same time as introducing a bit of science, history, and social responsibility for the conscientious adult.
Where it also comes up trumps is in its location. Enosui, as it's affectionately known, is so close to the ocean itself that an extra strong leap from one the resident dolphins could see it in the open waters. Five minutes walk from Katase-Enoshima Station (30 minutes by train from Yokohama), Enosui occupies a prime bit of beach-side real-estate with views to Enoshima Island and Mt. Fuji. Here, the smell of the ocean is everywhere, the locals spend their free time in the water, and visitors to the area dream about relocating. Enoshima is all things beach and ocean, and Enosui is right in the middle of it. The creatures within must feel right at home!
It's been busy times for the facility with last year seeing celebrations for both the 60th anniversary of its opening, and the 10th anniversary of its renewal (when 'New' was added to the name). All of which means it's been spruced up, is full of confidence and is firmly looking towards a bright future.
You can't miss the ticket windows for the aquarium, the whole operation looks like a massive garage forecourt. Entrance for adults is 2,100 yen. High school students - 1,500 yen. Jr. High/Elementary school students - 1,000 yen. Children 3 years or older - 600 yen. It is possible to exit the facility and come back in again through the main entrance, just make sure you get your hand stamped before leaving.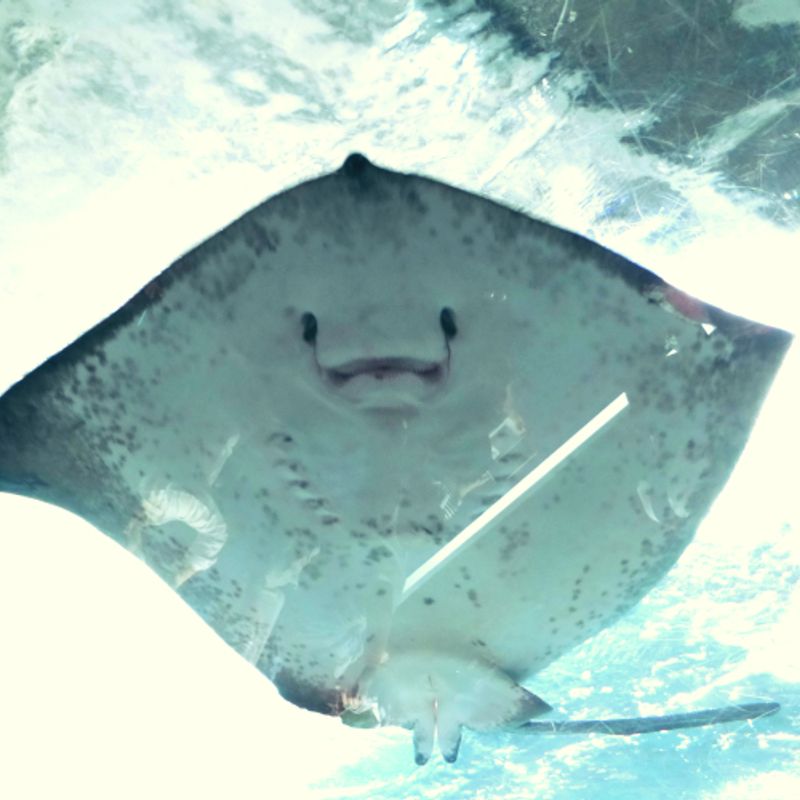 Enosui is home to some 20,000 souls that cover 90 species. There are 12 themed areas to explore.
Things start in fine style with the Sagami Bay Zone (that's the bit of ocean right out front) where an opening sign reads - To know the sea of Sagami is to know the seas of the world. - such is the diversity of the area. A massive tank can be viewed from up on high, and down below. Both perspectives are equally impressive. More so are the sea creatures within; a huge turtle, small Hound sharks, whirling shoals of anchovy, stingray, gruesome Leopard Moray eels and much more. Make sure you go round to the far side of the tank to ogle at the massive rays gliding over head.
From the Sagami Bay Zone, the route heads down to Deep Sea Part 1. On your way down, a ghoulish group of Spider crabs (the world's largest) will give you the jitters!
Deep Sea Part 1 offers English explanation of the ecosystem at such depths and has an interesting, if slightly morbid, gathering of life from the depths. Look out for the オオグソクムシ/oogusoku mushi, at 45 cm in length, they have the look of aquatic cockroaches, and are the largest found in Japan.
On a slight aside, if you've ever wondered what intense water pressure can do to a Cup Noodle, you can find out in Deep Sea Part 1!
Enosui is bit of a world leader when it comes to jellyfish and its Jellyfish Fantasy Hall is a definite highlight. Displays are so beautiful, serene and otherworldly the whole zone has the vibe of a chill out space surrounded by 1970s lava lamps! It's perhaps no surprise to see people falling asleep here!
Most visitors will be pleased to know that the Pacific Ocean zone has the requisite sharks (mostly of the reef variety) and a tank displaying the real-life cast of Finding Nemo.
If your heart doesn't melt (or at least get a little warmer) at the sight of penguins and seals, it's quite possible that you might be clinically dead. Head to the Penguins and Seals zone to find out!
Here's something you probably didn't know, the current Emperor, his father and his younger brother are marine enthusiasts and have conducted serious research into, and written papers on, marine life in Japan, much of which you can see on display in Enosui.
For many, the highlight, or lowlight, of an aquarium visit is the live aquatic mammal performance. Enosui has a number of shows scheduled throughout the day at its Dolphin Show Stadium; an outdoor stage with views to the ocean and Enoshima Island. Performances feature the usual clapping/waving seals, and jumping/spinning dolphins. Even though performing wild life remains a contentious form of entertainment, it's really hard not to let out a gasp at the sight of some massive dolphin breaching the water with a flurry of twists and turns.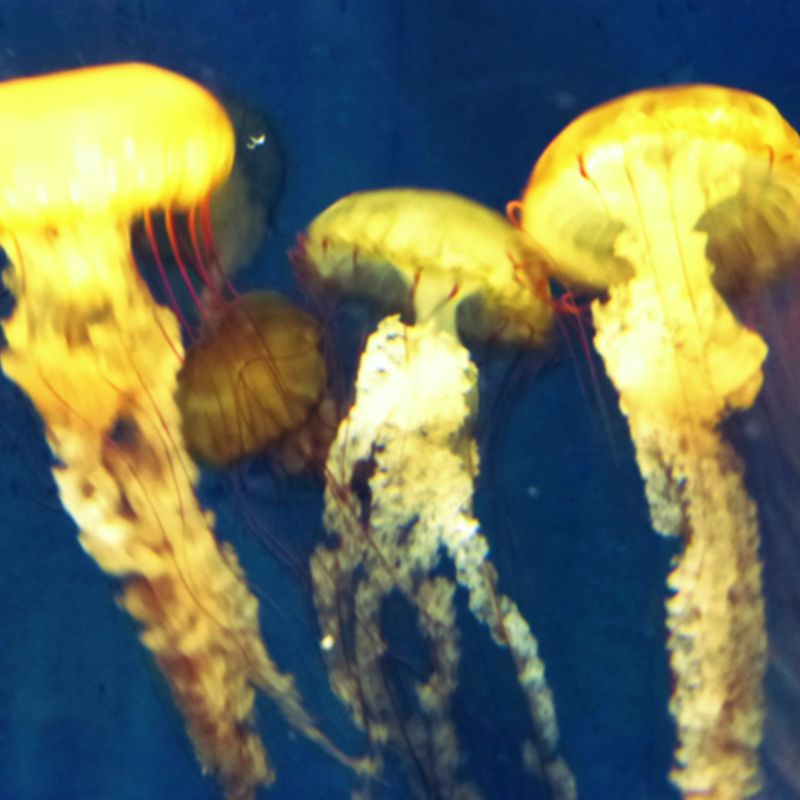 The Practicalities
There are eating options within the aquarium but far better choices can be found outside. Eat before, or work up an appetite for after. Be warned though, don't be tempted to picnic by the beach in Enoshima. The skies here are patrolled by hungry Black hawks (not the U.S. war helicopters) that will do their best to get a piece of what you're eating. This can't be stressed enough, they will try and they will almost certainly succeed!
Of course, nearby Tokyo has its fair share of aquariums which begs the question, Is it worth 2,100 yen and the journey time from Tokyo (about 1 hour) to visit The New Enoshima Aquarium? Well, perhaps in the bleak midwinter a trip to the oceanfront may not appeal. When things get a little warmer though, the answer from this writer is a resounding, Yes!. With so much going on in the area (beaches, beautiful people, fresh seafood, Enoshima Island exploration, views to Mt. Fuji) Enosui is a fine complement to a fun day out/day trip from the capital.
Open: March to November 9:00 - 17:00 / December to February 10:00 - 17:00
Access: 5 minutes walk from Katase-Enoshima Station (Odakyu Enoshima Line), 10 minutes from Enoshima Station (Enoden Line) or Shonan-Enoshima Station (Shonan Monorail Line).
Tel: 0466-29-9960
Address: 2-19-1 Katase Kaigan, Fujisawa-shi, Kanagawa Prefecture, 251-0035
---