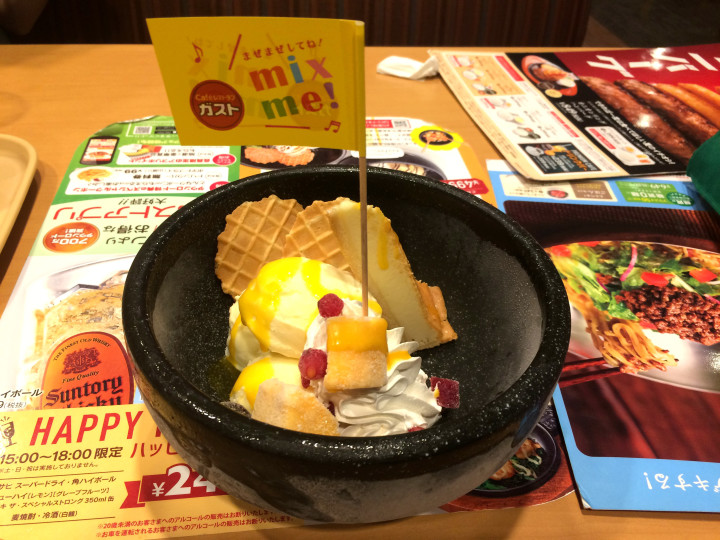 I confess. I hadn't been to Gusto for ages. The branch where I used to live was a nightmare of screaming kids, and adults who'd given up on life to the point where lunch at Gusto barely out of their pajamas (and amongst screaming kids) seemed like a good thing. In short, it was a bit depressing.
Anyway, as anyone who's been keeping tabs on this blog will know, I moved recently, so I decided to give Gusto a second chance at my new local branch. I'm pleased to report that things have improved dramatically (although the air con is insanely cold - bring an extra layer).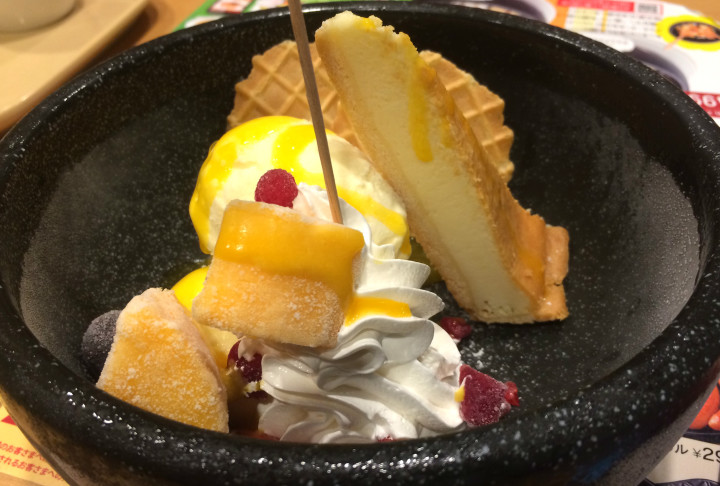 (before)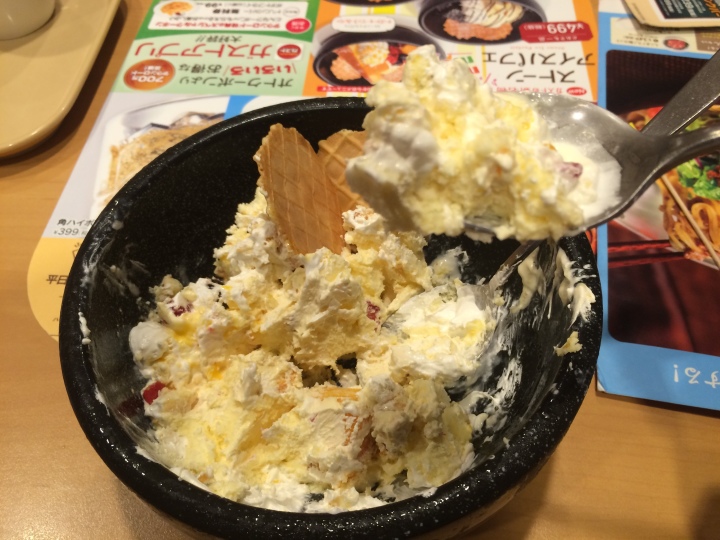 (after)
As I said, I'm a little out of touch with Gusto, so maybe this is old news, but they have on their dessert menu Stone Ice Parfait (ストーンアイスパフェ). Gusto's Stone Ice Parfait take the form of a sweet/cold version of the Korean bibimbap where you get a heavy stone bowl full of food stuffs which you mash about and mix up, using the heat from the bowl to kind of cook it and stick it all together. With these Stone Ice Parfaits you get a ice cream, cream, some form of cake, and fruit, in a freezing stone bowl, replete with a little flag with the call to action, 'Mix Me'!
So, I ordered one; Cheesecake, mango, and berry (499 yen). It didn't come out looking as colorful or fulsome as it does on the menu, but all the parts were there; vanilla ice cream, whipped cream, slice of cheesecake, fruit, and a couple of wafers.
According to the menu, you're supposed to mix, eat, repeat. Yep, mix, eat, repeat. This way you can bring out different tastes. Ever the cynic, I was calling bullsh@$t, but actually I was pleasantly surprised, it mixed up pretty good. Yes, it looks a bit like baby food, and yes, the fruit is fresh from the freezer, but it's fun, and tasty. You can see how I got on with mine, below.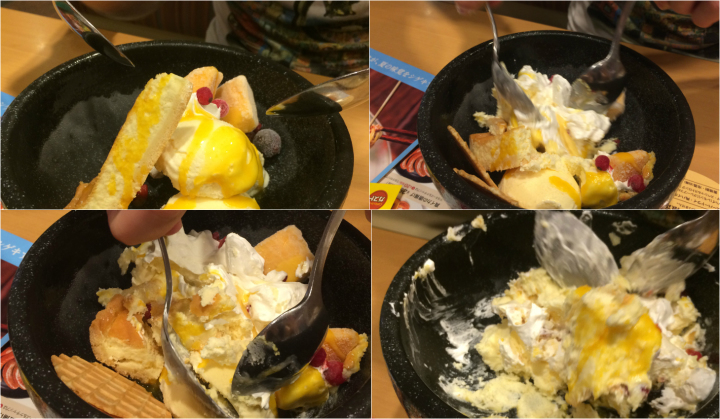 The chocolate brownie, banana, ice cream and whipped cream choice doesn't seem to have much variety in the flavors to justify the 'mixing' sales point. The third and final Stone Ice Parfait offering is testament to the fact that traditional Japan knows nothing about dessert; vanilla ice cream, whipped cream, green tea mousse, and sweet red beans (again with the green tea and beans)!
I recommend a Gusto Stone Ice Parfait if you have the chance. Don't go overboard with whatever you might order beforehand. You'll need to have a bit of room to spare.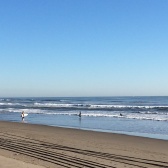 Traveler, surfer, and scribe. Based in Tokyo for six years.