Jan 27, 2015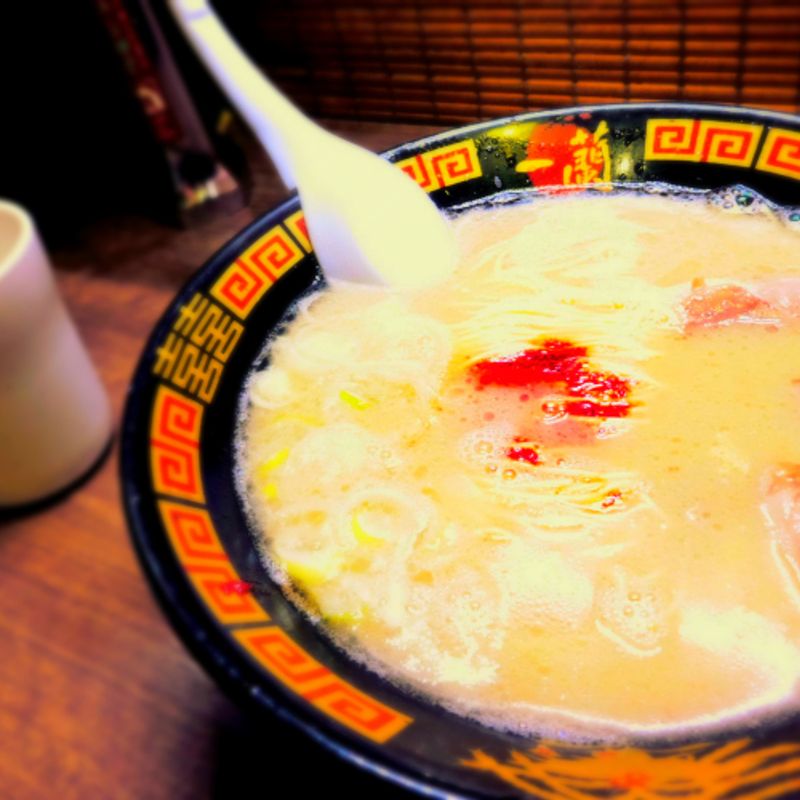 There's nothing like a steaming hot bowl of ramen (ラーメン) to fend off Japan's bone dry, concrete cold winters.
Chain store Ichiran (一蘭) has been specializing in the piping hot bowls of noodles-in-soup since the 1960s. Originating from the Hakata region of Kyushu, they concentrate exclusively on one kind of ramen, tonkotsu/豚骨 (itself born in Hakata and often referred to as Hakata ramen), and, as they boast on their website, Ichiran is the most dedicated ramen company to the study of tonkotsu ramen in the whole world.
But ramen joints are ten a penny/a dime a dozen in these parts and anyone can idly boast about being the best (insert noun here). So what else is special about Ichiran? Well, for one thing, they were on TV the other day, apparently for being hot on the list of 'things to do' or 'places to eat' for visitors to Japan. The restaurant chain had dug into its employee pool, sprucing up their best English speaker to parade in front of the cameras and help out hapless tourists navigate the menu.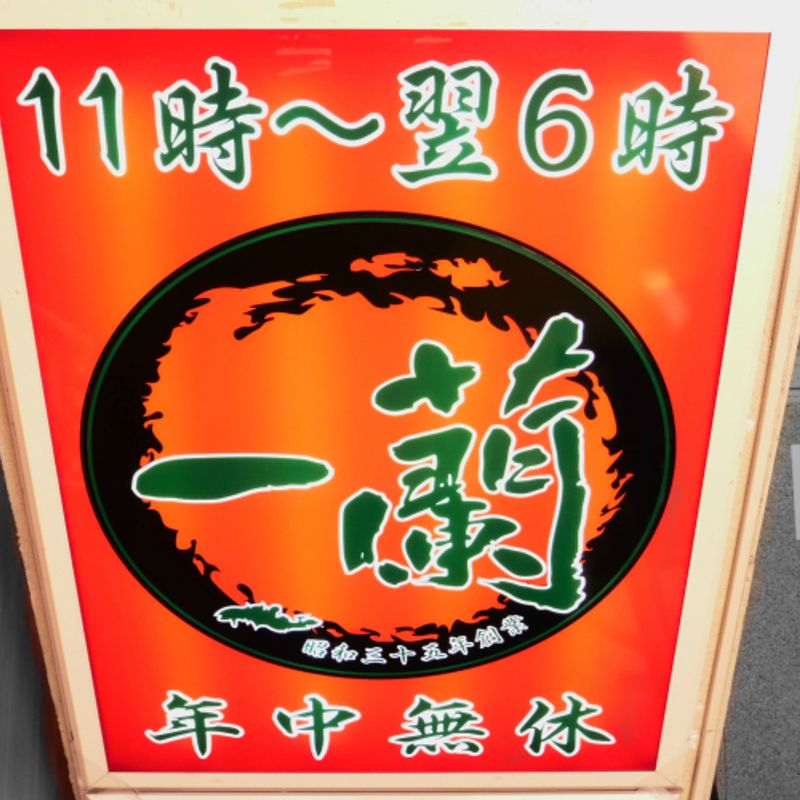 Ichiran's other claim to fame, and perhaps the loudest, is it's solo eating experience, where diners take a seat at a tiny booth for one, walled off from fellow soup slurpers, allowing for full concentration on the ramen itself. Imagine eating your meal in a library or at an election voting booth and you begin to get the picture.
Navigating the Menu
This is pretty simple … there isn't one! Ichiran essentially only serves one dish, the above mentioned tonkotsu ramen (in fact they don't even bother writing the tonkotsu bit!). What you have instead is a ticket vending machine at the entrance to each store, presenting essentially two choices (or two buttons); ramen/ラーメン or ramen + kae-dama/ラーメン+替玉, the latter meaning a refill of noodles. All other buttons are for optional extras which you probably won't need, such as rice, extra meats, garlic, onion, and drinks. Insert money, push button, collect ticket stub and wait to be seated.
Getting Seated
In this writer's experience a member of staff waited by the ticket machine to show people to their seats. An electronic seating plan indicated availability.
Ichiran are small places. Two rows of about ten booths, exposed at the back, fronted both sides of the preparation area. Behind the diners was just enough space to get to/from seats one person at a time. Hangers on the wall waited for coats and scarfs. Booths barely a meter wide, had enough space to accommodate a bag by your feet, a water tap to drink from and a button to push to call for service. Facing the preparation area, a kind of draw-blind is pulled up when you're seated, and is pulled down once served, giving patrons more privacy.
Get settled (although not too much, as you'll be in and out in about ten minutes), have a cup of water, and set about filling out the form in front of you!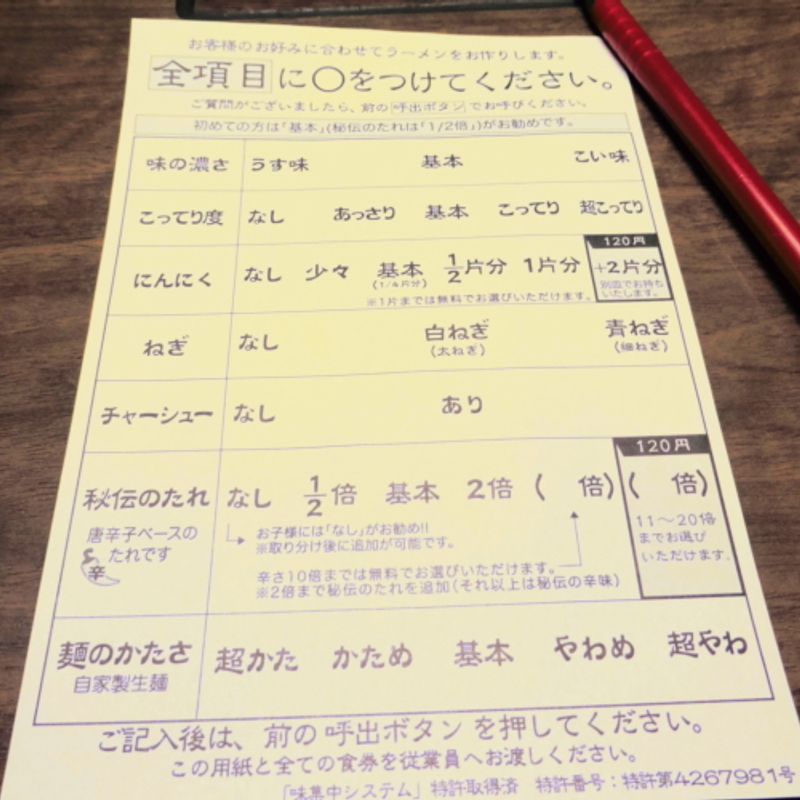 Customize Your Ramen
The paper above will be waiting for you when you sit down. There are English versions out there, as well. Use this form to customize Ichiran's tonkotsu ramen to your taste requirements.
From top to bottom the form reads as follows:
Strength of Flavor - weak / medium / strong (Ichiran recommends medium for first-timers)
Fat Content - none / light / medium / rich / ultra rich (medium is recommended as above)
Garlic - none / a little / regular / half clove / one clove / (120 yen for two cloves)
Green Onion - without / strong green onion / weak green onion
Roast Pork Fillet - without / with
Secret Sauce - none / half / regular / double / (...) times / (120 yen for 11-20 times) (This is essentially asking how spicy you want your ramen. The store recommends none or half for children.)
Noodle's Tenderness - extra firm / firm / medium / tender / extra tender
Circle your choices with the pen provided (however you customize your ramen, the price remains fixed, unless otherwise stated), push the button and wait to be served.
The Ramen
Like all ramen, Ichiran's offering is big, hot (in terms of temperature), and has a lot of volume (most of which is in the form of soup). This writer ordered a regular serving of the secret sauce which made for a pretty spicy kick.
What of the tonkotsu bit? First of all, let's not confuse things with tonkatsu/豚カツ, which is a breaded pork cutlet. Tonkotsu refers to the ramen's broth, made from pork bones boiled down to a creamy, off-white liquid. It's a Sisyphean task which takes a least 12 hours of relentless boiling to achieve. Not that I had to wait that long for my dish to arrive (it took about five minutes)!
If you're after miso/味噌, shoyu/醤油/soy sauce, or shio/塩/salt flavored broths for your ramen, head elsewhere.
The Verdict
First of all, this writer was able to eat well for the 720 yen cost, and there can be no doubt about it, Ichiran was quick, easy, and accessible. And popular. Even turning up ten minutes after the 11:00 am opening on a lazy Sunday morning, in an otherwise quiet business district, there was already a steady turnover of diners. As for the solo eating experience, well, sure it allows one to concentrate on the ramen (if you're not too distracted by the slops and slurps of fellow diners), but I can't help feel like there's something slightly depressing about the demand for a dining experience whereby one is sealed into solitary confinement in order to avoid contact with others.
That said, eating ramen in any setting has always seemed to this writer a solitary pursuit, where the attitude is one of eating as quickly and loudly as possible and then getting out to make way more hungry customers. In this respect, Ichiran fits in perfectly!
Ichiran operates stores nationwide from Kyushu in the South to Gunma in the North.
English and Chinese languages are available on their website.
For more on Japan's cheap eats, have a look at our article; Tasty, Cheap, and Wholesome Fast Food.
---