Mar 14, 2019
I'm writing this in a St. Marc Cafe southwest of Tokyo (large blend coffee, sugary waffle). It's almost empty (I knew it would be, I've been here at a similar time before). I've got a counter seat facing the window where outside in the bright morning I can see people making their way to work. It's after 7:30 and there's time to kill until my own work thing kicks off in a couple of hours.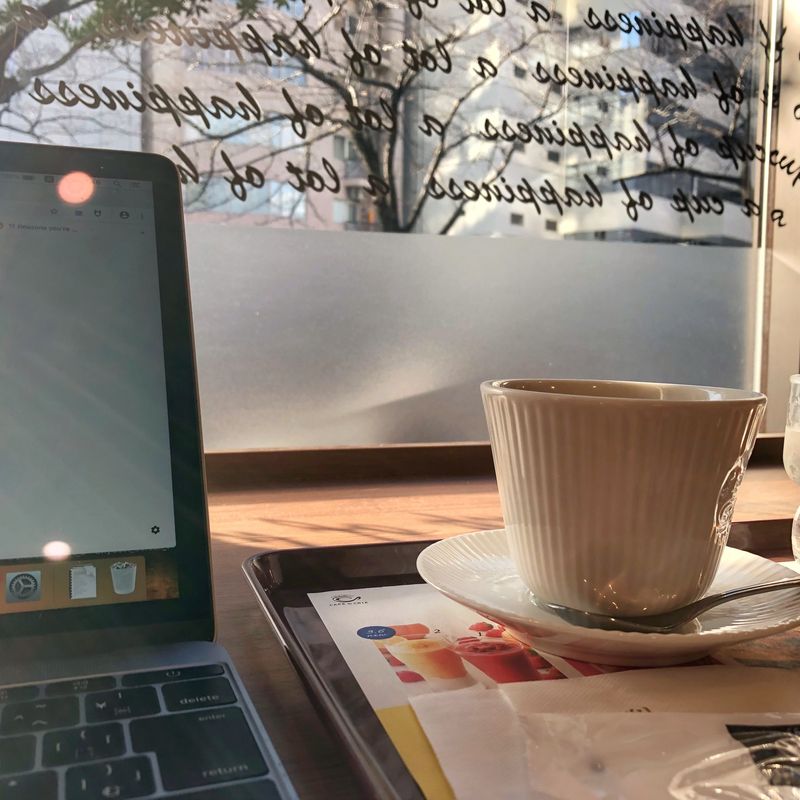 (St. Marc's set up)
My being here at this time is the consequence of an absurd situation facing some train commuters in the Tokyo area, and perhaps some of those who live in other of the world's great megalopoli (?). The work thing starts at 10:00. That's my regular start time but today I'm out of the office and need to be on the other side of Tokyo from where I live. Instead of getting a train at around 9:00 for the regular 30-min run, I'll need over one hour from station to station. It's a first-time location for me so I'd like to have 30 mins spare to be able to get there once I arrive at the station.
So, I should have left my apartment at around 8:00 to be on a train at 8:15. Instead I staggered out at around 5:45 to be on a train at around 6:00, meeting a couple of sorry-looking post-partiers (throwing up by the station lockers) en route. And now I'm at my destination some three hours ahead of time.
Still, I'm here at least, and with my head yet to ditch the sense of sleep and a strong beam of sunshine warming me up through the cafe window the prospect of work is numbed by this somewhat ethereal state.
The decision to get up early was a good one.
I live on the Tozai Line -- the innocent-looking light-blue one on the Tokyo Metro map. It's anything but light, though. Especially at 8:15 in the morning when it's a technicolor nightmare of cramped commuter crowds. A human rights violation. A reason to jack it all in and move to the countryside, or at least to get up early enough to avoid it.
The situation is exacerbated by my own jitteriness at the prospect of being trapped in a tight space (earthquakes stopping trains have taught me that I don't like not being able to just bail out of a situation). And carrying a whole bunch of gear (as I am today) means a, what, two-hour window where starting a Tozai Line commute is out of the question. Even getting on before 6:00 in the morning it's standing room only, but at least there's room to stand.
Blimey! What would I do if office work started at 9:00 instead of 10:00? I'd move. Or quit my job. Seriously!
But this is the decision to be made -- get up and get out early, like, two-three hours early, or put yourself through a clammy and jittery commuter hell. I chose the latter today, and will do so again, but I couldn't do it every day.
Which would you choose? Or would you just pack it all in and move somewhere else to avoid the commute?
**(This post was actually written yesterday with the full intention of uploading it in the cafe, until I realized I was unable to get online ... and then work happened.)**
---