Mar 20, 2016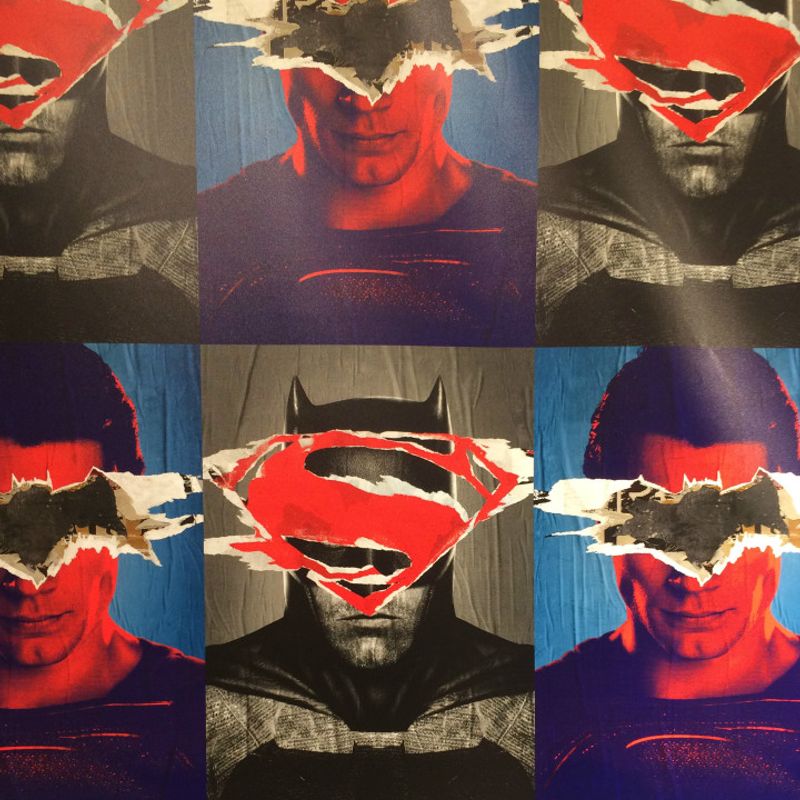 You'll often find me loitering around Roppongi Hills of Sunday, seeing how the other half live. At this time I always make a point of dropping into ESTNATION to figure out how far away I am from affording to regularly shop for clothes there. I'm still a long way off, in case you were wondering.
Now, there are probably two fundamental takes on a store like ESTNATION; that it's full of overpriced versions of stuff one could buy in UNIQLO. Or, it collates classy fashion for the discerning shopper. Either way, the people behind the operation occasionally secure collaborations sure to raise collective eyebrows.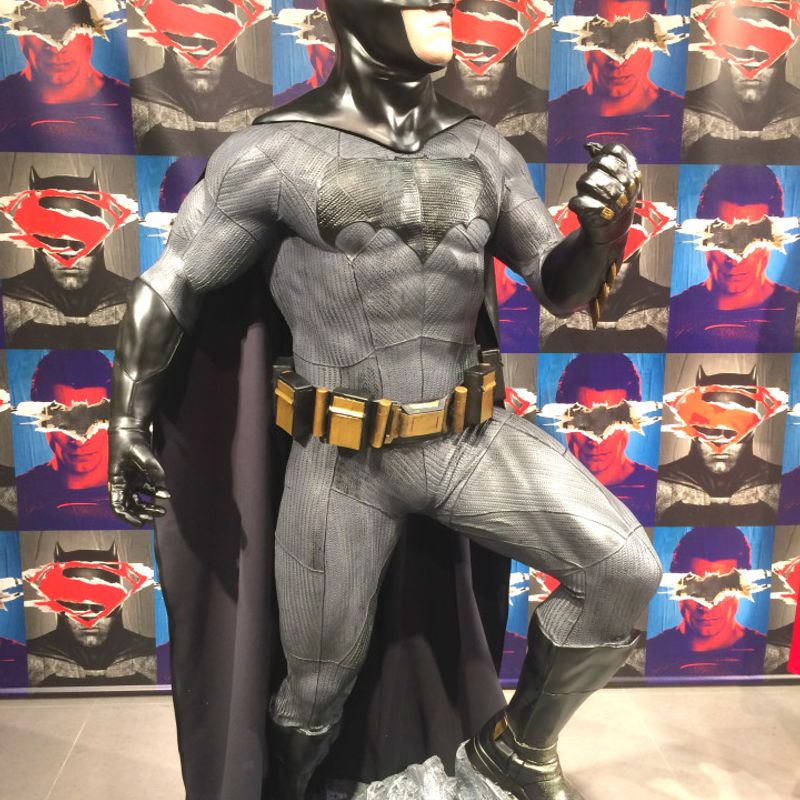 This month, in light of the Japan release of Batman vs Superman: Dawn of Justice (March 25), ESTNATION have teamed up with DC COMICS to bring those inclined a series of Dark Knight / Man of Steel T-shirts. I know this because as I was walking past the Roppongi store front entrance (opposite the Robuchon restaurant) two life-size models of Batman and Superman (pictured) eyed me going past. As models go, these are pretty impressive. Feel free to go in, ogle, and take pics.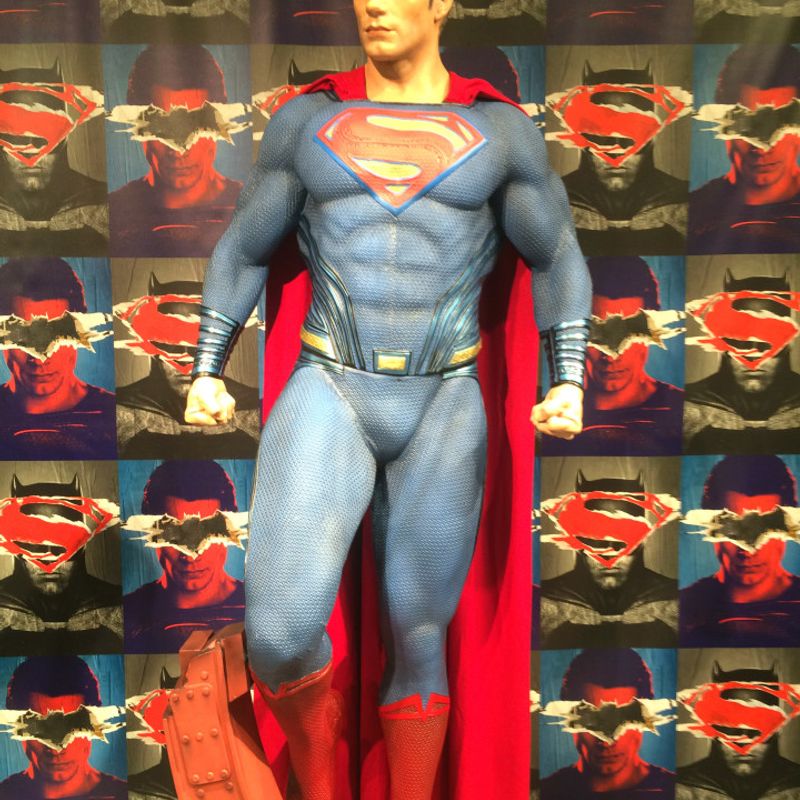 Taking top billing of the T-shirts, looks to be those that have a Batman / Superman emblem on the chest made from SWAROVSKI crystals. The T-shirt comes in black or white and retails at, wait for it, 40,000 yen. A bargain!! (See No. 1 and No. 4 in the image below)
Embroidered-design Ts (Superman/white and Batman/black) go for 15,000 yen (8,000 yen in kids size). See No. 2 in the image below. No. 3 in the image is a SHOWDOWN IN GOTHAM T for 10,000 yen. There are glitter/foil print Ts for 10,000 yen - No. 5 in the image.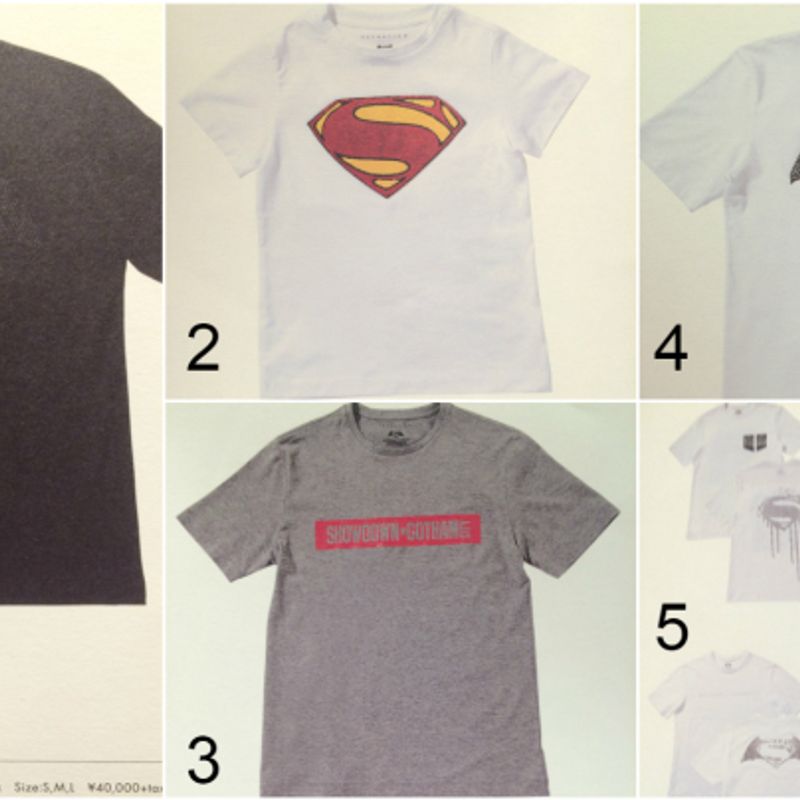 The thing is, I couldn't find any of these T-shirts in the store. There are, however, leaflets that fold out into Batman vs Superman: Dawn of Justice posters, should you want one to put on your wall (if you're allowed).
Looking on ESTNATION's website, it seems that from March 25 to April 11 there will be a display of the actual costumes used in the movie. According to the website the customers will be replete with the scars of battle, so to speak. See the exact wording (in Japanese) here. Perhaps the T-shirts will be go on sale at this time, too. They can also be ordered for delivery in April from ZOZOTOWN.
Have you seen any Batman vs Superman: Dawn of Justice promotions in your part of Japan?
Location: 1&2F Hillside Keyakizaka Complex, Roppongi Hills, 6-10-2 Roppongi, Minato-ku,Tokyo,106-0032
Tel:03-5159-7800 (calls accepted from 11:00 to 21:00)
Hours: 11:00 - 21:00
Closed: No scheduled holidays
---