Dec 17, 2014
税 (Tax) Chosen As The Kanji For 2014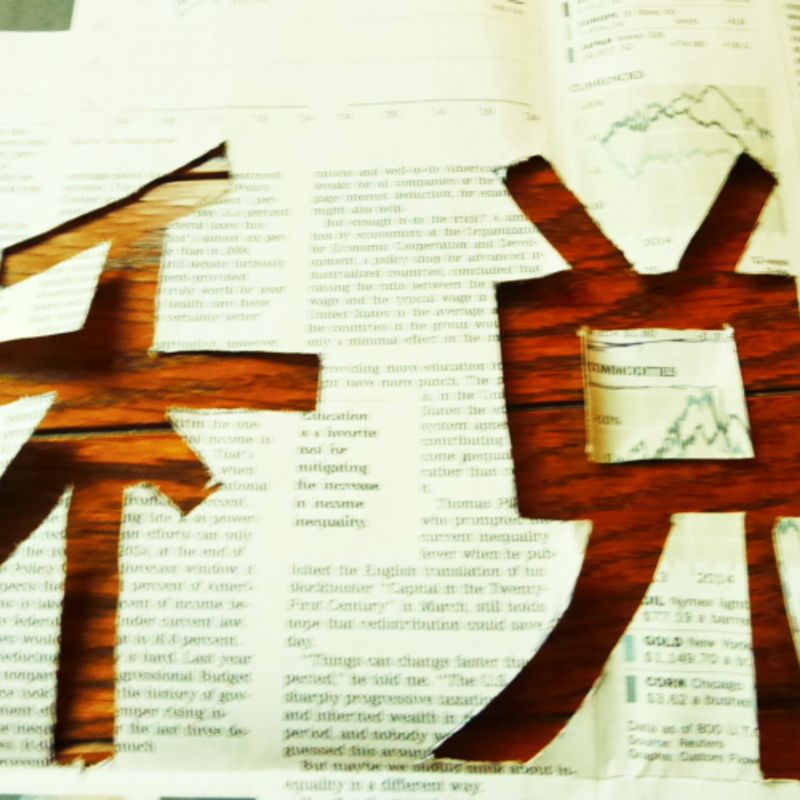 At this time of year the Japan Kanji Aptitude Testing Foundation conducts a poll to find the kanji that best reminds people of the last twelve months. Once chosen, its written and displayed in Kiyomizu Temple in Kyoto, on the 12th of December. The kanji chosen for 2014 has been announced as 税 (Zei) which means tax. I know what you're thinking, Has 2014 been so dull that best kanji to chose is one that means tax? However, like it or not, the April 1st consumption tax hike from 5% to 8% is something that has affected everyone in the country, so much so that it forced the postponement of an already planned further tax hike to 10%, and may have even played a role in the calling of the snap election on December 15th of this year. Here's hoping for something more fun in 2015.
In the mean time, for those who have forgotten or, like me, were completely unaware of this custom, here's a rundown of the kanji chosen since 2007.
2007 偽 (Nisei) Deception – Talk of suspicious political funds and faulty pension records all sounds rather, well, like a normal day at the 'political' office. However, add to this a mislabeling scandal that saw out of date food being sold on as fresh, and one begins to despair. Incompetent politicians on the take and corporations selling lies, sounds like time for a change!
2008 変 (Hen) Change – Barrack Obama's campaign mantra, "We Can Do It!" proved to be more than just a useful aid for English teachers in Japan. It spearheaded a feeling of change across the world. No more wars and a new environmental conscience. But it wasn't all positive, with a desperate economic downturn and uncertain financial futures, people in Japan and the world over were forced to make a number of changes in their lives.
2009 新 (Shin) New – Sounds positive doesn't it? A new start, a new beginning, a new............killer flu virus! Yet, more than the stubborn strain of influenza that floored a nation, Japanese people remembered 2009 as a year of new politics. After more than half a century of single party, LDP rule, the Democratic Party of Japan finally got a shot at the big time. However, with a prime minister who looked like an alien and a first lady who claimed she knew Tom Cruise in a past life, it didn't turn out to be the new start that people expected.
2010暑 (Sho) Hot – Seems an odd choice. Was 2010 that boring? Then again, it was a really hot summer. In fact, hot doesn't cut it. The heat and humidity made us feel like we were drowning in a hot spring. It was the kind of heat that could claim lives. And it did! 1718 people in Japan died from heat stroke, highlighting the already glaring fact that Japanese society really isn't geared up for its summers. What's the kanji for 'slow down'?
2011 絆 (Kizuna) Bonds – It should come as no surprise that a kanji arose from the devastating events of March 2011. People around the world watched in jaw dropped horror at the unfolding catastrophe. But that horror soon turned to respect and admiration for the way in which a nation, and its people handled it. Where in our homelands one might have expected scenes of riot and desperation, the Japanese people were calm, considerate and bonded. Kizuna – Understated. Japanese. Perfect.
2012 金 (Kin) Gold – Hmm could this be something to do with the Olympics? Yes, despite a judo crisis in London, the Japanese people chose a kanji that reflects the heroics of some their Olympians. In particular Kaori Icho and Saori Yoshida, who picked up their 3rd consecutive gold medals in the wrestling. Although can anyone explain to this writer where the ferocious tiger on their singlets came from?
The same kanji also appears in 金環日食(Kinkan nishoku) – solar eclipse. In May this year millions of us risked our eyesight and a late start at work to stare at a 'gold' ring as the moon moved in front of the sun. Maybe risks worth taking as it hadn't been seen in these parts for a 173 years!
2013 輪 (Rin) Ring – Staying with the Olympic theme, then, in September of 2013 an IOC session in Buenos Aires announced that Tokyo would be hosting the Summer Olympics in 2020, beating off competition from Istanbul and Madrid. The kaji appears in a Japanese term for the Olympics, 五輪, literally meaning, five rings. Preparations are already underway for the massive event, including the construction of an appropriately massive stadium in Kasumigaoka, Tokyo, on the site of the old stadium which hosted the games back in 1964.
---