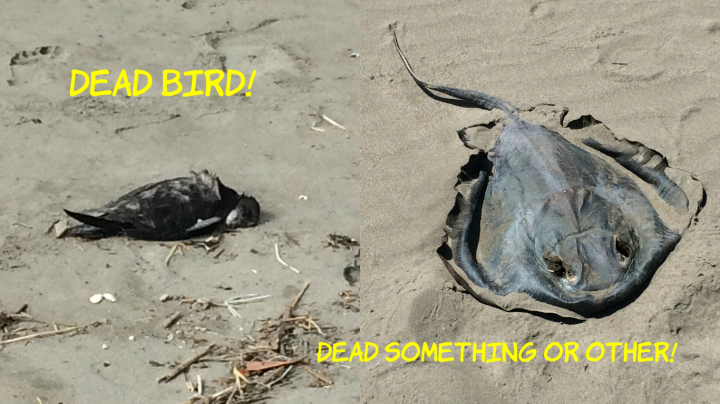 I'm often surprised by the amount of sea life that I share waves with at my local surf break in Chiba. I'd always deemed the waters too unappealing to anything with gills. Especially given the area's proximity to Tokyo Bay and all the industrial waste that is probably pumped into that. In fact, I half expect to start glowing in the dark myself at some point.
Still, on a sunny day when the light hits an oncoming wave, you can see it's filled with fish. Some of them like to jump out of the water, landing in an unceremonious belly flop just a few meters away.
Last summer, beaches north and south of Tokyo were closed to swimmer during peak summer when a number of rogue sharks were spotted closer to shore than usual. Actually, a Japanese surfer friend assured me that they turn up every year, it's just that the news was a little bit light last summer so the media made the most of their appearance! Either way, it gave me the willies!
Last October, on a brooding cloudy day in Chiba, I was sat on my board waiting for some waves, when I thought I saw the back of a very large fish (?) snake in and out of the water. I was pretty isolated so had nobody to confirm this sighting with. Since then, I've seen the same thing a handful of times, but always from a fair few meters away. Until today.
There were about five of us waiting on our boards in a rough line some distance from the beach. The same fish (?) appeared. This time about 2 meters in front of me. It surprised the hell out of me and accordingly I let out an uncontrolled man yelp. Surfer to the right smiled. Surfer to the left started scanning his immediate vicinity looking rather panicked. The water was murky this morning so no one could see anything. Anyway, the back of this thing kept popping up between the three of us. I'd say it was a meter and a half in length. My first thought had been, shark. However, the way it was weaving between us made me think otherwise. It seemed playful in its nature. At one point it swam right past me less than a meter away. Finally, it came out the water head first. A bloody dolphin! No, a porpoise. I 'Googled' it when I got back and I'm going with porpoise. It had a very round face. I could be completely wrong though, as I'd never heard of dolphin or porpoise being in these waters.
After the initial shock, it now takes the form of one of those encounters with nature that make you go all a bit spiritual! Like, 'Yea, man! Me and nature are one'. Or some such waffle!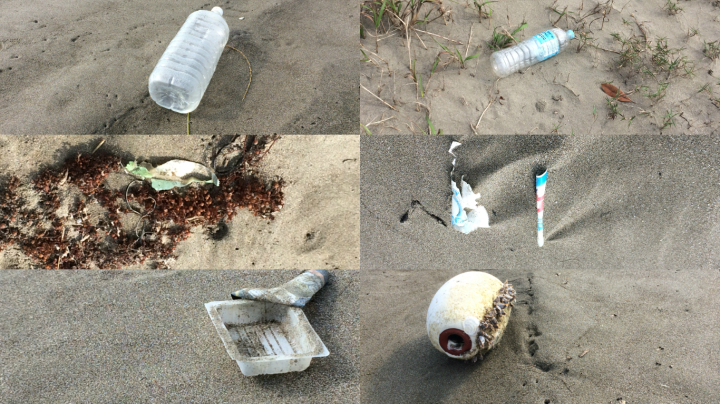 Which brings me to the second point of this post. Japan's beaches are filthy. Really. OK, there may be some that are kept in good nick (although I've yet to see them), but in this surfer's experience, too few of the locals give a toss about the state of their beaches. Even the surfers. There's litter/garbage everywhere. By far and away the biggest culprits are fireworks and cigarette butts (it's the remit of many a Japanese surfer to change into the wetsuit, wax the board and then have a smoke before paddling out).
Don't get me wrong, litter can easily get out of control on the beach. It only takes a gust of wind. The quantity of crap on many of Japan's beaches though, suggests that the locals simply don't give toss. Maybe it's the lack of garbage cans/bins (an ever present in the cities). Maybe the prospect of having to separate it all once they get home is too much to bear. I honestly couldn't care the reason, just sort it out people. Pick up your sh#$t! If not, should today's dolphin/porpoise (unconfirmed) be brave enough to come back, it might be wearing a plastic bag on its head accessorised with a used condom.
If you're interested in getting started with surfing in Japan, you can see my earlier post; An Introduction To Surfing In Japan
It covers some of the basics of how much money you need to buy surf gear, some of the rules and customs surrounding surfing in Japan, and has links to other useful surf resources. Hope it helps.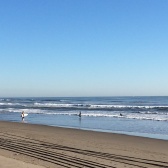 Traveler, surfer, and scribe. Based in Tokyo for six years.