Mar 19, 2018
This past weekend, I finally got out for my first hike of the year...and, actually, my first hike in 6 months. It was a long-needed day out with a good friend, surrounded by trees and nature.
We chose an easy hike to start out our year with. Most of it, in fact, was actually a fairly gentle down-hill path. It was a good one to start with and for us to be able to talk and catch up, too!
Let me share the numbers for the day before giving details. From Shinjuku Station, Atami Station is 2 hours and 10 minutes via the Odakyu line with a change to the JR in Odawara. There is also a Shinkansen from Shinagawa that takes about half the time.
The hike we did took us 6.5 hours and was about 11km. That includes the nearly hour we took for lunch, and all of our photo-taking, talking, and one detour to a temple at the end of the day. This hike could be done in much less time if one were inclined to do so.
We met at 9am at JR Atami station and then took a bus to Jukkoku Noboriguchi (十国峠登り口) Station from which we rode the cable car up to Jukkoku-Toge (十国峠). This spot, which I believe was our highest elevation for the day, is said to have a beautiful view of Mt. Fuji, but, as is often the case it seems when it comes to Mt. Fuji, it was completely hidden by clouds. The view was still beautiful, though.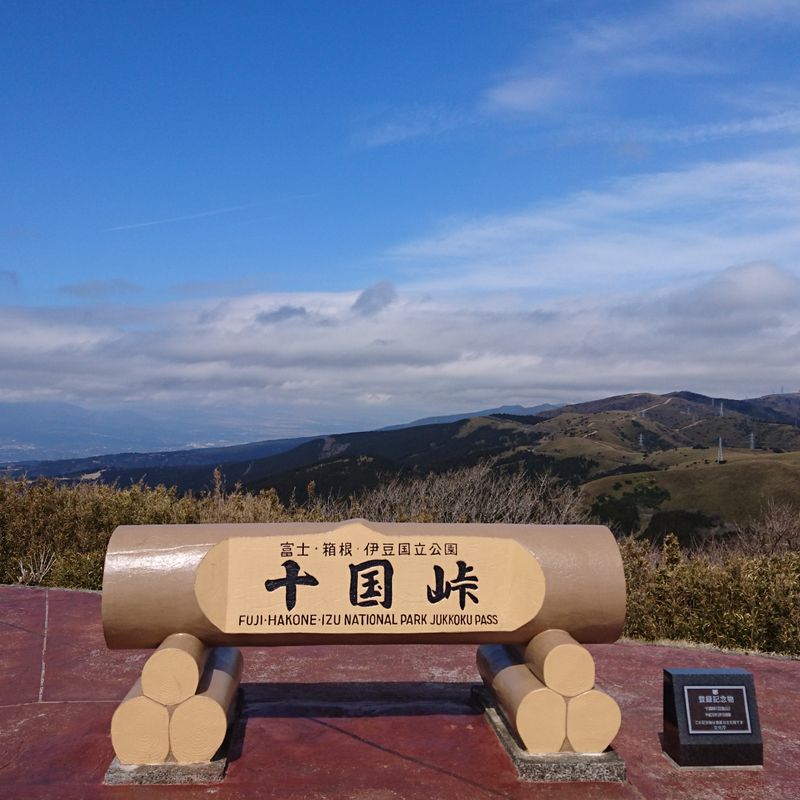 Mt. Fuji is behind those clouds in the center of the picture.
We had a 360-degree view of the area, in fact.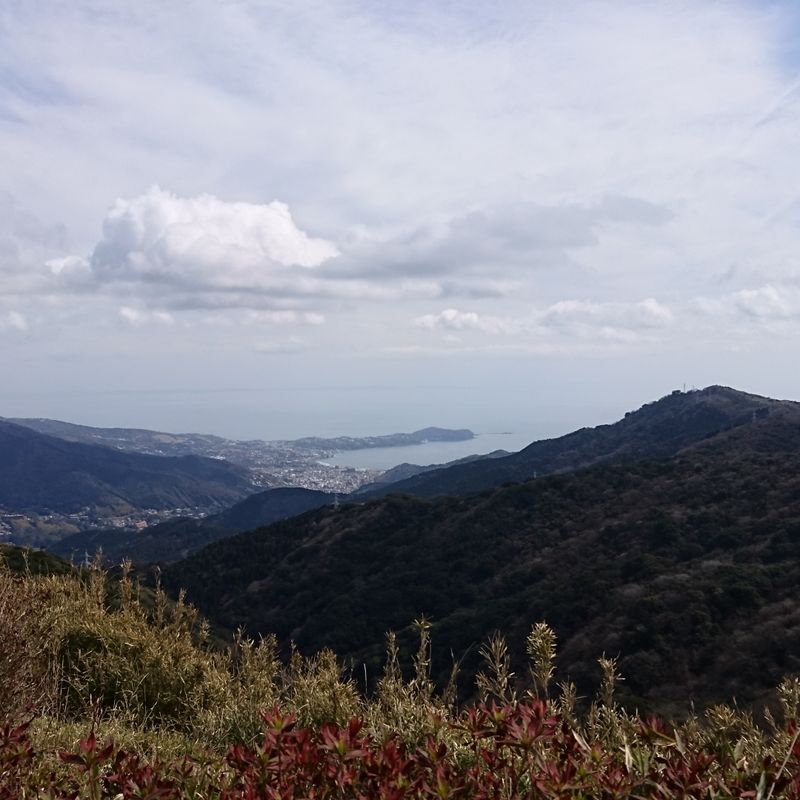 After taking many photos and admiring the view, we began our hike. The path was very clear and well posted (in Japanese), and easy to follow. We headed first toward a temple called Higanesan Tokoji (日金山東光寺). When we arrived, I was surprised to find that there was a parking lot and a lot of people. It is a small, but active temple.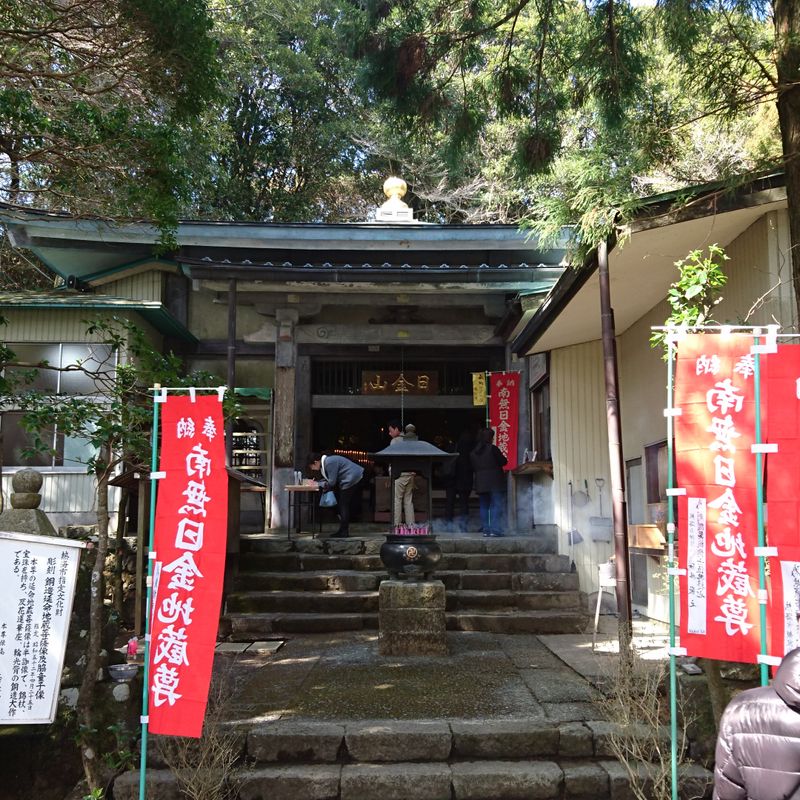 And it had a lot of old statues. This was one of my favourites: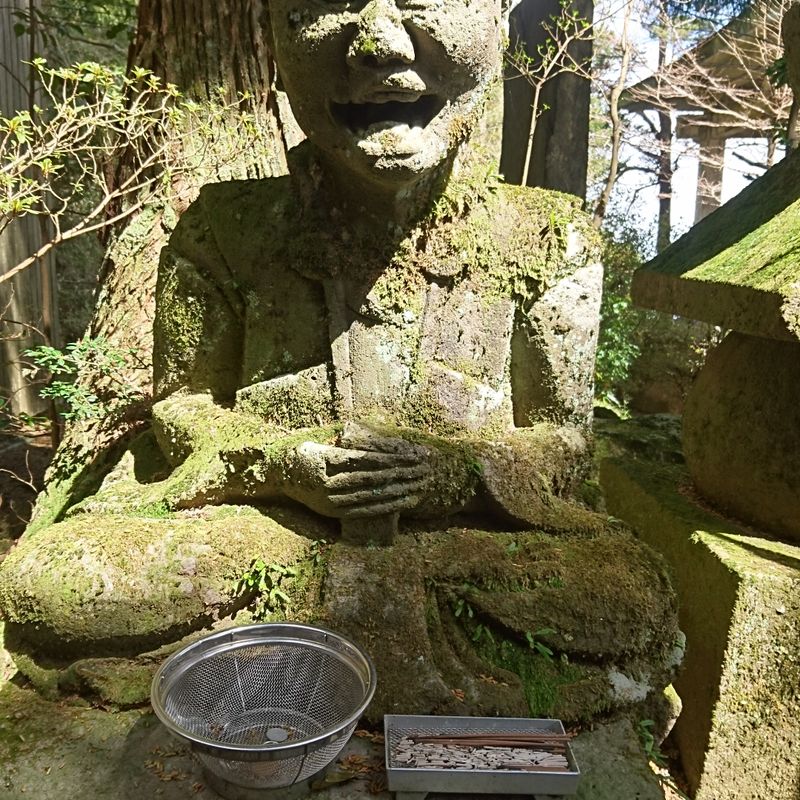 From there, we continued on a short while before going off on a branch path to Iwato-yama (岩戸山) where we had lunch at a picnic bench overlooking the ocean.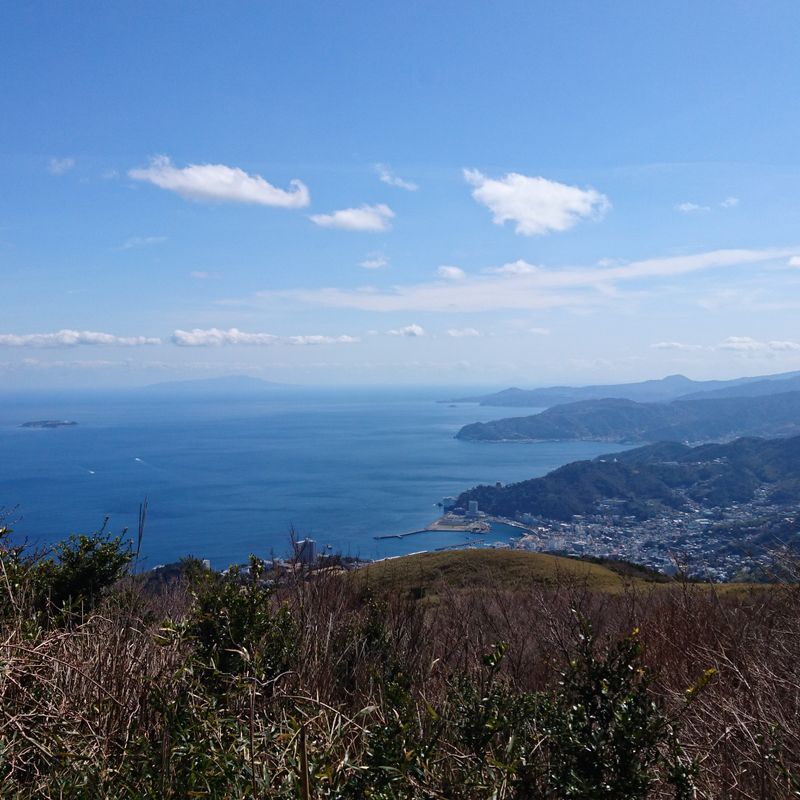 After eating we returned to the path heading down toward Yugawara. It was an easy path, but less well maintained than the first sections to both the Temple and Iwato-yama. Nevertheless, it was easy to follow. There were a few functional, but not very sturdy bridges along the way.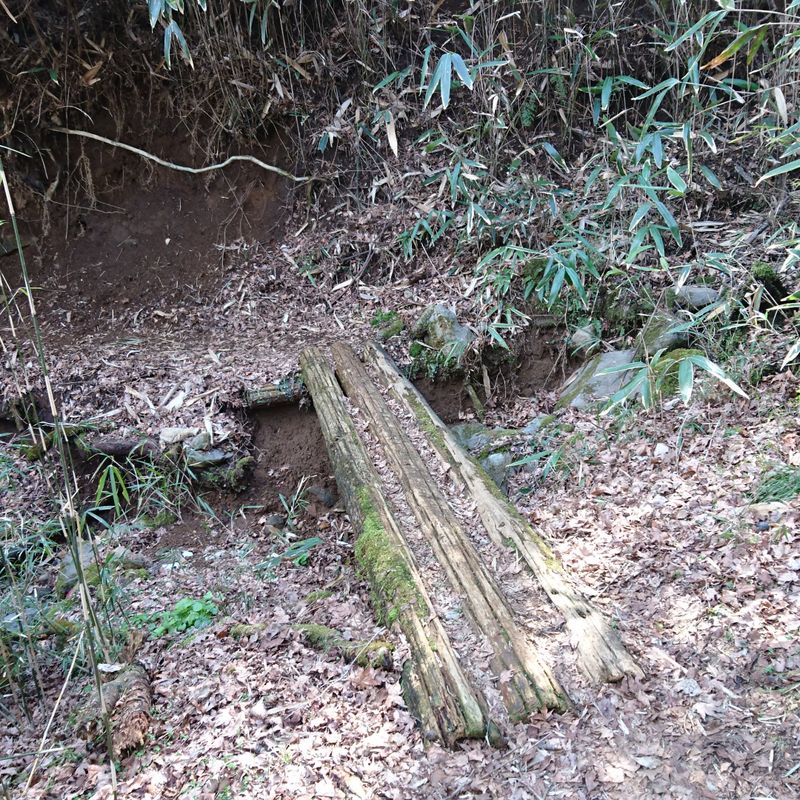 I am not a fan of these at all, but...oh well.
As we continued on, every few meters or so we passed a numbered marker. They began up at the temple and continued all the way back into the town.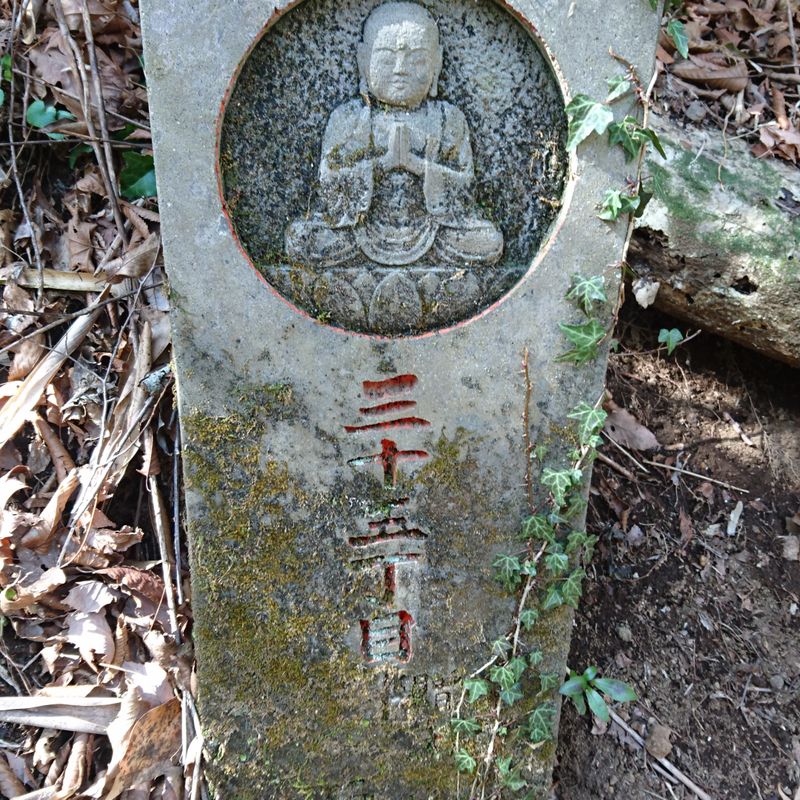 Around halfway down, we began to walk along a lovely stream that, as we continued, got gradually larger. We walked along it for quite some time. Once in town we met up with it again and it was a small river.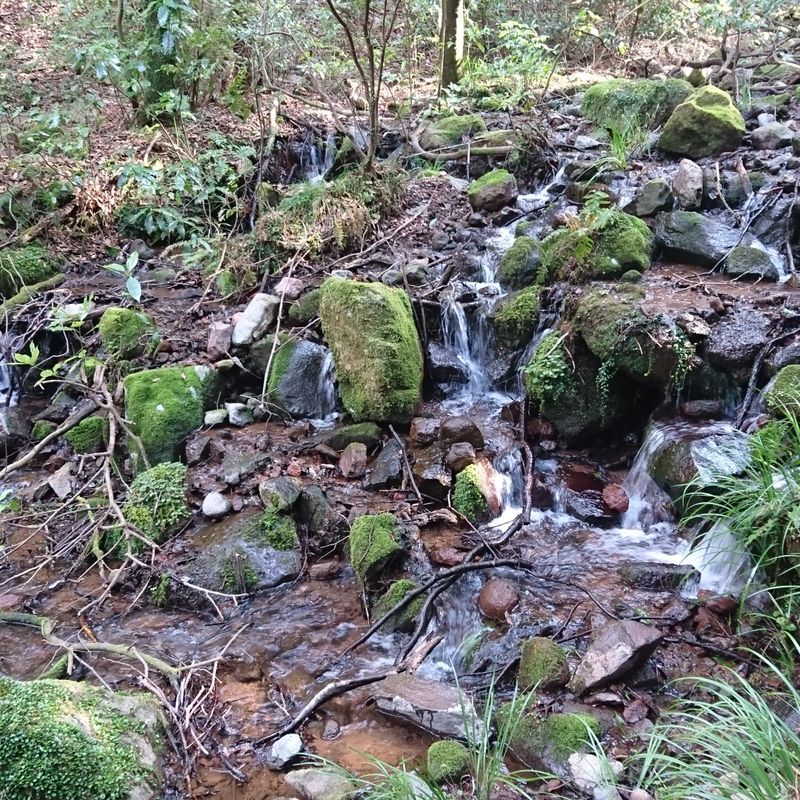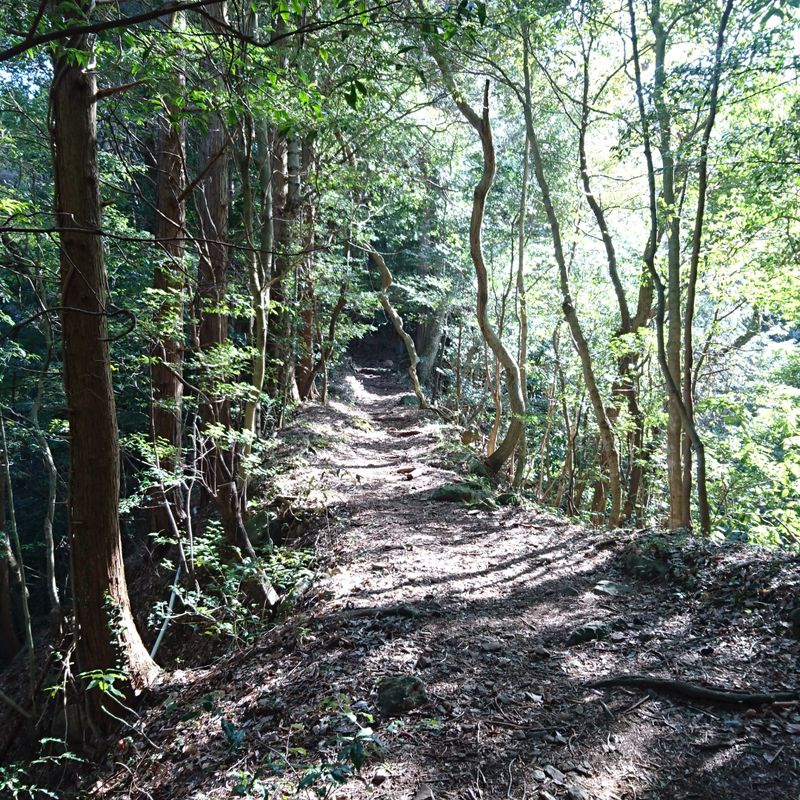 part of the trail
The very end of the hike, once passing the trail head, was on paved road. It was along this section that we finally saw trees in bloom- cherry, star magnolia, plum, and peach trees. They were lovely.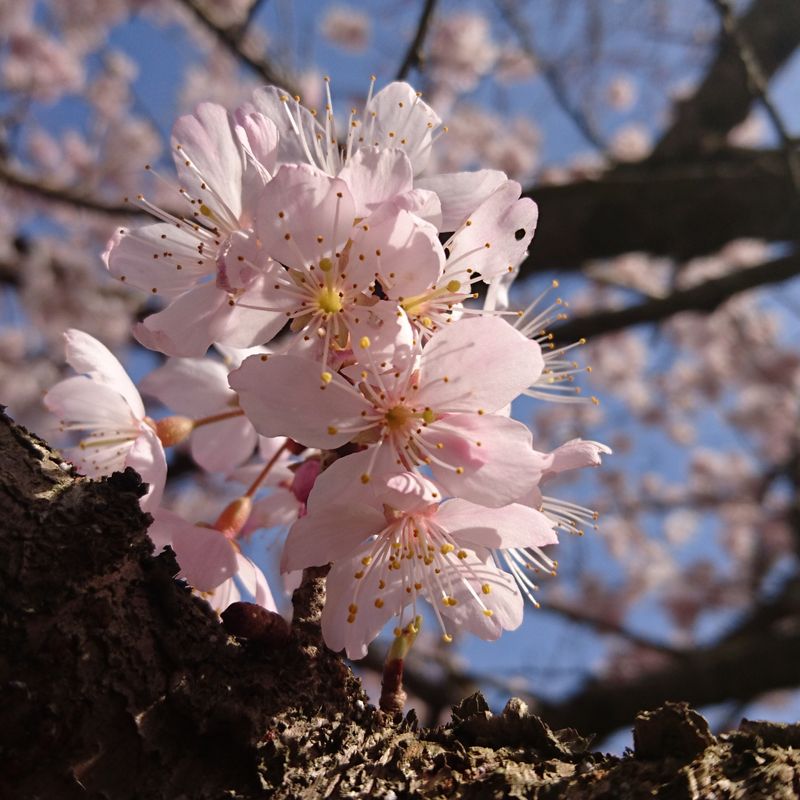 At nearly the very end of our hike, and actually at marker number one, my curiosity and love of temples had us climbing up a huge number of stairs without being really sure it was worth it or what exactly we would find. There was a sign indicating a temple, and that was it. So up we went, our only real climb of the day actually, and at the top, we found Tsubaki Temple (椿寺).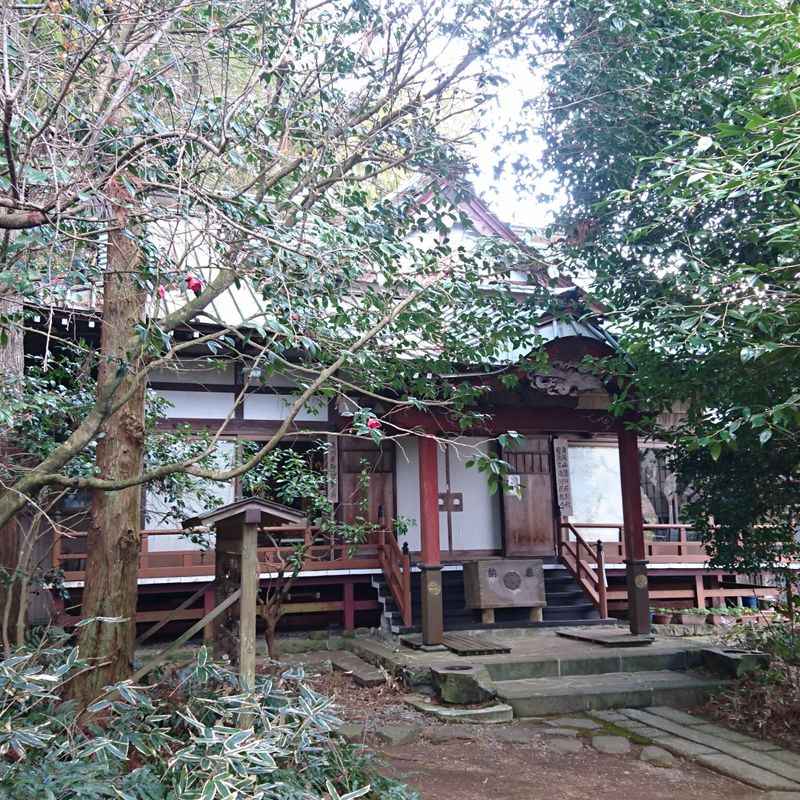 It was a cute place and as my friend and I were just about to leave, the older woman living there came out and invited us inside the temple. I could not catch everything she said, but she mentioned looking at the ceiling. I am used to temples either charging for entrance or not allowing people inside, so I found this quite a surprise. We took off our boots and went in. We had a good look around and the inside was lovely and the ceiling had tsubaki (the dictionary says this is camellia in English) flowers painted in the panels.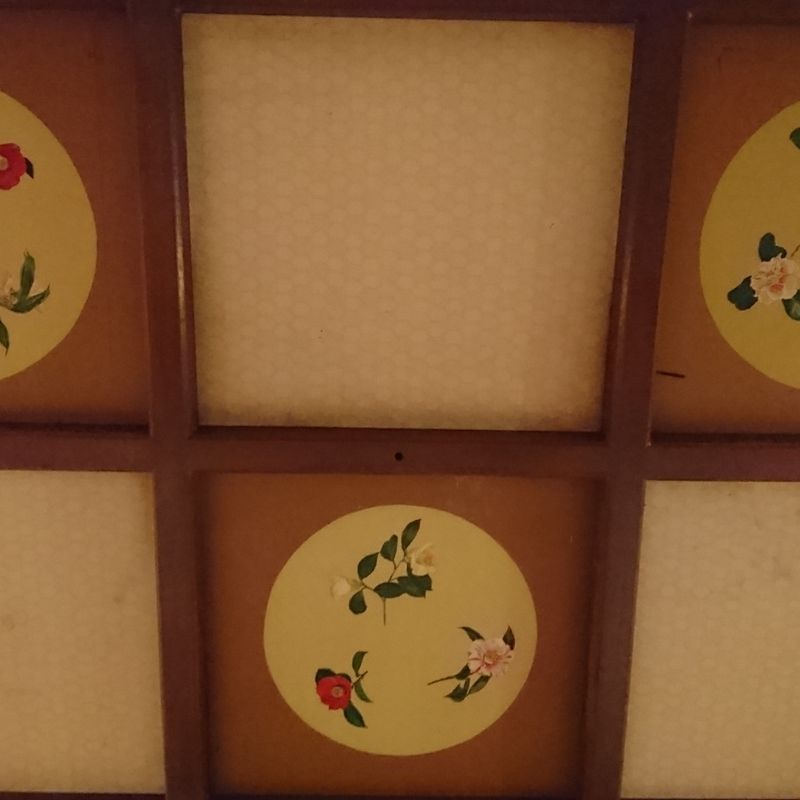 As we looked around the small temple, the woman came back in and served us green tea and chocolates! She asked about our day and where we were from and such. Once we had finished, she then wanted to show us around the grounds and the different tsubaki trees and flowers. There were several types there. My friend really loves flowers and I think enjoyed this. The woman seemed to really enjoy being able to show us around and point different things out. I missed some of the conversation (it was in Japanese, since my friend and the woman were both Japanese), but I really enjoyed our private tour and the woman's friendly enthusiasm.
After a bit we were on our way again. The last bit of our hike was to to an onsen, Kogome Hot Spring (こごめの湯), where we relaxed in the outdoor bath before taking a bus to Yugawara Station (湯河原駅) to begin our train trip home.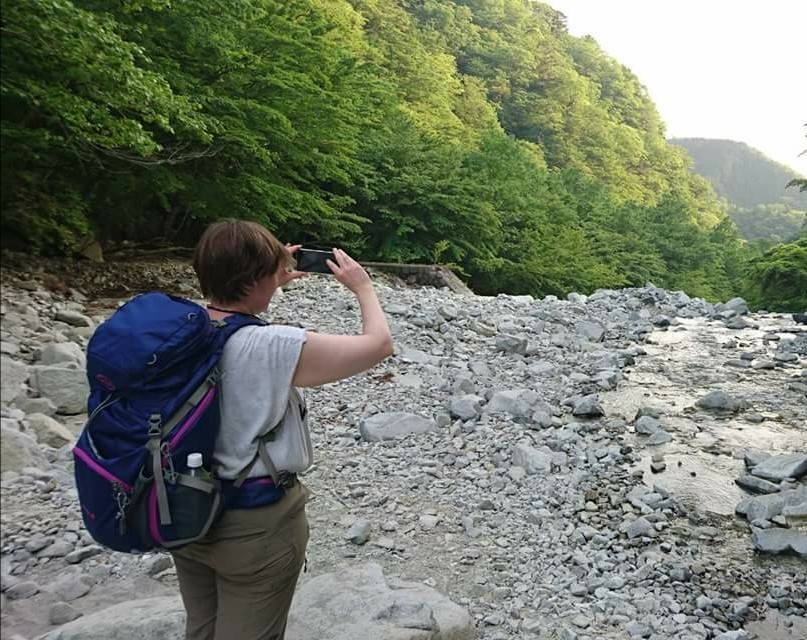 I am a hiker, walker, and abundant photo-taker. After spending my first many years in Japan in Tochigi, I relocated to Tokyo at the end of 2012. I love visiting the numerous temples, shrines, castles, and former castles that can be found in the mountains, rural areas, and tucked away within cities.
---