Jun 14, 2019
June 15 annually is Parrot and Cockatoo Day in Japan. June is the 6th month, often written as 06 in dates. Zero six can be read as Oumu which is the Japanese for parrot. Likewise the 15th, at a stretch, can be read as Inko which is the Japanese for cockatoo.
You can see parrots and cockatoos in most larger zoos in Japan. You can also see some species of parrot in the wild. And the not so wild of Tokyo too, where there are feral parakeets. Several of the zoos have a small event on for national parrot and cockatoo day. In my local zoo, the very excellent Saitama Children's Zoo, they are having a parrot craft workshop tomorrow, to mark the day.


My eldest daughter holding a parrot like a baby (under professional supervision)
If you want to get up close and personal to a cockatoo or other species of parrot, you can visit one of the Kotori Bird Cafes. They have branches in Omote Sando, Shinbashi and Kichijoi in Tokyo and Fujisawa in Kanagawa prefecture.
Have you ever been to a bird cafe? Does your local zoo (or anywhere in your city) have an event on for national Parrot and Cockatoo Day?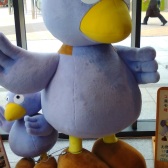 Level 8 LocalGuide with Google. Blogging about life in Japan as an Irish WAHM to 4 kids on insaitama.com.
---
3 Comments
I've been twice to Campbelltown Bird Forest in Koshigaya City. You can see Australian parrots and all kinds of other birds there. https://www.city-cost.com/reviews/zD6RQ-Campbelltown_Bird_Forest_Outdoor_Koshigaya_shi?vid=1 Their event page indicates a Fureai Corner on June 15th.

@TonetoEdo thank you so much. I'd forgotten about Campbelltown Bird Forest. Its on the list of "to go" someday if we are in the area.

@Saitama Combine your trip with a visit to Hanata-en and Koshigaya Laketown. It's fun!