Jul 20, 2017
Last week we had the very great pleasure, thanks to City-cost, of staying in the We-Base Hostel in the historic, tourist and coastal city of Kamakura for a couple of days. The timing was perfect as this month, today in fact, and every year on the third Monday of the month, we celebrate Umi no Hi or ""Ocean Day" in Japan. We-Base Hostel is located just a minutes walk from Yuigahama beach and as I had my two youngest children with me, we spent a lot of time down by and in the sea. I had been to other beaches in the Shonan area of Kanagawa prefecture, but it was my first time to Yuigahama. And I was sufficiently impressed.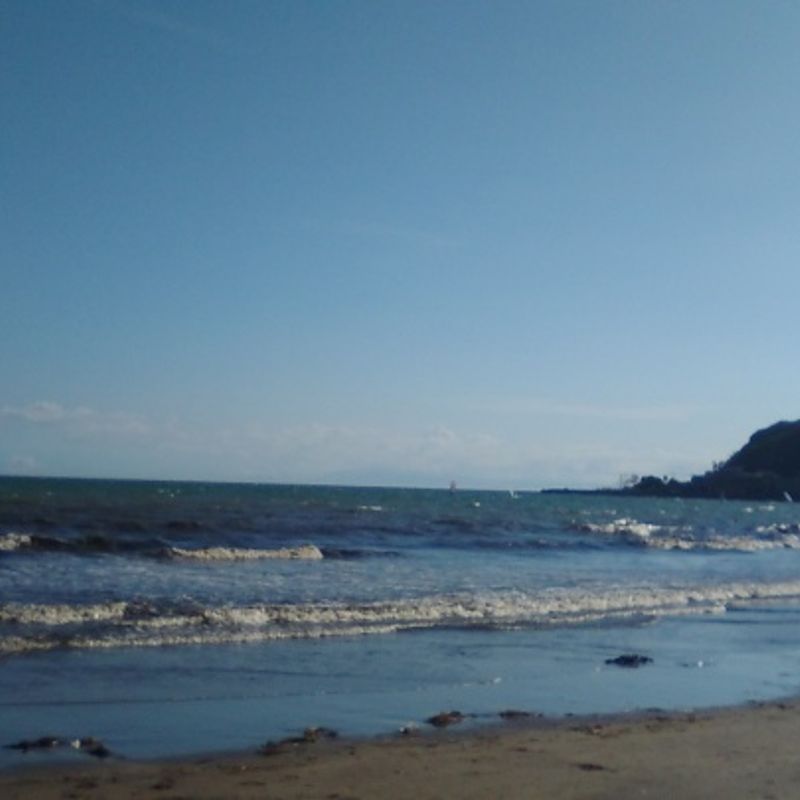 The beach was much nicer than I had expected, although in saying that it is nothing spectacular either. It is a large beach and very well organised. It is suitable for relaxing on the beach, playing with sand, swimming, water sports and a casual stroll. Dogs are allowed. It is for the most part clean on the beach front, but we did see a surprising amount of rubbish on the boardwalk and footpaths. It is not rocky which is always a bonus! As the tide comes in quite a lot of sea debris is brought in with it, such as seaweed, twigs and sea shells. Of course, this isn't dirt per se, but you do need to take care where you walk as it washes up on shore. The beach has a reputation of being "Showa style" as there are a number of beach huts from the Showa period. I was personally glad of this retro style and the shade afforded both in and beside the various cafes and restaurants on the beach. People from all walks of life seem to diverge on this large beach and there is really relaxed, cheerful and friendly atmosphere about the place.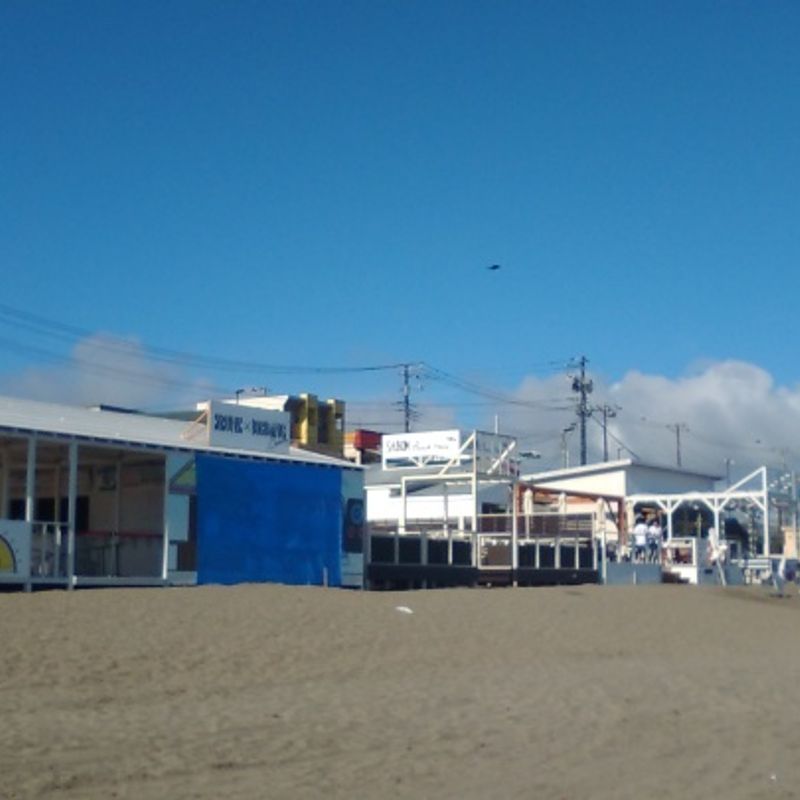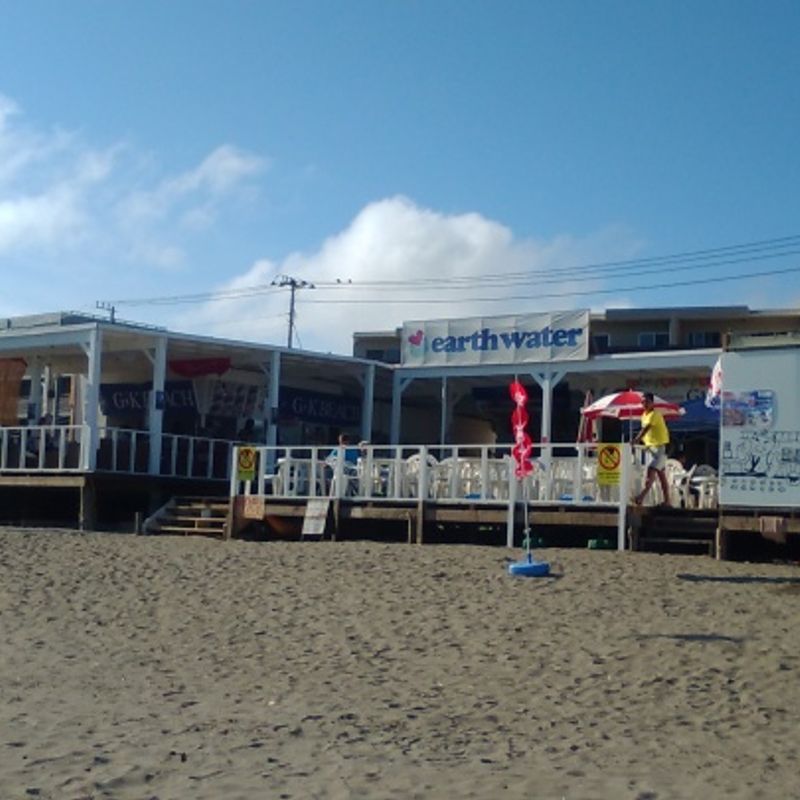 We visited on a weekday so as you can imagine it was quieter than on the weekend. However, the locals say that even on the weekend you can enjoy the beach in relative comfort in the early morning; that the crowds only really start to descend from 11 am. The first time we visited it was mid afternoon and there were lots of people relaxing on the beach and quite a few in the water. There were a couple of surfers and lots of windsurfers at this time of day. The sand was too hot to walk on, especially for my 4 and 2 year old, unless we were in the shade. So we only visited in the morning after that. In the morning there is a great buzz in the air with all the surfers out to catch the morning waves. And between them and all the dog walkers, the area feels quite social even in the early morning. There was literally a wall of surfers for as far as the eye could sea. The area seems to catch quite a strong breeze. In the afternoon it was hot and afforded little refreshment, but in the morning it is a lovely refreshing breeze. The sea was borderline cold at 7 am, it was heavenly for my Irish DNA, but it is lukewarm by about 9 am, which suited the kids better! We particularly enjoyed our morning visits to this beach.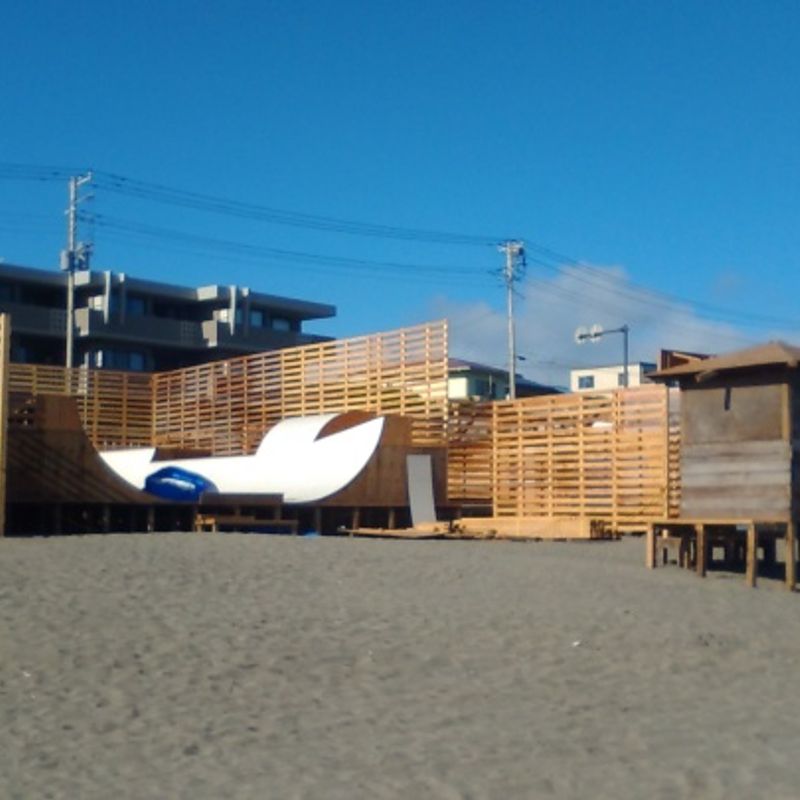 There aren't many facilities for families with babies, but I do think it is a nice beach for children from the age of two years up. Especially as the beach huts are very convenient and offer the chance to get out of the sun and enjoy some refreshments. You can buy swimming rings and other air floats to use in the water in nearby shops (beach and sea front). There is a great selection of cafes and restaurants on and near the beach, offering everything from Apple tart to Zucchini! There are skateboard ramps right on the beach. There is a small park beside the beach, Kamakura Seaside Park, with a few pieces of playground equipment. Finally, Yuigahama Beach is very accessible by train, taking less than two hours to get to from Shinjuku station (access details and map below).
Yuigahama Beach Details
Website:
https://www.city.kamakura.kanagawa.jp/kamakura-kankou/0602beach.html
Season: July 1st to August 31st
Charge: The beach is free to use. You can hire / purchase beach paraphernalia.
Lifeguards: ◎during the official season only
First Aid Station: ◎in one location
Look out post: ◎ in one location
Toilets: ◎in two locations plus two more sets of portaloos. One wheelchair accessible toilet.
Showers: ◎in three places. They are free.
Beach houses: ◎ 17 in total
Smoking area: ◎
Parking: ◎for up to 200 cars at Yuigahama Underground Parking; the entrance is beside Kamakura Seaside Park. The car park costs 520 yen per hour during beach season (July to August).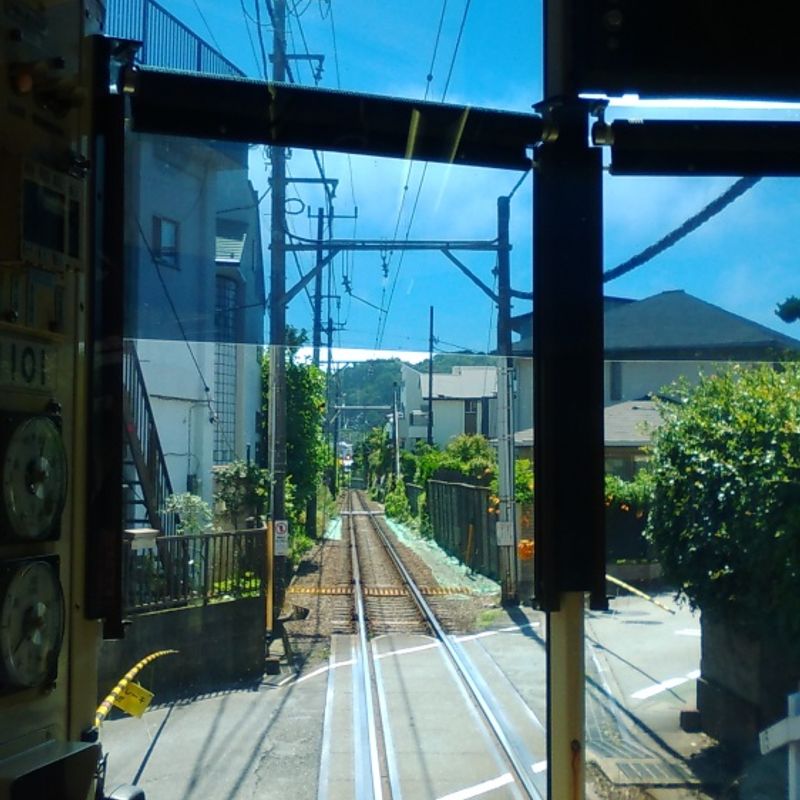 Access
By train: Yuigahama beach is accessible from a few train stations. One of the closest is Yuigahama station on the very quaint Enoden line. You can get the Enoden line from the larger Kamakura station to the East or Enoshima station to the West. From Kamakura station to Yuigahama station takes only a couple of minutes and from Enoshima station it takes only 20 minutes. Hase Station on the Enoden line is also within walk-able distance; it takes about five minutes. You can even walk from Kamakura station to the beach too. It takes approximately sixteen minutes on foot.
By car: 6 kilometers from the Asahina Interchange of Yokohama Yokosuka Road on route 204.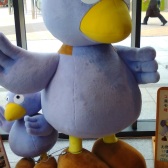 Level 8 LocalGuide with Google. Blogging about life in Japan as an Irish WAHM to 4 kids on insaitama.com.
---