Aug 16, 2019
Saitama Prefecture's landlocked, low lying location, framed by mountains, just north of Tokyo makes a great recipe for heat. Indeed, Saitama Prefecture is well known for being home to the hottest spot in Japan. The irony that we are one of only a few prefectures in Japan that is not on the coast. We don't have beaches and the nearest one is at least a couple of hours away.
Kawagoe City, famed for its Edo period storehouses, is in the center of the prefecture and offers a number of summer spots to enjoy. Kawagoe means to "pass over a river" as the area is bordered by several rivers. Unfortunately, they are not the type of rivers you can swim or play in. But we do have a couple of cool places, if you'll pardon the pun, to enjoy over the summer in Japan:
1. Kawagoe Water Park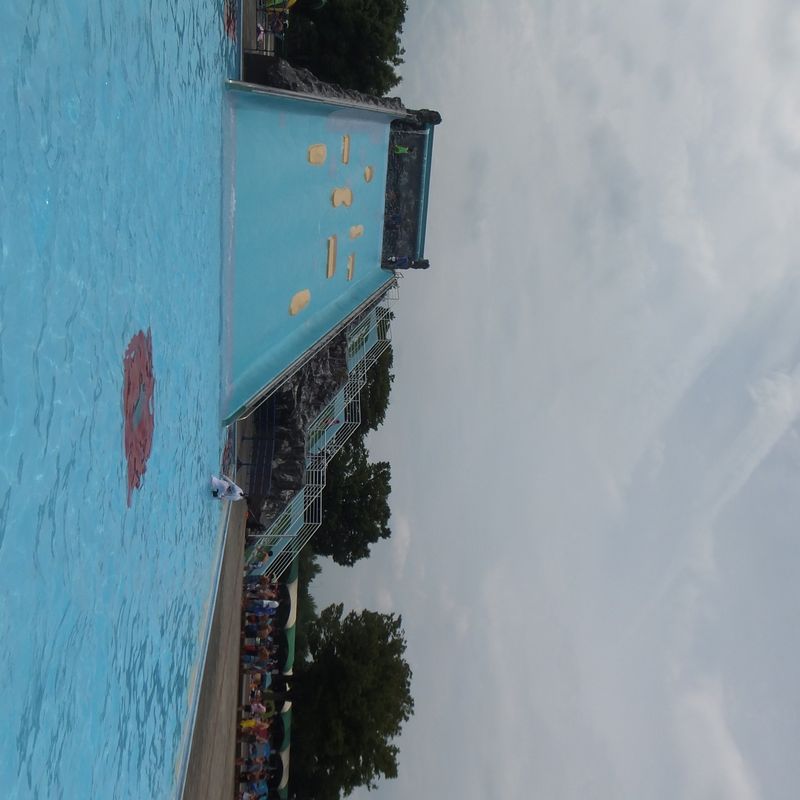 The only body of water that you can really swim in outdoors in Kawagoe is the Kawagoe Water / Aqua Park. Located away from the tourist area among the rice fields and the bugs, Kawagoe Water Park is mainly frequented by locals. There is a good selection of pools within the aqua park, including two for children. They run events throughout the season.
Season: mid July to end of August
Hours: 9 am to 5 pm
Cost: 720 yen for adults, 210 yen for children
Access: It can be accessed by bus from any of the stations within Kawagoe, or you can drive and pay the 820 yen parking charge.
Other: tattoos not allowed
2. Hikawa Shrine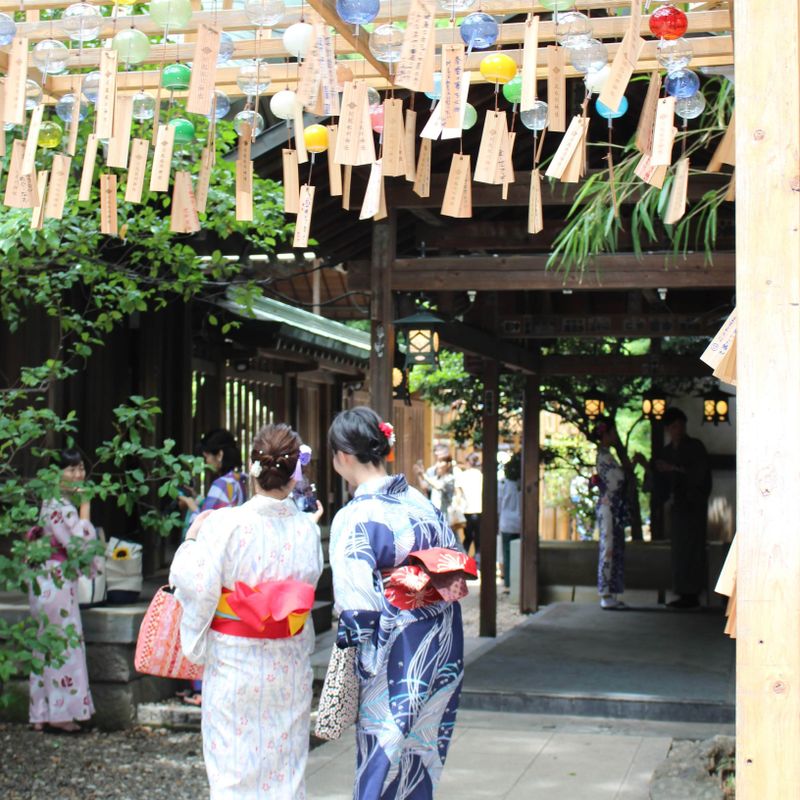 There are shrines in every city and every town of Japan, but what makes Hikawa Shrine in Kawagoe special in summer is the annual wind chime event. Hundreds of wind chimes decorate the entrance torii and selected areas within the small shrine grounds making this a top summer spot in Kawagoe.
Season: early July to early September
Hours: 9 am to 9 pm
Cost: free
Access: It can be accessed by any tourist bus from any of the stations within Kawagoe. Free parking available.
Other: they have English language fortune strips
3. Maruhiro Rooftop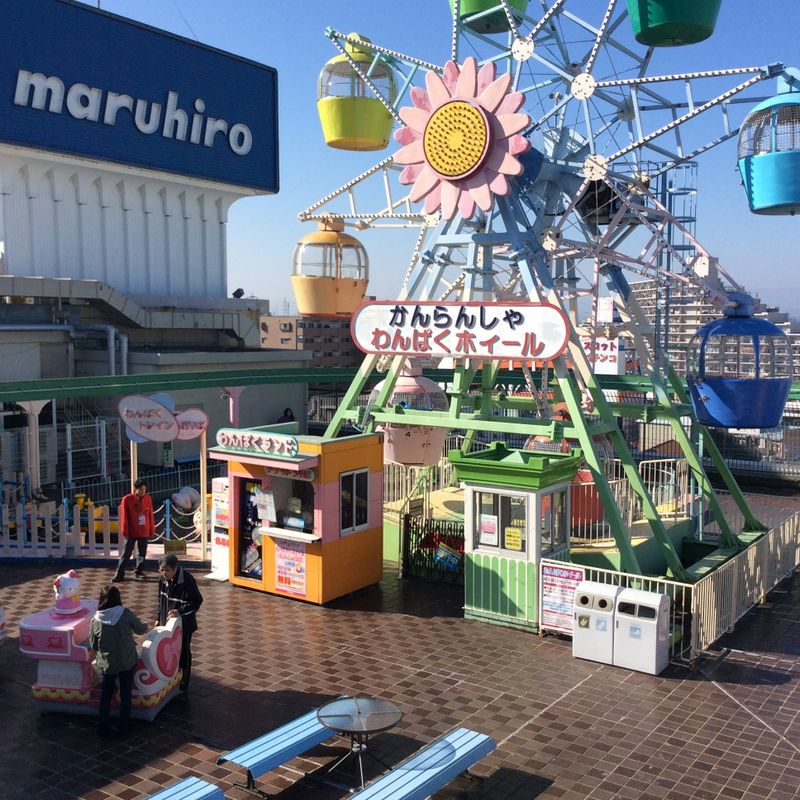 The Maruhiro Department store on Crea Mall Road in Kawagoe is the last remaining department store rooftop fairground. And regrettably, it will close at the end of August so this top summer spot in Kawagoe should be enjoyed now -- this is the last chance to experience a Ferris wheel ride atop a department store. Rumor has it that next year (2020) it will be replaced with a summer beer garden. If that proves to be true it will still make a good spot to enjoy summer in Kawagoe.
Season: until August 31st
Hours: 10 am to 7 pm
Cost: Free to enter the fairground, but rides are charged individually
Access: Close to the Tobu Tojo and JR Kawagoe stations and to Hon Kawagoe Station on the Seibu Ikebukuro line
Other: the store and amusement park are closed for one day on Wednesday August 28th
4. Kawagoe Million Lights Summer Festival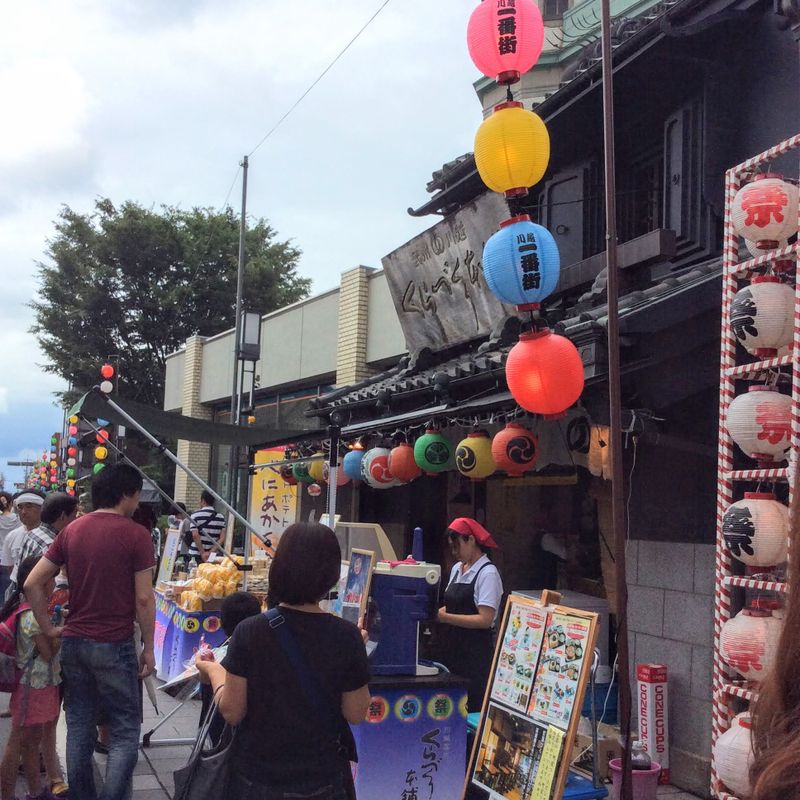 Kawagoe's Autumn Festival is the most famed, but the summer "Million Lights" festival is just as fun and entertaining. Held each year on the last Saturday and Sunday of July, the festival has grown from strength to strength over the years. It has all the usual trappings of a traditional Japanese summer festival with festival floats, portable shrines, dance performances, live music and hundreds of festival booths. The festival takes place over a large area spreading from Kawagoe station right up to the top of the main tourist district past Ichibangai.
Season: end of July
Hours: from about noon to 9 pm
Cost: free to spectate, but festival food, games and attractions have individual charges
Access: The Kawagoe Million Lights festival can be accessed from Tobu Tojo Line Kawagoe and Kawagoe-shi stations, JR Kawagoe Station and Seibu Hon-Kawagoe station.
Other: roads are closed for the period of the festival so if you want to come by car you need to be prepared to walk at least a couple of kilometers from a car park. There is a free car park close to Hikawa shrine; arrive early to avoid disappointment
5. Kore Ga Kakigori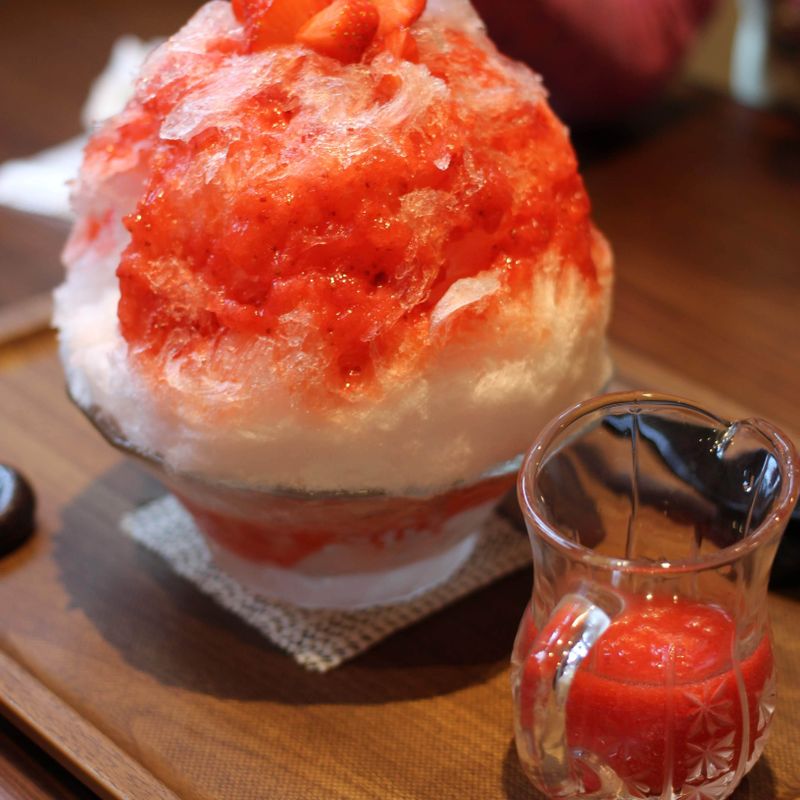 For many of us, summer in Japan is synonymous with kakigori (among other things), a shaved ice treat or snow cone. Several places sell kakigori during the summer period. Traditionally they were peddled from food vans, but in recent years you can buy kakigori all year round in specialty stores. One such place is "Kore Ga Kakigori," or Korekaki for short, near the Kawagoe City Hall. It only opened last year, but has enjoyed great custom due to its delicious snow cones made with real fruit pieces. Being a top spot in town is always a queue for the pleasure, but it is well worth the wait for a refreshing natural ice and fruit flavored summer treat.
Season: during summer they open everyday, out of season they are closed on Tuesdays
Hours: 10 am to 6 pm
Cost: from 700 to 1,200 yen
Access: You can get a bus from Tobu Tojo Line Kawagoe and Kawagoe-shi stations, JR Kawagoe Station and Seibu Hon-Kawagoe station bound for the city hall. The cafe is a minutes walk from the bus stop
Whatever brings you to Kawagoe in Saitama Prefecture, be it work, family or leisure, there's no need to let the humidity of summer put a dampener on your plans. With a huge number of air conditioned buildings and mist sprayed in rest areas in the tourist district, it is still possible to enjoy Kawagoe in the height of summer. Add a stop to one (or more) of these top five summer spots in Kawagoe to make the most of your visit even in the height of summer.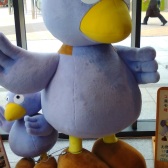 Level 8 LocalGuide with Google. Blogging about life in Japan as an Irish WAHM to 4 kids on insaitama.com.
---