Jul 19, 2017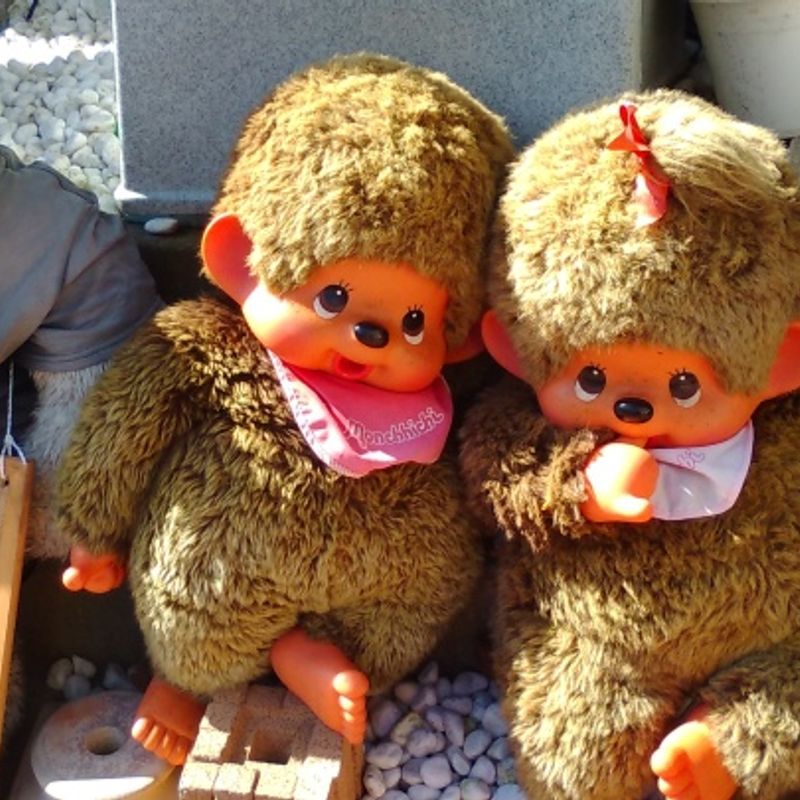 I am addicted to "Mook". I would stab a guess that Mook, spelt in Katakana, is derived from the English "Magazine-Book". A concept not unique to Japan, but adapted so vehemently in Japan that they came up for a word for the reading material that is somewhere between a magazine and a book! The Mook I buy are travel mooks. And I have over one hundred at this stage; for the kanto area alone. Travel Mooks are a great source of information for planning a trip to a particular destination. My latest Mook purchase was in preparation for my trip to the Yuigahama area of Kamakura to stay in the WeBase Hostel, complements of City-Cost.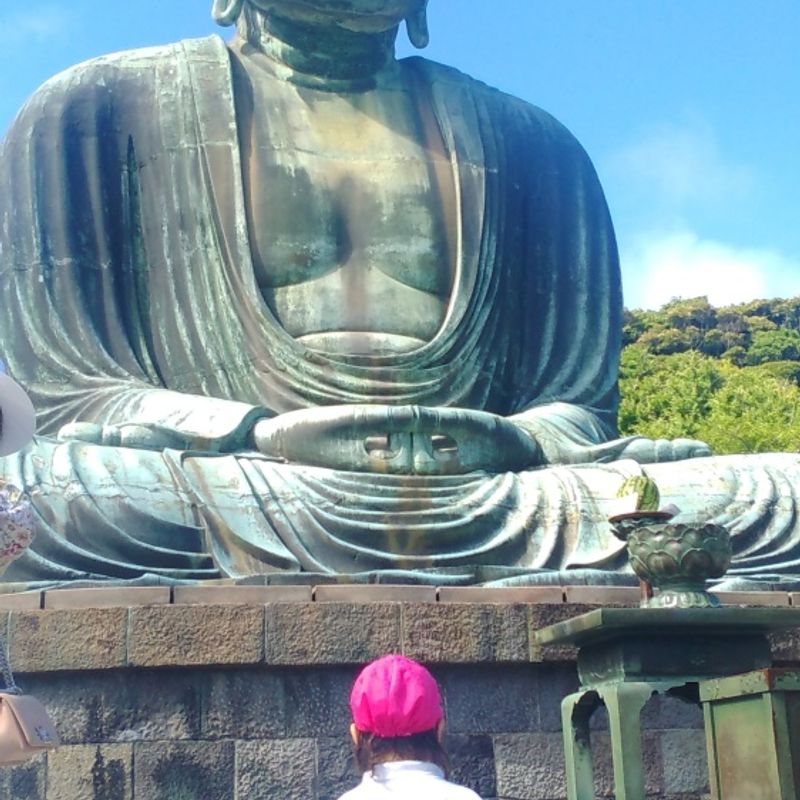 When travelling with young children it is very useful to get the feel of an area from research before setting off on your travels. I had a whole itinerary planned out for our respite in Kamakura. The Yuigahama area has a huge choice of eateries of all different styles and such an amazing selection of cuisine. I took great consideration in choosing the most suitable cafes and restaurants for our combined needs. I was so looking forward to sitting at the beach front and enjoying the infamous vegan buffet at the Sairam restaurant with a reputed sea view and comfortable outdoor seating area. The back-up plan if the kids were too tired to take the walk to Sairam was to indulge in some top notch Japanese cuisine in the 70 year old Kamakura Matsubaraan, right beside the WeBase Hostel. And there was always Daisy's Café as the really safe bet, should the kids want somewhere unfussy that was within a comfortable walking distance and offered palatable rice dishes for a two and four year old. However, as you can imagine if you have kids or ever had the pleasure of travelling with some; things rarely go to plan with little ones involved - especially when they are tired, hungry, agitated or, as was the case the day we visited the Big Buddha; a combination of all!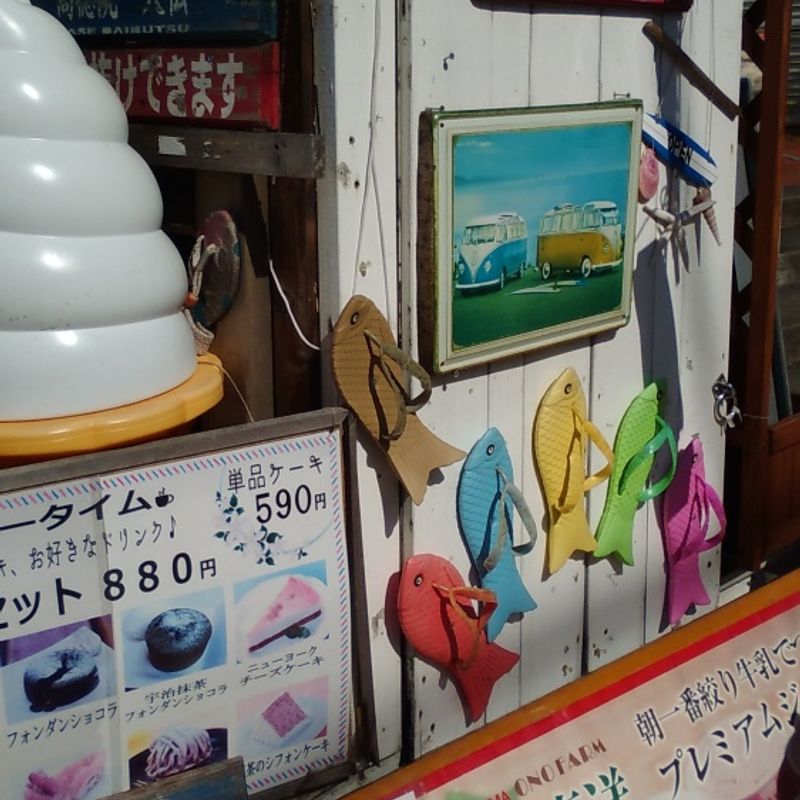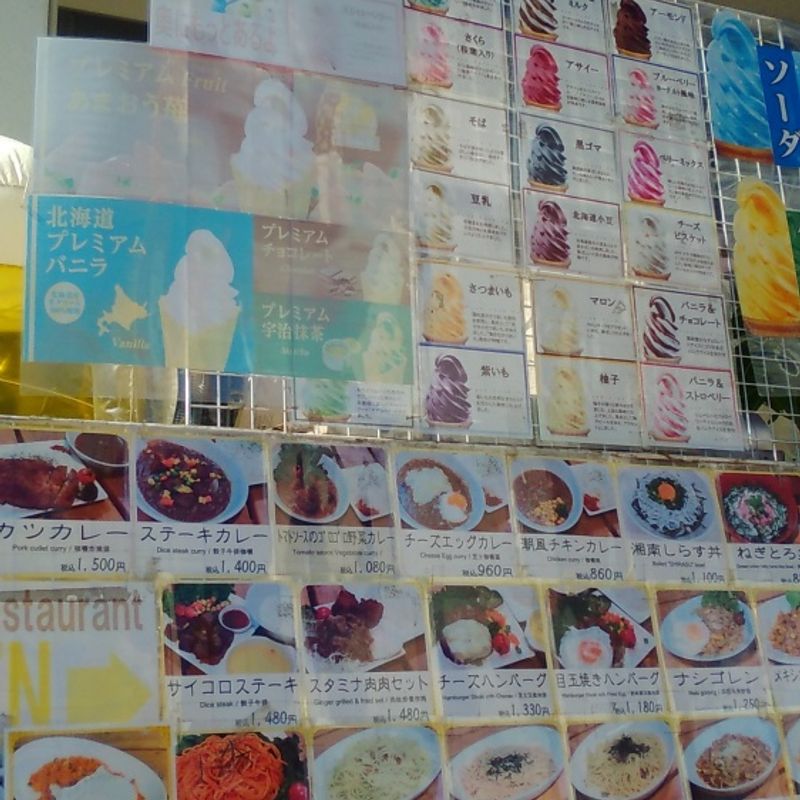 Actually it was a blessing in disguise that we deviated from our original plans, because I got to enjoy a past-time from days of yore, before I ever had kids, of just randomly choosing a place to go based on the feel of the place and to a lesser degree the menu. This was how we ended up in Family Restaurant Queen in the White Lily Mall less than a minute from Hase Station on the Enoden line. Despite lots of breaks in cafes and rest areas, the kids were exhausted from the travel, agitated by the heat and famished after our visit to the Big Buddha ten minutes walk from Hase Station. I knew they wouldn't make it to even Daisy's Cafe which is geographically the closet to the Big Buddha (of the three afore mentioned restaurants). On our way to the Big Buddha I had spotted Queen and taken a mental note, thanks to the fish flip flops on display at the entrance to the mall it is located in. It turns out the fish flip flops have been featured on the TV quite a bit lately and are the most famous offering of the White Lily Mall, which is a really quirky space; essentially a concentration of "booths" in an alleyway. Each booth offers something, some are shops but the majority of them are part of the Queen restaurant. Each booth is a small room and they are decorated differently. You can choose, according to availability, which booth you would like to dine in. They are all really fun, but we wanted to sit outside and that's what we did.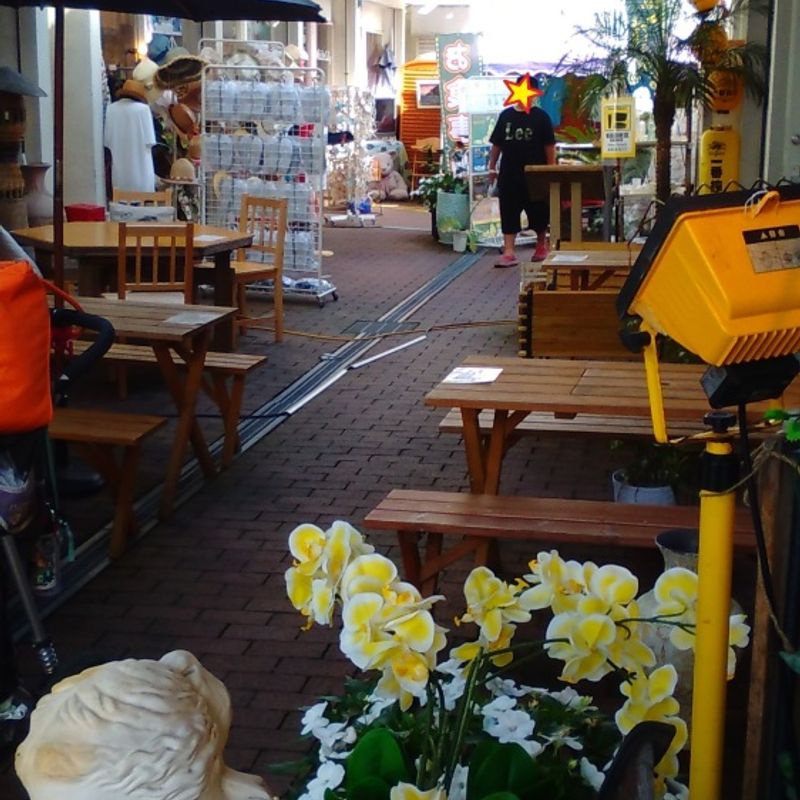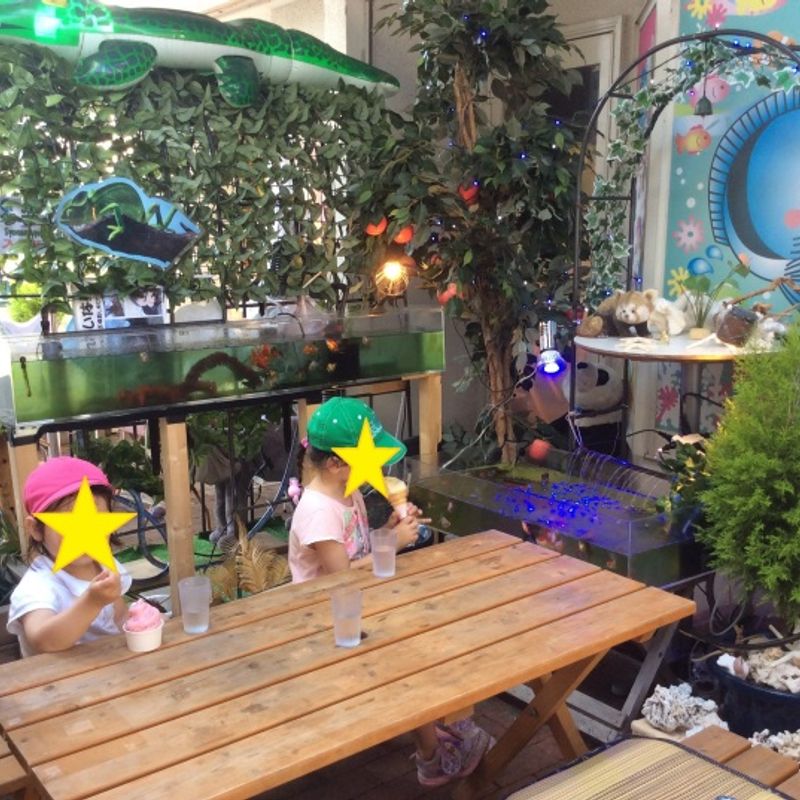 There are a number of tables in the courtyard of White Lilly which are used by the Queen restaurant. You can choose smoking or non-smoking. The tables are mainly picnic table style and seat up to around eight people. The kids chose a table beside the entrance to the Shonan Aqua Safari park, a booth with small animals you can hold and pet. There were a bunch of fish aquariums around our table with hundreds of fish. The kids delighted in watching them. The food is nothing spectacular, but it is perfect for families with young children: reasonably priced with a great selection of food that will appeal to children. They also have a fantastic selection of ice-cream made from local milk. Within the mall there is a kappa shrine and lots of other fun features for kids such as life size Moncchichi teddies and other children's paraphernalia on display. The staff are very friendly, although service was a bit slow, but I didn't mind because of the laid back feel of the place. You can help yourself to water from the "Warter Jag"!!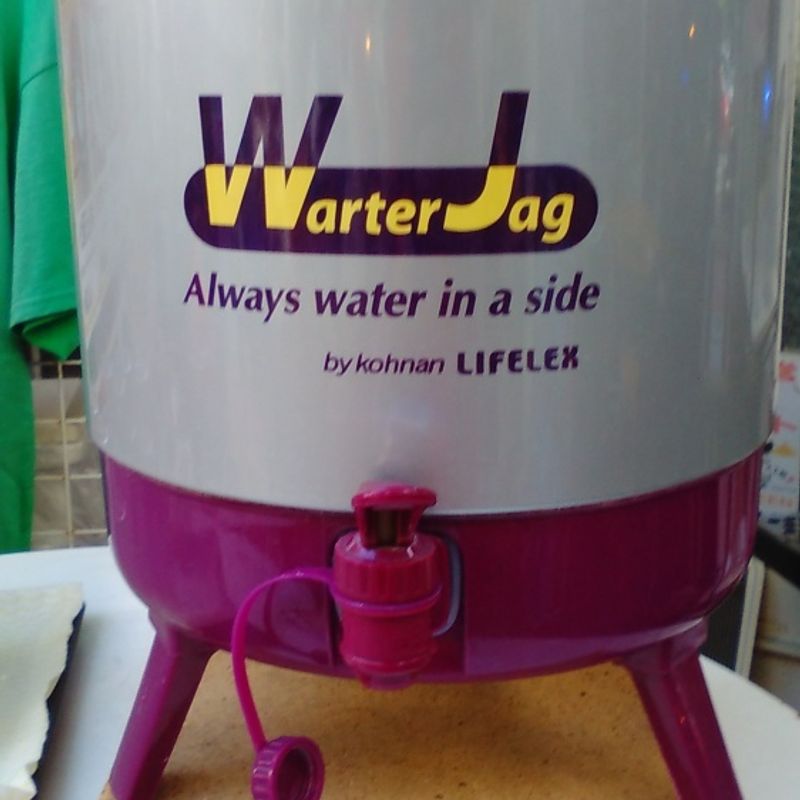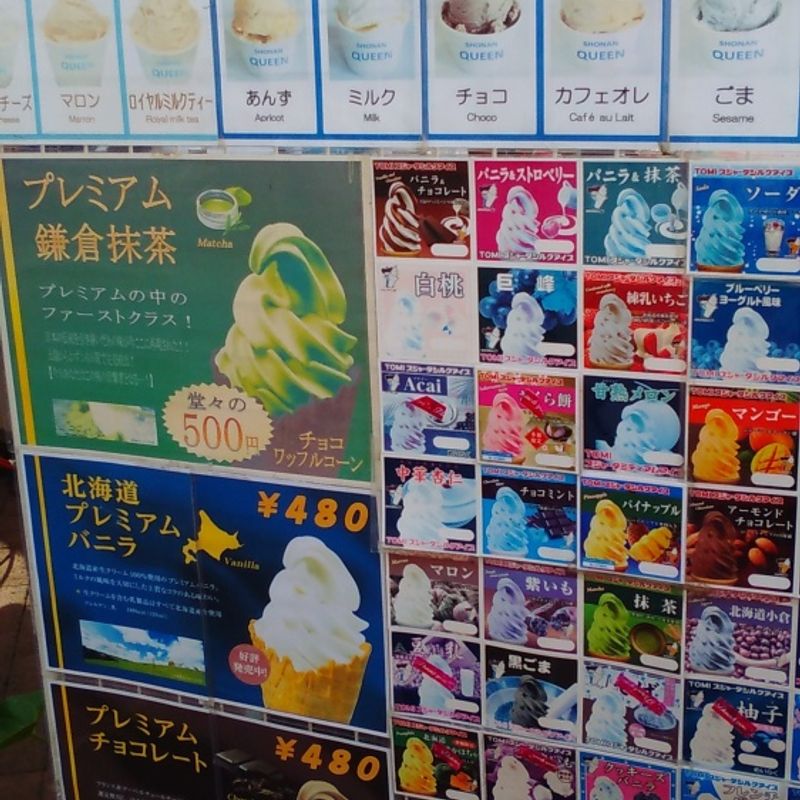 There are a lot more elegant places to eat outdoors in the Yuigahama area of Kamakura. And there are definitely a lot more appetising places. My research turned up at least twelve places with seating outside with a sea view and tempting cuisine and then of course there are all the beach huts on Yuigahama beach itself. But if you are just looking for somewhere to fill tummies with outdoor seating (sans sea view), on your way to or from the Big Buddha from Hase station, that is a bit of quirky and fun yet comfortable and alluring to children, family restaurant Queen in White Lily mall might be the place for you!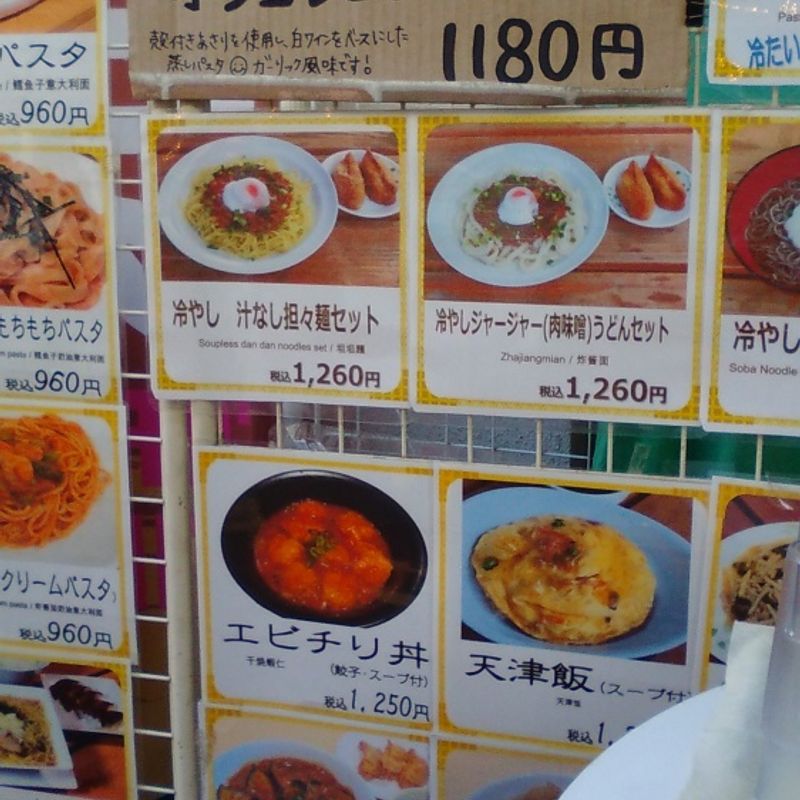 Details
White Lily Mall management website
:
https://www.white-lily.co.jp/shoplist/kamakura
Lily Company on Facebook
:
https://www.facebook.com/lily.co.ltd/
Family Restaurant Queen on Tabelog
:
https://tabelog.com/kanagawa/A1404/A140402/14063682/
Hours: 10 am to 8 pm
Access: one minute walk from Hase Station. Parking available next to the mall.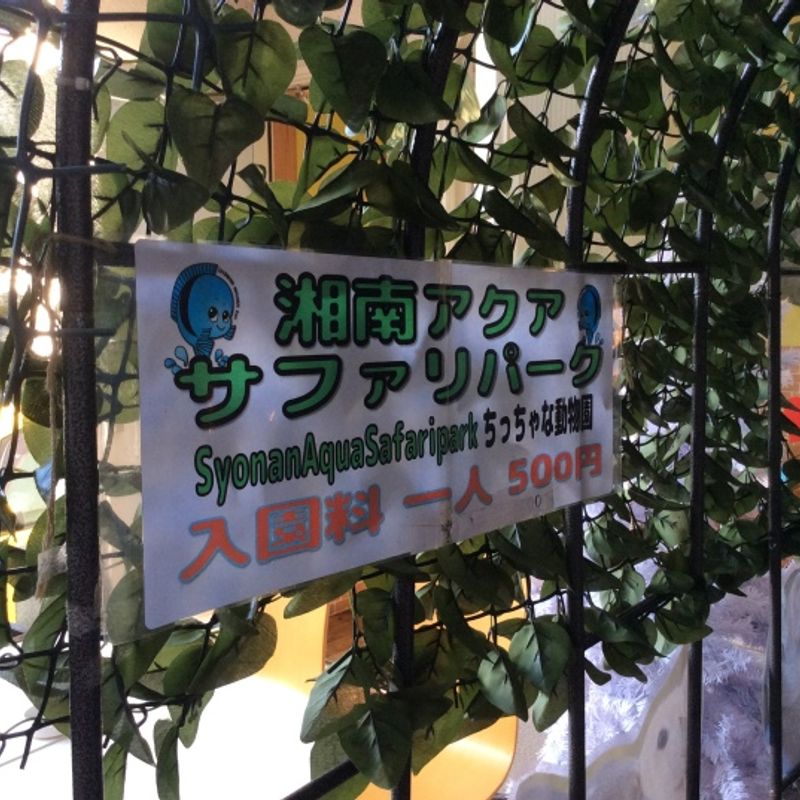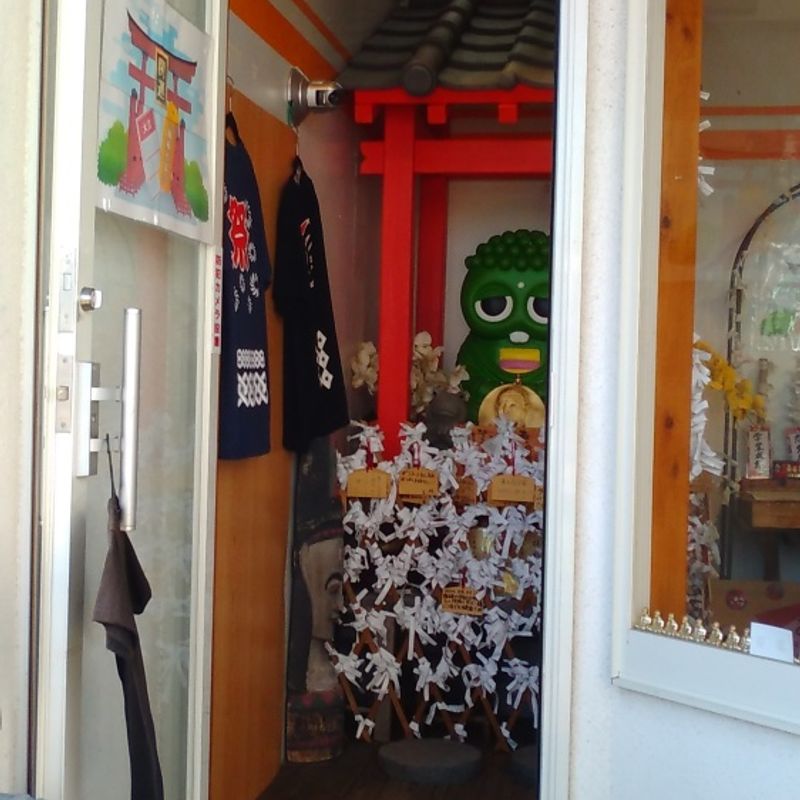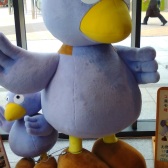 Level 8 LocalGuide with Google. Blogging about life in Japan as an Irish WAHM to 4 kids on insaitama.com.
---