Nov 23, 2018
Some of the Starbucks Christmas drinks have been out for a few weeks now, since the 1st of November. There are currently six on sale. But if you want to taste one of the two current "Christmas Strawberry cake" offerings you would want to get in quick as they are only available until the 4th of December.
The two in the Christmas strawberry cake selection are one hot (milk) and one cold (frappuccino), both in traditional red and white colours of Christmas. I tasted the Christmas Strawberry Cake Milk, the hot one, pictured in the photo above. I have previously written how I was disappointed with one of Starbucks limited edition strawberry flavoured drinks, but not this time. This one was well worth the 480 yen for the smallest size. It is absolutely delicious and the strawberry flavour isn't overwhelming as is often the case. It was just the right mix while still tasting like you are drinking coffee.
The other drinks currently available in the Christmas selection include a cinnamon flavoured drink (available in hot or cold) and the Joyful Medley Tea Latte. The other two were just released yesterday and if they taste as good as they look they will not disappoint. They are white chocolate "snow" drinks in the frappuccino (cold) and milk (hot) variations. These will be available right up until Christmas day. The perfect treat during a christmas shopping spree. Enjoy!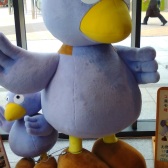 Level 8 LocalGuide with Google. Blogging about life in Japan as an Irish WAHM to 4 kids on insaitama.com.
---